News
The heavyweight champ for nearly 12 years, Louis (1948) loved golf.
Once a heavyweight champion, always a world heavyweight oracle. Joe Louis had not reigned for more than a decade before his 1965 arrival at the Poland Spring resort in the Maine woods to hype the second Ali-Liston heavyweight title bout in nearby Lewiston. The champ was there to dispense his pugilistic wisdom to the boxing literati attending Liston's workouts, except that he seldom was there.
"Joe's out on our golf course," somebody explained. "He's out there all day." And if you knew where to look every few hours, he indeed was out there, towering above his pull-cart as he trudged from the 18th green to begin another round on the fashionable resort course that President William Howard Taft had played nearly a century ago on vacation from the White House.
"Joe just keeps going around and around," a man in the pro shop said. "He must play 45 holes a day, maybe 54."
At ringside the night of the fight, the old champ was sitting behind the sports columnist Jimmy Cannon who once defined Louis as "a credit to his race--the human race." Midway through the first round Ali threw what appeared to be a soft right hand, but Liston dropped as if shot. After flopping around like a hooked salmon during the confusion over the timekeeper's count, Liston was up and trading punches when referee Jersey Joe Walcott waved his arms. With the crowd chanting, "fake, fake, fake," Cannon turned to Louis and asked what he thought of that punch.
"Wouldna crushed a grape," the old champion said.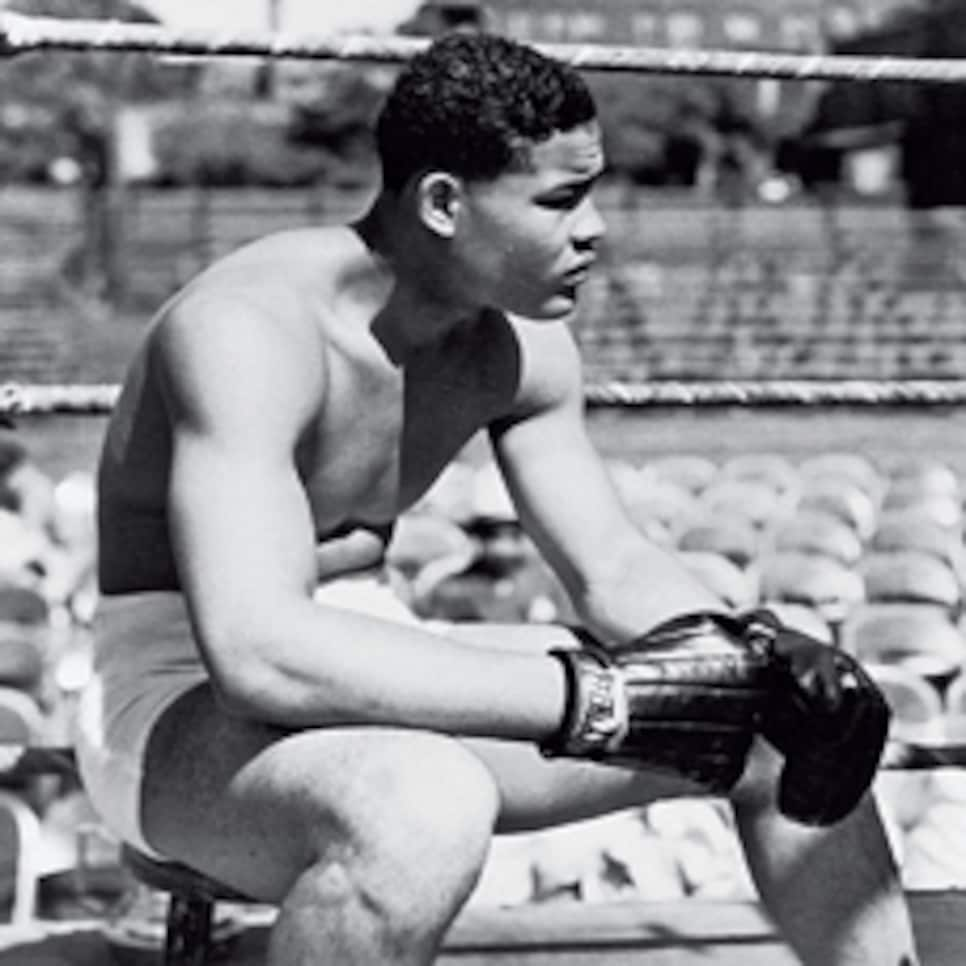 Joe Louis always told it like he saw it. When asked why the United States was going to win World War II, he said, "Because we're on God's side." When he donated more than $111,000 to Army and Navy Relief from two title bouts during the war, then was asked how it felt to be fighting for nothing, he said, "I ain't fightin' for nothin'. I'm fightin' for my country." When reminded that black soldiers weren't getting as much respect as white soldiers did, he said, "Lots of things wrong with America, but Hitler ain't goin' to fix 'em."
Among the wrongs at the time was the PGA of America's "Caucasian-only" clause, inserted in its by-laws in 1943, that excluded African-American golfers from its membership, thereby barring them from PGA-sanctioned tournaments, but Joe Louis was the first to help fix it. Twenty-five years after his death on April 12, 1981, Louis is remembered primarily as the heavyweight champion for a record 11 years and nine months from 1937 to 1949, for his record 25 successful title defenses, for his first-round knockout of Max Schmeling, later a German Army paratrooper, in 1938 when Hitler was on the brink of his blitzkrieg through Europe, and for his 13th-round knockout of Billy Conn in 1941 when the Pittsburgh challenger was ahead on points.
But not enough people remember Louis for his humble integration of the American sports conscience as a boxer a decade before Jackie Robinson broke Major League Baseball's color line in 1947 and nearly three decades before Rev. Martin Luther King Jr. led civil-rights marches. Except for the Joe Louis "The Champ" GC, a 6,869-yard par-72 public course south of Chicago, nothing in golf honors him for his mostly forgotten integration of the 1952 San Diego Open.
As an undefeated 22-year-old heavyweight contender, Louis had hardly seen a golf course until the weeks before his first fight with Schmeling in 1936. Introduced to the game by two sportswriters, Hype Igoe and Walter Stewart, he even left his Lakewood, N.J., training camp two weeks before the fight to spend a day at that year's U.S. Open at Baltusrol. When not sparring, as recalled in David Margolick's Beyond Glory, he sneaked off to play golf so often that Schmeling's manager, Joe Jacobs, saw it as a weakness.
"He's even cut out his road work to play golf every morning," Jacobs snorted. "Get a load of that, will ya? Golf!" Instead of discussing boxing during a conversation with a Detroit sportswriter before that fight, Louis talked "all golf: stances and grips and hooks and slices." In a stunning upset, Schmeling knocked him out in the 12th round. But he never blamed his sudden fascination with golf for that loss, and for the rest of his life he played whenever and wherever he could.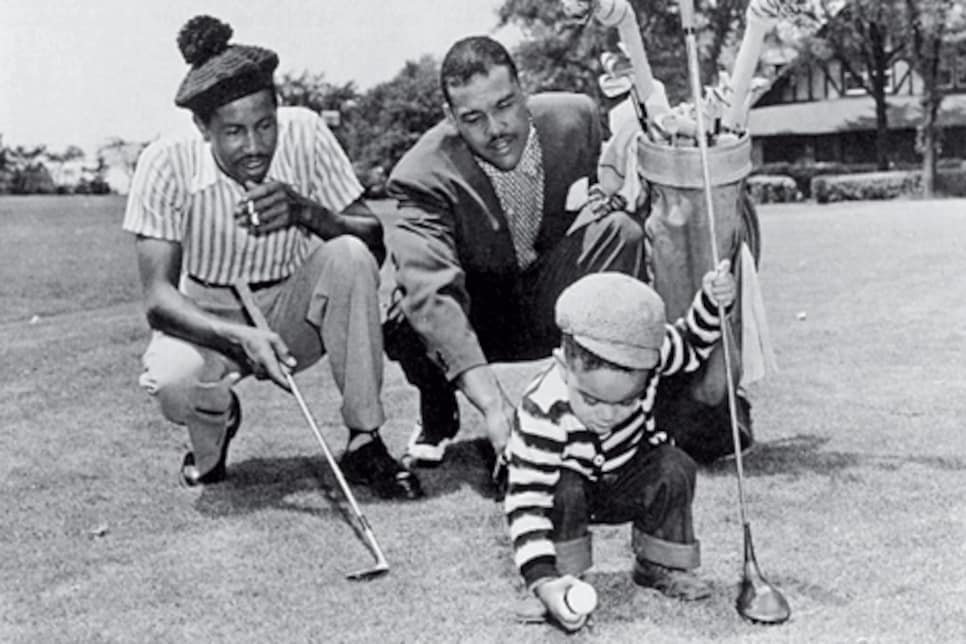 "He loved the individual nature of golf," says his son, Joe Louis Barrow Jr., now the executive director of The First Tee, a golf and life-skills learning program for youngsters. "He loved that your success is up to you."
Louis never had an official handicap, so opinions vary on how accomplished a golfer he was. He is described now as having been "almost scratch" to "a 3 or a 4" to shooting "around 80; he'd have a lot of pars and then a blowup hole." He mostly played at public courses, often with the best black golfers of the post-World War II era, sometimes in money matches for $1,000 a hole, sometimes in United Golf Association tournaments such as the Negro National Open, sometimes in his own Joe Louis Open in Detroit, but he always was the same unpretentious competitor he had been as heavyweight champion.
In the amateur semifinals of the 1951 Negro National Open, an awed Moses Brooks was 4 down after four holes when Louis told him, "I'm just a man like any other man. Don't make me out to be no god."
In the years after the war, Louis hired Teddy Rhodes, the best black golfer of that era, as his personal pro and partner, especially for money matches. But like Michael Jordan in later years, Louis didn't always play as well as he thought he should or could. He was easy prey for hustlers. Smiley Quick, a dreaded hustler, bragged that he won enough cash from him to buy two Los Angeles apartment houses. Not that it stopped Louis from betting on himself. And win or lose, his caddie always got a big tip.
"When I was a kid caddie for Joe at Mount Pleasant in Baltimore in the '50s," recalls Gordon Chavis, who later played the PGA Tour briefly, "his businessman friend, Mr. Adams, wouldn't let Joe pay me after a round but at the end of the week, Joe would slip me $200 and say, 'Put this in your pocket.' "
Long before today's PGA Tour as such existed, tour events were subject to the PGA's Caucasian-only clause that barred Rhodes, Charlie Sifford, Bill Spiller, Howard Wheeler, Eural Clark and other capable black golfers. Even when the 1952 San Diego Open extended Louis a sponsor's invitation to hype attendance, Horton Smith, the non-salaried PGA president who had won the 1934 and 1936 Masters, quickly reminded the promoters that the PGA by-laws prevented even a beloved heavyweight champion from accepting that invitation.
Louis' knockouts were methodical, almost mechanical. But now he was furious. Calling Smith "another Hitler," he hurried to San Diego to confront the situation. "My father went there," says Barrow, "because he wanted them to tell him to his face that he couldn't play in their tournament. They didn't dare."
Under fierce criticism from columnist Walter Winchell, among others, Smith surrendered. Louis teed off in the first round with Smith and Leland (Duke) Gibson, a member of the PGA tournament committee. In their gallery at the soggy San Diego CC that day was Jack Murphy, the San Diego Union sports columnist. After Smith's double bogey at the first hole, Murphy reported that Smith turned to Louis and said, "Taking a 6 on that easy hole is just like a punch on the chin."
"The only difference," Louis told him, "is that in boxing you recover from a punch. In golf, it's on the card to stay." According to Murphy, "there was no apparent hostility" as Louis shot 76, Smith 73. The next day, Louis had 82 for 158, Smith 78 for 151. Both missed the 36-hole cut, but Louis had established a precedent: A non-Caucasian had played in a PGA-sponsored event. Louis had quietly fought for black golfers and won, as he had for black soldiers in the Army during World War II.
When he learned at Fort Riley, Kan., that the applications of Jackie Robinson, a four-sport star at UCLA, and several other black soldiers for Officer Candidate School were being ignored, he made a phone call. Robinson and the others soon were accepted. When he and Sugar Ray Robinson were ordered at Camp Sibert, Ala., to a bench at the rear of a bus station by a military policeman invoking the local Jim Crow laws, he made another call. The Jim Crow laws were ignored.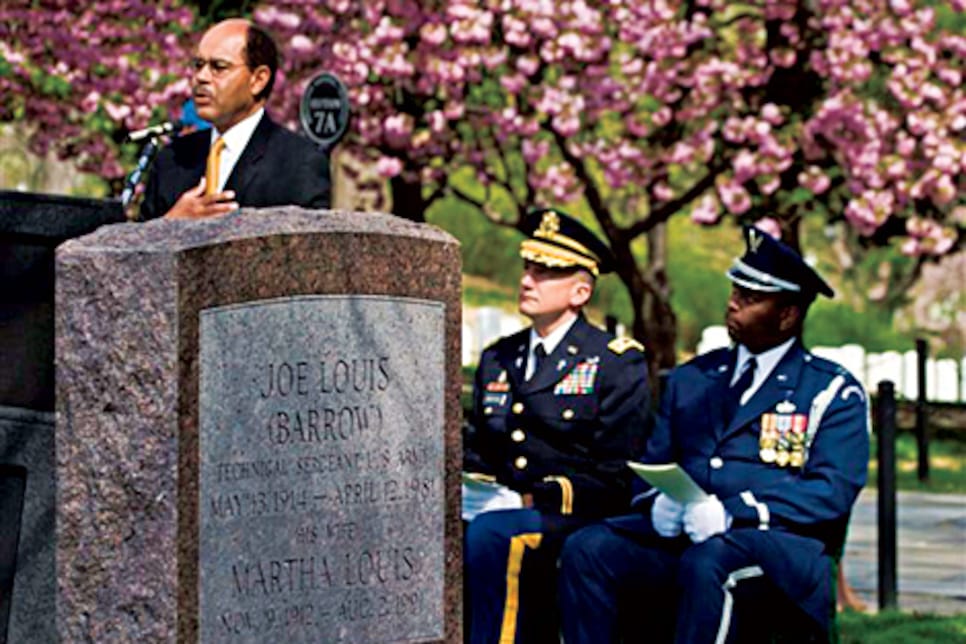 "One of my father's boxing friends," Barrow says, "was Truman Gibson, a Chicago attorney who was a special advisor to the Secretary of War on racial affairs during the war. When something like that happened, he called Truman, who brought it to the attention of one of the generals. They didn't happen again."
Golf's generals didn't move as quickly. Even after Louis' breakthrough at the 1952 San Diego Open, black pros remained at the mercy of PGA tournament sponsors and committees, which mostly ignored them. Sifford's success in non-sanctioned events eventually earned him an "approved tournament player" card in 1959 but the Caucasian-only clause was not removed until 1961.
In 1964 Pete Brown was the first black pro to win a PGA-sponsored tour event, the Waco Turner Open. Sifford later won both the 1967 Greater Hartford Open and the 1969 Los Angeles Open. By then Louis was playing more golf than ever, if only to escape his income-tax burden. Bad accounting, bad investments, bad advice and two divorces had left him owing more than $1 million in taxes and penalties, a total that the government eventually wiped off its books, but cash-flow problems haunted him. When he learned his son Joe planned to go into the banking business after his University of Denver graduation, he smiled. "That's good," he said. "Banks have all the money."
With his third wife, Martha, a Los Angeles attorney, Louis eventually settled in Las Vegas, playing golf and greeting gamblers in the Caesars Palace casino. But drained by mental illness, a cocaine problem, heart surgery and a stroke, he was 66 when he died the Sunday of the 1981 Masters. On a special order from President Reagan, he was buried in Arlington National Cemetery. Last week, a quarter century later, Joe Louis Barrow Jr. presided over a graveside ceremony commemorating the anniversary of the champion's interment.
"At the funeral in the Caesars Palace Sports Pavilion," his son recalls, "Muhammad Ali whispered in my ear, 'Your father was really The Greatest.' " Ali was talking about Joe Louis the heavyweight champion, but every black golfer who remembered the 1952 San Diego Open surely would agree.