News
A Golden Masters For The King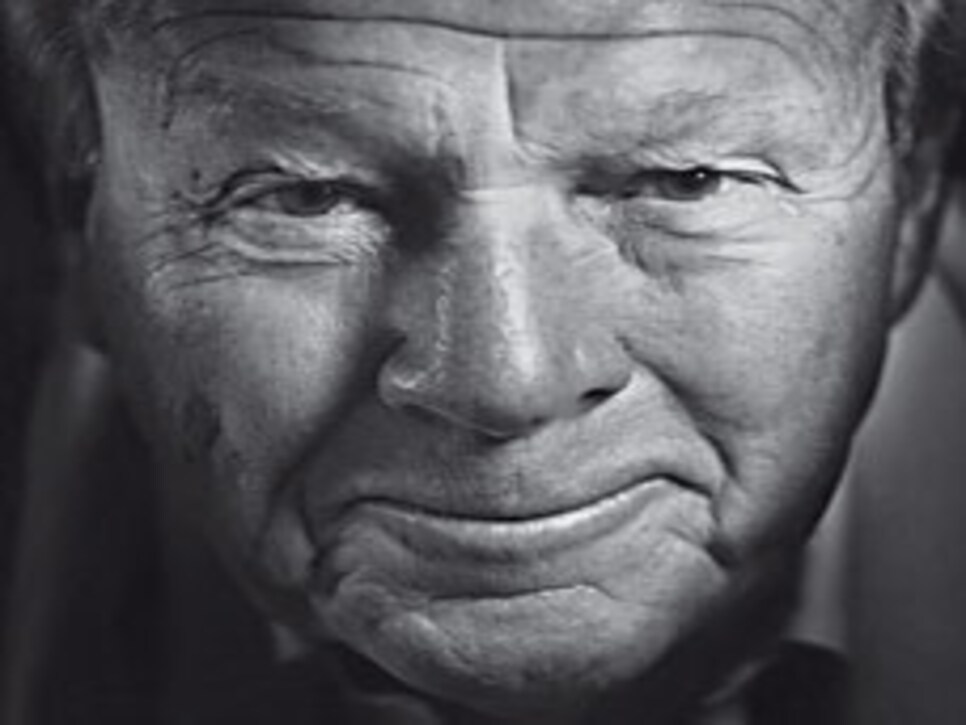 Arnold Palmer, photographed Jan. 24, 2004 at the Four Seasons Hualalai Resort in Kailua-Kona Hawaii.
Fifty years ago Arnold Palmer trundled into Augusta for his first Masters driving an aging Ford two-door and towing a modest trailer home. The 24-year-old future king of golf--now king in perpetuity--qualified for the 1955 Masters by winning the U.S. Amateur the year before. In the meantime he had turned professional and married Winnie Walzer, and the newlyweds were traveling the PGA Tour in low style.
"After that Masters," Palmer says, "we went home to Pennsylvania and parked the trailer in my parents' backyard. When we got out, Winnie said, 'Arnie, I love you and I'll do just about anything you want me to do, but I'm never going to live in a trailer again.' And that was the last time."
This year Palmer, a vigorous and only slightly paunchy 74, will fly to Augusta in his Cessna Citation X, the fastest business jet in the world. He probably will be at the controls himself, and he'll rent a roomy private home for the week.
His playing schedule these days is reduced to pocket size, but Palmer is preparing to tee it up in the Masters for a record 50th time. That's not "just" a grand total of 50, folks, which would be remarkable enough. That's 50 in a row. Five full decades of competing in a major championship without a miss for illness or injury.
Palmer has played 148 competitive rounds at Augusta National. Has hit 11,012 shots, most with flair and bravado. He is the only four-time champion. (Jack Nicklaus has won six times, no one has won five, and several luminaries have won three: Jimmy Demaret, Sam Snead, Gary Player, Nick Faldo and Tiger Woods.)
Palmer cannot move at Augusta without stumbling upon a milestone. This year marks the 40th anniversary of his fourth and final Masters victory in 1964. (Also his final victory in a major championship, at the robust age of 34--and he caught me off guard recently by confiding that the way he won in '64 may have caused the end of the seven-year run of winning seven professional majors.)
"Arnold will be here when he's got wheels on his coffin," Faldo said last April. "They'll be pushing him down the fairway with a little putter coming out."
Palmer is convincingly adamant that after reaching a personal goal to play 50--"I thought it would be neat"--he will stop. His involvement after this year almost certainly will be as an honorary starter, in the currently suspended tradition of Gene Sarazen, Byron Nelson, Snead, et al.
Palmer announced a previous Masters retirement two years ago when the tournament hierarchy imposed an age limit on its past champions, though they had been awarded lifetime exemptions as well as green jackets--uh, green coats, according to Masters vernacular.
Though presumably not the targets of the rule, Palmer and Player, who have done as much as anyone to advance the stature of the tournament, would have been among the immediate victims. Letters and a visit from Palmer and Nicklaus to Augusta National's Hootie Johnson, pleading the case for the tournament's near-sacred tradition, persuaded the chairman to change his mind. Doubtless the two Hall of Famers were looking out for their own egos, as the great ones usually are, but no one has ever doubted their dedication to the loftiest spirit of the game.
Palmer remembers being paired in his first Masters in '55 with Sarazen when Sarazen was well past his prime and did not break 80. "It was one of the great experiences of my life," Palmer says, "and I think the galleries saw that. If you take away the tradition, you make the Masters just another golf tournament."
Palmer tied for 10th with Nelson and Dick Mayer in that Masters as Cary Middlecoff beat out Ben Hogan and Snead, who had taken turns winning the previous four titles. Palmer won a crystal vase for shooting the low score the last day, a 69, and his earnings of $696 were critical to a young married couple with no serious financial backing. Like other tour rookies at the time, he was serving a six-month probationary period during which he was not allowed to take official prize money. (Imagine that in 2004.) But the Masters then was an unofficial event, so he could keep his winnings.
It is only fitting that the arc of Palmer's professional major-championship career begins and ends with the Masters, the tournament that meant the most to him as a youngster and means the most to him as a senior.
In 1956 Palmer finished 21st when Jackie Burke edged a collapsing Ken Venturi in horrid weather. Then in '57 Palmer tied for seventh when Doug Ford holed a bunker shot for a birdie on 18 and won by three. Palmer was warmed up for an unprecedented 10-year run in which he won four times (in the even-numbered years), just missed in two others and never finished out of the top 10. He won and lost alike with the hell-bent aggressiveness that endeared him to hackers worldwide and, with an assist from television, thrust golf into the major leagues.
Victory No. 1. Palmer remembers 1958 first for the favorable decision he got after appealing an imbedded-ball situation on the 12th hole. He made a double-bogey 5 with a plugged tee shot, but played a provisional ball and made a par 3. Two suspenseful holes later he learned that the 3 would count. He won by a stroke over Ford and Fred Hawkins, who missed birdie putts inside of 12 feet on 18. It was Palmer's first professional major championship.
Victory No. 2. With two holes to play in 1960, Palmer trailed the ill-fated Venturi by a stroke. The man who added the word "charge" to our golf lexicon birdied the 17th and 18th to win, hitting his iron shot to six feet on the last hole and sinking the putt. He became the only player to lead at the end of all four rounds except for Craig Wood in 1941. Palmer went on to win the U.S. Open at Cherry Hills two months later in equally memorable style.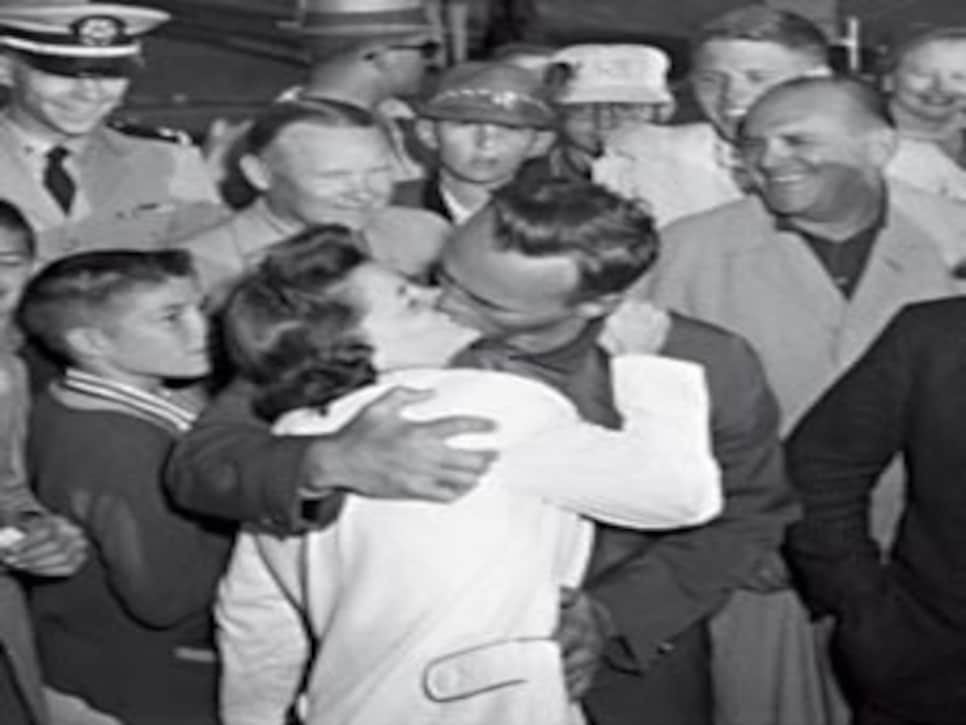 Photo: Historic Golf Photos
Victory No. 3. In 1962, Palmer, by now established as a folk hero, entered the fourth round 11 under par and leading by two, but came to the 16th hole trailing by two. He finished chip-in birdie, birdie, par to make a playoff with Gary Player and Dow Finsterwald. The playoff followed a similar script, Palmer falling three behind Player, then scorching the back side in 31 for a three-stroke victory.
Victory No. 4. The year 1964, four decades ago, featured the Beatles invading America, LBJ signing the Civil Rights Act and Arnold D. Palmer achieving his greatest triumph. His motivation: He was coming off a season when he hadn't won a major, and was winless on tour before the Masters in '64. "I had quit smoking in January," he says, "and everybody said that was the end of me. Said I'd never win again. Anything."
We are sitting in his second-floor office at his Bay Hill Club in Orlando. It's a corner office with picture windowing, the view mostly overlooking the parking lot. A well-tanned Palmer is wearing a cool pink golf shirt--pink being a favorite color--with the umbrella lapel pin that represents his widespread and prosperous enterprises.
"I went back to smoking later in '64 and smoked off and on until 1970, when I quit for good at a Christmas party right over here. Haven't touched a cigarette since."
He put on eight pounds after he stopped smoking in '64 and was snacking madly during the Masters, but played probably the best tee-to-green golf of his life to waltz home six strokes clear of defending champion Nicklaus and Dave Marr, at 12-under-par 276. That completed the lowest aggregate score ever for a player's first 10 years in the Masters: 15 under par. (Woods is 29 under through his first nine Masters.)
"Playing well was very important to me in '64 because of the circumstances at Augusta the previous years," he says. "In '58 and '60 I eked out wins, and '62 was a playoff. In '59 I triple bogeyed the 12th hole to lose, and in '61 I blew it on the last hole. I birdied 17 and drove in the fairway on 18 with a one-shot lead over Gary Player. But an old friend who had helped me with my putting [George Low] called me over to the ropes and congratulated me, and I proceeded to make 6 and lose. That was the saddest situation I've had there. And '63 I had a pretty good shot at it and didn't finish well. Every time was a sweat. I mean, you're really busting it. You're going to the last hole and you can't enjoy anything. I just wanted to walk down the 18th hole with some enjoyment, and I did in '64. I was able to see the crowd. That was very enjoyable.
"It may have stopped me from winning there again, because I had the satisfaction of winning comfortably."
Palmer led after every round in '64 and broke par in every round under ideal weather conditions after days of pre-tournament rain. His worst hole score was a 5. It wasn't a golf tournament, it was a one-horse race, Secretariat running away with the Belmont.
Says Frank Chirkinian, who produced the telecast for CBS: "In all my 38 Masters tournaments, that was the dullest. As competition, it wasn't there. I was so accustomed to exciting finishes. In 1959, my first Masters, Art Wall birdied five of the last six holes to beat Arnold. But in '64 Arnold knocked all the drama out of it."
Four decades later, Palmer's playing partners provide insight into his unique appeal. (How many other people have a regional airport, a hospital and a drink named after them?)
Labron Harris Jr., then a 22-year-old amateur, was paired with Palmer in the first round. Harris won the Par-3 Contest the day before and took home a set of commemorative plates he still prizes. "Back then I was a punk kid from Oklahoma who could play some," Harris says. "He was really nice to me. Golf was Arnold Palmer's kingdom, and he knew how to make you feel part of that kingdom. People now don't realize the impact he made. He was it. He looked like an athlete and had that magnetic personality."
Palmer shot a 69 that first day to tie for the lead with four others: Kel Nagle, Bob Goalby, Player (who was fighting a throat infection) and Davis Love Jr., whose unlikely showing prompted retellings of the story of his first Masters 10 years earlier. Love was a young Texan who reached the quarterfinals of the U.S. Amateur. Informed that he would be eligible for the Masters the following spring, he said, "Gee, that's a good deal. Where they playin' it next year?"
The Monday after the '64 Masters, Player underwent a tonsillectomy, and Love's wife, Penta, gave birth to Davis Love III.
In Round 2, Palmer played with Chi Chi Rodriguez, and sparks soon flew. Palmer had his Army, and Rodriguez had his Chi Chi's Bandidos, as their buttons proclaimed. Rodriguez was outdriving Palmer, playing well and indulging his penchant for hat-doffing, deep-bowing showmanship, much to the raucous appreciation of his fans if not of Palmer, who believed Masters decorum was at issue.
"He got a little upset with me," Rodriguez says today. "He said I better tone it down or he wouldn't want to play with me anymore. I thought when you hit it inside of the other guy, the claps were for you. I was too naive to realize it was his stage."
Rodriguez concedes that he toned down his act, and he has nothing but awe for what Palmer has done for his fellow pros. "He played like Arnold Palmer that day. You could have put the flag in the Titanic and he would have gone after it in scuba gear. The fans always loved him, and he stood up to the challenge of pleasing them. All pros ought to kiss his footsteps."
Recalling that day, Palmer simply says, "I was just a little disappointed in that whole thing." A turning point in the prickly round seemed to come when both went for the green on the par-5 13th, Rodriguez reaching with a wood and then watching Palmer nearly hole his 1-iron shot.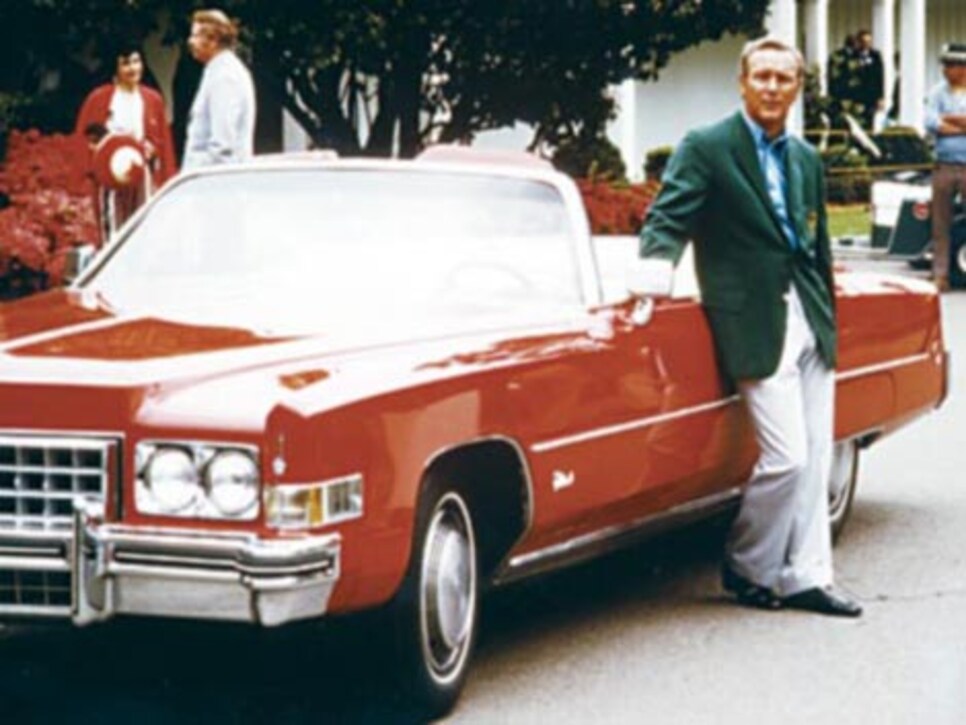 Photo: Historic Golf Photos
"I always maintained that if you're strong, Augusta is a natural, and Arnold was strong and confident in his strength," says Gene Littler, who was paired with Palmer the third day and watched him birdie the last three holes to extend his lead to five. "Hardly anybody went for those par 5s then, but he went for them with long irons and woods. Now it's a par-68 course."
Defending champion Nicklaus was putting poorly, and his third round was notable for perhaps the most embarrassing shot of his life. On the 12th hole, the watery par 3, he shanked his tee shot with an 8-iron, right over the heads of Augusta National co-founders Bobby Jones and Cliff Roberts, looking on from a golf cart in what they presumed was a safe spot.
Bruce Devlin, then a young Australian, was Palmer's closest pursuer after three rounds--if you can call the five-stroke gap close. "At that point the rest of us were playing for second place," says Devlin, who finished fourth. "The thing that struck me about Arnold in those days was that he always welcomed players from other parts of the world. His attitude was 'Let's tee it up and go.' Back then that wasn't always the case."
In the final round Palmer was thinking about Hogan's tournament record of 274, needing four birdies on the closing holes. (Hogan, who always offended Palmer because he never called him by name, had shot 67 Saturday at the age of 51.) A par at 12 and a three-putt par at 13 dimmed Palmer's chances for the record, but they revived with birdies at 14 and 15.
Marr would go down in history for quips to Palmer near the end. At 15, Palmer went for the par 5 in two rather than sit on his lead. Looking into the sun, he worried whether his approach was clearing the water, and asked Marr, who said, "Hell, Arnold, your divot got over."
On 18, with Marr fighting for second place, Palmer asked his friend if there was anything he could do to help him. "Yeah," said Marr. "Make a 12."
Palmer says of Marr, "He was a joy to play with and a great guy." The golf world has not replaced the late Marr's lively southwestern wit.
When Palmer missed a birdie putt at 16 and bogeyed 17, Hogan's record was safe. But Palmer's flair for the dramatic produced an enduring video highlight at 18, where he rolled in a birdie putt of 20 to 25 feet and set a record for the visor throw. He had shot 70 and led from first round to closing ceremony, where Nicklaus helped him into the green coat.
The 24-year-old Nicklaus shot the low round of 67 Sunday. The next year he would shoot 271 to shatter Hogan's record, nine shots better than runners-up Palmer and Player. The game would have a new sheriff, and, to the amazement of all, Palmer would not win another major. He would capture 20 tour tournaments after the '64 Masters--he has the tour record for most wins by a player in his 30s, with 42--but no more majors.
"I wouldn't have guessed it," he says. "I should have won three or four U.S. Opens after that, and I could have won a couple more Masters, but didn't. How do you explain it? Who knows? Maybe I was too satisfied."
And so it winds down, a half century of heroics and heartbreak and annual reunions at the Masters, the youngest of our major championships but the most deeply traditional. Palmer will take his leave on his terms, and his alone.
He hasn't made the cut at the Masters in 20 years. He has shot his age on the Champions Tour but hasn't come close at Augusta National. Still, his 83-83 showing last year was no small feat on a course lately being fed designer steroids. He needs two woods on most of the par 4s. In any case, his multitudes of fans care not at all what he shoots.
Does he have a goal going into his 50th and last Masters?
We didn't want to hear anything else, did we?