Putting
10 Rules For Winning All Your Matches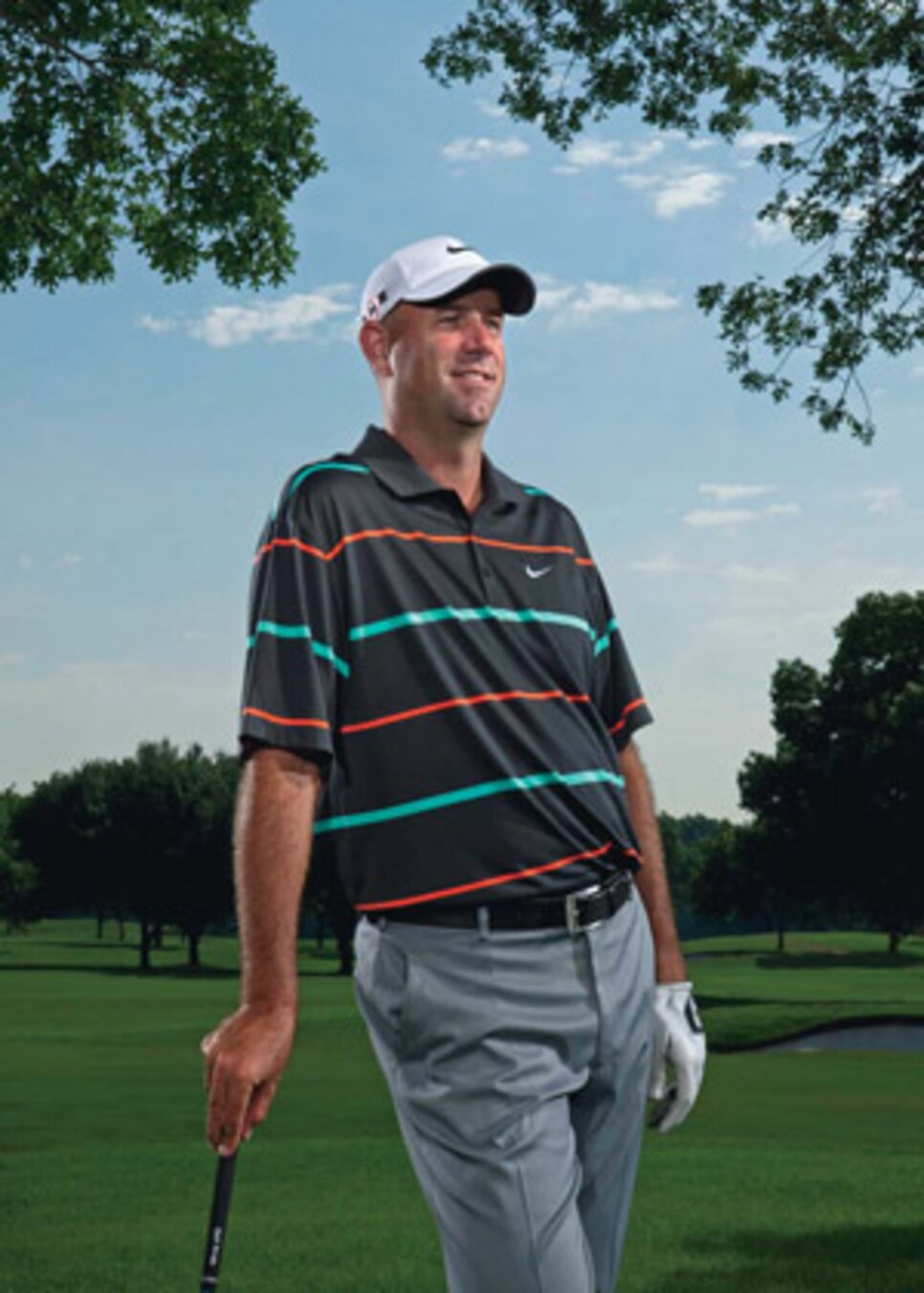 "You need the mindset of making big leads bigger."
1. One hole can turn a match around
In the first round of the Accenture Match Play this year, I was 4 down after six holes to Edoardo Molinari. Mentally, I hadn't packed my suitcase, but it definitely was unzipped and sitting on the bed. Then I told myself, To turn this thing around, all you need to do is win one hole. I won the 10th, then made five birdies coming in and won, 2 up. Big comebacks happen all the time, and they start with winning a single hole, which can change the momentum completely. Just try not to wait too long.
2. When to play your opponent
If you were playing a match that stood even on the dangerous par-5 18th hole at Pebble Beach, with your ball in the fairway and a 50-50 chance of hitting the green in two, would you go for it? The decision should hinge on one factor: your opponent's ball. If he's also in the fairway and 10 yards closer, you have to go for it. If he's closer but in the rough, you should lay up to your favorite wedge distance. If he's already hit his second shot into the front bunker, you should play a long iron or hybrid short of the green -- an easier third shot than his. With the match on the line, weigh your opponent's position more than at any other time.
3. Make your partner feel comfortable
Lucas Glover is my favorite match-play partner. What makes us a good team -- we've done some damage in Tuesday practice rounds -- is that we know how much advice to give each other, and when to give it. This is good team chemistry, because the player who likes help reading greens early on might not like it later, or vice versa. Some players don't want help at all. Others insist on giving you advice even if you don't need any. (It can be best to indulge them.) You need to know your partner's personality and temperament, and how and when to lift him up or leave him alone.
4. Become automatic on short putts
Practice putting a lot from three feet. If you establish a reputation for never missing the short ones, your opponents will concede more borderline putts. You'll like that, and so will your partner.
Say you have a 10-footer for birdie, and your partner has a five-footer for par. You should putt first, because even if your partner makes his par putt, it will put pressure on you to prove that the strategy didn't backfire. If your partner doesn't make the par, you'll go into defense mode to avoid three-putting. You always want to putt with the same attitude as you would in stroke play. That means the guy farthest from the hole putts first.
Giving strokes in matches gets tiresome. When I'm home in Duluth, Ga., my amateur buddies and I play games that keep me sharp. The first is called "two-step." After every shot I hit (except putts), my opponent gets to pick up my ball, take two strides in any direction, and make me play my next shot from there -- even if it puts me in a bunker. The second is "replay." Instead of giving a friend, say, 10 strokes, he can make me replay six shots a round. So if I hit one stiff, I have to play it again. They're hard games for me -- and they've made me a little sharper in real matches.
7. Decide in advance who plays first
In every team match I've played as a pro, my partner and I have sat down the night before and decided who would hit first from the tee. Generally the best ball-striker should hit first on all holes; don't get cute and have one guy hit first on the par 3s, and the other guy on the par 4s. That'll only take your team out of rhythm. If the order goes bad for any reason -- even if you're playing well but the other team is on fire -- don't hesitate to change it. But agree, in advance, on your willingness to do so.
8. Choose a friend as a partner
If you're shopping for a member-guest partner, pick the guy who you'll have the most fun with. For the 2005 World Cup, I chose Zach Johnson because I felt our friendship would help us play well. In 2006, I picked another friend, J.J. Henry. (The World Cup is stroke play, but the same thinking applies to matches.) Always put friendship first. I've seen amateur friends of mine choose a partner based on the guy being a great putter, only to hear he didn't hole anything. Go with a friend, and let the relaxed environment bring out the best in both of you.
9. Own the hole's defining moment
There's always a shot that rates as the defining moment, good or bad. Be prepared for it. In my match against Sergio Garcia at the 2006 Ryder Cup, I'd taken a big lead with some of the best golf of my life. I was 4 up with four to play, and on the par-4 15th at the K Club, Sergio hit a shot to the left of the green, down in a depression. I played conservatively to 20 feet, and darned if Sergio didn't chip in. But I'd done a good job preparing myself for this -- I expected him to hole it. So that wasn't the defining moment: I holed my 20-footer to win. Make sure the deciding shot comes from your clubs, not your opponent's.
10. Learn to step on their throats
At the 2007 Accenture Match Play, I had Padraig Harrington 4 down through six. I got a little complacent, and suddenly he came to life. So there I am, standing in the 17th fairway with a wedge in my hands, my lead cut in half, and I'm not feeling good about the shot. Sure enough, I knock it over, and he takes the hole. Fortunately, I won it on 18, but it never should've gone that far. I should've stepped on his throat when I had him. To be a great match player, you need the mind-set of making big leads bigger and never feeling sorry for your opponent.