Edgewood Tahoe Golf Course
Stateline, NV • Public
1 / 1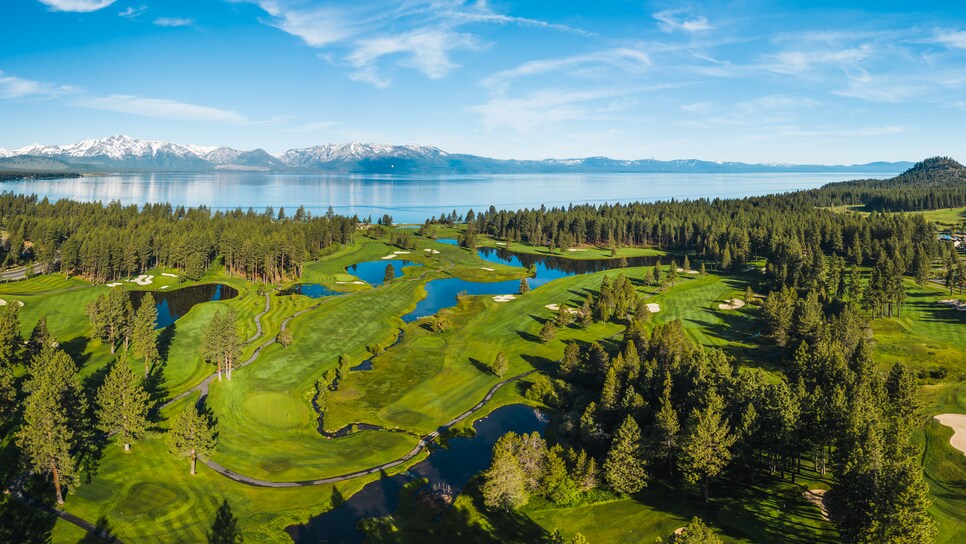 Overview
Edgewood Tahoe is one of golf's most televised courses as the annual host of the American Century Championship. It also holds the distinction of being the only course in Nevada to have held a USGA championship, hosting a U.S. Senior Open and a U.S. Amateur Public Links in the 1980s. Once a member of Golf Digest America's 100 Greatest Courses, Edgewood Tahoe is as telegenic as they come with fairways framed by stately pines, greens flanked by sparkling ponds and several holes positioned on Lake Tahoe, including the final three. At over 6,000 feet elevation the ball flies roughly 10-percent farther than at sea level.
About
Designer
George Fazio, ASGCA/(R) Tom Fazio, ASGCA
Awards
100 Greatest: Ranked from 1985-'92, 1999-2000, 2021-'24.
Highest ranking: No. 60, 1985-'86.
100 Greatest Public: Ranked from 2003-'14, 2017-'18, 2021-'24.
Highest ranking: No. 35, 2003-'04.
Previous ranking: 86th.
2023-'24 ranking: No. 89.
Best in State: Ranked fifth, 2011-'14. Ranked inside the top 10, 2017-'24.
2023-'24 ranking: 10th.
Panelists
Ratings from our panel of 1,900 course-ranking panelists
100 GREATEST/BEST IN STATE SCORES
Reviews
1 / 4
Review
"One of the more scenic golf courses in the country, Edgewood Tahoe offers excellent backdrops of the Serra Nevada mountain range along with beautiful Lake Tahoe throughout your entire round. The green complexes relied upon multiple tiers requiring precise iron shots in order to have a good look at birdie while also providing some slippery putts should you find yourself above the hole. A truly unique and fun experience while playing up at elevation."
Read More
2022
2 / 4
Review
"Good conditions. Lots of left to right holes."
Read More
2021
3 / 4
Review
"The setting is impressive and the it lasts all day long."
Read More
2018
4 / 4
Review
"Very scenic. Great resort vibe. However, the course isn't quite as good as it looks on TV. The lakeside 17th hole is definitely the signature hole here."
Read More
2018
Readers
Collection of reviews from our readers
There are no reader ratings yet
Reviews
There are no readers reviews yet. Be the first to write a review.