zurich classic
Tony Finau hoping for big assist from Cameron Champ to break victory drought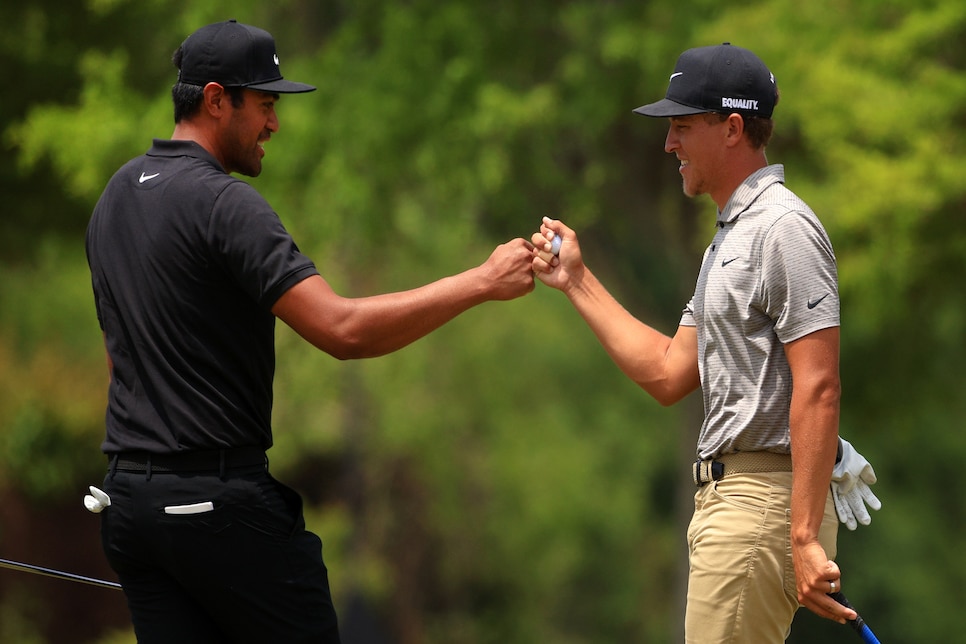 Tony Finau and Cameron Champ react after a putt on the sixth green during the third round of the Zurich Classic.
Mike Ehrmann
AVONDALE, La. — If it takes a village to raise a child, as the old African proverb goes, what will it take for Tony Finau to snap his curse of the Puerto Rico Open and break through for his second career PGA Tour victory and first in five years? Perhaps the answer is a reliable partner, at least this week anyway.
Finau and Cameron Champ—dubbed "Team Send It" this week for their bombers' style—combined for five birdies, including a clutch one from Finau on the par-5 18th after Champ drove into the water. That led to a five-under 67 in Saturday's fourball play at the Zurich Classic, leaving the duo trailing leaders Louis Oosthuizen and Charl Schwartzel by a stroke heading into Sunday's final round, which will feature alternate shot.
Now the question is: Can Finau, who has 43 top-10s, including 10 runner-up finishes, since his lone triumph, end the drought?
"If it happens [Sunday], it's great," he said. "If it doesn't happen, we keep on moving along. We're great friends and look forward to this challenge. There's a lot of guys that are playing well on that leader board. We know we're going to have to play well on Sunday no matter what, so it's nice to be in this position."
It's certainly a familiar one, especially of late.
In January, Finau shared the 54-hole lead at The American Express and birdied the first two holes on Sunday, but got lapped by Si Woo Kim and finished fourth. A week later, he trailed by one going into the weekend at the Farmers Insurance Open, but couldn't keep pace with eventual winner Patrick Reed and finished five back in a tie for second.
Two starts later, Finau lost to Max Homa on the second hole of a playoff at the Genesis Invitational, where he shot the best score of the final round, a seven-under 64, but missed an eight-footer to win on the first hole in sudden death, then missed another from 10 feet that would have extended the playoff.
The most recent of those chances marked Finau's 21st top-five finish since the start of the 2016-17 season. Only five other players have had more during that span, but all of them have won between four and a dozen times.
Perhaps being able to lean on Champ during Sunday's difficult alternate shot will help.
On Friday, the two ham-and-egged it for the best score of the day in that format, a four-under 68. Champ also doesn't have nearly the scar tissue of his partner, with only a handful of top-10s in his career but one more victory than Finau.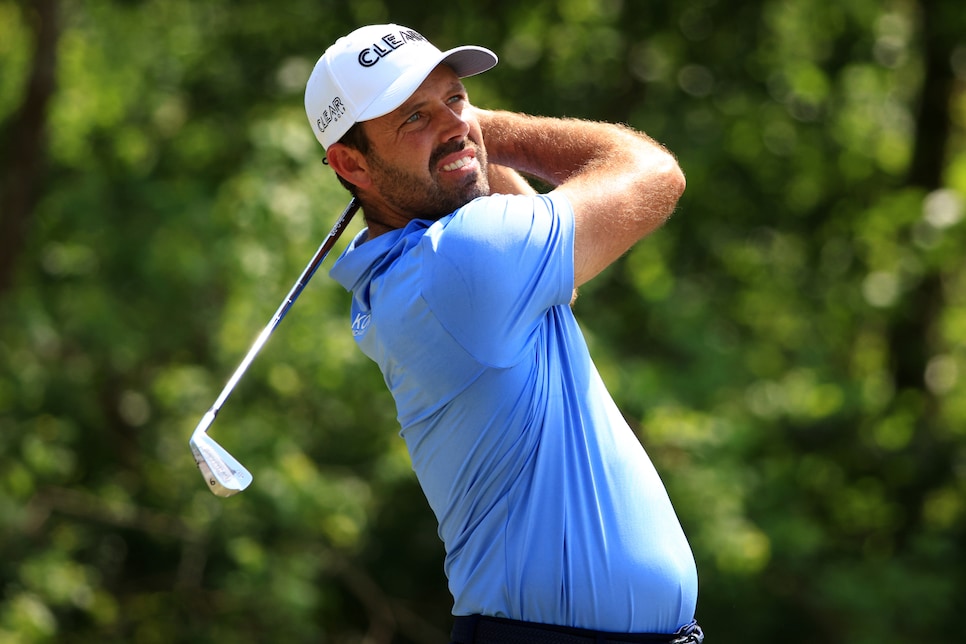 Charl Schwartzel plays his shot from the 14th tee during the third round of the Zurich Classic of New Orleans.
Mike Ehrmann
"It's not putting extra pressure on yourself, but you also tend to get another gear of focus because obviously you know it's alternate shot, so I don't want to obviously mess up for Tony and he doesn't want to mess up for me," said Champ, whose last victory came at the 2019 Safeway Open. "But in all reality, I just think it gets you in a little different mindset. Friday we were just cruising. We really didn't make one mistake besides maybe a few errant iron shots. But we left them in good spots to get them up and down."
For Finau and Champ to break through won't be easy.
In addition to them, there are 15 teams four strokes or closer to the lead entering the final round. Among that group are multiple teams with a certain degree of muscle memory from playing with each other on a regular basis, be it in practice rounds or international team competitions. That includes the two leaders from South Africa, Oosthuizen and Schwartzel. Right behind them and also tied for second are Aussies Marc Leishman and Cameron Smith.
"I just think it just reduces stress a little bit, particularly when you're in a bit of a tough spot," said Smith, who while surprisingly not paired with Leishman during the 2019 Presidents Cup at Royal Melbourne in Australia, routinely plays practice rounds with him on tour. "It's definitely a relief to know that I've got one of my best mates beside me, and he's trying just as hard as what I am. So it's good."
Ditto Oosthuizen and Schwartzel.
"I think Louis obviously played really well in a lot of majors, and we've both won a lot of tournaments, and I feel like the more difficult it is, the better we both play," Schwartzel said. "So the format for [Sunday] in a way suits us, and if we execute the shots the way we see it, we'll have a good chance."
Finau, of course has had plenty of chances since that maiden victory. Now comes another one, this time with potentially a little help.
"There's some different variables when you have a partner, but we're both highly skilled golfers," he said. "If we both play well [Sunday], we're going to have a chance to win this, and that's always exciting."
Like his Puerto Rico Open win—an opposite-field event—should Finau break through on Sunday, some might mark this one with something of an asterisk, given the team format. Finau, naturally, sees it the opposite.
"I think it would be quite special," he said. "I don't know too many guys that can say that they've won team events because there's only one out here. So it almost would be I think even more special to win, and to win with this guy would be really special."