Takeaways
Bubba Watson and Scottie Scheffler are goin' to Chipotle (in New Orleans!), Henrik Stenson's still got it and Tony Finau is right there again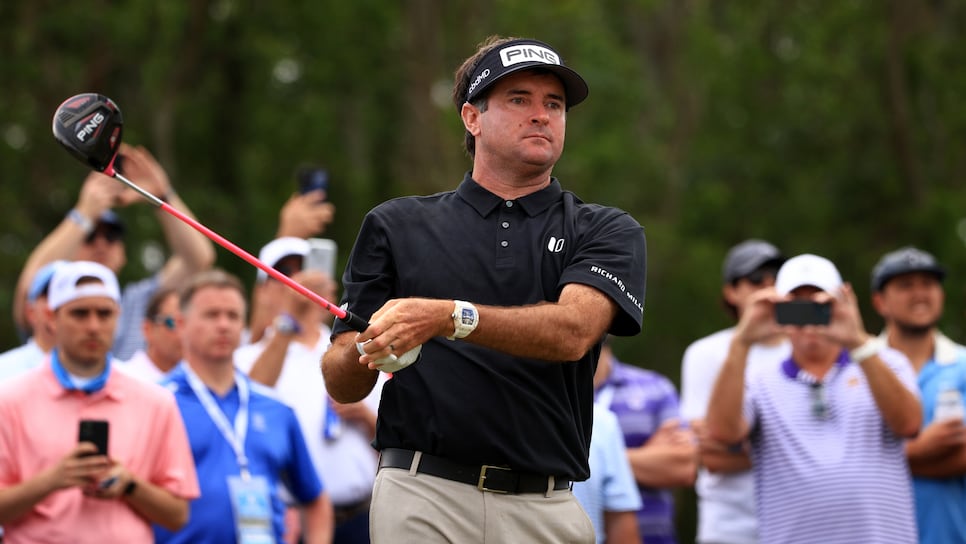 Bubba Watson plays his shot from the eighth tee during the second round of the Zurich Classic.
Mike Ehrmann
The boys tend to get a bit loose during Zurich Classic week. Not totally loose—this is, after all, an official PGA Tour event with FedEx Cup points and very-real money on the line—but definitely a little more relaxed than your run-of-the-mill tour stop. Team golf brings a totally different atmosphere, and guys relish the opportunity to joke around and bounce off their partner all week long.
Through two rounds at TPC Louisiana, no team seems to be having more fun than Scottie Scheffler and Bubba Watson. They'll enter the weekend in a tie for third, just two back of the lead shared by Cameron Champ/Tony Finau and Viktor Hovland/Kristoffer Ventura, so that's always nice. Scheffler also needled Watson pretty good on Thursday, when he was asked how the somewhat-random pairing came together.
"Bubba asked like eight or nine guys, and they all said no and he waited for me," a deadpan Scheffler said. "And then I waited about four or five days, texted a few guys and no one responded, so I said yes."
The fun continued into Friday's alternate shot round. (Foursomes is a dumb and confusing name, but that's a topic for another time.) On the par-5 finishing hole, Bubba put his tee shot into the left rough before Scheffler necked his approach, putting his partner in a brutal spot: 46 yards short of the green, with the pin tucked over the bunker, on a tight lie. The rest, we'll let Bubba tell:
"I said, because he loves Chipotle, and I do, 'hey, we're going to Chipotle. If we get this up-and-down we're going to Chipotle.' But here's the kicker, though. His wife couldn't wait for this tournament because they go out to eat, she's got all the restaurants lined up where they're going, so he hasn't had Chipotle this week. And I said, well, we're going to have to break it to her that we got that up-and-down, and I said, on top of it, y'all are buying. So it loosened him up, and unbelievable, it doesn't matter how good I hit the shot, if we don't make the putt, and he stroked an unbelievable putt, so it was nice."
Yep, the boys are going to Chiptole, and Mr. and Mrs. Scheffler—he married his high school sweethewart, Meredith, in December—are paying. There is nothing quite like an up-and-in when you know a burrito bowl is on the line.
Now, is it a felony crime to eat fast-casual restaurant in a food mecca like New Orleans? Maybe. Do we love the boy-like enthusiasm? We do indeed.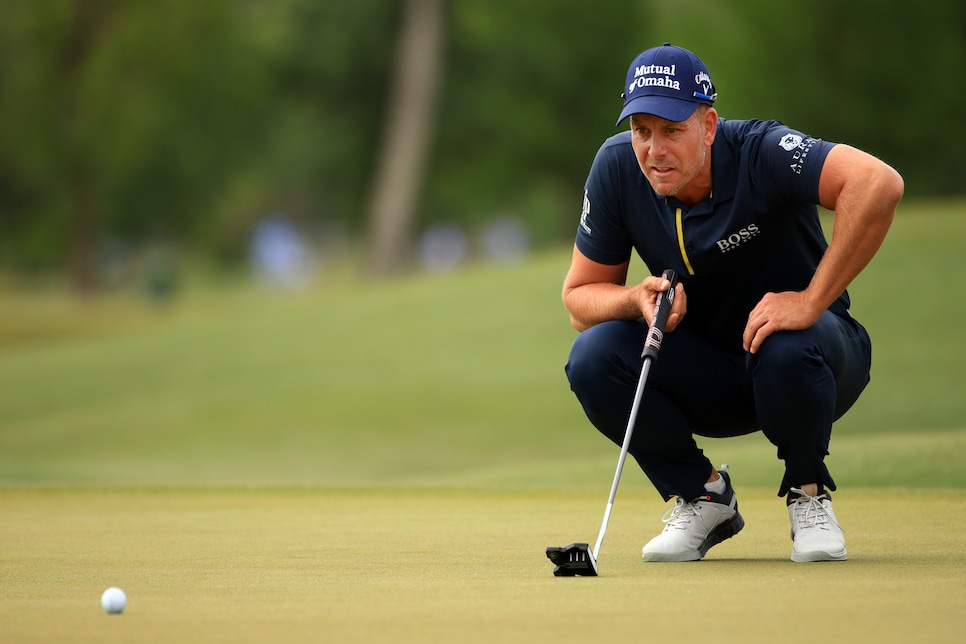 Henrik Stenson lines up a putt on the 13th green during the second round of the Zurich Classic.
Mike Ehrmann
Here are three other takeaways from Friday of the Zurich Classic
Henrik Stenson absolutely still has it
He hasn't received the same press as Jordan Spieth or Rickie Fowler, but Henrik Stenson has been on a pretty gnarly slide of his own. He'd missed six cuts in a row coming into the Masters and dropped all the way to No. 117 in the world. Plus, he's 45 years old, and slumps at that age always hit a little harder because you can't really know if it's just a blip in the road or the beginning of the end.
Which is why it was so lovely to see the Swede play the way he did on Friday afternoon. He and partner Justin Rose shot four-under 68 in alternate, tying for the low round of the day, and Stenson hardly missed a shot all day.
"Henrik was a rock today," Rose said. "I was kind of looking at it in terms of, I don't think he made one mistake that led to us dropping a shot, really. It was pretty fun just to have someone that was so solid today."
And this, from Jon Rahm: "Rose played good, and Stenson was pretty amazing to watch today."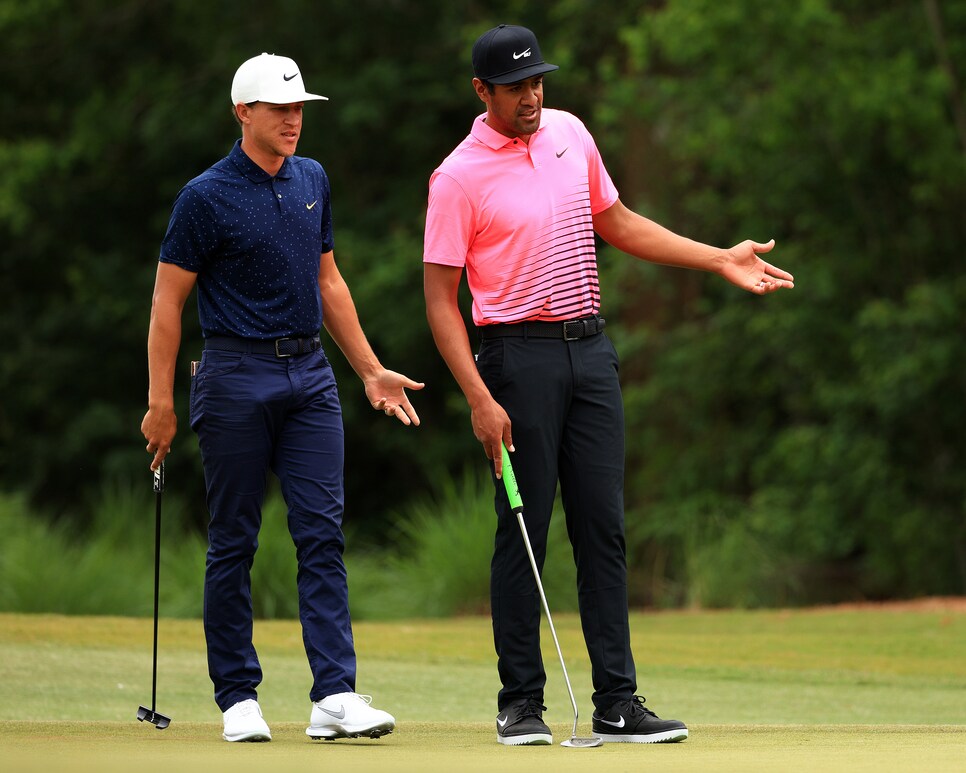 Tony Finau and Cameron Champ talk over a shot on the fourth green during the second round of the Zurich Classic.
Mike Ehrmann
It was a reminder of the generational ball-striker Stenson has been in his career—remember Troon!—and hopefully a sign of better play to come. He made the cut at the Masters, which was progress, and this is another step in the right direction.
'Team Send It' is setting the pace
The duo of Champ and Finau dubbed themselves 'Team Send It' this week, for obvious reasons … which we may as well spell out: They both hit it really freakin' far. But they're also playing lovely golf, following up their opening-round 63 with a four-under 68 in alternate shot.
Which leads to an interesting dynamic for the weekend. Finau, of course, has not won since the 2016 Puerto Rico Open. He's been close dozens of times, and he's one of the best players in the world, but he's loooooong overdue for a second PGA Tour victory. Wouldn't it be something, then, if he broke the streak in a team event—would that even count?
"I mean, I haven't thought about that much this week," Finau said. "You know, when Sunday comes I'll probably have a better answer for you. I know we're having a good time with this format up to this point. We've both played some really solid golf, and we find ourselves at the top of leader board."
Alternate shot strikes again
I'm not sure if my dad deserves credit for this one or if it's a well-known thing, but he always used to refer to the alternate shot format as 'I'm sorry,' because you're constantly apologizing to your teammate. Now, any good team in this format knows you absolutely need a no-apologies policy if you're going to function, but the point stands—it is extremely difficult to post a good score in this format.
Just five of the 80 teams in the field broke 70. Collin Morikawa and Matt Wolff shot 77. James Hahn and Martin Trainer scored 80. Granted, conditions were difficult, but the scoring in alternate shot is always extremely high—and not just in comparison to the best-ball from the day before. The scores are much higher than they'd be if everyone was playing their own ball.
"Foursomes is hard," said Marc Leishman. "You're hitting half the shots; there's no rhythm. You've got to make sure you're loose between shots. Yeah, it's just hard.."
You're also hitting your partner's ball, which is often different than the one you play, on half the holes. Just an uncomfortable format, and anything under par was a very good score indeed today.