Zozo Championship
Rickie Fowler has some past stumbles to erase if he's to close out the Zozo Championship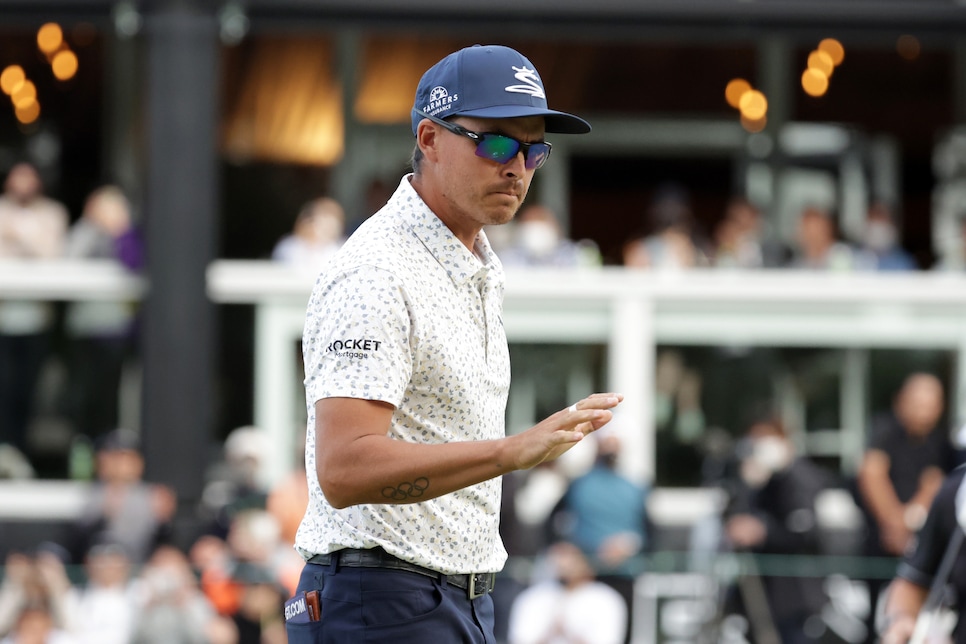 Rickie Fowler acknowledges the gallery after holing out with the birdie on the 18th green during the third round of the Zozo Championship.
Chung Sung-Jun
If you examine the career paths and not their Q Scores, there isn't a good reason why Rickie Fowler should feel any more pressure heading into the final round of the Zozo Championship than Keegan Bradley. At 33 years old, Fowler has won five times on the PGA Tour and, as the leader by one shot over Bradley heading into Sunday, he's trying for his first win since 2019. Bradley is 36 and has four career victories—the most prized being the 2011 PGA Championship he won in his first major start. (Truly stunning that it was so long ago.) Fowler doesn't have a trophy that big, but neither has Bradley lived with the weighty expectations that come with being golf's most sought-after pitchman. Bradley's victory drought is longer, too; he hasn't won since the 2018 BMW Championship. But you don't hear scribes and commentators debating the merits of his career and the reasons for his precipitous fall.
So, in reality, it's Fowler who has far more to lose in trying to secure the victory early Sunday morning U.S. time in the Zozo at Japan's Narashino Country Club, while most Americans sleep off their college football hangovers.
"It would be amazing," Fowler said of a potential win after shooting a third-round four-under 66 to get to a 14-under total. "Obviously, showing up here, we came over here to win. Last few months have been really good, starting to see a lot of positives. I believe I can do it, but like I said earlier, I know it's going to be tough."
Fowler knows as well as anyone the rigors of trying to close a tournament, because he hasn't exactly had the step-on-their-necks success of a Tiger Woods. Fowler held the 36-hole lead this week, which prompted the statistic that he's a horrible 1-for-10 in polishing off a halfway advantage. Then, as he maintained his margin heading into the final round, we were reminded that he's 2-for-8 with solo or co-leads after 54 holes.
It was Fowler who recalled on Friday evening that the most recent occasion he was in this situation was last year's CJ Cup in Las Vegas. He shot a 63 on Saturday, but faded with a 71 on Sunday and ended up tied for third, three back of winner Rory McIlroy, who closed with a 66.
There is reason to believe Fowler, ranked 160th in the world and making his 299th career tour start on a sponsor's exemption, is in a much better place, both mentally and physically, this time around. It's been well-documented that he's back working with instructor Butch Harmon, and his ball-striking has, for the most part, been superb amid the tight fairways and tall pines at Narashino. Despite ranking 62nd in the 78-man field in driving distance, Fowler is T-2 in greens in regulation, hitting 43 of 54 so far. He's No. 1 in birdies with 19, with nine of those coming on the five par 3s that dot the course.
"I'm looking forward to the challenge," Fowler said. "I'm going to have to play well and continue to do what I've been doing the last three days. Keegan, Putty [Andrew Putnam], on down the list, there's plenty of guys within a few shots. I'm out front, in control, but that can change if I don't execute like I have been."
Bradley, who has shot 66-65-66 for the week, will play for a second straight day with Fowler, and this isn't his first time in the vicinity of the Zozo's lead Sunday group. Three years ago, Bradley battled amid the chaos of Woods winning his 82nd tour title to tie Sam Snead for the all-time mark.
"I watched Tiger win here, I was in his group two years ago or however long it was, so that was really cool," Bradley said. "It would mean a lot to me to do that tomorrow."
Threats from farther down the board abound, including the prospect of a prolonged charge by Viktor Hovland, whose tumultuous third round ended with him making a long eagle putt at 18th to finish with a 64 and get to only three back of the lead. Beware of the 25-year-old Norwegian for two notables gleaned from Saturday: He hit all 18 greens in regulation and at the par-5 18th, after being conservative with a 3-wood off the tee, Hovland chose a 7-wood(!) and striped it 250 yards onto the middle of the green to set up the 45-foot eagle.
Those are the kind of heroics the top Zozo contenders either have to repeat or fear, considering 12 of the top 16 golfers on the current leaderboard shot 66 or better on Saturday.
More takeaways from the Zozo third round:
Theegala backing up strong rookie year
Sahith Theegala made it to the 2022 Tour Championship in his rookie season. That's all you need to know about how quickly the former Pepperdine star adapted to professional golf. And, other than a missed cut last week in Las Vegas, he's showing no signs of a letdown in his sophomore year.
Theegala, 24, tied for sixth in the season-opening Fortinet Championship last month, and in his first start in Japan, he's given himself another chance at a maiden win after shooting seven-under 63 in a third round that would have been truly special without a water-logged double bogey. Theegala, who is four shots back of Fowler's lead, was so far behind at the start of the third round that he was in the first group to go off the 10th tee.
From there, he showed the rest of the guys that there were low numbers to be had on a challenging track that was softened by rain earlier in the week. Theegala drained seven birdies on his front nine—including four straight from the 15th through 18th—to go out with a 29. With the course playing at a par of 70, he needed "only" to go four under on the back to shoot 59.
"The first 29," Theegala said of his career best. "It was a lot of fun. I made a couple nice putts early [including a 25-footer at 11] and then I started hitting some shots really close that I didn't really try to. … It's just one of those days where the numbers are right and I kind of fired at some pins. Even played well on the back honestly, just hit a couple really loose drives that cost me a couple shots."
Indeed, Theegala said he hooked his drive 40 yards offline on No. 4—his 13th hole of the day—and eventually made a very costly double bogey. After the round, he headed straight for the range to get in some work.
"Just trying to get the left miss out of the way. Other than that, I've really struck it well," he said.
Save for the missed cut last week, Theegala has not finished outside the top 30 in his last five starts. He made a strong run in the FedEx Cup Playoffs with a T-13 in the postseason opener in Memphis and followed with a T-15 at the BMW Championship to get into the 30-man field in Atlanta for the Tour Championship. He finished 28th there and for the season earned $3.1 million in a ton of starts—32.
"Talk to Carl [Smith] all the time, my caddie. Just can't ever take it for granted and year two still feels super, super fresh," Theegala said. "So I'm taking every opportunity as it comes and I'm just thankful for what I can do. The game has been getting better and better and just going to hopefully keep going in that trajectory."
Nakajima has overcome his own doubts in strong showing
We'd probably have to do a lot of digging through past interview transcripts to find a player who used the word "mortified" to describe anything, let alone his golf game. But that was the label young pro Keita Nakajima put to his feelings on Wednesday heading into the tournament. In fact, he sounded downright panicked about it. "I have been prepping for this week, but I am not in 100 percent shape, which I feel mortified about," he said. "My swing is inconsistent. I have been sending swing videos to my coach, but now I am a pro, so I need to bring my best game out there."
Perhaps he's just a perfectionist. Nakajima, was, after all, the No. 1-ranked amateur in the world before he quietly turned pro in September, and he played in the Masters, U.S. Open and Open Championship as the 2021 Asia-Pacific Amateur champ. He also had to be feeling some nerves playing in his native Japan, where last year he tied for 28th in the Zozo amid countryman Hideki Matsuyama's popular win.
The worry seems for naught, however, because there's a very good chance that even if Nakajima doesn't pull off a win—he's six back of Fowler—he'll beat Matsuyama for the week. With a crowd-pleasing eagle at the finishing hole, the 22-year-old shot 69 on Saturday and is four shots ahead of the former Masters champion, even with Matsuyama rallying on the day with a 66.
If this is Nakajima in disarray, we're looking forward to seeing his game when he straightens it out.