The Loop
You've Got Questions, I've Got Answers II
In the June issue of Golf Digest I answered Sam Stassi's Travel Trouble about getting the right rental car when taking a golf trip in Ireland.  Here are a few more questions and answers:
From Mike in Springdale, Ariz.:
In your magazine's story on South Alabama, "The Real Deal," the writer mentioned golfers using up their multi-round vouchers. We're going to that area in June, and I was wondering if the vouchers were a good deal, and where I might be able to purchase them?
I kicked the question to the writer of the story, Golf Digest Senior Editor Pete Finch. Finch got the answer from Mike McArthur, who runs the Gulf Shores Golf Desk.
"Our area has a good population of long-stay winter guests (i.e. snowbirds), who spend January, February and early March with us. Over the years, the golf courses have developed multi-play passes for their use. While anyone can buy them, they're intended for the snowbirds, as they all expire at the end of February.
For your reader, summer is families on beach vacations. Most of our golf courses offer tiered rates throughout the day, and groups with juniors will find family golf and junior programs available at each facility.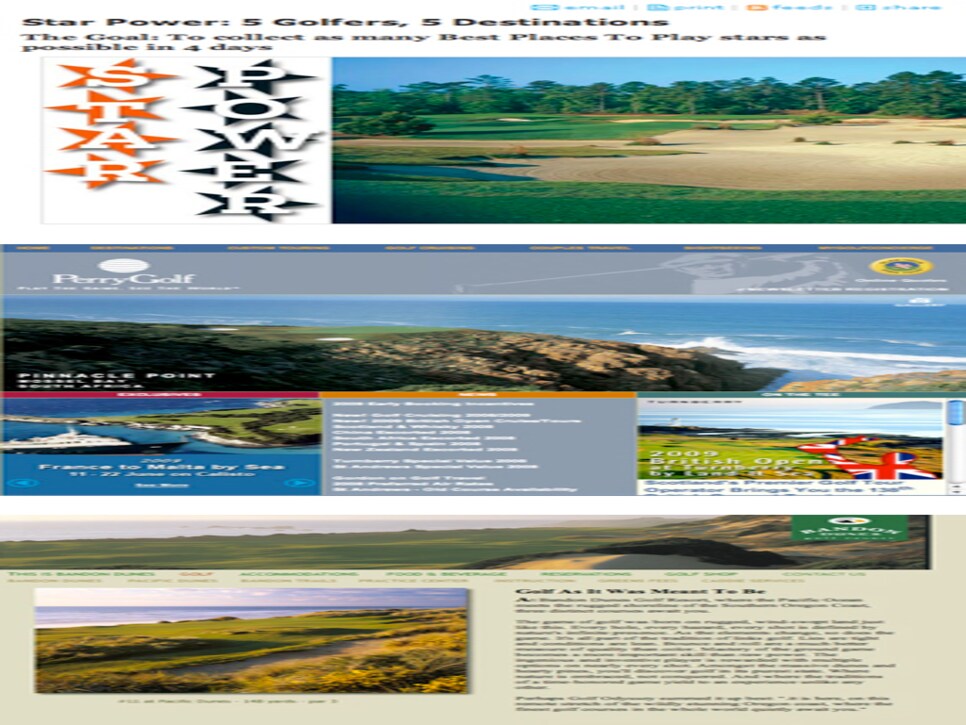 If the group already has its lodging set, we can bundle multiple rounds over several days and build a golf-only package. This pre-paid golf itinerary will save them a bit over the walk-up rate and keep them organized. Please refer them (and any further inquiries) to golfgulfshores.com or call (888) 815-1902 for additional help with stay-n-play or a golf-only package to Alabama's Gulf Coast."
From Barbara in Sebastopol, Calif.:
How would I go about finding a good tour operator for golf in Ireland?  Are they ranked or rated anywhere?
I asked Blair Leburn, who used to work at PerryGolf.  He's now a hired gun on our sales team who has traveled the world playing this crazy game. Leburn signs his e-mails "Weeman," which I'm guessing is in reference to his height, but he hits the ball on a string about 299 yards off the tee. I'd say 300, but I don't want the Weeman to get a Bighead. Here's what Leburn suggests:
"The top-five tour operators for golf in Ireland are as follows. Each one listed below has been around for more than 10 years. Their longevity in the business is proof of dependability."
(In no particular order):
From John Michael in San Jose, Calif.:
In the "Endless Summer" article in the June issue, it states that the Bend, Ore., airport is "20 miles away" from Bandon Dunes. Bend is in fact about 250 miles away from Bandon Dunes, on the east side of the Cascades. The airport in North Bend is just above Coos Bay and about 20 miles away. BIG DIFFERENCE, travel guy!  With gas @ $4/gallon, I don't need your driving directions.
Good catch, John Michael. And you're right; you DON'T want my driving directions. I can get lost trying to find my refrigerator. I appreciate you calling this fact to our attention--the exact names of the airports, and not the gas prices. That fact cuts into my Manhattan social budget every 350 to 400 miles.
Golf Digest's Chief of Research, Sue Ellen Powell, offers an official response:
"I looked up the airport location in North Bend and how far it was away from the Bandon Dunes Golf Resort. It's 24.61 miles. We say, 'The Bend airport is 20 miles away.' We needed to say, 'The North Bend airport is 20 miles away.'
"There is a Bend Municipal Airport that is 265 miles away, but this airport is not even listed on MapQuest.  The resort lists the North Bend airport on their website."
Keep all good catches and Travel Troubles coming. If these gas prices keep going up, I'll be answering them from my trips on a train.