The Loop
NORTH PLAINS, ORE.—Take a moment to click on this link, which gives thumbnail sketches of the eight players competing in this afternoon's quarterfinals at the 106th U.S. Women's Amateur Championship. Notice anything interesting? Anything unusual? Anything scary?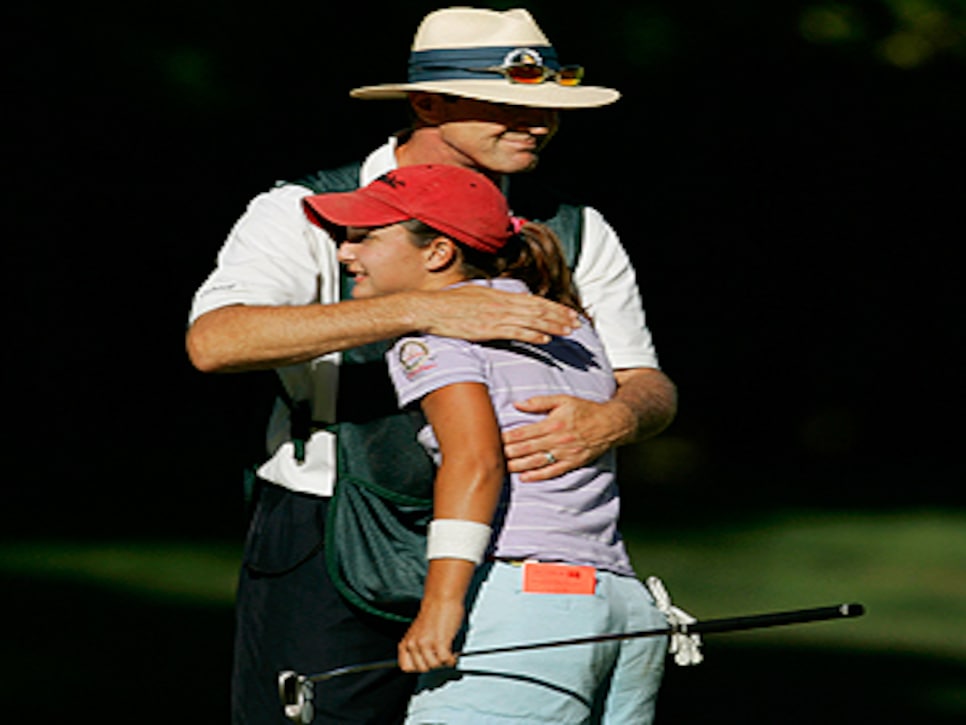 With 14-year-old Kimberly Kim, 15-year-old__Lindy Duncan__ (pictured; photo courtesy of USGA) and 16-year-old Ayaka Kaneko still in the tournament, there is the potential that by day's end three-quarters of field remaining at Pumpkin Ridge GC will have yet to attend a high school prom.
The past few days Carol Semple Thompson has been walking the Witch Hollow course watching various matches, including following the six players she captained two weeks ago on the victorious U.S. Curtis Cup team that made it her to match play. After seeing all but one of them—19-year-old Jennie Lee—be bounced out by the second round, Thompson was asked about what happened.
"There's a lot of talent out there," said the Grande Dame of women's amateur golf, who missed match play herself earlier in the week. "A lot of young talent."
Indeed, to get to the quarterfinals, 21-year-old Eileen Vargas, an almost ancient senior-to-be at Pepperdine, defeated 18-year-old__Melissa Reid__ in the first round, 18-year-old In-Kyung Kim in the second round, 16-year-old Mina Harigae in the third round. To get to the tomorrow's semifinals, she'll have to knock off Kimberly Kim, the runner-up at the U.S. Women's Amateur Public Links earlier this summer.
Of course this is a trend well in the making. Last year at Ansley GC's Settindown Creek course, the average age of the quarterfinalists was 17.6. The number is skewed to 18.75 this year, but only because 26-year-old Katharina Schallenberg of Germany forgot to read the memo that said no one who ever actually has sent a letter through the regular mail to a friend rather than text message him or her was allowed past the first round.
"I just wanted to make match play so I would be exempt for the Girls' Junior [next year]," said Duncan about whether she expected to get this far in the tournament. "Those qualifiers are really tough." The innocence in her voice when describing this plight was both refreshing and startling at the same time.
Meanwhile, all Kimberly Kim could do after her third-round victory Thursday was giggle while reciting lines from the new Will Farrell movie "Talladega Nights: The Ballad of Ricky Bobby."
"My dad took me to see it, to try to get me to relax."
Oh, these young players are relaxed alright.
And they're pretty darn good too.