The Loop
Your New Orleans travel guide for the Zurich Classic
The Zurich Classic is setting up to be one of the more exciting tournaments on the PGA Tour. The two-man team format and stacked field make it a can't miss. What's more, the tournament is in New Orleans—a city known for great food, music and parties. The challenge is, how do you fit everything into just one weekend? We've put together a foolproof guide that will ensure you can tick everything off your Nola bucket list, but also get to watch the first official team event on the tour since 1981.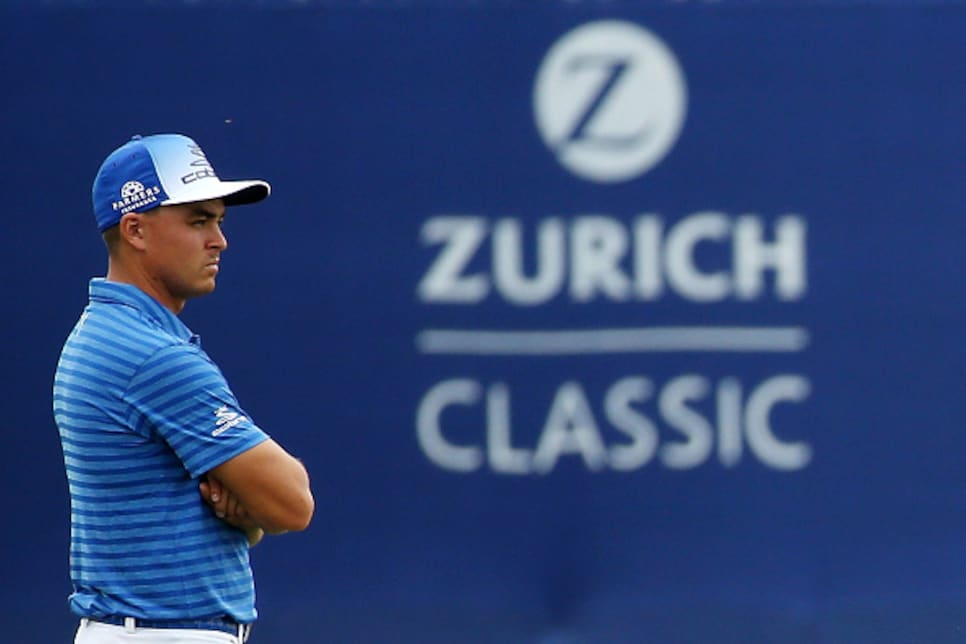 When you arrive Thursday night at Louis Armstrong International Airport, you're going to want to rent a car. Yes, there is a mass transit system in New Orleans, but TPC Louisiana is about a half-hour drive from the French Quarter, where most of your non-golf time will be spent.
*Be mindful that the first weekend of Jazz Fest also falls on this weekend, so things are going to be a little crowded. Hopefully you've booked your car and accommodations in advance. You'll want to book any tee times or tours as soon as possible, too.
After you drop your bags at your hotel, head immediately out to explore the French Quarter. Expect to run into concert-hall-caliber street musicians on every corner. Stop by Acme Oyster House. If the line is too long, go across the street to Felix's Restaurant & Oyster Bar. You can't go wrong with anything on the menu at either place. Fresh oysters, fried oysters, Oysters Rockefeller—you name it and you'll love it. Don't be fooled by the vinyl table cloths and low-key façades. Acme and Felix's, like most gems in New Orleans, are no-frill stops but are sure to please.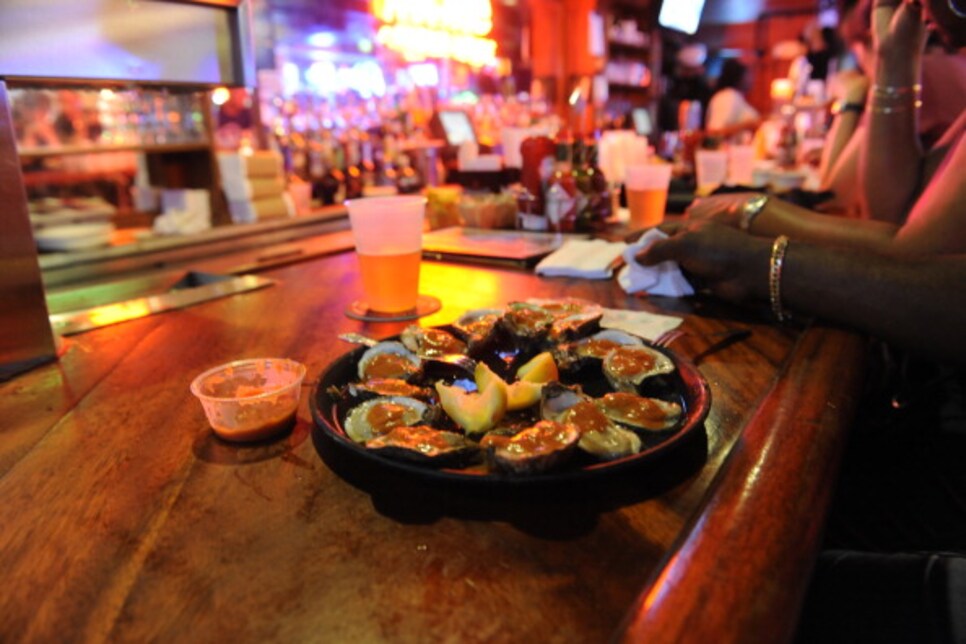 Denver Post via Getty Images
Walk off the meal with a stroll down Bourbon Street. Indulge in a hurricane at Pat O'Briens but don't be fooled by the sugary taste, they're packed with rum and stronger than you'd expect. A fun perk of visiting Nola is that you can take your drinks to go so you won't have to wait for that one friend who always seems to be babysitting his adult beverage for hours.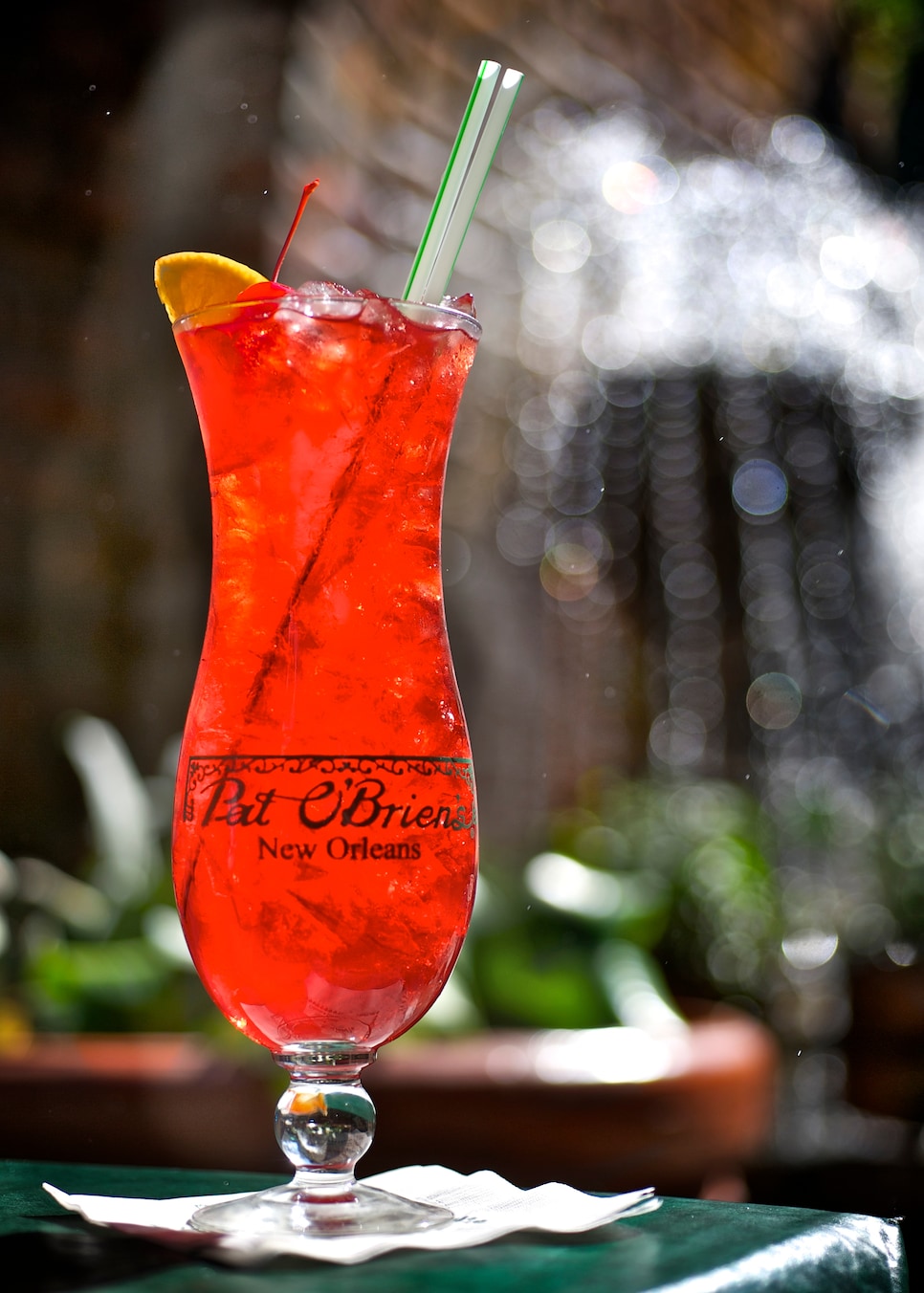 Stay on Bourbon Street, if that is your speed. Fat Tuesdays is the place to go for cheap frozen daiquiris. To watch some inebriated tourists do karaoke or to be the inebriated tourist doing karaoke, Cat's Meow is a sure bet.
For slower speeds, head down to Jackson Square to listen to more street musicians and find a great photo op in front of the statue of Andrew Jackson and the St. Louis Cathedral.
You'll start to notice people walking around with powdered sugar on their shirts, carrying little white paper bags. This is a good sign because it means Café Du Monde is nearby. Ask for an order of beignets (French doughnuts) and a Café Au Lait. This is one of the hottest stops for tourists, so be ready to wait in line.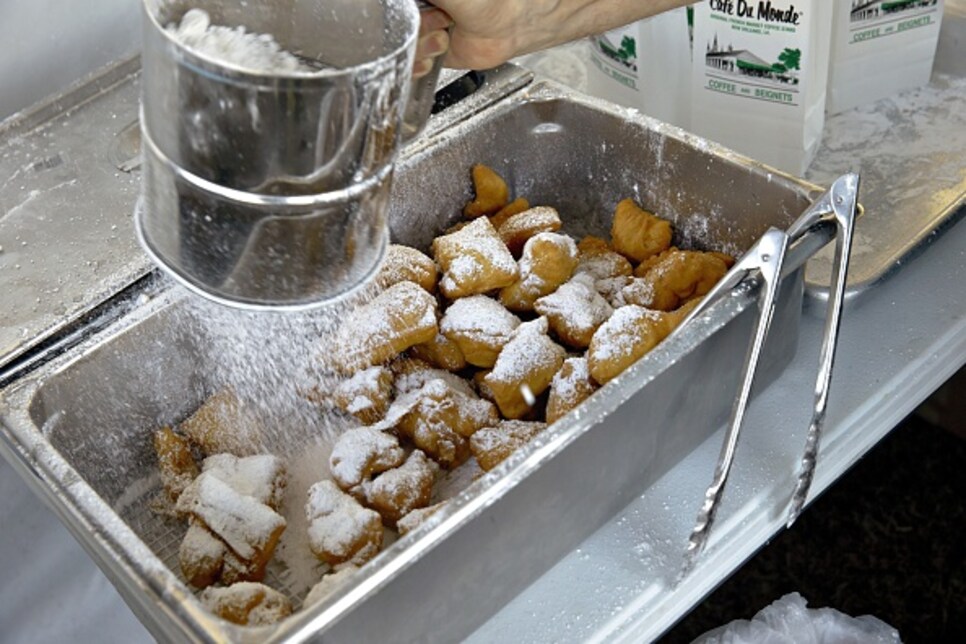 Hopefully Bourbon Street didn't get the best of you because you're going to want get up bright and early and head right to the tournament. Café Beignet is best for a quick hangover cure of a breakfast sandwich. And of course, another trio of beignets sprinkled with powdered sugar.
As to be expected, the crowds at TPC Louisiana will be smaller so take the opportunity to follow a big name or two. No. 11 is where you'll see the best drives off the tee. It's a long par 5 that is susceptible to birdies if played strategically.
If you're the morbid type, park yourself at No. 16 for a few inevitable putting meltdowns. The par 4's green doesn't have a straight putt. It also has one of the best views on the course.
After No. 16, follow your favorite group in to see how they fare on the tricky 17th and deceptive 18th. With water down the left and bunkers guarding the right of the green on 17, don't expect to see a lot of birdies.
End your day on 18. Even though the finishing hole was shortened, it is still an exciting one. There's not an easy shot on this sand-littered hole, so you'll get a good idea of who is going to be hot going into the weekend.
For dinner, head to Adolfo's on Frenchman Street. It is a bit of a walk from the French Quarter, but this hidden treasure is worth it. The fare is Creole-influenced Italian and they don't take reservations. Doors open at 5:30 p.m., but patrons line up as early as 4:30 to get a seat.
Stick around on Frenchman Street for the best jazz you'll ever hear. Even if you don't like jazz, you'll be mesmerized by the raw talent and improvisation. Check out The Spotted Cat Music Club, Blue Nile or The Maison before heading back to your hotel.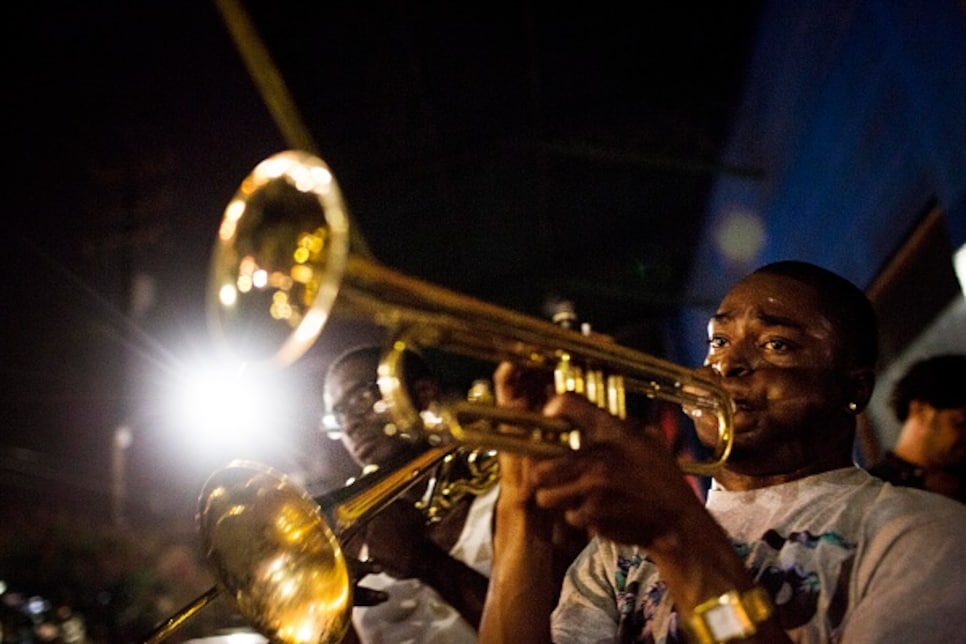 Wake up with brunch at either The Ruby Slipper Café or Daisy Dukes. Expect Bloody Mary's with bacon, pickles or even a crawfish hanging off the glass. Opt for bottomless so you can take one to go.
For a little adventure, book a swamp tour for after brunch. Riding in an airboat, looking for gators is a New Orleans must. Try to actually listen when they tell you to keep your hands and arms inside the boat; these gators aren't shy.
Grab a Mufullata sandwich at Central Grocery before finding your way back to the tournament. This is essentially the dream Italian sandwich layered with marinated olive salad, mortadella, salami, ham, mozzarella and provolone on a large round Sicilian sesame bread. Yes, you read that correctly and it is as good as it sounds.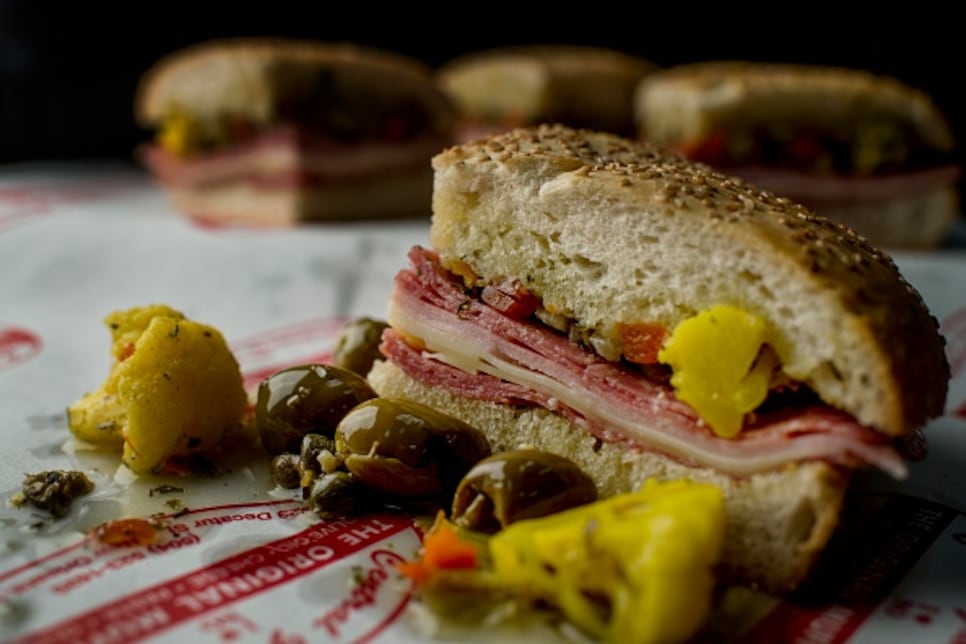 Back at the course, work up an appetite watching Andrew (Beef) Johnston and partner Kyle Reifers or trying to keep up with Jordan Spieth and partner Ryan Palmer.
Later, settle in at Mother's Restaurant where you'll be pleased with just about anything on the menu. If you need some translating: A po'boy is a sloppy traditional Louisiana sandwich filled with either fried seafood or roast beef. Gumbo is a stew usually filled with seafood, vegetables and a heavy stock. And yes, the turtle soup actually has turtle in it.
Afterward, take another stroll down Bourbon Street, grab a mint julep and take a ghost or cemetery tour. Normally walking tours are for geriatrics, but with the history and legends of NOLA, you won't believe how interested you'll become in Louisiana's past. Wait until you hear about Marie Laveau and Delphine LaLaurie…you might want to keep the lights on when you go to sleep that night.
If watching the power pairing has inspired your group to play 18, head to English Turn Golf & Country Club, the former site for the tour stop. Non-residents can get out for $120.
For a quick, cheap nine holes, $30 will get you out on The Golf Club at Audubon Park. The lagoons scattered around this course may be scenic, but they are dangerous.
Soak in the final day of the Zurich Classic, grab any merchandise you've had your eye on and find a good spot on 18 for when the final groups come in.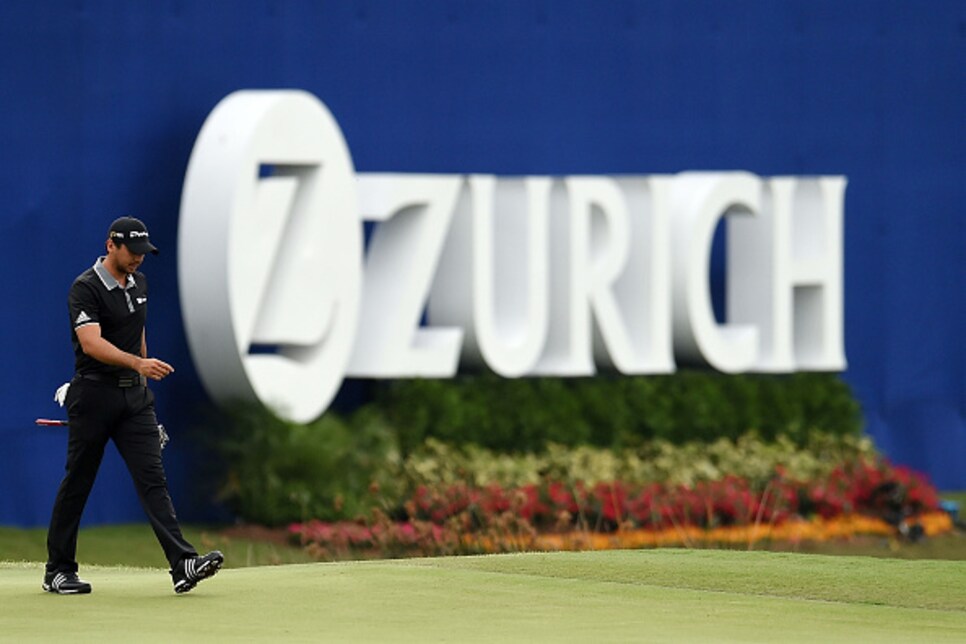 Celebrate with a big crawfish boil at Superior Seafood & Oyster at just $5 a pound. If you've never tried the shellfish, here's how to look like a pro: First pinch the body with one hand and the tail joint with the other. Twist and snap the head from the tail. Some opt to suck the juices out of the head. It's not for everyone, but worth a try. Then take the tail, peel away the shell and pull out the meat. Extra napkins will be necessary.
Polish off dinner at Hansen's Sno-Bliz. The family-owned joint has been around since 1939 serving the best sno balls around. These aren't your typical snow cones. Bet you've never had wedding-cake-flavored shaved ice. Though the house specialty is Mary's Own Coconut Sno-Bliz, created with meticulous layers of ice and syrup.
With proper planning, you can soak in both the city of New Orleans and a lot of great golf over a long weekend at the Zurich Classic. Just don't blame us if you have to add a belt hole at the end of the week from all the deliciously southern food.