The Loop
Young Giuliani's Play Impresses Mickelson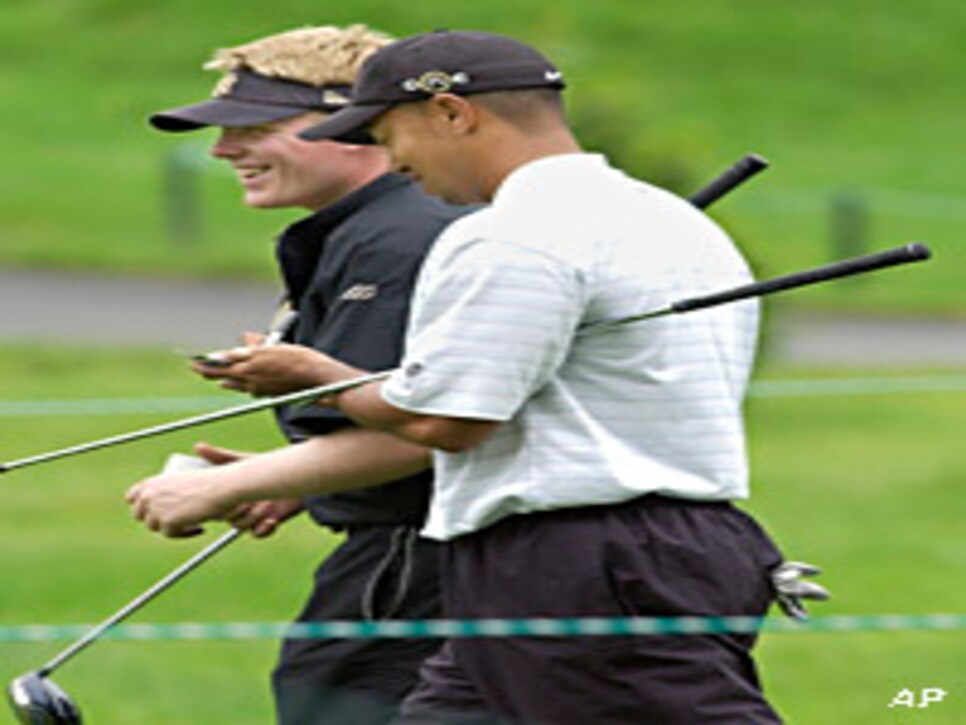 It didn't surprise Phil Mickelson that Andrew Giuliani (right, with Tiger) was doing so well in the Met Open, shooting 71 in the opening round Wednesday at the Meadow Brook Club on Long Island. Lefty and the former New York City mayor's son played in the Buick Classic Pro-Am a few years ago, before Giuliani enrolled at Duke, where he is entering his junior year as a walk-on member of the golf team. "He's got game," Mickelson told me after his opening-round 67 at The Barclays.
Rudy Giuliani is an 18-handicapper, but in Mickelson's mind, Giuliani's 21-year-old son got his father's disposition. He lists a muny, Van Cortlandt Park, as his home course, but also plays out of Trump National in Briarcliff Manor. "His dad taught him a lot outside of golf that has carried over into the way he plays," said Mickelson. "He doesn't let bad shots affect him. He plays without fear. He plays aggressive. He plays smart. He's got a good overall way to attack the game."
Mickelson connected with New York Mayor Michael Bloomberg in Wednesday's pro-am, sharing thoughts on golf, politics, social issues and economics. "We had a good day," Mickelson said. "I really enjoyed listening to what he had to say. He's got some great insights into all aspects of society. I don't want to get into detail, but I was fascinated listening to him talk. He obviously has a great grasp of what the problems are and the direction we need to have."
Bloomberg loves golf, too, with memberships at the Golf Club of Purchase, Glen Arbor and Deepdale in greater New York, and is known to escape at times to Florida for all-day sessions at McArthur G.C. in Hobe Sound. "He's got a good game and he hits the ball solid," Mickelson said. "He's a 21-handicap, but he had five net pars. It was hot or cold. He was a legit 21 (handicap), but he had the ability to hit solid shots and make par. He even had a net birdie."