The Loop
"YesSir!" Lundquist on his famous call & more
In the March 21 issue of Golf World, Chris Millard wrote a feature on famed broadcaster, Verne Lundquist. Here, Millard shares more from his talk with the TV veteran. From his legendary "YesSir!" during the 1986 Masters, to his favorite announcing moments in sports history, to his thoughts on what makes a great call, the hall-of-famer offers his unique perspective:
THE CURIOUS CASE OF THE THREE 'YESSIRS'
It was during Masters week in the early 2000s, Verne Lundquist isn't certain as to the year. He and CBS colleague Peter Kostis were relaxing in one of the announce team's rental houses, watching a hockey game, while third roommate David Feherty was out making a corporate appearance.
The two broadcasters started talking aimlessly about the 1986 Masters when Kostis said, "You do know about the other yessir, don't you, Verne?"
Lundquist was mortified to hear that his signature call may have been a knock-off. Kostis assured him that, yessir, another yessir had been uttered that memorable day. Kostis was right, but only partially: The exclamatory yessir was actually heard three times in the last 61 minutes of one of the most watched broadcasts in history. And seemingly no one noticed.
Lundquist, of course, has been immortalized for his call of Jack Nicklaus' go-ahead birdie putt on the 71st hole, but three vital calls that day were punctuated with the affirmative catchphrase. Only 24 minutes before Lundquist's hall-of-fame "Yessir!" at 17, one of nearly equal import and decibel-level took place at 15. When Jack Nicklaus drained his eagle putt, sending son Jack II skyward, CBS' Ben Wright offered a throaty rendition in the Queen's English. "Yes, Suh!"
Next came Lundquist's version, prefaced with a suspenseful "Maybe...," and accented by Nicklaus' lofting of his saber. Bringing up the rear thirty-seven minutes later: A powerful yessir from none other than Lundquist himself. When Greg Norman birdied 17 before flaming out on the home hole. Lundquist let another one go, "YesSir!"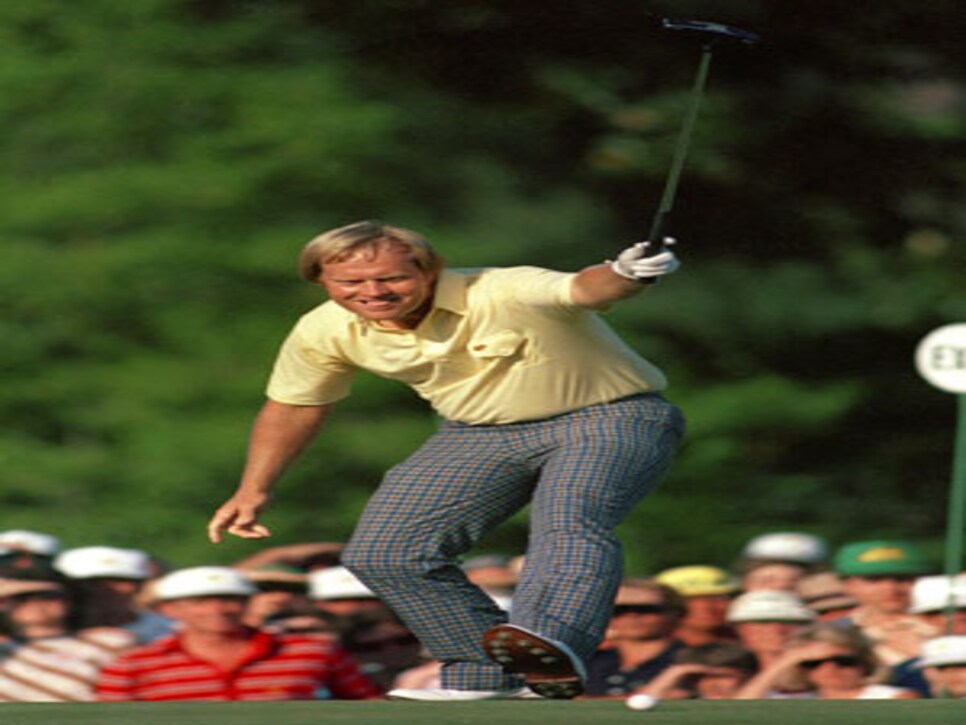 Yessir, indeed. Lundquist says he was unaware, at least on a conscious level of Wright's verbiage. "Obviously I didn't copy him," he said, "That would be a little too obvious, 'hmmm, that was a pretty good line, maybe I can chisel that one in here.' I was not aware of it. Maybe on some really sub-conscious level I was aware of it and that's probably why I said it, but until Peter Kostis brought it up to me 6 or 7 yrs ago, I didn't know."
CBS producer, Frank Chirkinian says he was acutely aware of the first two yessirs, and, in fact, claims he noticed the second one right away and tweaked Lundquist for his use of the term.
"Right after he (Verne) made that call," said Chrikinian, "the crowd, of course, is going crazy, and I threw his communications key down and I said to him, 'We're paying you all that money for "maybe, yessir?' Something I think I've heard already?' I just kind of needled him a little bit about it. Anyway, it carried the day and now that's what stands out in everybody's mind."
Ben Wright, like virtually anyone who worked the '86 Masters telecast, regards it as "the high spot of my time -- 27 years -- with CBS." Although he takes pride in his call at 15, he never really felt bothered by Lundquist's usage, and felt closure when, many years later, Lundquist acknowledged Wright's call on the air. "It's not like I claimed proprietary rights to 'yes sir,' for God's sake, but I thought it was nice of him to fess up."
What makes a call great? Is it great because it's great or because it's tied to a great moment? Which comes first: the moment, the call or the athlete?
Lundquist has no illusions. "If Bruce Crampton had made that putt at 17 in 1986, it would have been a nice moment, but it was Jack Nicklaus and Jack won. I think the event comes first, I really do. The event, then the person, then the call."
So what are Lundquist's all-time favorite sports calls?
"I don't think any of us knew these kids very well," said Lundquist, "but in 1980 we certainly knew it was the American team against the Russian team and it was a great moment. I think it may be the best. One of the top 5 ever."
That's four. How about Augusta 1986? "No," he said, through a familiar belly laugh, "I'm not going to do that."
Lundquist is in the enviable position of having his voice tied to not one, but two of the most thrilling moments in Masters history. Twenty years after Nicklaus' emotional victory, Lundquist was behind the mic when the single most talked about camera shot in golf history was beamed into millions of homes.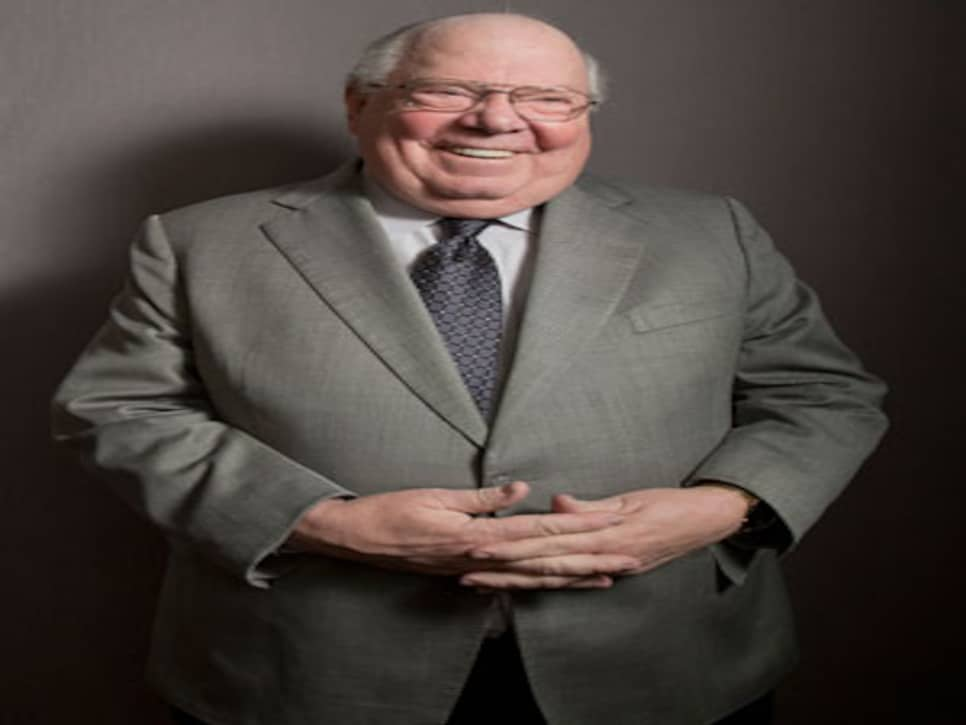 In April 2005, the CBS camera operators assigned to the back nine at Augusta were like kids at Christmas. They had just been given a shiny new toy, an Ikegami camera that afforded what would prove to be two hugely important and timely technological capabilities.
The first was the capability for a super extreme close-up. Lundquist saw the power of the new camera during that Wednesday's practice round. He and veteran 16th hole cameraman Bob Wishnie had emerged from a staff meeting, grabbed lunch and headed out to the tower. "We'll just head out there and sit in the tower for a half hour or so," says Lundquist.
While the CBS duo was in the tower, re-acclimating to the job, a contestant marked his ball at the very front of the green with a nickel. Wishnie tried the new toy. He zoomed his camera in on the nickel and said to Lundquist, "Look at this, it's 100-to-1 zoom lens."
"We zoomed in in perfect focus on In God we Trust," said Lundquist.
The second capability of the new camera, explained Wishnie, was built-in stabilizers. He told Lundquist the camera would no longer tremble when the tower shakes, "especially if you get excited and move your body all over the place. The camera won't wiggle and I wont get yelled at."
Four days later, with a fourth green jacket on the line, Tiger Woods would test both key features of Wishnie's new camera with his spine-tingling chip at 16. While Lundquist's "Oh, wow!!!" call would be enshrined with his 1986 call as one of the finest ever, he attributes the quality of the shot, it's extreme close-up and steadiness, for the greatness of the call.
Today in Lundquist's study he has dozens, maybe hundreds of photos from a career in sports television. On opposing sides of the room, he has large autographed pictures of Nicklaus holing out at 17 and Tiger chipping at 16. Although he's loathe to suggest a preference, the Nicklaus photo is larger.
(Photos: Nicklaus: AP Photo; Lundquist: Peter Gregoire)