News
Yani Tseng: The secret to her success
When Yani Tseng won the LPGA Championship as a 19-year-old rookie in 2008 (becoming the second-youngest major winner in LPGA history), LPGA fans knew she was something special. The unassuming tomboy from Taiwan displayed mad talent, including serious distance off the tee. But she was shy, almost insecure, and she didn't speak English.
The next couple of years brought moments of greatness (four wins, including two majors) from a still very young player, and frequent English classes helped Tseng slowly come out of her shell. But she was still a mortal, someone who tended to let her nerves get the best of her in tense situations. She buckled under pressure more than she prevailed -- as most girls in their early 20s would.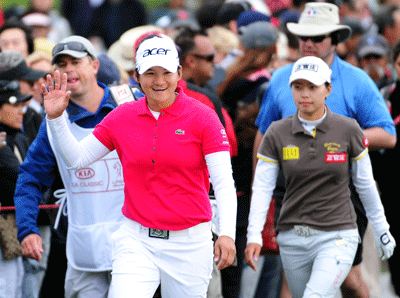 In 2011, Tseng seemed to shake the nerves; she won seven LPGA Tour titles including two majors; five other titles worldwide; and put major distance between herself and the rest of the tour in the Rolex World Rankings. And now, she has risen from mortal to supernatural. The Yani Tseng that has emerged in 2012 is nothing short of astounding. The 23-year-old has won three of the first five tournaments of the season (including Sunday's Kia Classic by a whopping six shots), and six of her last 12 starts dating back to last year. It's the type of dominance only seen a handful of times in the history of the women's game, and never by someone Tseng's age (for example, Annika Sorenstam was 24 before she won her first LPGA Tour event). What's changed?
Tseng's longtime coach Gary Gilchrist says her transformation is more the result of a mental-game boost than any major swing fixes. "Starting out, she came from another country and she couldn't speak the language, so learning English was a great strategy to help improve her self-image," he says. "Now she can talk with confidence." A body-language education also helped. "Her post-shot routine was bad; she used to get down on herself very quickly. So I said, what's your goal? To be the number one player in the world? Then even when you hit a bad shot, you're going to walk with confidence." Tseng worked on her posture and on thinking positive thoughts between shots, and it's translated to lower scores. "In the past, when she hit it long and off-line, she'd make bogeys and pars," Gilchrist says. "Now, she still makes birdies. She found out that you don't have to hit the ball perfectly every time to win -- you just have to have an attitude. That, over time, has made a big difference."
Tseng's incredible success in 2011 could easily have derailed the inherently shy player, but she's not letting her newfound fame scare her anymore. "How do you manage being No. 1?, when everybody expects more and more out of you? I told her not to put more pressure on herself," says Gilchrist. "I told her to balance her expectations, just focus on what she does well. Stay on the same track, stay patient, and she did. She became very comfortable with the No. 1 thing quickly."
Tseng isn't only comfortable these days -- she's having a blast. Gone is the shy, nervous kid who would blow a lead because she doubted her own abilities. The new Yani is relaxed, confident and having a good time. And as intimidating as her golf game has become, the girl swinging the club is more approachable than ever. When asked Sunday if she feels like the other players are looking at her differently now that she's so dominant, she said, "I don't know what they think, but I don't feel like I've changed. On the golf course I still have so much fun [when I play with] all the other players. I really don't know if they look at me differently. But I look at everybody all the same."