The Loop
Say a prayer for your IPAs, the WWE has its own wine line now
Summer has finally faded. The evenings are cool and the mornings crisp. The smell of fall is in the air. It's time to curl up beside a crackling fire with a spooky story, the family dog as your foot rest, and, of course, a nice glass of FREAKING UNDERTAKER WINE. HIT US WITH THAT SWEET, SWEET TOMBSTONE PILEDRIVER PLEASE AND THANK YOU.
OK, OK, sorry. Had to get that out of our system, but when the WWE announces their very first wine range and announces their arrival to the game with a super-duper limited Undertaker Cabernet Sauvignon AND a 2019 Ultimate Warrior Zinfandel, you're not NOT going to get hyped. Just check out the gloriously Attitude-era bottles if you don't believe us.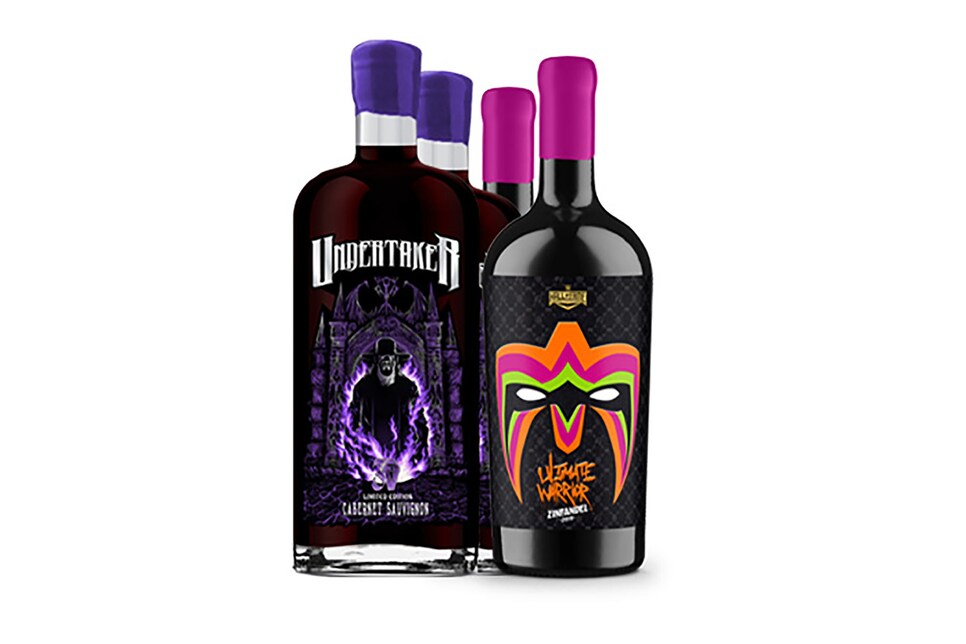 You might think this is a strange decision for a brand that sceams Bud Ice 40, not fine California vino, but the WWE seems to be taking the venture pretty seriously. The Undertaker Cab Sav hails from Lodi, CA and is limited to single 30-barrel run, with each bottle coming numbered with both its own bottle number and that of its barrel of origin. The Ultimate Warrior Zinfandel, meanwhile, calls the wine hotbed of Mendocino home, blending in 20% Sangiovese for a little exotic spice, just like its namesake. Each wine comes with custom touches as well, such as the Undertaker's tombstone-shaped bottle and glow-in-the-dark label and three different corks on the Ultimate Warrior vintage, featuring different images and quotes from the late, great superstar.
All this adds up to a bit of sticker shock, especially if you're just here to watch some old Wrestlemanias and get bombed on wrestling wine. Each wine is sold in a minimum two-pack at a price of $50 per bottle ($100 per pair.) You can get a mix pack of each or six of the same damn one if you really want to go nuts. Each is scheduled to ship by late October/early November, making it the perfect bottle of red to bring home to the Thanksgiving table . . . well, before you chokeslam your sister's new boyfriend through it, that is.