The dominant theme of our new ranking of the World's 100 Greatest Golf Courses is proximity to the sea. We count 46 of the Top 100 as being oceanside venues, including our new No. 1, Royal County Down in Northern Ireland and the two hottest new layouts on the globe, No. 19 Cabot Cliffs in Nova Scotia and No. 24 Cape Wickham in Australia.  That count doesn't include No. 51 Whistling Straits or No. 68 Gozzer Ranch, both in the United States, or No. 75 Lake Course at Spring City in China. They're great courses, too, but adjacent to inland bodies of water, not oceans. The trend is clear: seaside venues bring out the best in golf architecture.
Parentheses indicate previous ranking.
1 (4) Royal County Down G.C.
Newcastle, County Down, Northern Ireland / 7,186 yards, Par 71
On a clear spring day, with Dundrum Bay to the east, the Mountains of Mourne to the south and gorse-covered dunes in golden bloom, there is no lovelier place in golf than our new No. 1. Its design is attributed to Old Tom Morris but was refined by half a dozen architects in the past 120 years, most recently by Donald Steel. Though the greens are surprisingly flat, as if to compensate for the rugged terrain and numerous blind shots, bunkers are a definite highlight, most with arched eyebrows of dense marram grasses and impenetrable clumps of heather.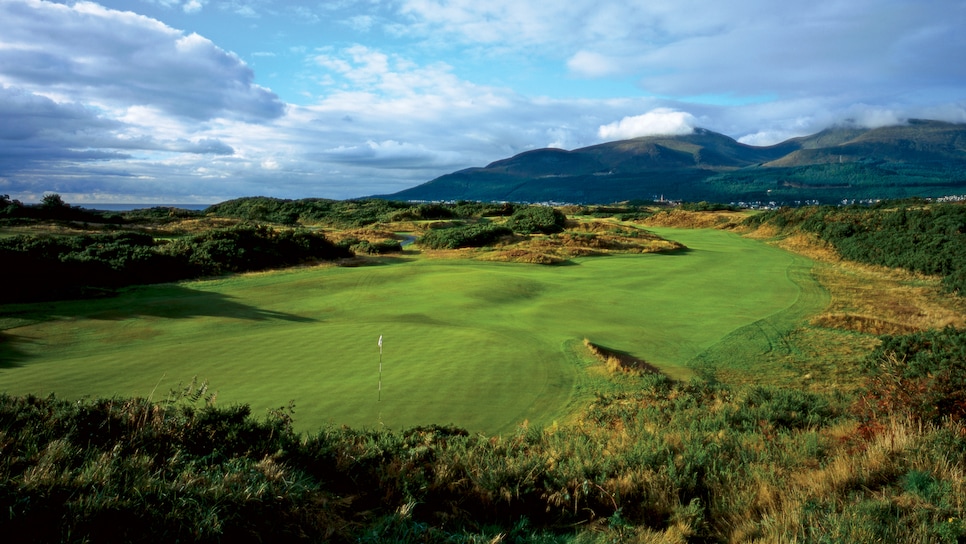 2 (3) Augusta National (Ga.) G.C.
Augusta, Ga., U.S.A. / 7,435 yards, Par 72
No club has tinkered with its golf course as often or as effectively over the decades as has Augusta National, mainly to keep it competitive for the annual Masters Tournament, an event it has conducted since 1934, with time off during WWII. All that tinkering has resulted in an amalgamation of design ideas, with a routing by Alister MacKenzie and Bob Jones, some Perry Maxwell greens, some Trent Jones water hazards, some Jack Nicklaus mounds and, in the last decade, extensive lengthening and rebunkering by Tom Fazio.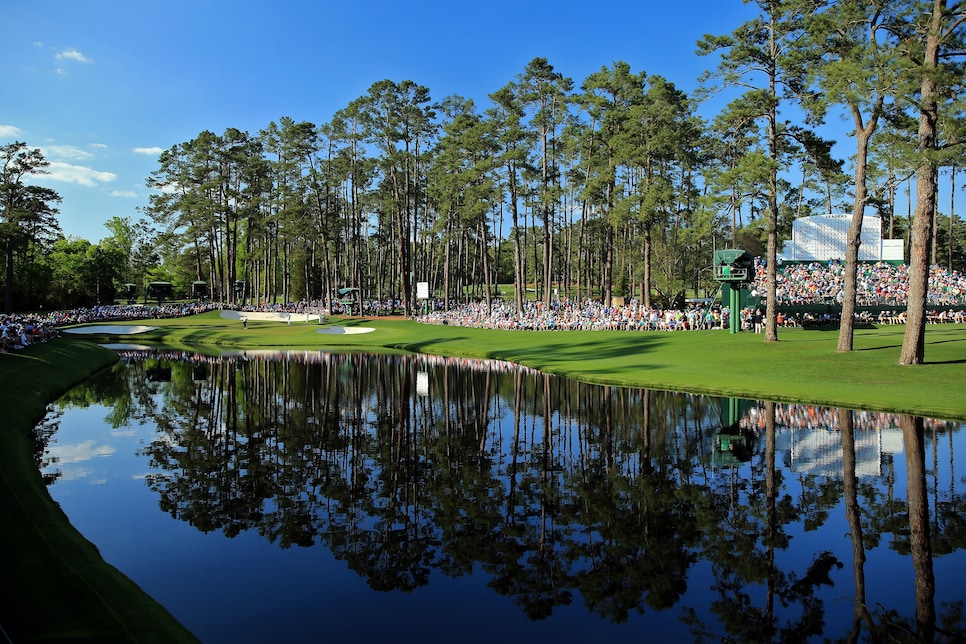 3 (1) Pine Valley (N.J.) G.C.
Pine Valley, N.J., U.S.A. / 7,057 yards, Par 70
A genuine original, its unique character was forged from the sandy pine barrens of southwest Jersey. Founder George Crump had help from architects H.S. Colt, A.W. Tillinghast, George C. Thomas Jr. and Walter Travis. Hugh Wilson of Merion fame finished the job. Pine Valley blends all three schools of golf design – penal, heroic and strategic – throughout the course, often times on a single hole.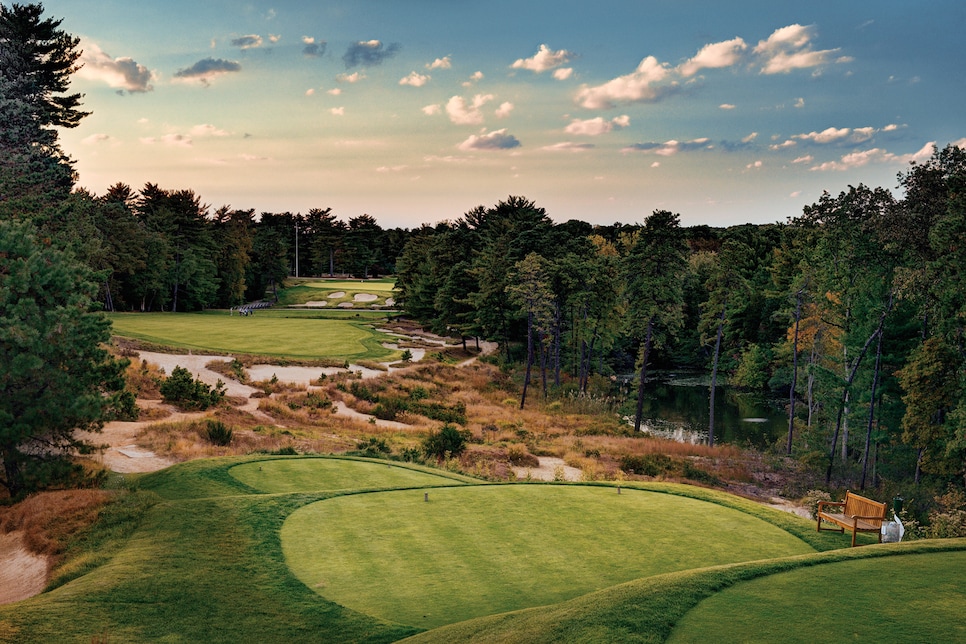 4 (2) Cypress Point Club
Pebble Beach, Calif., U.S.A. / 6,524 yards, Par 72
Alister MacKenzie's masterpiece, woven through cypress, sand dunes and jagged coastline. In the 2000s, member Sandy Tatum, a former USGA president who christened Cypress Point as the Sistine Chapel of golf, convinced the club not to combat technology by adding new back tees, but instead make a statement by celebrating its original architecture. So Cypress remains timeless, if short, its charm helped in part by re-establishment of MacKenzie's fancy bunkering.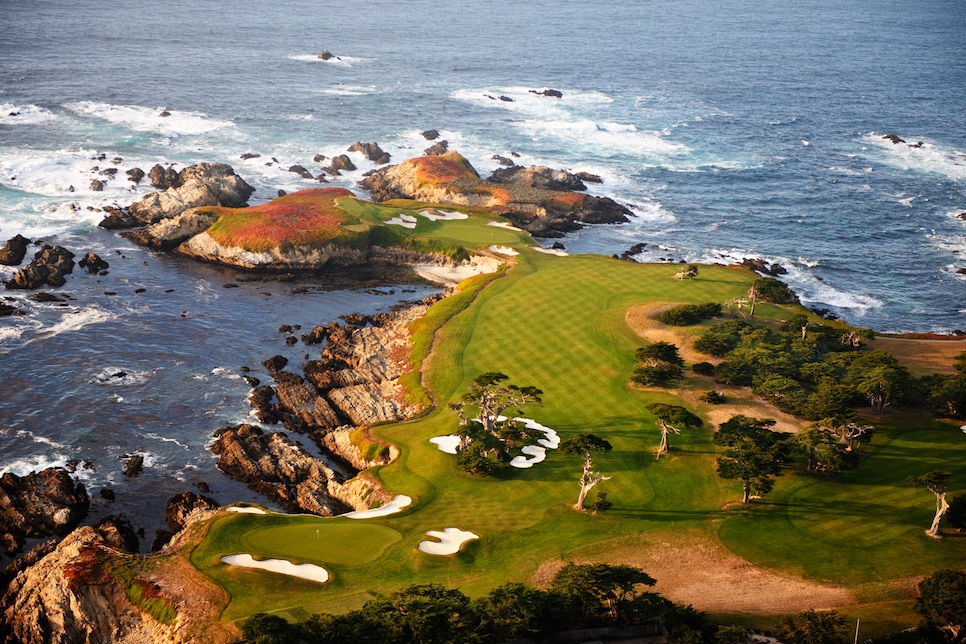 5 (6) Royal Dornoch G.C. (Championship)
Dornoch, Sutherland, Scotland / 6,704 yards, Par 70
Herbert Warren Wind called it the most natural course in the world. Tom Watson called it the most fun he'd had playing golf. Donald Ross called it his home, having been born in the village and learned the game on the links. Tucked in an arc of dunes along the North Sea shoreline, Dornoch's greens, some by Old Tom Morris, others by John Sutherland or tour pro George Duncan, sit mostly on plateaus and don't really favor bounce-and-run golf. That's the challenge. Hitting those greens in a Dornoch wind.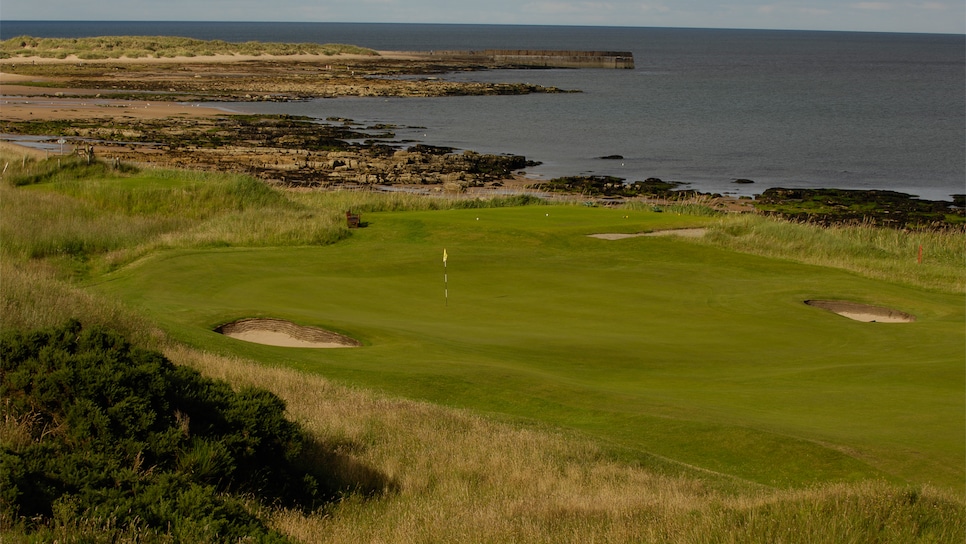 6 (9) Royal Melbourne G.C. (West)
Melbourne, Victoria, Australia / 6,643 yards, Par 72
Alister MacKenzie's 1926 routing fits snuggly into the contours of the rolling sandbelt land. His greens are miniature versions of the surrounding topography. His crisp bunkering, with vertical edges a foot or more tall, chew into fairways and putting surfaces. Most holes dogleg, so distance means nothing and angle into the pin is everything. For championships, holes 8 & 9 and 13 - 16 are skipped in favor of six from the East Course, which is ranked No. 55. That "composite course" was once ranked by several publications.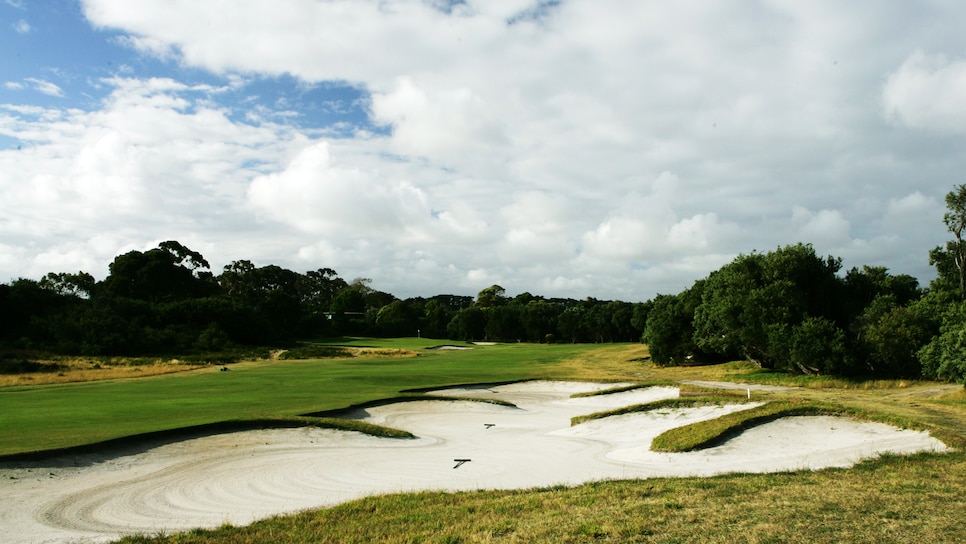 7 (5) Shinnecock Hills G.C.
Southampton, N.Y., U.S.A. / 7,041 yards, Par 70
Generally considered to be the earliest links in America, heavily remodeled twice by C.B. Macdonald, then replaced (except for three holes) by William S. Flynn in the early 1930s. It's so sublime that its architecture hasn't really been fiddled with in nearly 50 years, although the team of Bill Coore and Ben Crenshaw have restored interesting features to prepare Shinnecock for the 2018 U.S. Open.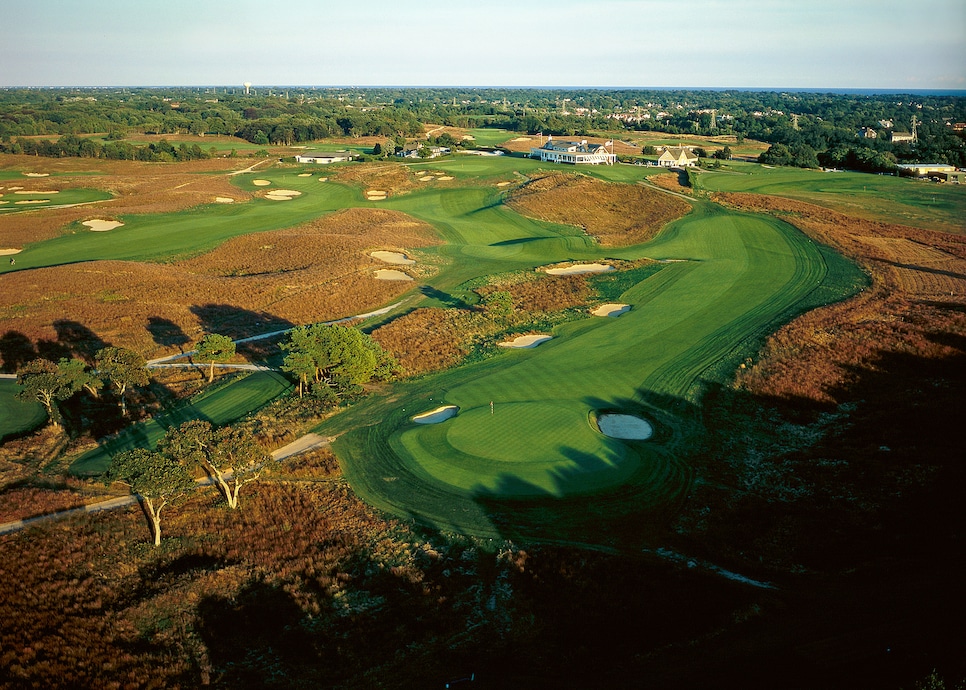 8 (7) The Old Course at St. Andrews Links
St. Andrews, Fife, Scotland / 7,279 yards, Par 72
The Old Course at St. Andrews is ground zero for all golf architecture. Every course designed since has either been in response to one or more of its features, or in reaction against it. Architects either favor the Old Course's blind shots or detest them, either embrace St. Andrews's enormous greens or consider them a waste of turf. Latest polarizing topic: Martin Hawtree's design changes in advance of the 2015 British Open. Many considered it blasphemy beforehand. After Zach Johnson's dramatic overtime victory, few mentioned the alterations.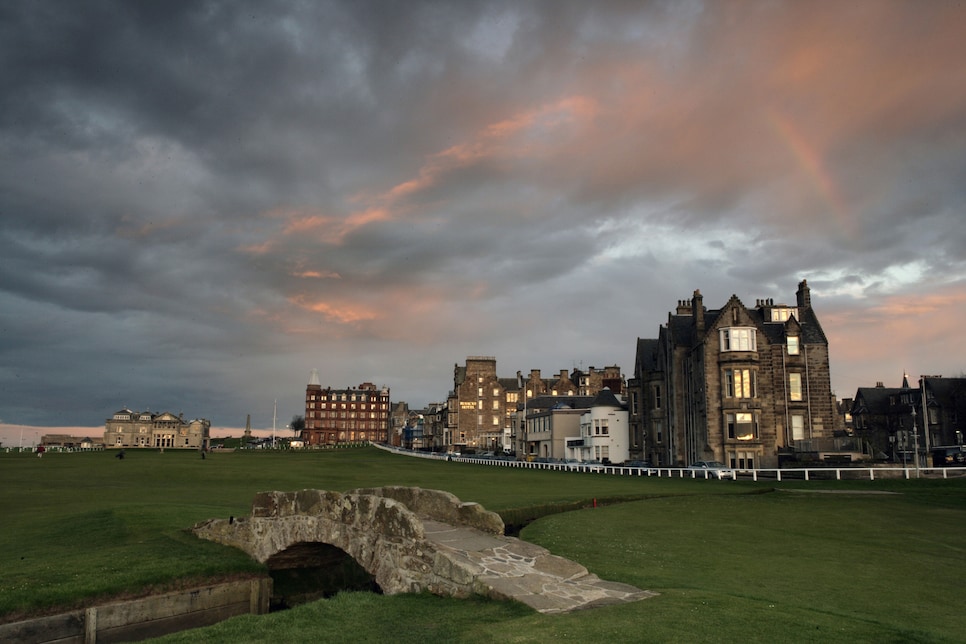 9 (8) Muirfield
Gullane, East Lothian, Scotland / 7,209 yards, Par 71
Muirfield is universally admired as a low-key, straightforward links with fairways seemingly containing a million traffic bumps. Except for a blind tee shot on the 11th, every shot is visible and well-defined. Greens are the correct size to fit the expected iron of approach. The routing changes direction on every hole to pose different wind conditions. The front runs clockwise, the back counterclockwise, but history mistakenly credits Old Tom Morris with Muirfield's returning nines. That was the result of H.S. Colt's 1925 redesign.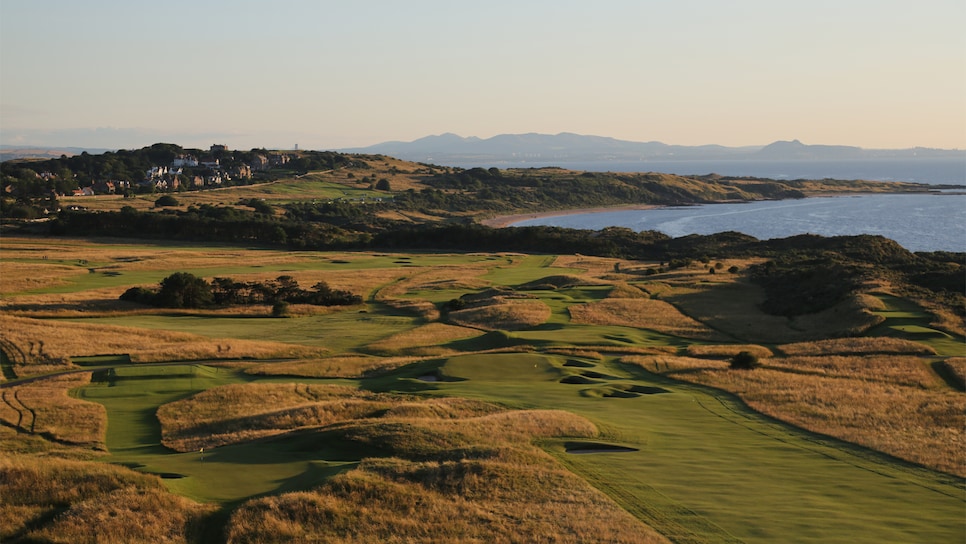 10 (14) Merion G.C. (East)
Ardmore, Pa., U.S.A. / 6,886 yards, Par 70
What a treat it was to see Merion East, long considered the best course on the tightest acreage in America, hosting the 2013 U.S. Open. Today's generation of big hitters couldn't conquer the little old course. They couldn't stay on its canted fairways edged by creeks, hodge-podge rough and OB stakes and they couldn't consistently hit its canted greens edged by bunkers that stare back. Let's hope it doesn't take another 32 years for the U.S. Open to return to Merion.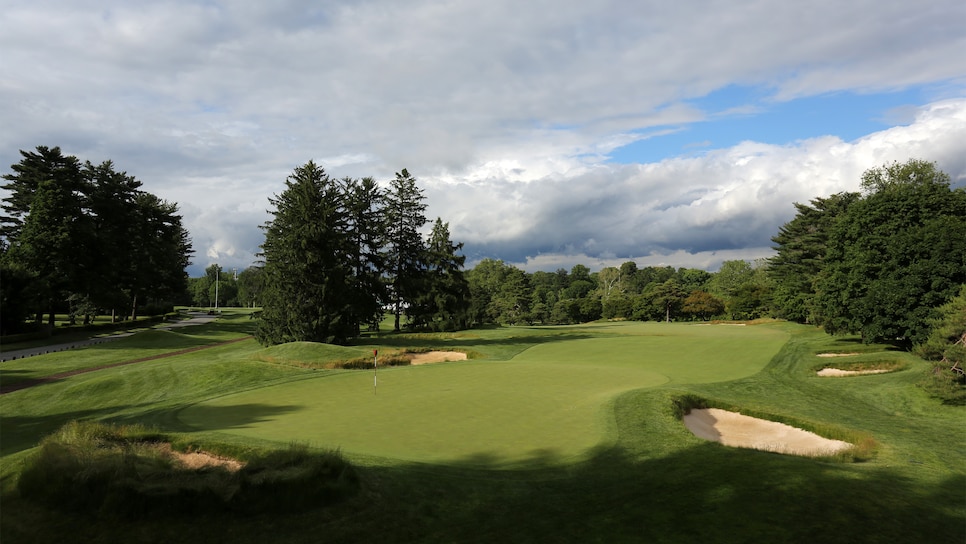 11 (10) Oakmont
Oakmont, Pa., U.S.A. / 7,255 yards, Par 71
With thousands of trees (planted mostly in the 1960s) now removed, Oakmont's penal design is re-established, with the game's most nasty, notorious bunkers (founder-architect H.C. Fownes staked out bunkers whenever and where ever he saw a player hit an offline shot), deep drainage ditches and ankle-deep rough. Oakmont also has the game's swiftest putting surfaces, which will likely be slowed down for the 2016 U.S. Open.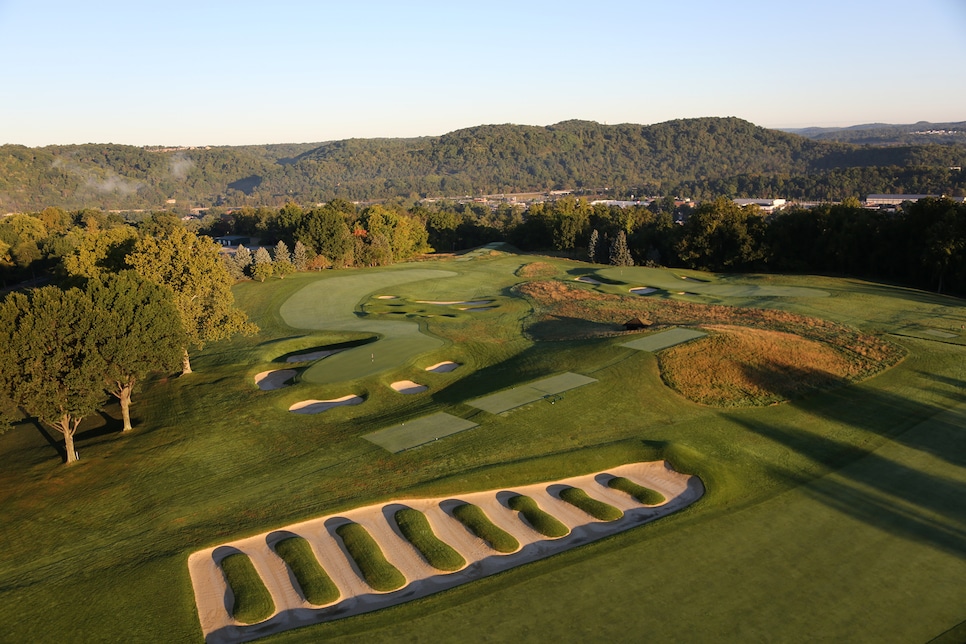 12 (15) Pebble Beach G. Links
Pebble Beach, Calf. / 6,828 yards, Par 72
Not just the greatest meeting of land and sea in American golf, but the most extensive one, too, with nine holes perched immediately above the crashing Pacific surf – the fourth through 10th plus the 17th and 18th. Pebble's sixth through eighth are golf's real Amen Corner, with a few Hail Marys thrown in over a ocean cove on eight from atop a 75-foot-high bluff. Pebble will host another U.S. Amateur in 2018, and its sixth U.S. Open in 2019.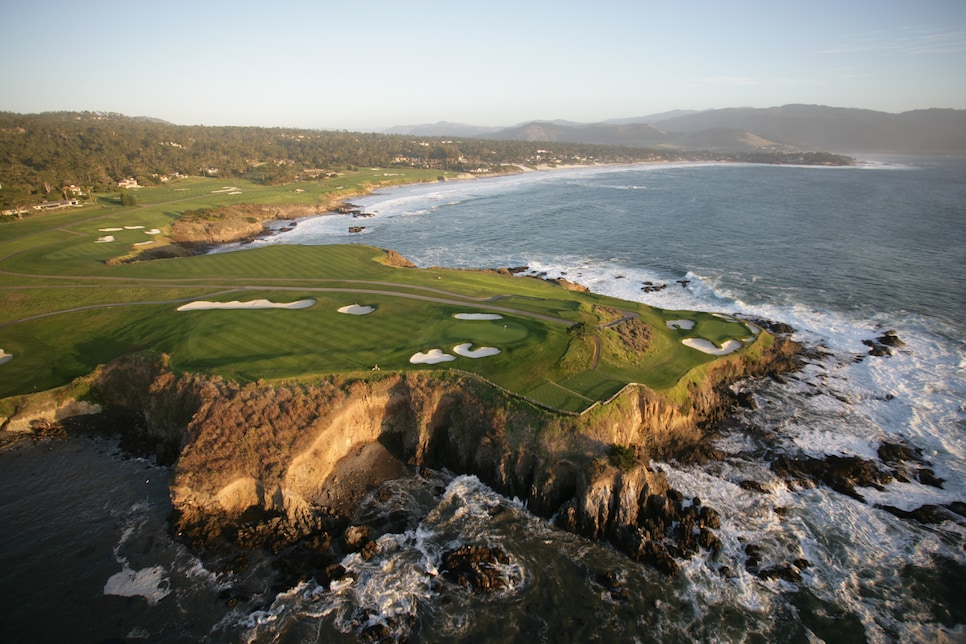 13 (13) National G. Links of America
Southampton, N.Y. / 6,935 yards, Par 72
As the 2013 Walker Cup reminded us, National Golf Links is a true links containing a marvelous collection of strategic holes. Credit architect C.B. Macdonald, who designed National as a collection of his favorite features from grand old British golf holes. Macdonald's versions are actually superior in strategy to the originals, which is why National's design is still studied by golf architects today.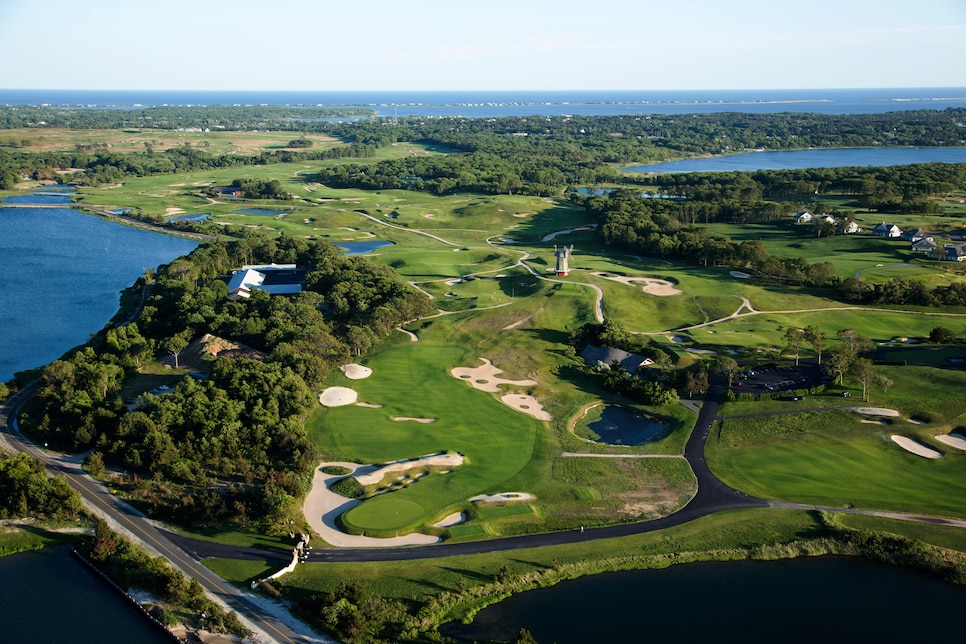 14 (24) Winged Foot G.C. (West)
Mamaroneck, N.Y. / 7,258 yards, Par 72
Gone are all the Norway Spruce that once squeezed every fairway of Winged Foot West. It's now gloriously open and playable, at least until one reaches the putting surfaces, perhaps the finest set of green contours the versatile architect A.W. Tillinghast ever did, now being restored to original parameters by architect Gil Hanse. The greens look like giant mushrooms, curled and slumped around the edges, proving that as a course architect, Tillinghast was not a fun guy. Winged Foot West will host the U.S. Open again in 2020.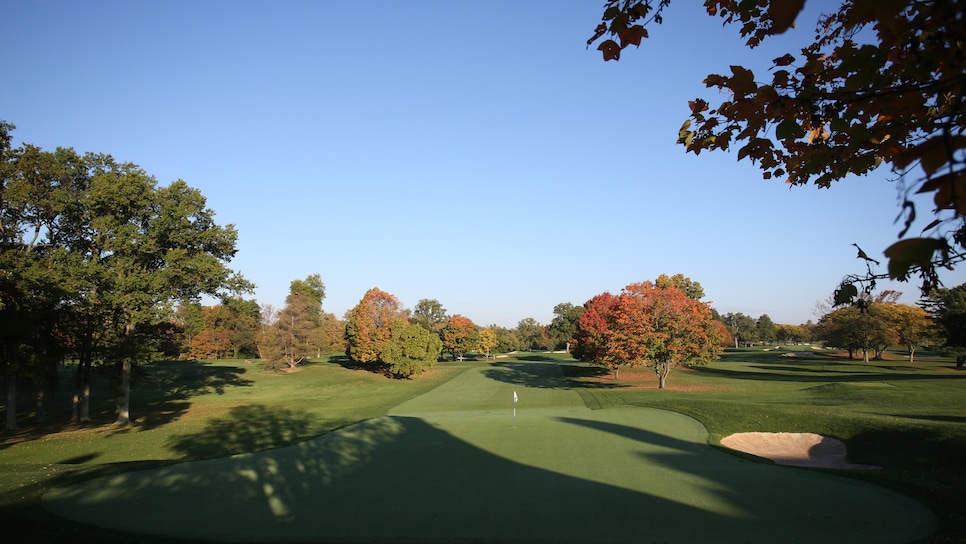 15 (17) Fishers Island Club
Fishers Island, N.Y., U.S.A. / 6,566 yards, Par 72
Probably the consummate design of architect Seth Raynor, who died in early 1926, before the course had opened. His steeply-banked bunkers and geometric greens harmonize perfectly with the linear panoramas of the Atlantic Ocean and Long Island Sound. The quality of the holes is also superb, with all of Raynor's usual suspects, including not one but two Redan greens, one on a par 4.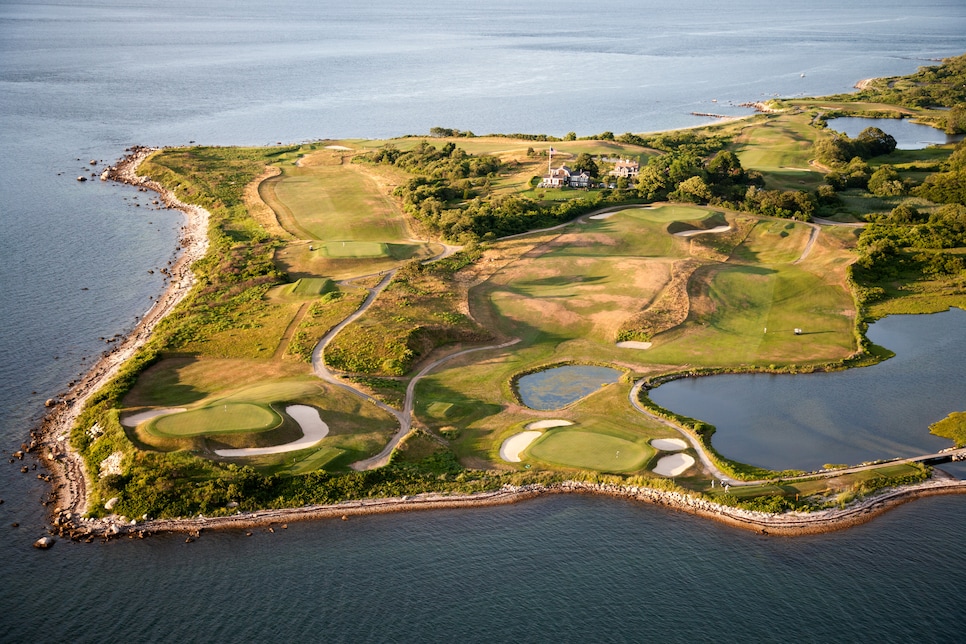 16 (22) Cape Kidnappers G. Cse.
Hawke's Bay, New Zealand / 7,147 yards, Par 71
Not a links, more like stratospheric Pebble Beach, high atop a windswept plateau some 500 feet above the sea. Its 2004 design truly demonstrates the lay-of-the-land philosophy of architect Tom Doak, who ran holes out and back along a series of ridges perpendicular with the coastline, most framed by deep canyons. The fairways are wide, but Doak rewards bold tee shots that flirt with ravines and some of the deepest bunkers Doak has ever built. Cape Kidnappers was also the International winner of a 2012 Environmental Leaders in Golf Award, co-sponsored by Golf Digest.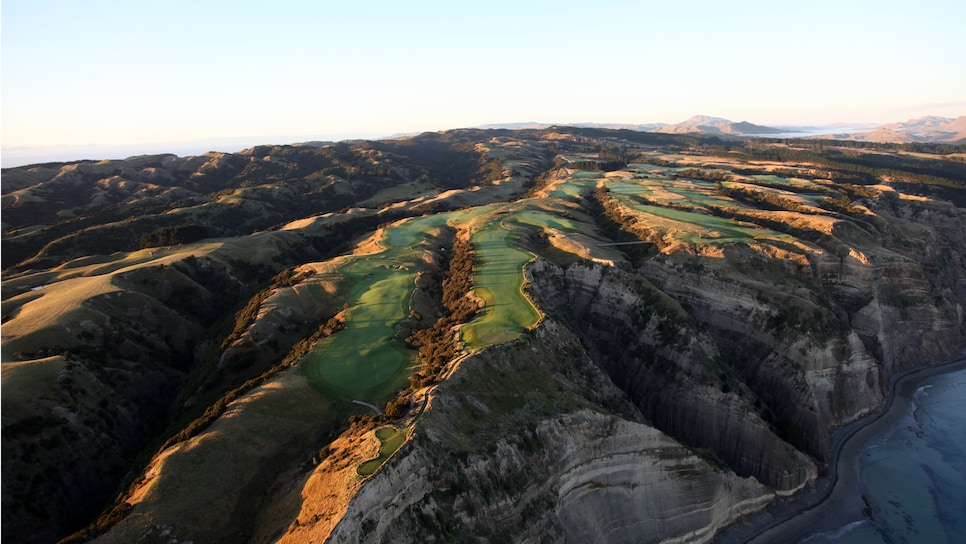 17) Sand Hills G.C.
Mullen, Neb., U.S.A. / 7,089 yards, Par 71
The golf course wasn't so much designed as discovered. Bill Coore and Ben Crenshaw trudged back and forth over a thousand acres of rolling sand hills in central Nebraska, flagging out naturally-occurring fairways and greens. By moving just 4,000 cubic yards of earth, and letting the winds shape (and reshape) the bunkers, the duo created what is undoubtedly the most natural golf course in America.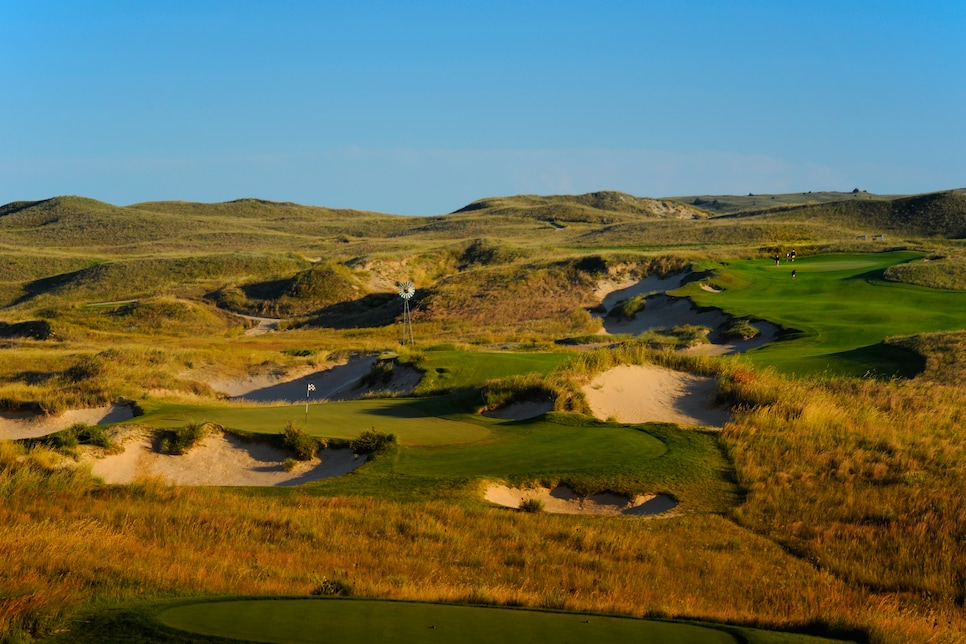 18) Kingston Heath G.C.
Cheltenham, Victoria, Australia / 7,102 yards, Par 72
Considered an Alister MacKenzie design, but in fact Australian pro Des Soutar designed the course in 1925. MacKenzie made a brief visit the following year and suggested the present bunkering, which was constructed by Mick Morcom before he built Royal Melbourne's two courses. The bunkers are long, sinewy, shaggy, gnarly, windswept and, of course, strategically placed. Some say MacKenzie's tee-to-green stretch of bunkers on the par-3 15th set the standard for all Sandbelt layouts.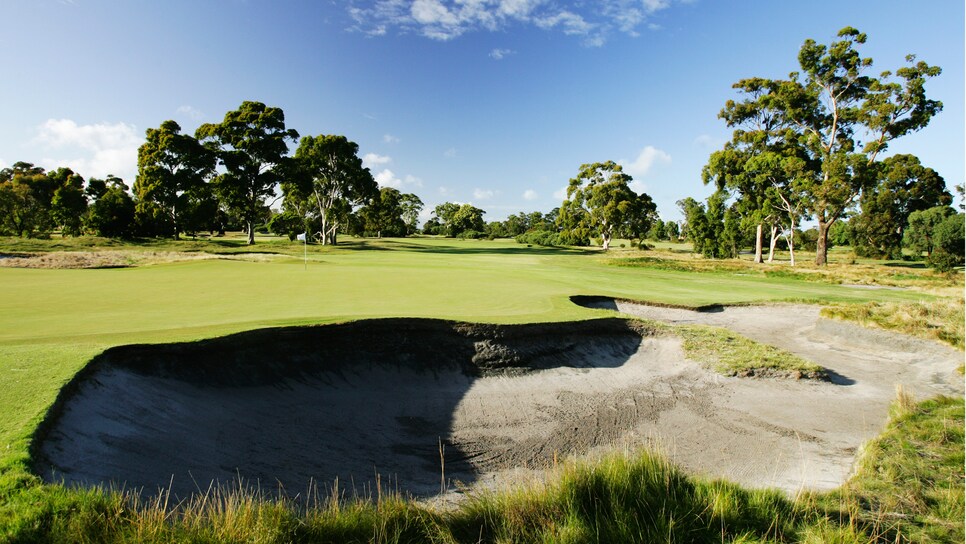 David Cannon/Getty Images
19 (NEW) Cabot Cliffs
Iverness, Canada / 6,785 yards, Par 72
Just two months after Golf Digest declared Cabot Cliffs the Best New Course of the Year, it lands at a very lofty No. 19 on the World 100 Greatest. The sensational Bill Coore & Ben Crenshaw design overflows with variety with its southernmost holes in Lahinch-like sand dunes, its northernmost atop Pebble Beach-type ocean cliffs. It has six par 5s, including three in the space of four holes, and six par 3s, plus an additional one-shot bye-hole aside the fourth. Sporting the same fescue turf mix as nearby sister course Cabot Links (ranked No. 93), some tee shots seem to roll forever, but so do errant shots that miss greens.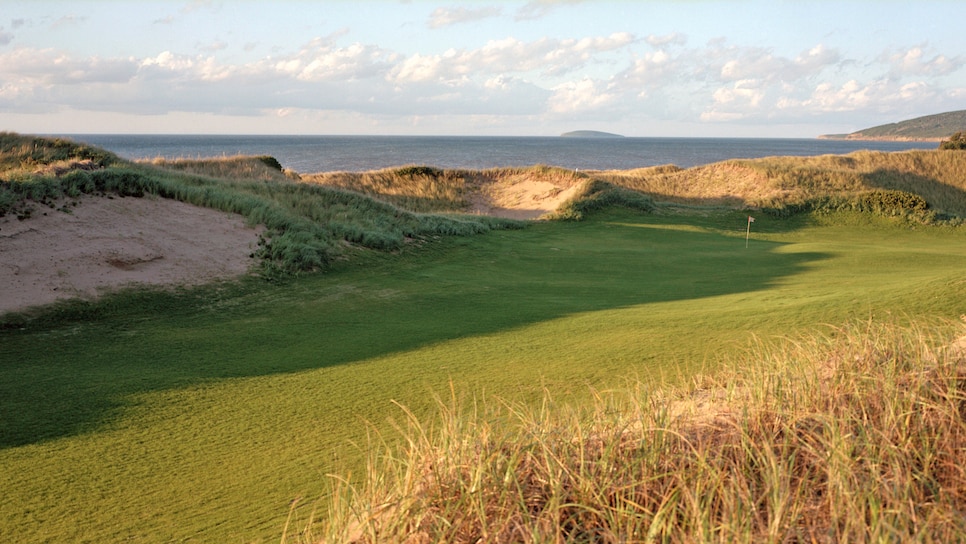 20 (32) Golf de Morfontaine
Senlis, Oise, France / 6,545 yards, Par 70
A timeless 1927 design north of Paris by British architect Tom Simpson, Morfontaine looks suspiciously like a heathland course around London, with windswept Scotch pines and clumps of heather atop a base of sand. But it's tighter than Sunningdale or St. George's Hill, and the forest surrounding holes is far denser. A decade ago, American architect Kyle Phillips updated the layout, adding a new 12th green to extend the par-5 by 60 yards. It fits in perfectly.
21(18) Hirono G.C.
Hirono, Hyogo, Japan / 6,925 yards, Par 72
Undoubtedly the finest design of globetrotting C.H. Alison, longtime partner of H.S. Colt. He laid out Hirono in the early 1930s in a hilly pine forest slashed by gulleys, clearing wide corridors and positioning greens on the crests of ridges. What makes Hirono special was Alison's spectacular bunkering, which ranged from diagonal cross bunkers, fearsome carry bunkers and strings of ragged-edged ones. Soon after completion, writers were calling Hirono the Pine Valley of Japan.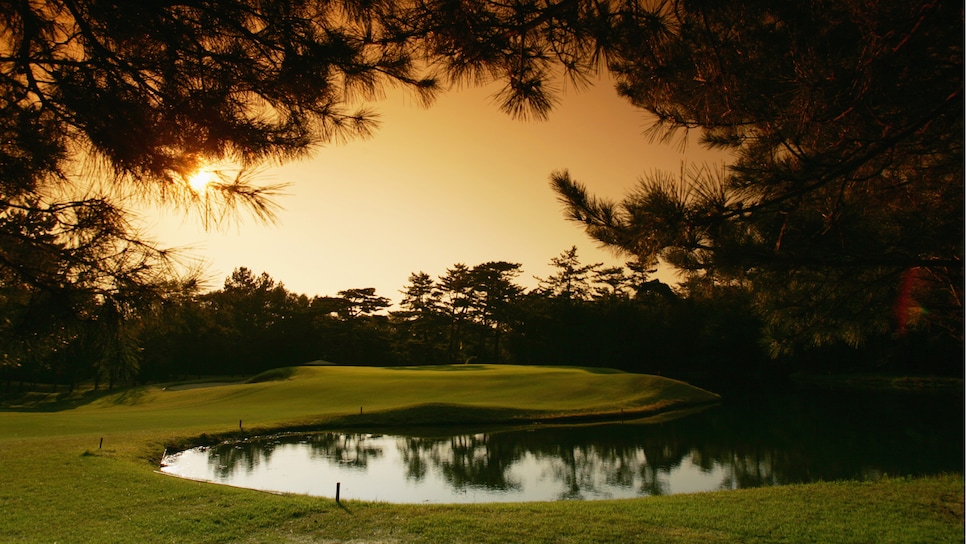 David Alexander/Getty Images
22 (19) Trump Turnberry Resort (Ailsa)
Turnberry, Ayrshire, Scotland / 7,452 yards, Par 70
A legendary links ravaged by WWII, it was re-established to its present quality by architect Philip Mackenzie Ross, who tore away concrete landing strips to create a dramatic back nine and built a set of varied greens, some receptive, other not so much. After its recent purchase by Donald Trump, Martin Ebert is busy making notable changes, creating a new par-3 sixth, converting the old par-4 9th into a new par 3, turning the 10th and 14th into par 5s and the 17th into a long par 4. New tees on 18 eliminate its dogleg tee shot. Plus, Ebert is replacing revetted bunkers with ragged-edge ones. The revamped course reopens in June 2016.
David Cannon/Getty Images
23 (41) Sunningdale G.C. (Old)
Sunningdale, Ascot, Berkshire, England / 6,627 yards, Par 70
A Willie Park Jr. design that dates from 1901, it's perhaps the most advanced design of its day. Chopped from a pine forest but designed like a links, with the ninth at far end of property, it plays like a links, too, for there's a sand base beneath the turf. The Old has big greens, as Park put a premium on approach putting, and artful bunkers, with both angled cross bunkers and necklaces of sand hampering direct routes to some greens. To American visitors, the look of Sunningdale brings to mind Pine Valley or Pinehurst.
24 (NEW) Cape Wickham Links
King Island, Tasmania, Australia / 6,725 yards, Par 72
Less than six months old, this design collaboration by American Mike DeVries and Australian golf writer Darius Oliver may be an even bigger surprise than No. 19 Cabot Cliffs. It's a glorious collection of holes on a breathtaking site along Bass Strait, a notorious stretch of Australian seacoast that once shipwrecked many voyages. Its routing is heart-pounding, starting along rocks and crashing surf, moving inland but not out of the wind, returning to ocean edge at the downhill 10th, pitch-shot 11th and drivable par-4 12th, then wandering into dunes before a crescendo closing hole curving along Victoria Cove beach, which is in play at low tides.
25 (83) Portmarnock G.C. (Old)
Portmarnock, Co. Dublin, Ireland / 7,365 yards, Par 72
A true links in rolling ground with soft rather than dramatic dunes, Portmarnock, on a spit of land on the Irish Sea north of Dublin, is known for its routing, which hasn't been altered in over a hundred years and was revolutionary at the time for constantly changing wind direction with every shot. The links is also known for its fairness, as nearly every feature is plainly in view from tee to green. Which makes its maze of bunkers and subtle greens all the more testing.
David Cannon/Getty Images
26 (31) Carnoustie G. Links (Championship)
Carnoustie, Angus, Scotland / 7,421 yards, Par 71
Perhaps the homeliest, certainly the longest and toughest of Open venues, Carnoustie is a no-holds-barred layout intended to test the best. James Braid is usually credited with the present design, but it was green chairman James Wright who in 1931 created the stirring last three holes, with 17 and 18 harassed by twisting, turning Barry Burn. In the 1968 Open, Jack Nicklaus complained that a knob in the middle of the ninth fairway kicked his drives into the rough. When he returned for the 1975 Open, he found it had been converted to a pot bunker.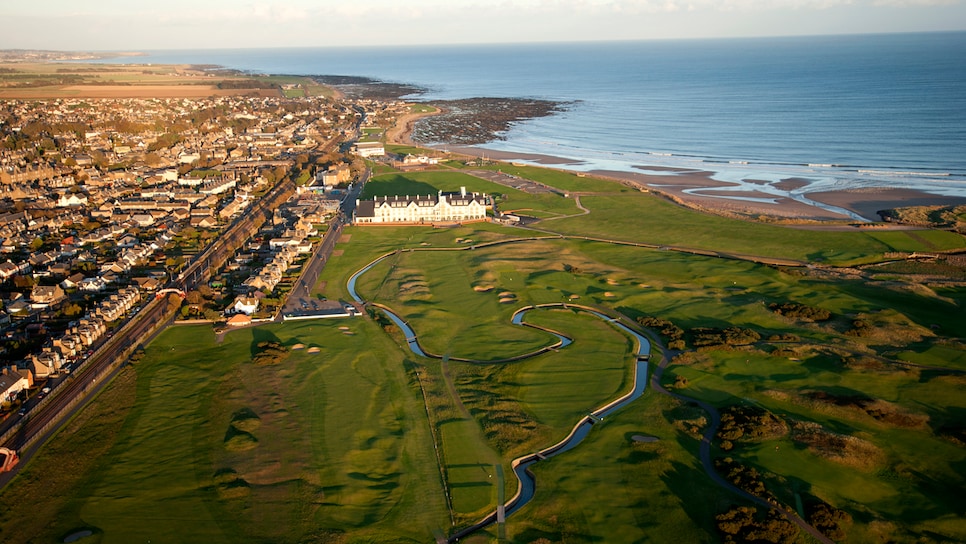 27 (16) Royal Portrush G.C. (Dunluce)
Portrush, Co. Antrim, Northern Ireland / 7,337 yards, Par 72
Portrush is still the only Irish course to host The Open. The Old Tom Morris design, reworked by H.S. Colt in the 1930s, was the Open site back in 1951, and will be again in 2019. In preparation, architect Martin Ebert is adding new sixth and seventh holes, fashioned from land on the club's Valley Course, to replace the weak 17th and 18th. That means the notorious Calamity Hole, an uphill 210-yard par 3, will now be the 16th instead of the 14th, and the old dogleg-right, par-4 16th will now be the closing hole, with a new back tee. Ebert is retaining Colt's greens, considered one of the best set of putting surfaces in the world.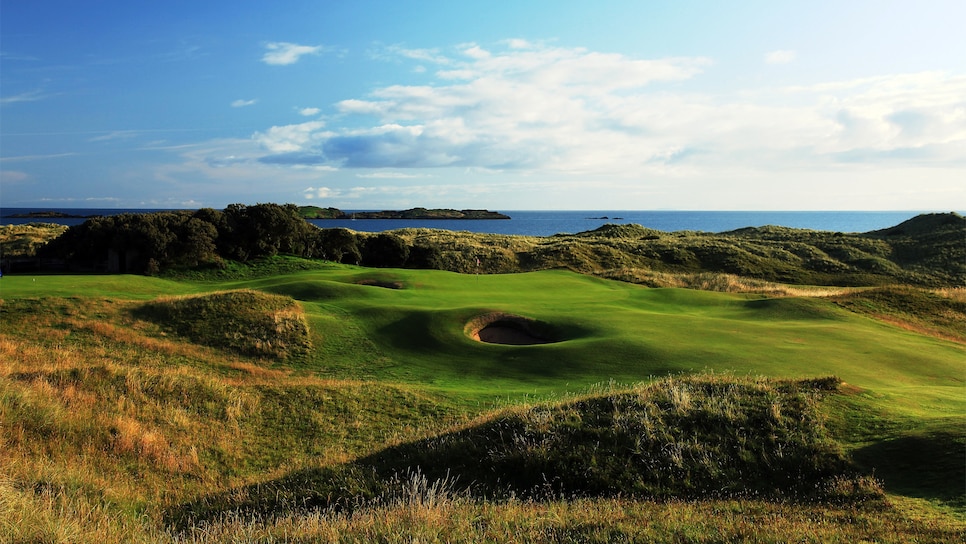 David Cannon/Getty Images
28 (43) Seminole G.C.
Juno Beach, Fla., U.S.A. / 6,836 yards, Par 72
A majestic Donald Ross design with a clever routing on a rectangular site, each hole at Seminole encounters a new wind direction. The greens are no longer Ross, replaced 50 years ago in a regrassing effort that showed little appreciation for the original rolling contours. The bunkers aren't Ross either. Dick Wilson replaced them in 1947, his own version meant to the imitate crests of waves on the adjacent Atlantic. Seminole has long been one of America's most exclusive clubs, which is why it's exciting that it will host the 2021 Walker Cup.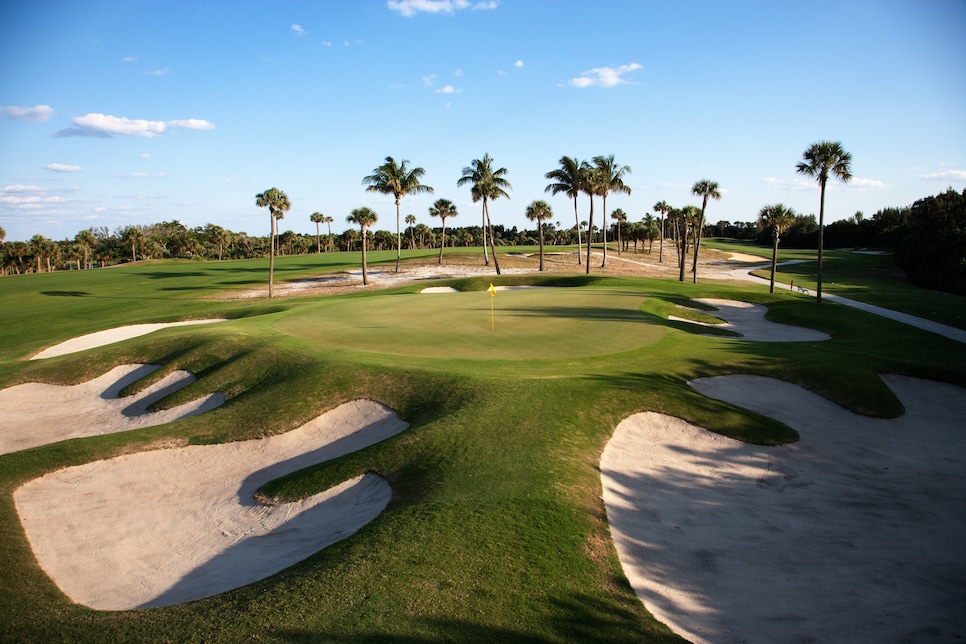 29 (NEW) Ellerston G.C.
Hunter Valley, New South Wales, Australia / 7,318 yards, Par 72
No other course on the World Top 100 is so brutally honest about its intention to be a ball buster. The late media mogul Kerry Packer commissioned Greg Norman to build him the nation's toughest course, and Norman complied. Routed on slopes and in a valley on Packer's estate, it has water in play on half the holes. A superb aerial game is needed to clear deep bunkers and reach greens perched perilously close to the Pages Creek. After Ellerston's opening, Norman said, "We had no need to consider forward tees, resort traffic or weaker hitters. We were able to create a course that a golfer of my caliber would love to play everyday."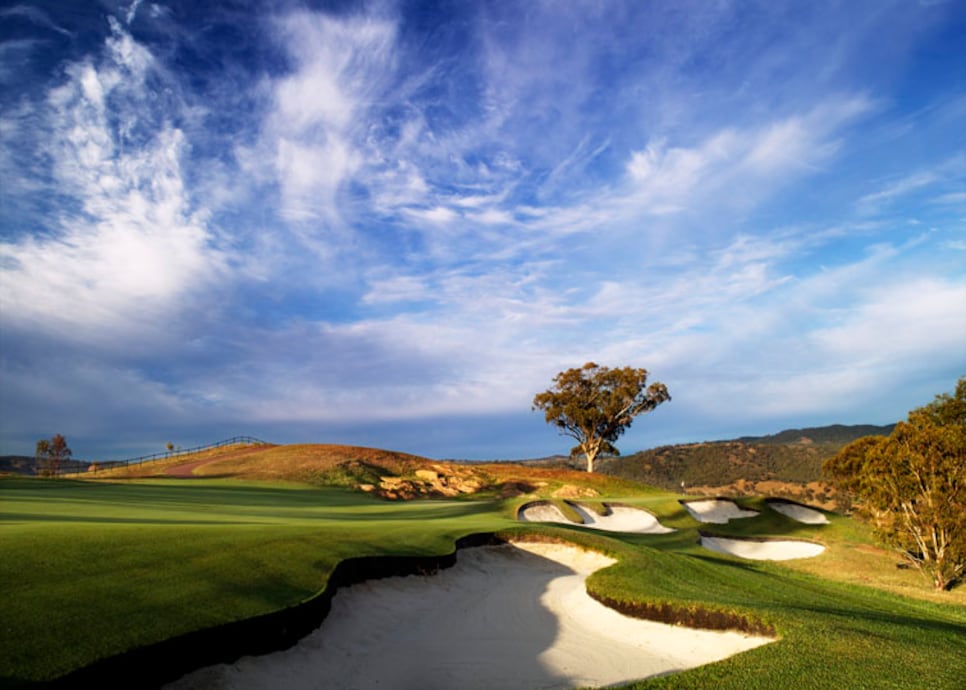 30 (33) New South Wales G.C.
Le Perouse, New South Wales, Australia / 6,829 yards, Par 72
Sitting along the dramatic rugged seacoast of Botany Bay near Sydney, on the spot where Captain Cook first stepped onto Australia in 1770, La Perouse is renown for its ocean views and high winds. On his brief but productive 1926 trip, Alister MacKenzie prepared a routing for the course, but it was radically altered during a 1936 remodeling by Eric Apperly and by neglect during WWII. A succession of post-war architects have slowly re-established the integrity of the design, most recently Greg Norman.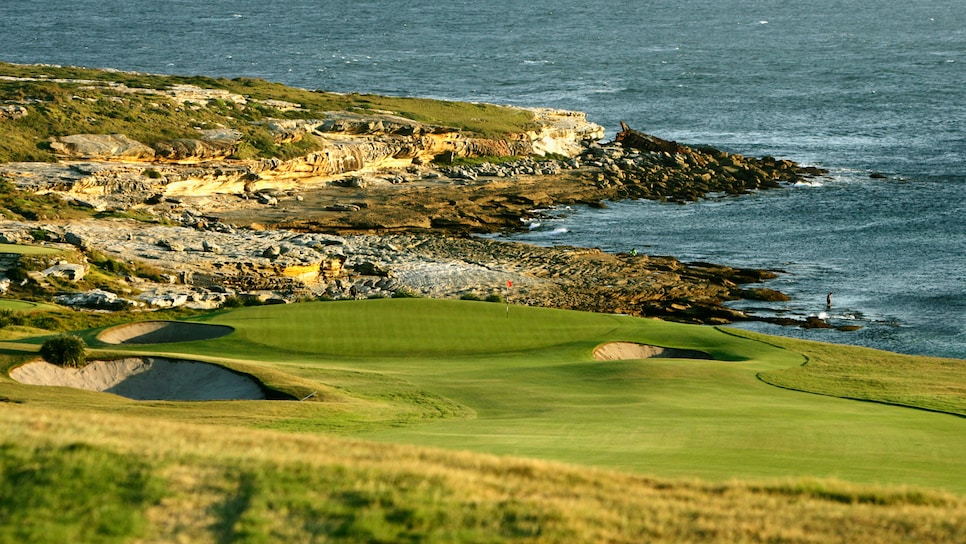 Photo by David Cannon/Getty Images
31 (25) Crystal Downs C.C.
Frankfort, Mich., U.S.A. / 6,518 yards, Par 70
Perry Maxwell, the Midwest associate of architect Alister MacKenzie, lived on site while constructing the course to MacKenzie's plans, and there's evidence Maxwell exercised considerable artistic license on some holes. Whomever did it, Crystal Downs has fairways that zigzag and rumble over the landscape and greens that have doglegs in them. One drawback: the putting surfaces are so old-fashioned that they're too steep for today's green speeds. The club keeps a running tally on how many putts end up off the putting surface.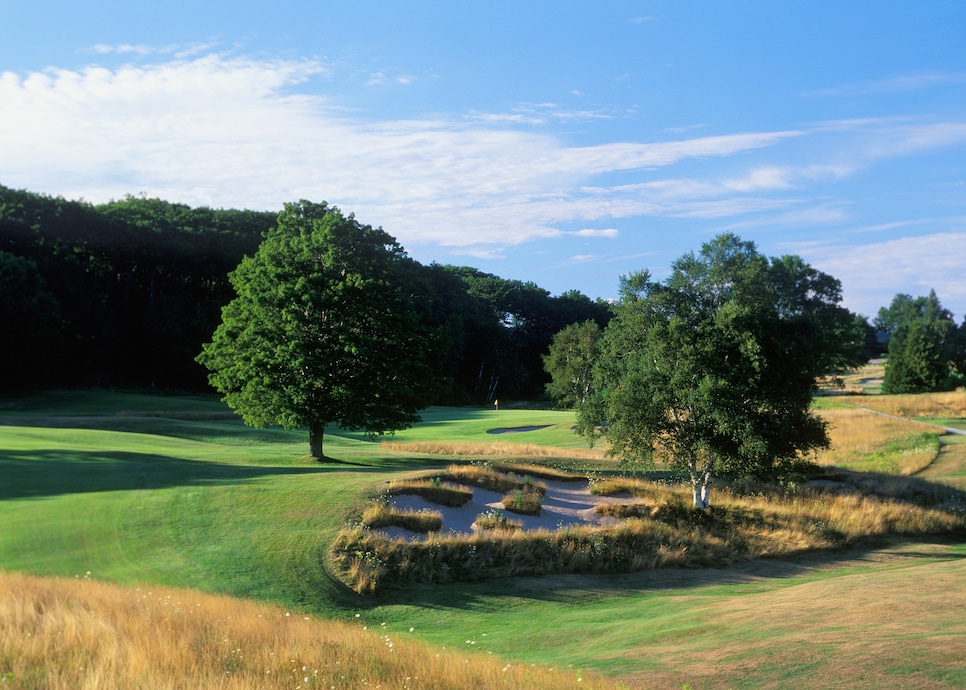 32 (26) Chicago G.C.
Wheaton, Ill., U.S.A. / 6,846 yards, Par 70
Some dispute this is America's first 18-hole golf course, arguing that another C.B. Macdonald creation, also bearing the name Chicago G.C., opened near Downers Grove, Ill. in 1893. It wasn't until three years later that the club moved to Wheaton, where Macdonald laid out what he called, "a really first-class 18-hole course of 6,200 yards." There's only circumstantial evidence that the earlier Downers Grove location was ever 18. Regardless, this Chicago G.C. was remodeled into its present configuration, emulating famous holes, in 1923 by Macdonald's longtime assistant Seth Raynor. One thing Raynor retained was Macdonald's routing, with all the out-of-bounds on the left. C.B., you see, was a slicer.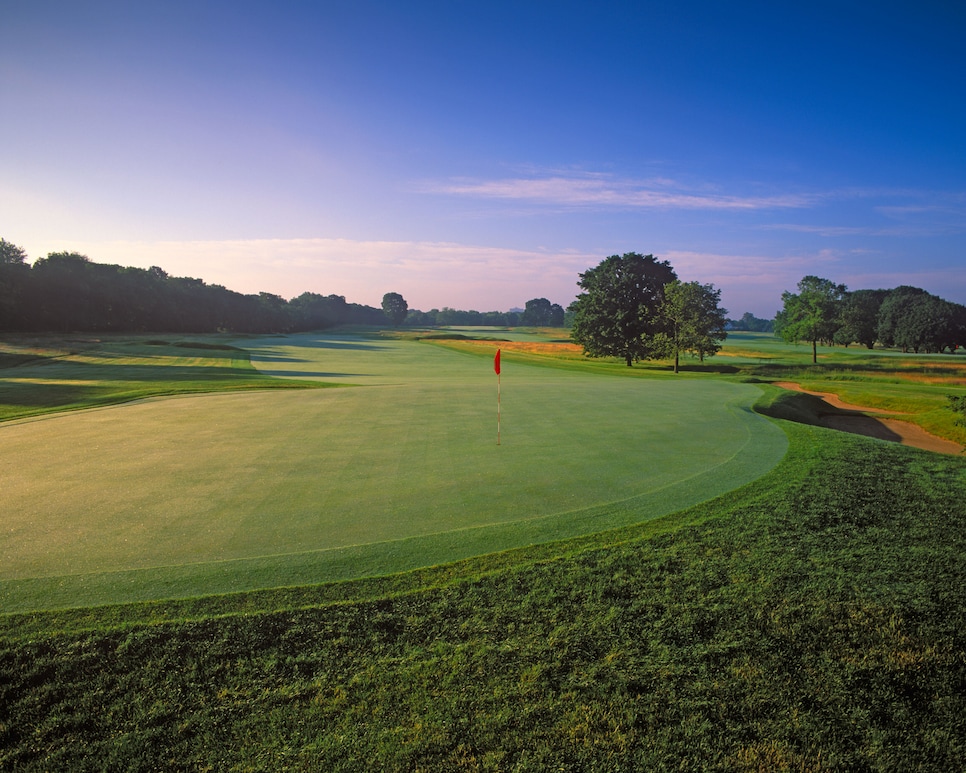 33 (11) Barnbougle Dunes
Bridport, Tasmania, Australia / 6,721 yards, Par 71
A 2004 collaboration of American superstar designer Tom Doak and Australian tour-pro-turned-architect Michael Clayton, this is a tremendous 18 in a fantastic stretch of sand dunes along Bass Strait, the sea that separates Tasmania from Melbourne. What is fascinating is that the back nine is completely reversed from how Doak originally routed it. So was the site so good that, once construction started, Doak and Clayton were able to find nine new green sites at the opposite ends of holes originally envisioned? Or did they use bulldozers and create those "natural" green sites?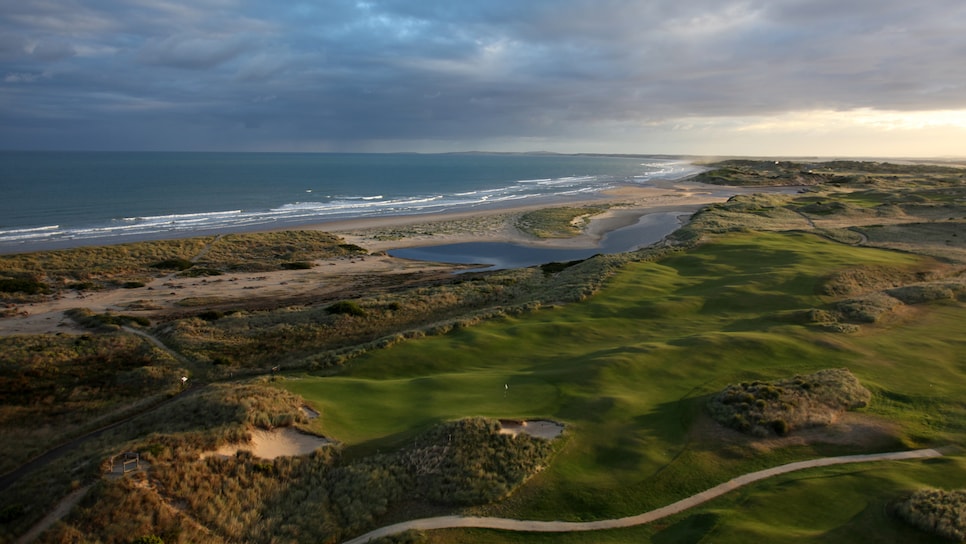 34 (53) Muirfield Village G.C.
Dublin, Ohio, U.S.A. / 7,392 yards, Par 72
This is the course that Jack built, and rebuilt, and rebuilt again and again. Since its opening in 1974, Nicklaus has remodeled every hole at Muirfield Village, some more than once, using play at the PGA Tour's annual Memorial Tournament for some guidance. In the past five years, he totally changed the par-3 16th and par-4 17th holes. Just before the Presidents Cup in 2013, he added a new back tee to the par-4 18th, extending it from 444 yards to 484. That's how a championship course remains competitive.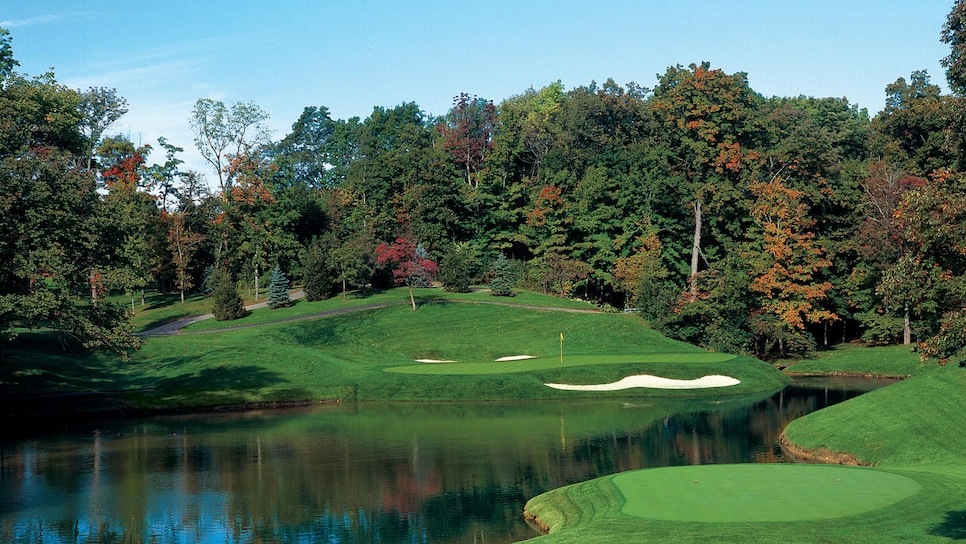 Courtesy of Jim Mandeville
35 (38) Royal Birkdale G.C.
Southport, England / 7,173 yards, Par 70
Three generations of the Hawtree design firm, oldest in the world, are responsible for Royal Birkdale. Patriarch Frederic G. did the present design, with its surprisingly flat fairways and docile greens between towering dunes, in 1931. Thirty years later, son Fred W. remodeled it, adding the now-classic par-3 12th. Forty years after that, grandson Martin revised the course for its ninth British Open. Royal Birkdale has also been the venue for the Women's British Open, Ryder Cup, Walker Cup and Curtis Cup.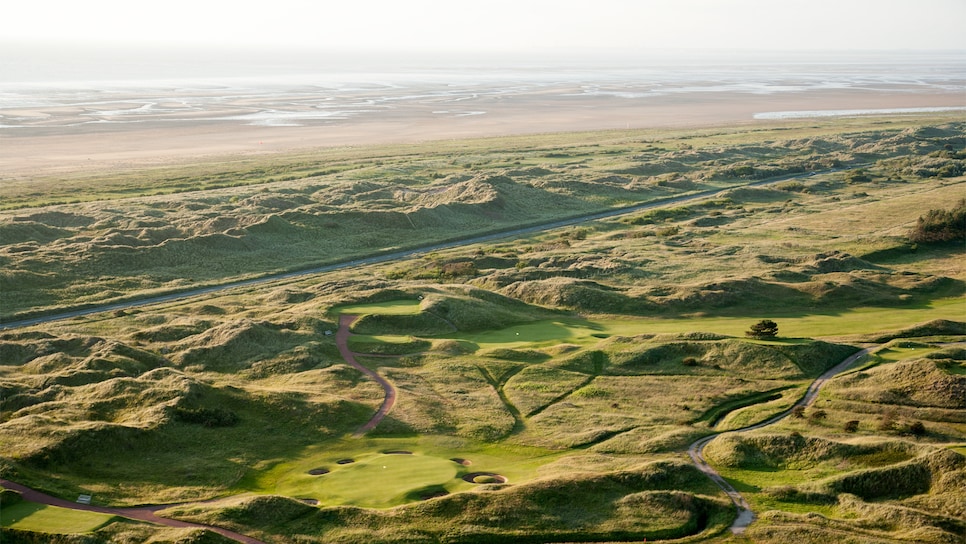 36 (58) Oak Hill C.C. (East)
Rochester, N.Y., U.S.A. / 7,145 yards, Par 70
Back in 1979, Donald Ross fans roundly criticized George Fazio and nephew Tom for removing a classic Ross par 4 on Oak Hill East and replacing it with two new holes, including the bowl-shaped par-3 sixth, which would later become the scene of four aces in two hours during the second round of the 1989 U.S. Open. They also built a pond on another par 3 and relocated the green on the par-4 18th. It's all ancient history now. Present history is Jason Dufner's 2013 PGA win at Oak Hill. The East will host the PGA Championship again in 2023.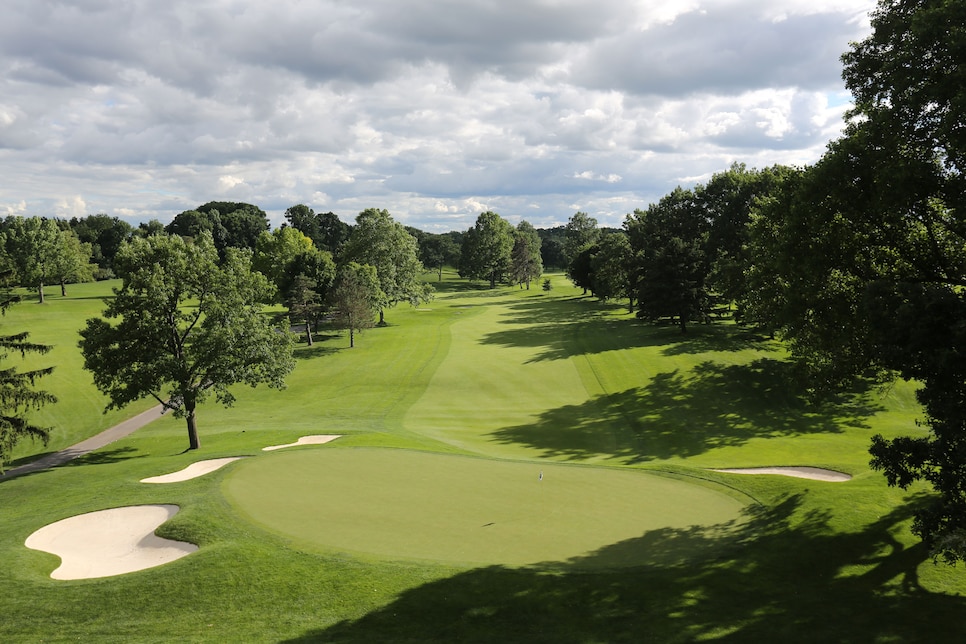 37 (NEW) Shanqin Bay G.C.
Bo'ao, Hainan Island, China / 7,001 yards, Par 71
It has wide corridors flanked by jungle gunch, big intricate greens and eye-catching ragged-edge bunkering, yet Shanqin Bay is perhaps the most controversial design ever by the highly regarded firm of Bill Coore and Ben Crenshaw. Partly it stems from being created on a site far more rugged than the duo normally tackle, land that housed a World War II Army barracks, complete with stone tunnels. Coore's routing manages to traverse the mountainous property, but only with the help of some blind shots, two holes around an artificial irrigation pond and a very unusual finish with two drivable par 4s among the last three holes. All its quirks are worth it, for its proximity along the South China Sea is outstanding.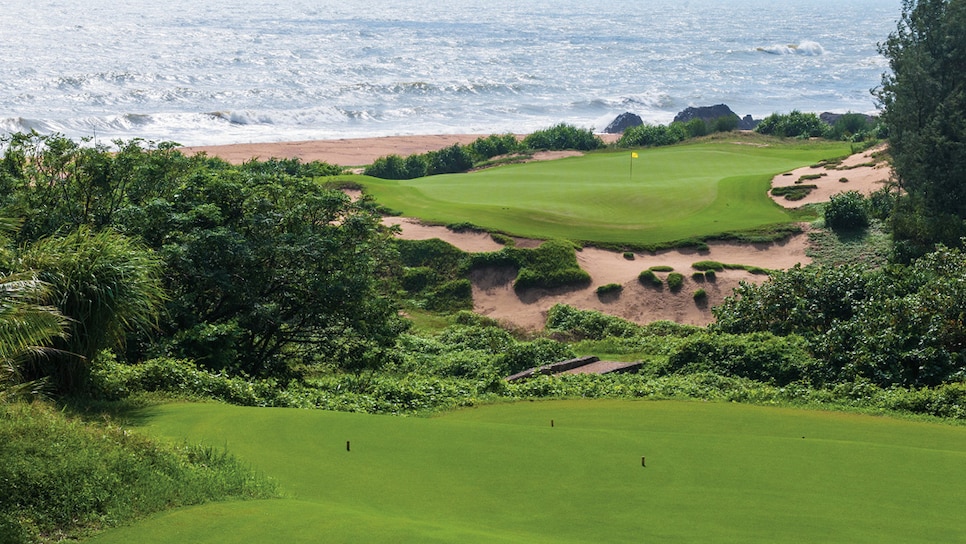 Courtesy of Shanqin Bay G.C.
38 (67) Oakland Hills C.C. (South)
Bloomfield Hills, Mich., U.S.A. / 7,445 yards, Par 70
Donald Ross felt his 1918 design was out-of-date for the 1951 U.S. Open and was prepared to remodel it. Sadly, he died in 1948, so Robert Trent Jones got the job. His rebunkering was overshadowed by ankle-deep rough, and after Ben Hogan closed with a 67, one of only two under-par rounds all week, to win his second consecutive Open, he complained that Jones had created a Frankenstein. Sixty years later, Oakland Hills is even longer, but its bite won't be nearly as severe when it hosts the U.S. Amateur in 2016.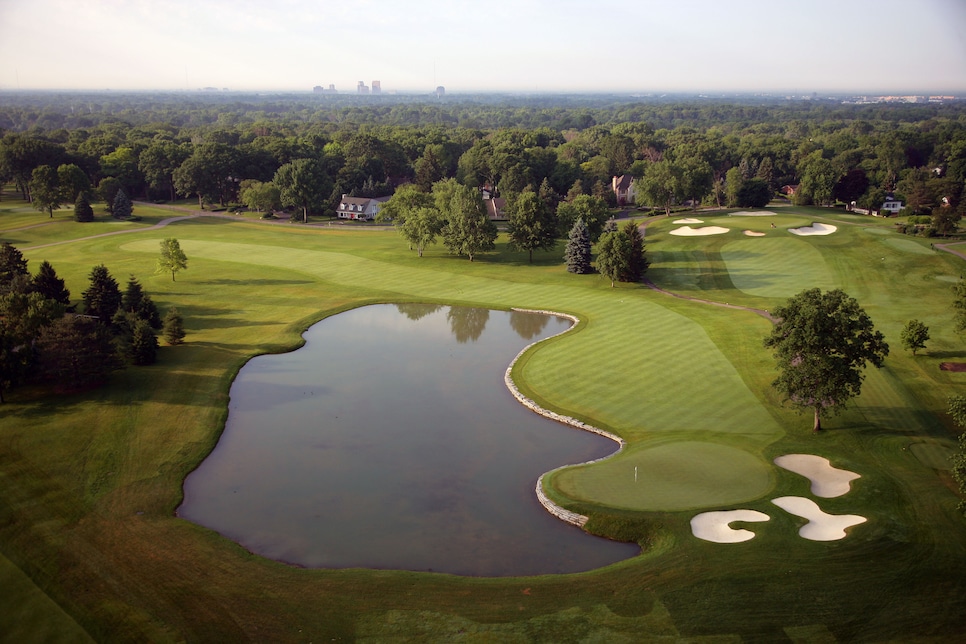 39 (21) Pacific Dunes
Bandon, Ore., U.S.A. / 6,633 yards, Par 71
The second course built at Bandon Dunes Resort. To best utilize ocean frontage, Tom Doak came up with a unorthodox routing that includes four par 3s on the back nine. Holes seem to emerge from the landscape rather than being superimposed onto it. The rolling greens and rumpled fairways are framed by rugged sand dunes and marvelously grotesque bunkers. The secret is Doak moved a lot of earth to make it look like he moved very little.
40 (23) Barnbougle Lost Farm
Bridport, Tasmania, Australia / 6,849 yards, Par 72
On a site just across the river from sister Barnbougle Dunes (No. 11), with taller dunes but fewer of them, Lost Farm has not 18, but 20 holes, counting its two short pitch-shot bye holes. The design is dramatic and unusual, particularly the par-4 fifth, a dogleg right along the river, whose blind tee shot brings to mind the 17th at St. Andrews. Instead of old black sheds, a high dune blocks view of the fairway from the tee. Billed as a Coore & Crenshaw design, schedule conflicts kept Ben Crenshaw from participating in this design. Bill Coore used the usual C&C team, though.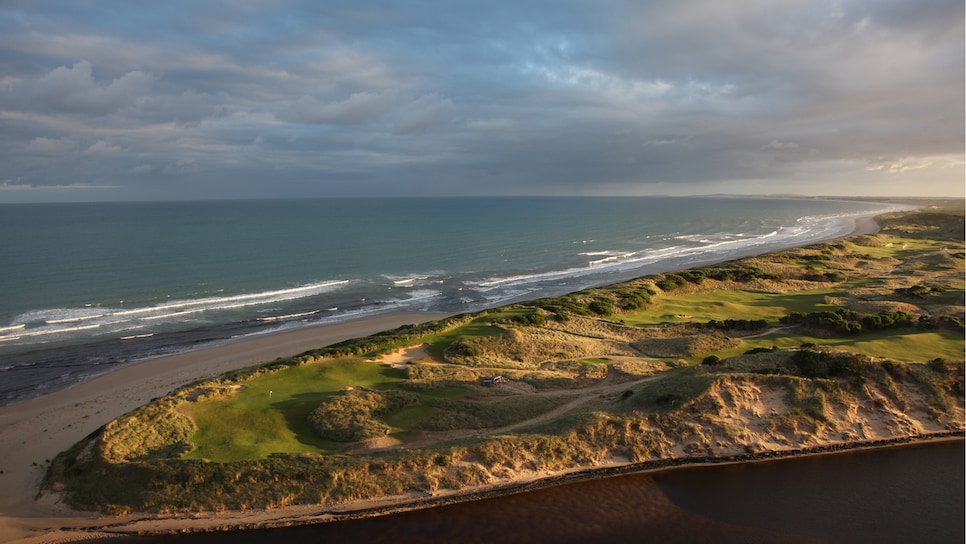 41 (30) St. George's G. & C.C.
Etobicoke, Ontario, Canada / 7,145 yards, Par 71
St. George's is outstanding Stanley Thompson design routed through forest-covered glacial land, with meandering fairways that diagonally traverse valleys and greens perched on domes. The putting surfaces are tightly bunkered and full of hidden undulations. These are considered some of Thompson's best bunkering. Some of the credit belongs to Canadian architect Ian Andrew, who supervised their rebuilding over a five-year period, highlighting their sweeping lines and graceful movements.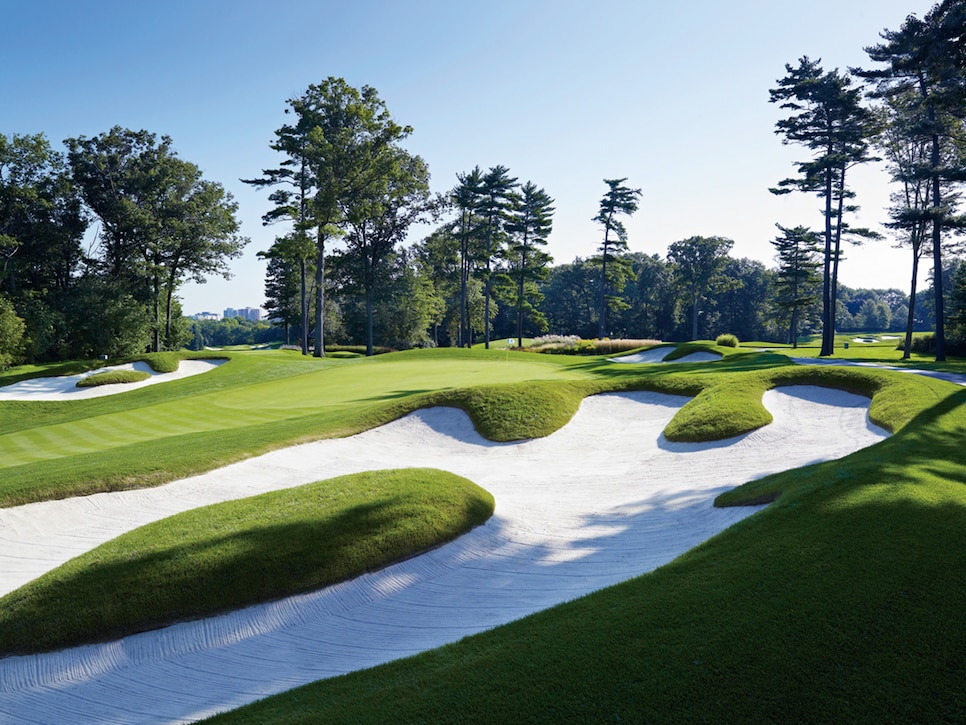 42 (71) The Country Club (Clyde/Squirrel 9s)
Chestnut Hill, Mass., U.S.A. / 7,350 yards, Par 70
The Country Club's 18 holes that were the scene of the 1963 and 1988 U.S. Opens is not the 18 holes ranked by Golf Digest. Those events were played on a composite course, utilizing a few holes from the club's third Primrose nine. We rank the Clyde & Squirrel combination, clearly good enough to be one of the top courses in the world. Gil Hanse performed some course restoration prior to the 2013 U.S. Amateur. The U.S. Open will return in 2022, probably to the composite 18.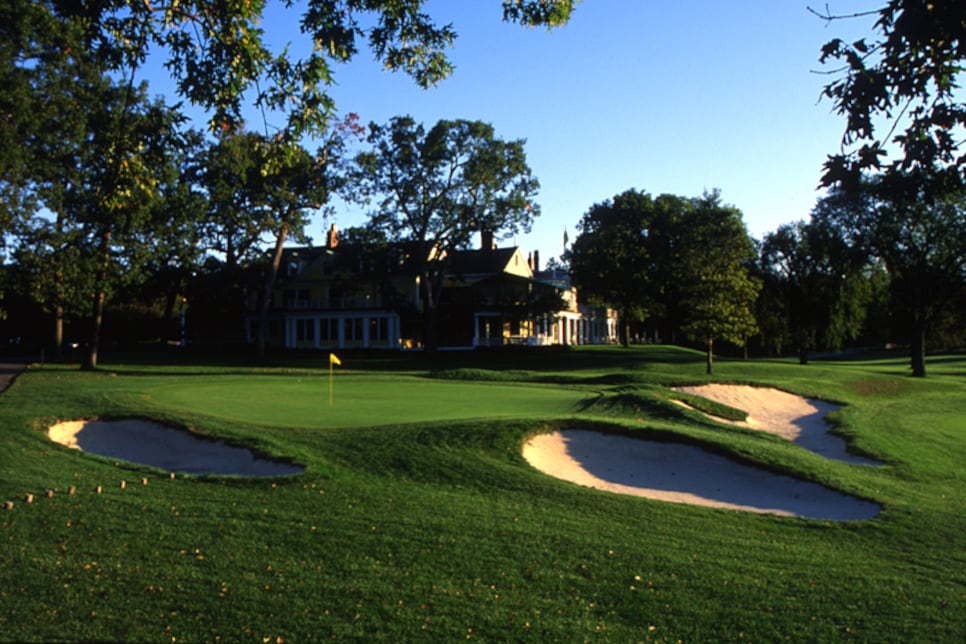 43 (34) The Links at Fancourt
George, Western Cape, South Africa / 7,578 yards, Par 73
Gary Player and then-associate Phil Jacobs built Fancourt from a dead flat airfield, with more than 760,000 cubic yards of earth churned and piled to create the first faux links in South Africa. (Player later added the similarly themed Bramble Hill G.C. next door.) They used cool-season grasses to promote bounce-and-roll on their topsy-turvy fairways. Greens—mostly long and thin or wide and shallow—are guarded by revetted pot bunkers. Fancourt hosted the 2003 Presidents Cup as well as the 2005 South African Open and 2012 Volvo Golf Champions on the European Tour.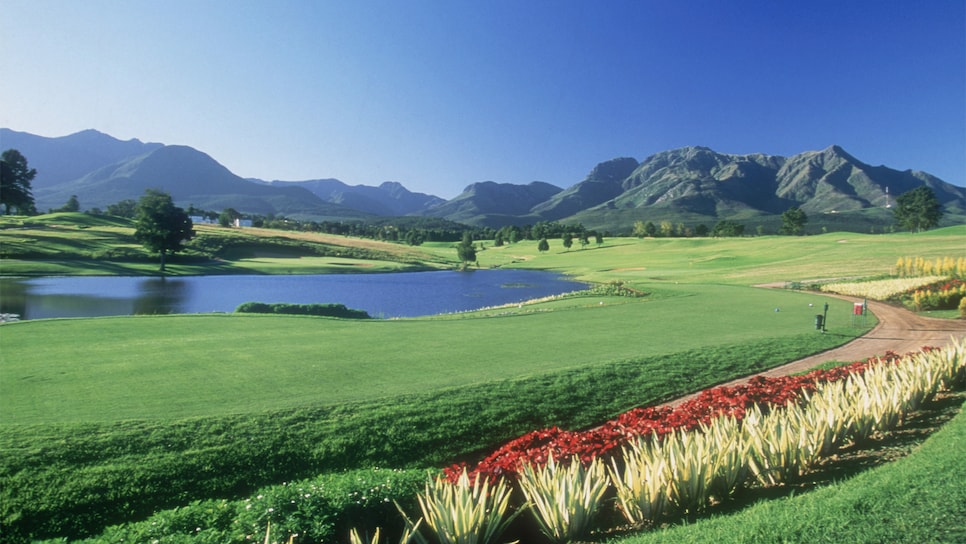 Photo by David Cannon/Getty Images
44 (60) The Ocean Cse.
Kiawah Island, S.C., U.S.A. / 7,356 yards, Par 72
The first course designed for a specific one-time event—the 1991 Ryder Cup—this manufactured linksland-meets-lagoons layout might well be Pete Dye's most diabolical creation. Every hole is edged by sawgrass, every green has tricky slopes, every bunker merges into bordering sand dunes. Strung along nearly three miles of ocean coast, Dye took his wife's advice and perched fairways and greens so golfers can actually view the Atlantic surf. That also exposes shots and putts to ever-present and sometimes fierce coastal winds.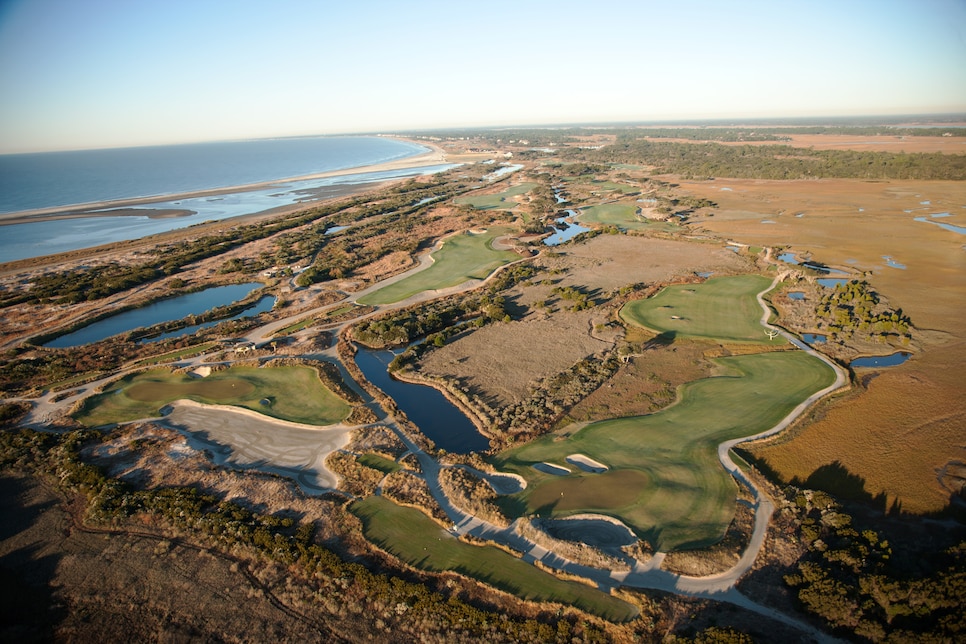 45 (66) Royal St. George's G.C.
Sandwich, Kent, England / 7,211 yards, Par 70
Royal St. George's, in dunes along the English Channel, is what writer Adam Lawrence calls the ideal mix of championship golf and gentle quirks. Its quirks include a duo of massive bunkers that howl at tee shots on the par-5 fourth. Once as tall as the Himalayas at England's St. Enodoc, they've eroded over the years and have been stabilized the past 20 years by the addition of 93 railroad ties along their top edges. A longtime member of the Open rota, Royal St. George's was the site of Darren Clarke's surprise victory in 2011.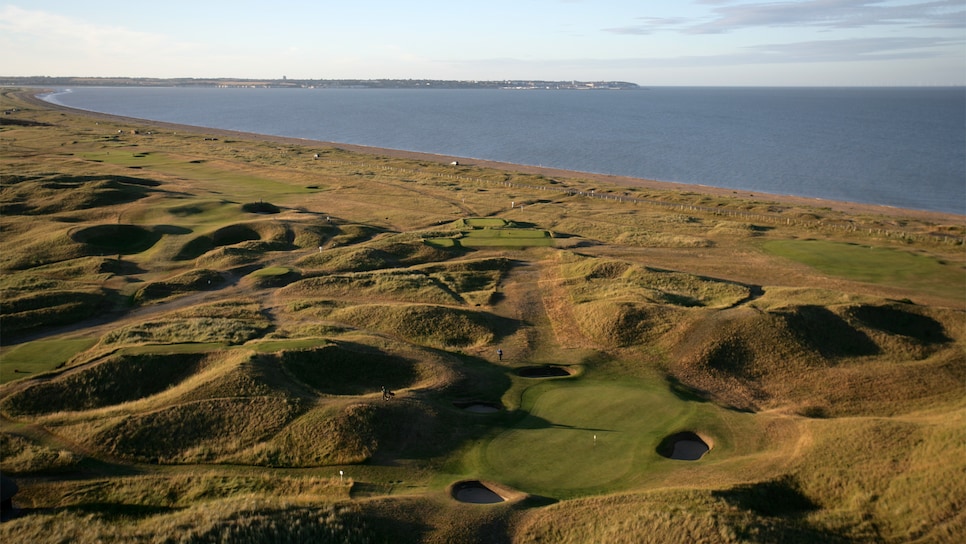 46 (NEW) Yas Links
Yas Island, Abu Dhabi, United Arab Emirates / 7,414 yards, Par 72
Designed by American Kyle Phillips, whose breakthrough course was No. 69 Kingsbarns in Scotland, Yas Links is part of a massive Arabian Gulf entertainment complex that includes a Formula 1 racetrack and a Ferrari World amusement park. As the name suggestions, Phillips fashioned this as a warm-weather links, using two million cubic yards of sand dredged from an adjacent marina to and give the layout the shape and contour, then covering everything with Paspalum turf. Eight holes play along a vast intracoastal waterway that leads to the Persian Sea, including holes 14 through 18, a most invigorating stretch.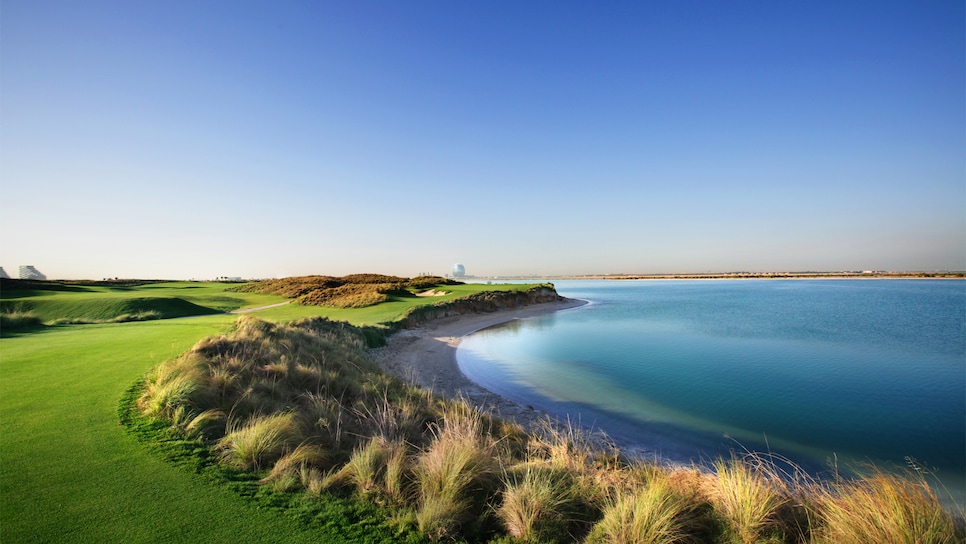 47 (44) Royal Porthcawl G.C., Wales
Porthcawl, Mid Glamorgan, Wales / 7,065 yards, Par 72
Considered a seaside venue (situated on the south coast of Wales) but not a true links, Royal Porthcawl doesn't have returning nines, but it's not an out-and-back routing. Instead, the front nine moves in a clockwise crescent-shaped manner, with the back nine running counterclockwise inside the crescent. Only the first three holes play adjacent to Bristol Channel, but there are ocean views and ocean winds on all the inland holes too, which are on higher ground. The 2014 British Senior Open was contested at Royal Porthcawl.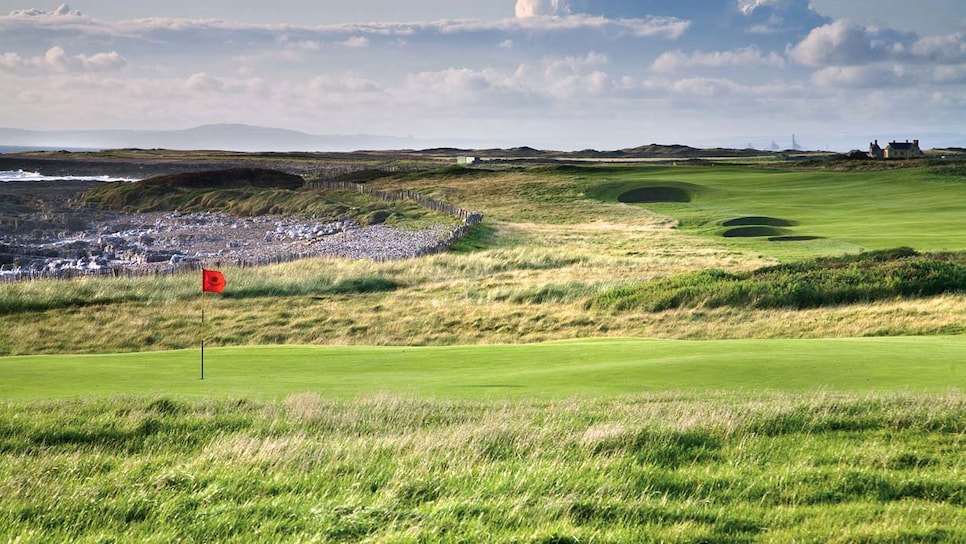 48 (69) Wade Hampton G.C.
Cashiers, N.C., U.S.A. / 7,302 yards, Par 72
Built during the period when Tom Fazio was still working with the existing landscape rather than ignoring it, Wade Hampton is an exercise in restraint. The fairways flow through a natural valley between flanking mountain peaks. Some holes are guarded by gurgling brooks, but Fazio piped several streams underground to make the course more playable and walkable. Wade Hampton hosted the 2013 U.S. Senior Amateur.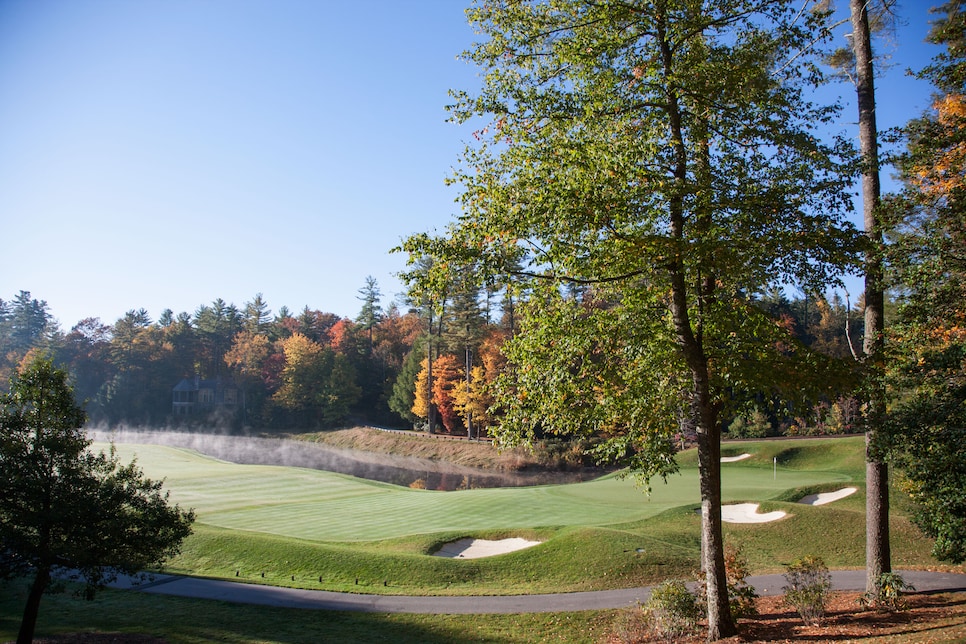 49 (39) Kauri Cliffs
Matauri Bay, New Zealand / 7,151 yards, Par 72
Like No. 16 Cape Kidnappers 400 miles to the southeast, Kauri Cliffs occupies an old sheep ranch atop an ocean-front plateau laced with canyons. Unlike Kidnappers, the 2000 layout by design-and-build guy Dave Harman of Orlando, has hills of native rough, stands of fern and more forced carries over gorges. The topography allowed Harman to string the seventh and eighth and 14th through 17th holes parallel to the edge of the Pacific, although several hundred feet above it. Sadly, Harman died in 2004 of tongue cancer. Kauri Cliffs was his finest achievement.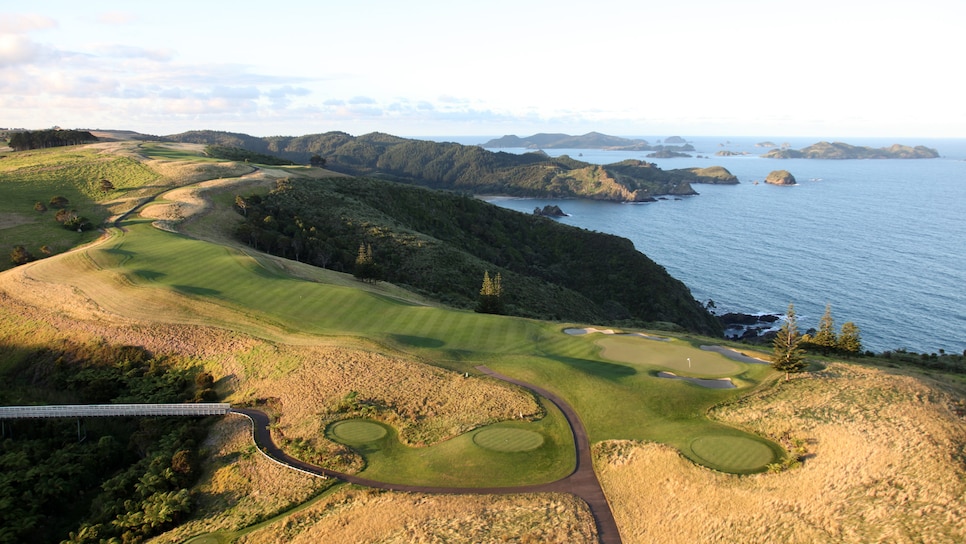 50 (65) North Berwick G.C., Scotland
North Berwick, East Lothian, Scotland / 6,464 yards, Par 71
North Berwick must be played in good humor. To do otherwise is to not properly appreciate its outrageous topography (some terrain is like an elephant cemetery) and outlandish holes, like the sunken 13th green beyond a stone wall, the renown Redan par-3 15th, blind from the tee, and the long, narrow 16th green with a gulch separating front and back plateaus, surely the model for the infamous Biarritz green.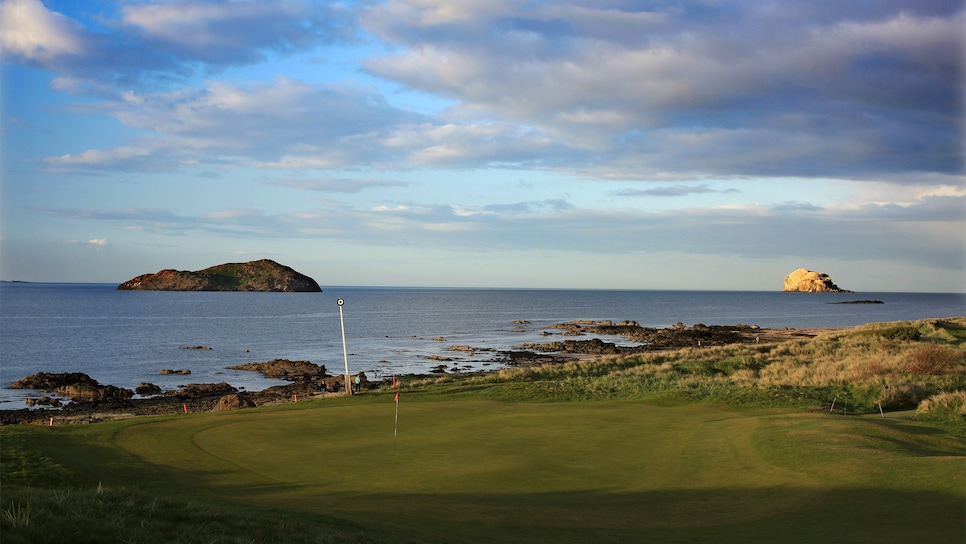 David Cannon/Getty Images
51 (48) Whistling Straits (Straits)
Haven, Wis., U.S.A. / 7,790 yards, Par 72
Pete Dye transformed a dead-flat abandoned army air base along a two-mile stretch of Lake Michigan into an imitation of Ballybunion at Whistling Straits, peppering his rugged fairways and windswept greens with 1,012 (at last count) bunkers. There are no rakes at Whistling Straits, in keeping with the notion that this is a transplanted Irish links. It has so much rub-of-the-green that some tour pros don't care for it, but it didn't bother Jason Day, who conquered it to win the 2015 PGA Championship. Next up for the Straits is the 2020 Ryder Cup.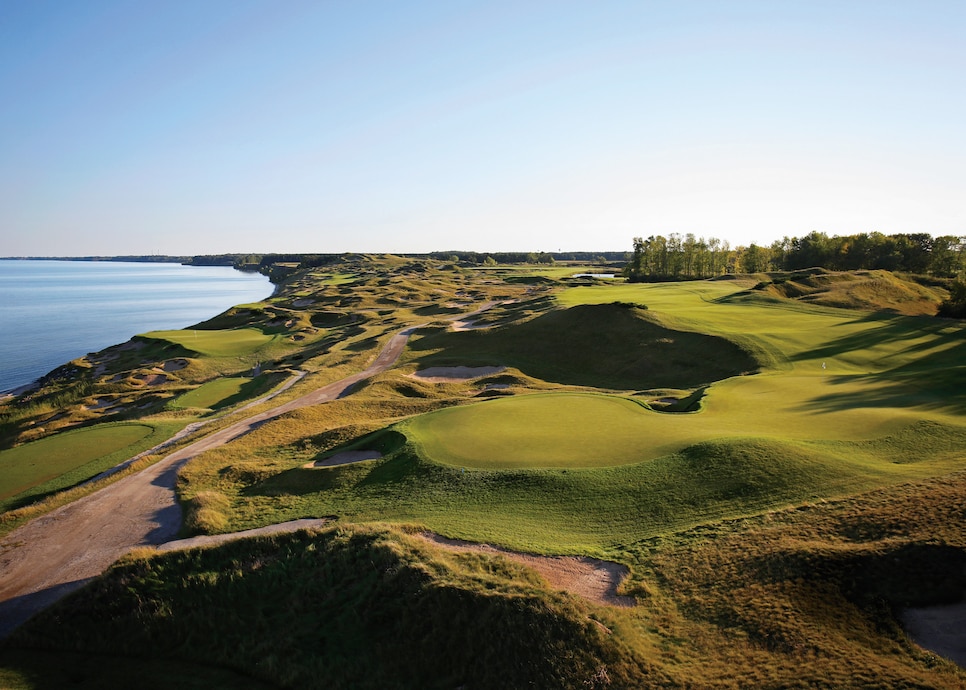 52 (55) Diamante G.C. (Dunes)
Cabo San Lucas, Baja Sur, Mexico / 7,160 yards, Par 72
Mexico's first true links, fashioned by Davis Love III and his design team along the Pacific Ocean from a fantastic set of white sand dunes, huge portions of which are without vegetation and seem like enormous snow drifts. Holes hug the flowing terrain with little artificiality. Two holes on the back nine once played around a long lagoon but have been replaced by new 12th and 13th holes on the beach. So now the entire second nine is adjacent to the ocean, amidst the tallest dunes. How unique is this course? No other links in the world has cactus.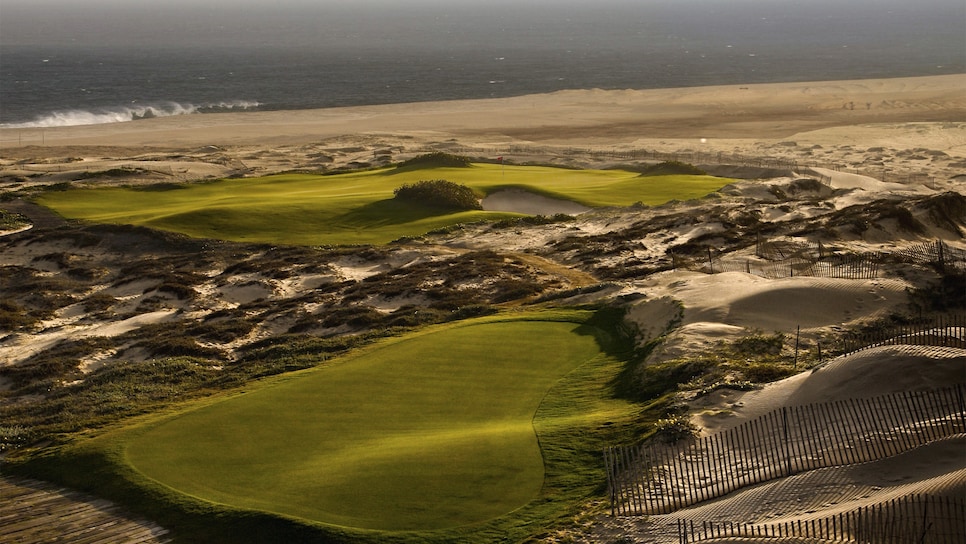 Photo by Angus Murray /Sports Illustrated/Getty Images
53 (37) Friar's Head G.C.
Baiting Hollow, N.Y., U.S.A. / 7,049 yards, Par 71
The challenge for architects Bill Coore and Ben Crenshaw at Friar's Head was to design some holes in breathtaking sand dunes perched 200 feet above the Long Island Sound, with other parts of the course sitting in an ordinary potato field to the south. Said Crenshaw: "Our job was to marry the two distinct elements. We didn't want one nine up in the dunes and the other down on the flat." The solution was to move the routing back and forth and artfully reshape the farm fields into gentle links-like land. They pulled it off.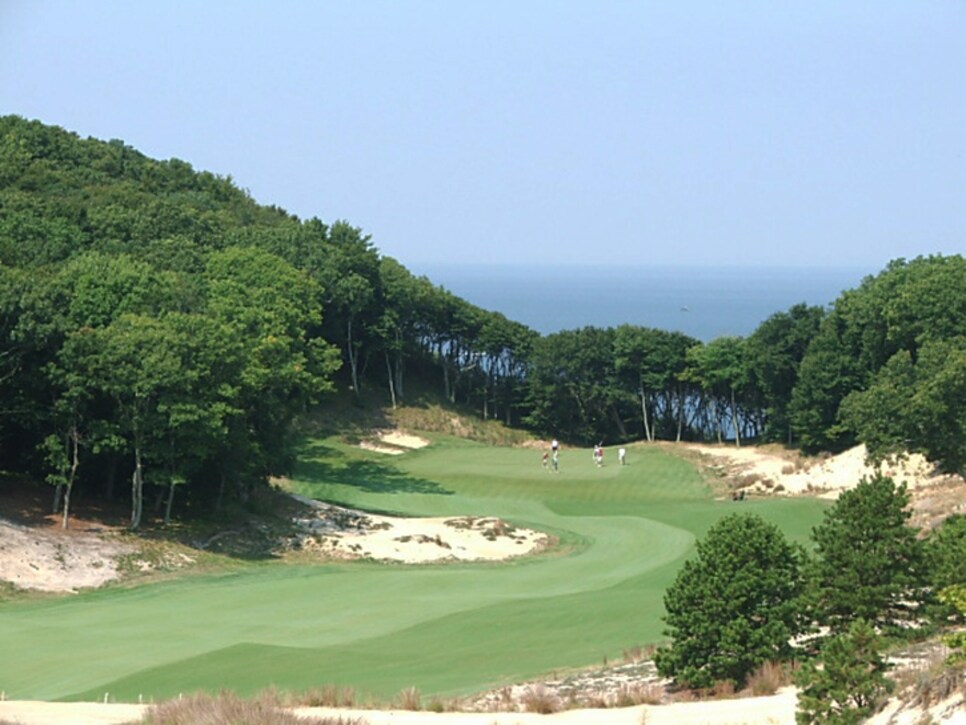 54 (56) Trump International Golf Links
Balmedie, Aberdeenshire, Scotland / 7,428 yards, Par 72
Just four years old, this Martin Hawtree design is set in as dramatic a set of sand dunes as there is in golf -- even better than those at No. 35 Royal Birkdale and No. 45 Royal St. George's. Some dunes sit 100 feet above fairways. And all are covered in deep marram grasses. Fairways pitch and tumble, often posing downhill lies to uphill targets. Every bunker is at least knee high, encircled with stacked-sod faces. Greens are perched and edged by deep hollows. Owner Donald Trump wants an Open; we suspect it'll someday host a Ryder Cup.
55 (28) Royal Melbourne G.C. (East)
Melbourne, Victoria, Australia / 6,579 yards, Par 72
Former Australian Open champion Alex Russell and greenskeeper Mick Morcom built the West Course to Alister MacKenzie's plans, then added the East in 1931, on somewhat less inspiring land, flatter and more wooded. But the bunkering and green contours are very similar to the West. (Mackenzie had routed a nine-hole East Course that was never built, and so Russell incorporated a few of those holes.) A slight flaw might be that all four par 3s play in the same northern direction. For composite tournament play, East's holes 1-3 and 16-18 are used along with 12 of the West holes.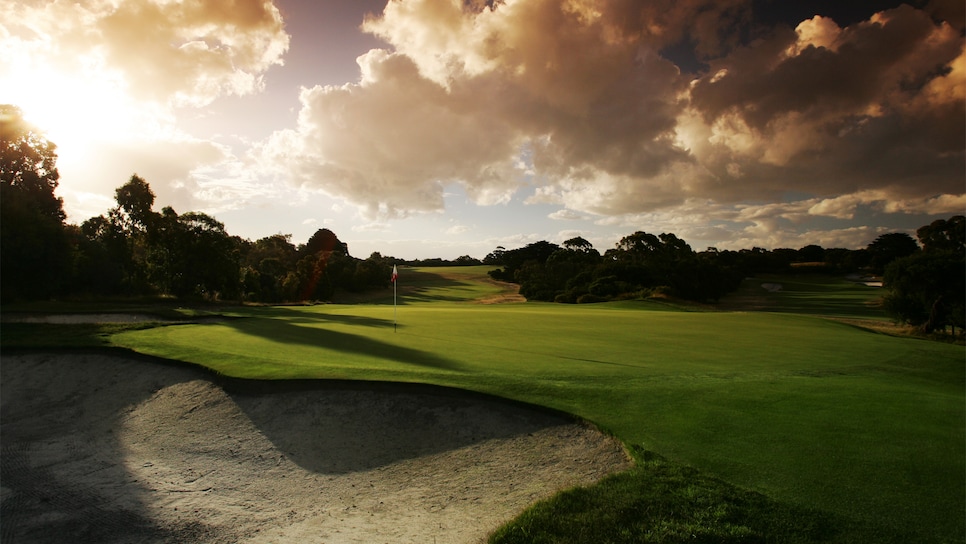 David Cannon/Getty Images
56 (85) Casa de Campo (Teeth of the Dog)
La Romana, Dominican Republic / 7,471 yards, Par 72
The Dominican Republic is now a major golf destination, and Teeth of the Dog started it all back in 1971. The earliest international masterpiece by Pete Dye, it has been periodically rebuilt and updated by Dye following repeated hurricane damage. The routing is stunning: a clockwise front 9, counterclockwise back 9, with seven holes hunkered down on the ocean, no more than 20 feet above the surf. The sea is on the left on holes five through eight and on the right on holes 15 through 17. Every hole is unique and scenic.
57 (47) Riviera C.C., Pacific
Pacific Palisades, Calif., U.S.A. / 7,040 yards, Par 71
A compact but clever design by George C. Thomas Jr. and associate William P. Bell, Riviera features everything from a long Redan par 3, to a bunker in the middle of a green, to an alternate-fairway par 4. With its 18th green at the base of a natural amphitheater, Riviera seems to be tailormade as a tournament venue. It has hosted an annual PGA Tour event, but no U.S. Open since 1948. It's the site of the 2017 U.S. Amateur. Will that be a harbinger of a bigger USGA event to come?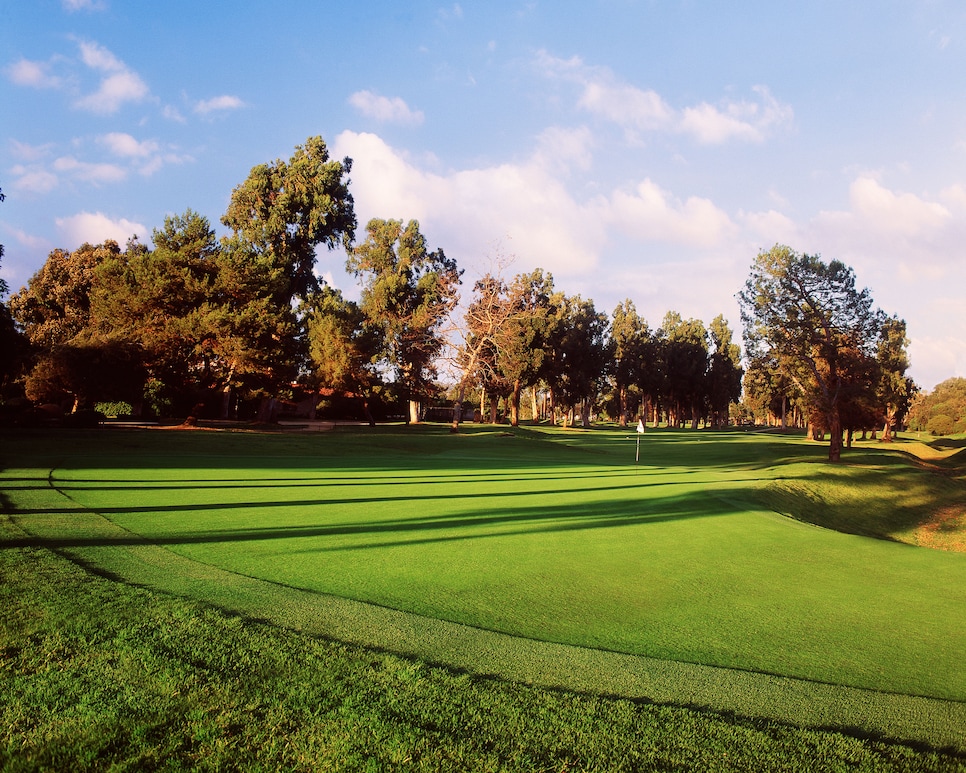 58 (NEW) Sentosa G.C. (Serapong)
Singapore, Republic of Singapore / 7,420 yards, Par 71
It took years to build the Serapong course back in the early 1980s. The site was a mangrove swamp filled with some 3 million cubic yards of sand dredged from Singapore Harbor. Designer Ron Fream, a globe-trotting American, routed as many holes as he could along the water's edge, resulting in the now-famed "Dragon's Tail," a loop of holes four through six with island fairways around a tidal basin. It was recently rebunkered by architect Gene Bates and his associate Andrew Johnston, who is now the club's director of agronomy. Sentosa has one of the legendary backdrops in the game -- the skyline of Singapore.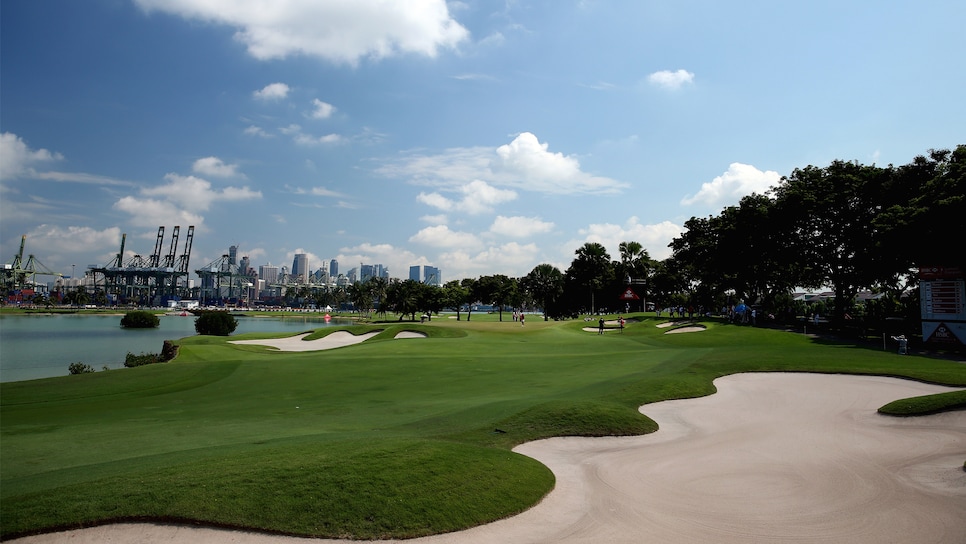 59 (36) Prairie Dunes C.C.
Hutchinson, Kan., U.S.A. / 6,940 yards, Par 70
Prairie Dunes was the top nine-hole course in America for 20 years. By the time the club found funds to expand it to 18, original architect Perry Maxwell had passed away, but his son Press added nine more holes seamlessly, putting three on the front nine and six on the back. He also replicated his father's great greens. Prairie Dunes reflects all that is Kansas: sand dunes, prairie grasses, yucca plants, cottonwoods and constant wind.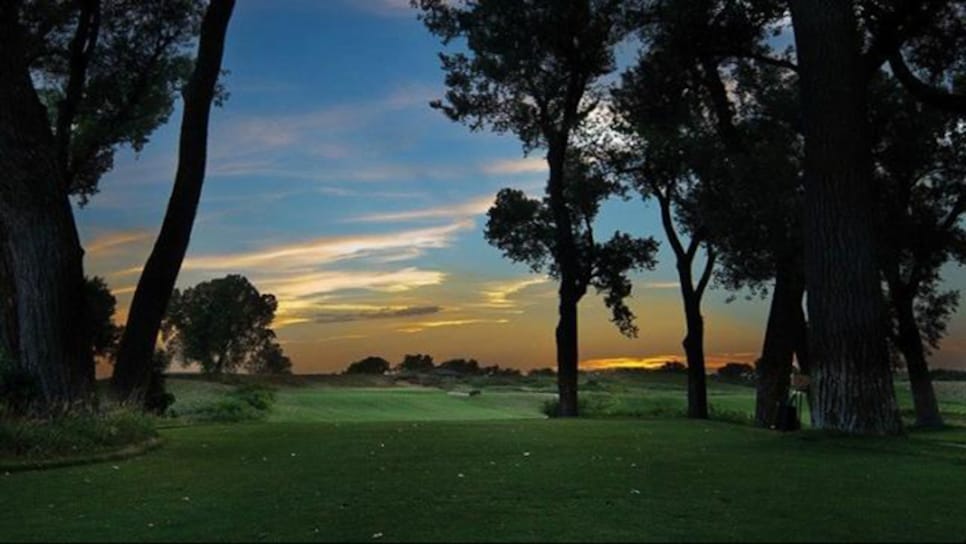 Courtesy of Prairie Dunes C.C.
60 (45) Los Angeles C.C. (North)
Los Angeles, Calif., U.S.A. / 7,236 yards, Par 71
It's on the edge of tinsel town, but the architecture of the North Course at Los Angeles Country Club is solid gold since its 2010 restoration by architect Gil Hanse, his associate Jim Wagner and their colleague Geoff Shackelford. It matters not that Hanse's team didn't replicate the bunkering style of original architect George C. Thomas, but rather the more visually exciting style of Thomas's associate, William P. Bell. The bunkers will look sensational when L.A.C.C. hosts the 2017 Walker Cup and the 2023 U.S. Open.
61 (54) Swinley Forest G.C.
Ascot, Berkshire, England / 6,045 yards, Par 69
Due west of Sunningdale G.C. in London's heathland is Swinley Forest, which H.S. Colt described as the "least bad course" he ever designed. Much of its reputation is built around its five par 3s, each featuring its own personality and challenge. Colt supposedly located them first then connected them using an ideal balance of short and long par 4s on each nine. The par 3s are indeed outstanding -- the 17th looks like it might have been the inspiration for A.W. Tillinghast's 10th at Winged Foot West.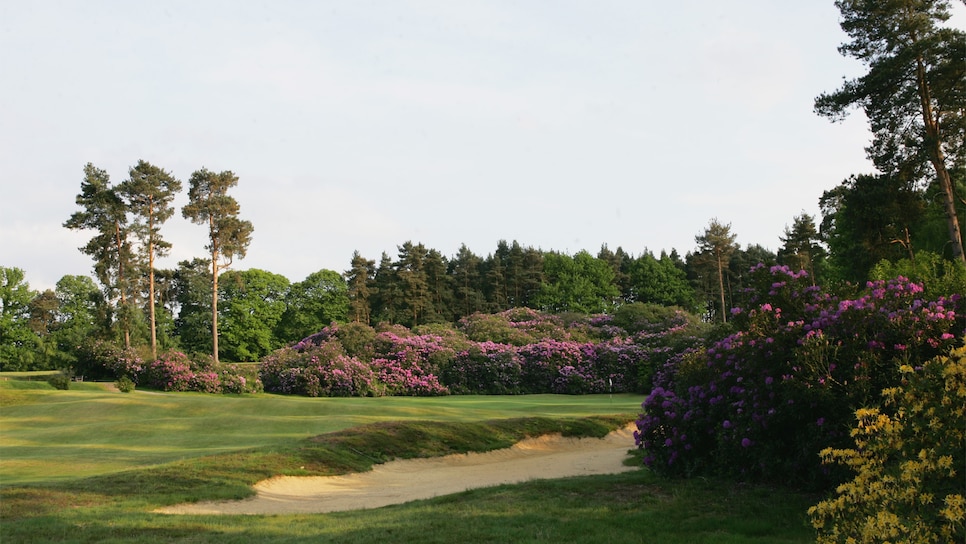 David Alexander/Getty Images
62 (NEW) The Alotian Club
Roland, Ark., U.S.A. / 7,480 yards, Par 72
The Alotian Club gives us a hint of what Augusta National would have looked like had Bobby Jones established his dream course in hilly Atlanta. The first tee shot drops 70 feet to a fairway below, with the approach playing back uphill. The tee on the 205-yard par-3 sixth sits 85 feet above the green. Alotian, founded by Warren Stephens, son of former Masters chairman Jackson Stephens, is the first course in Arkansas ever to make the World Top 100. The Alotian name comes from the annual golf trips Stephens once took with his buddies. He called it America's Lights Out Tour, and they were the Alotians.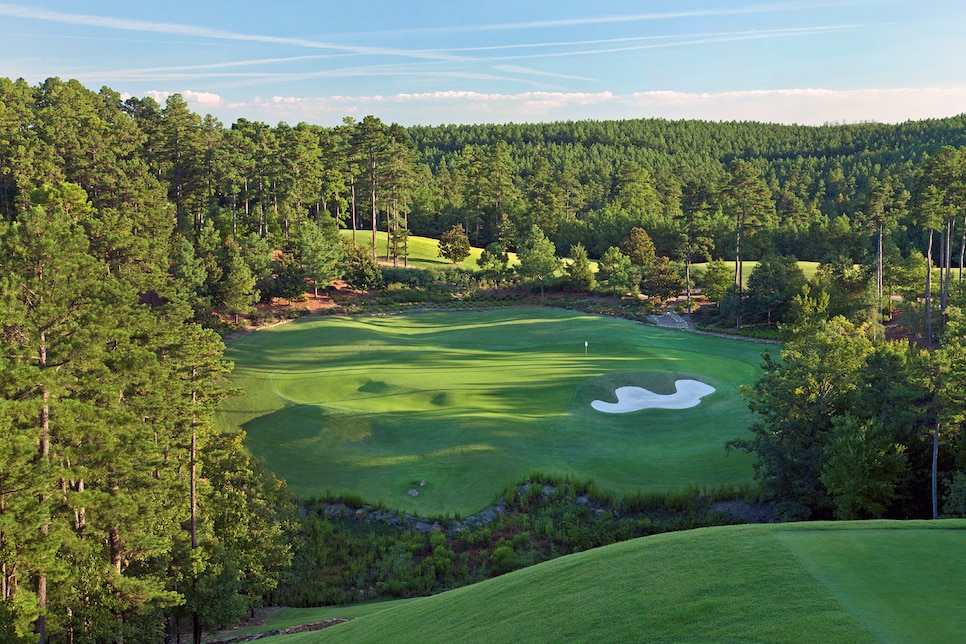 Courtesy of The Alotian Club
63 (46) Pinehurst Resort (No.2)
Village of Pinehurst, N.C., U.S.A. / 7,495 yards, Par 72
In 2010, a team lead by Bill Coore and Ben Crenshaw killed and ripped out all the Bermudagrass rough on Pinehurst No. 2 that had been foolishly planted in the 1970s.Between fairways and tree lines, Coore and Crenshaw established vast bands of native hardpan sand dotted with clumps of wiregrass and scattered pine needles. They reduced the irrigation to mere single rows in fairways to prevent grass from ever returning to the new sandy wastelands. It was a highly successful experiment (and experience) when the men's and women's U.S. Opens were played on consecutive weeks on No. 2 in 2014.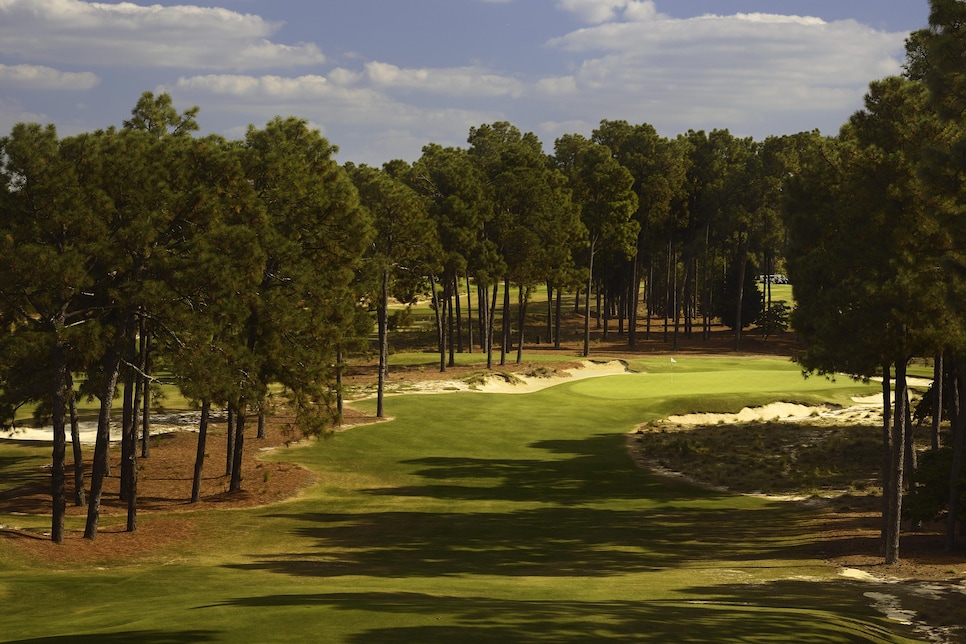 64 (51) Kawana Hotel G. Cse. (Fuji)
Ito, Shizuoka, Japan / 6,691 yards, Par 72
C.H. Alison's 1936 design for Japan's first golf resort has long been dubbed the Pebble Beach of Japan, but it's far more mountainous. You see it on the opening hole, which drops down a tumbling fairway framed by twisted pines to a green with Sagami Bay as its backdrop. The sea also provides a backdrop on the steep downhill fourth, seventh, 10th, 11th, 14th and 15th holes. Unlike at No. 21 Hirono, Alison's bunkering here is subdued.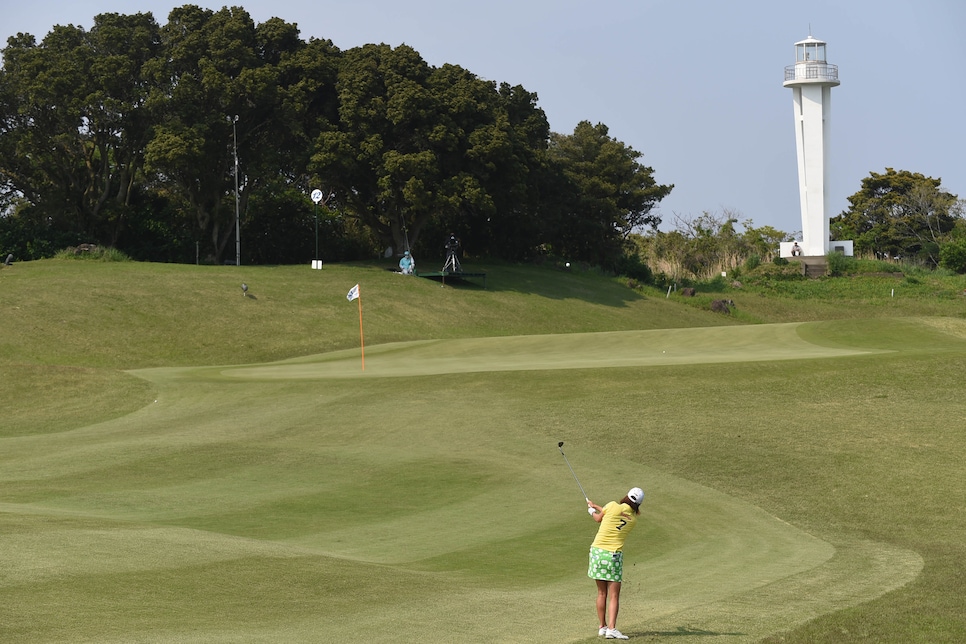 Photo by Atsushi Tomura/Getty Images
65 (64) Lahinch G.C. (Old)
Lahinch, County Clare, Ireland / 6,950 yards, Par 72
Considered by some to be the St. Andrews of Ireland, the splendid links at Lahinch reflects evolution in golf architecture. After Alister MacKenzie remodeled it in the 1920s, only a few of Old Tom Morris' original holes, like the Klondyke par-5 4th, and Dell par-3 fifth, both with hidden greens, remained. In the 1980s, Donald Steel altered some of MacKenzie's holes and in the 2000s Martin Hawtree rebuilt everything and added four new holes. One classic MacKenzie par 3, the old 13th, is now a bye hole.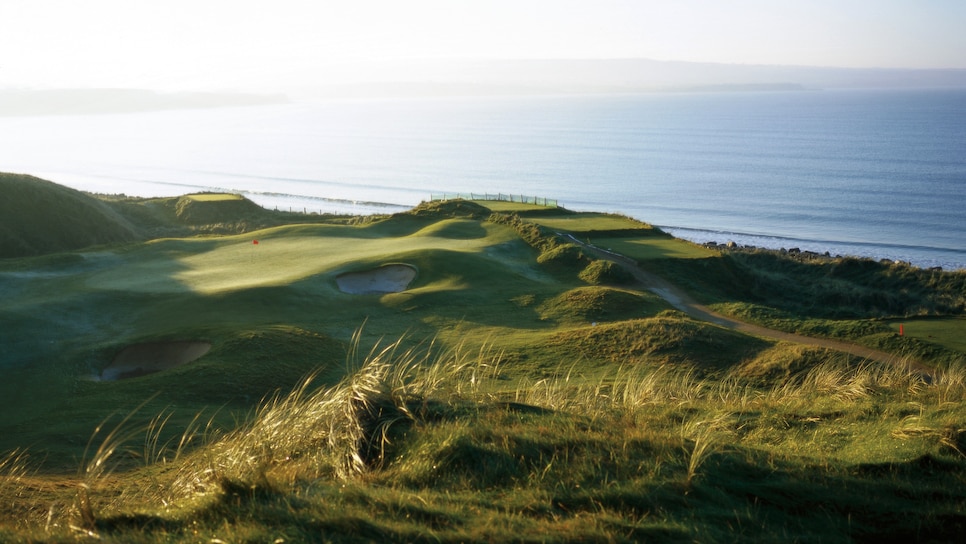 66 (61) National G.C. of Canada
Woodbridge, Ont., Canada / 7,235 yards, Par 72
George Fazio once lost a U.S. Open in a playoff to Ben Hogan and his architecture reflected the sort of disciple needed to win that championship: tight, well-guarded fairways, big, well-bunkered, fast-paced greens and polished conditions. National G.C. of Canada reflects that and more, with gambling water hazards and double doglegs. In 2005, Tom Fazio, who helped his uncle with the original design, rebunkered some holes and created a new par-4 16th.
67 (NEW) Southern Hills C.C.
Tulsa, Okla. , U.S.A / 7,184 yards, Par 71
A product of the Great Depression funded by Phillips Petroleum money and constructed by hundreds of workers who stood at the gate each morning hoping for a 25-cents-per-hour job that day, Southern Hills is architect Perry Maxwell's great achievement. The putting surfaces have the classic "Maxwell rolls," guarded by simple, yet effective bunkers. Maxwell, a former banker, negotiated his design fee on a sliding scale. He finished the job $17,500 under the anticipated $90,000 construction budget and earned $12,500. In an age of hard times, it was a most lucrative deal in golf design.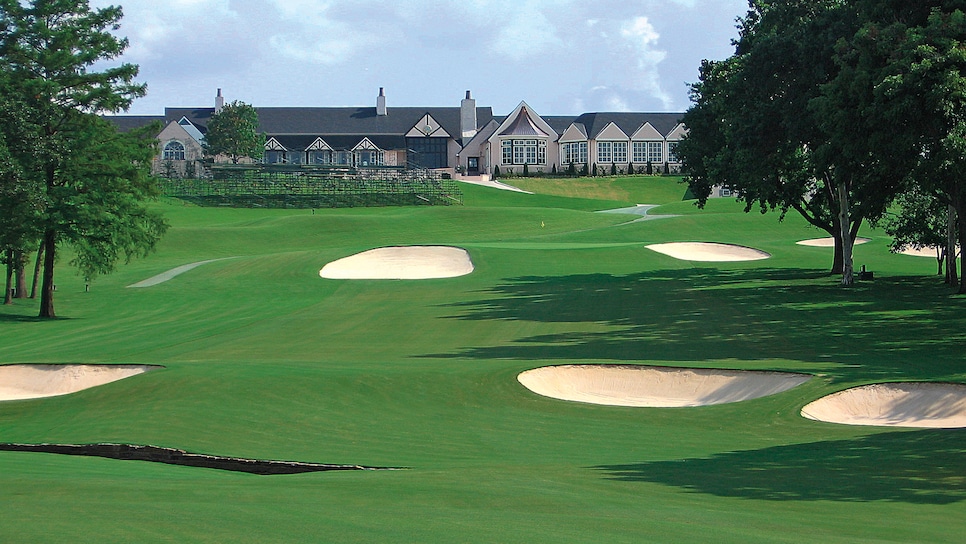 68 (NEW) Gozzer Ranch Golf & Lake Club
Henderson, Idaho, U.S.A. / 7,317 yards, Par 72
This is a Tom Fazio design with gorgeous views of Lake Coeur d'Alene to the north and west and the panoramic farm valley to the east. Little details elevate the architecture of Gozzer Ranch: a slight false right-front edge on the first green, the backboard slope behind the sixth green, the fairway contouring on the dual-fairway drivable par-4 12th that kicks even a short drive to the base of the putting surface. Its shaggy-edged bunkers are more than mere decorations. Some define targets off the tee and others pose options and challenges.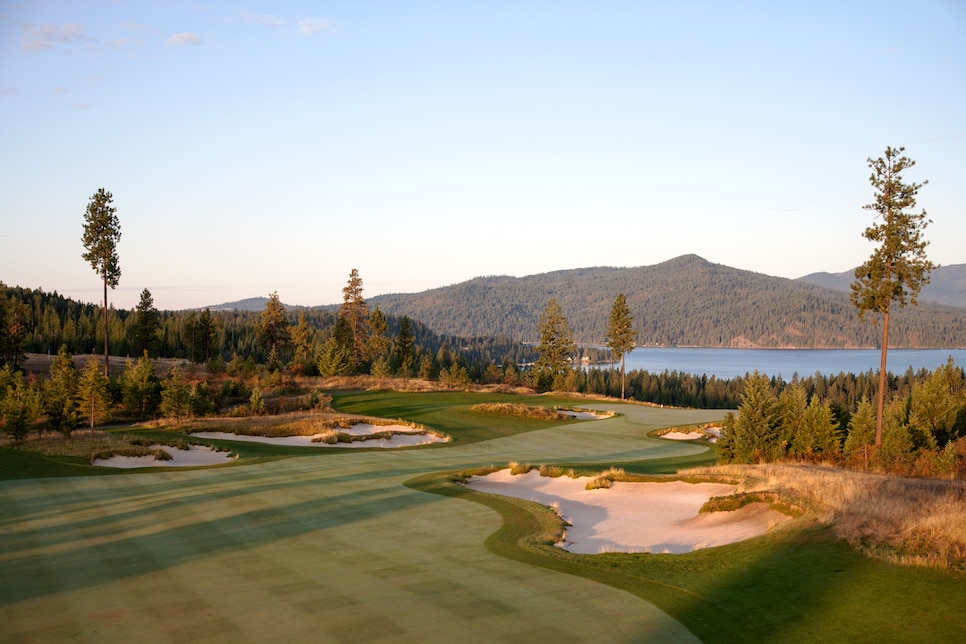 69 (50) Kingsbarns G. Links
St. Andrews, Fife, Scotland / 7,227 yards, Par 72
Kingsbarns looks incredibly natural in its links setting, a tribute to owner Mark Parsinen and architect Kyle Phillips, who collaborated on transforming a lifeless farm field into a course that fools even the most discerning eye. The routing is ingenious and crescent-shaped along the Fife coast with holes on three separate levels (130 feet of elevation change in all) to provide ocean views from every fairway. Six holes play right on the shoreline, and every hole offers alternate angles of attack.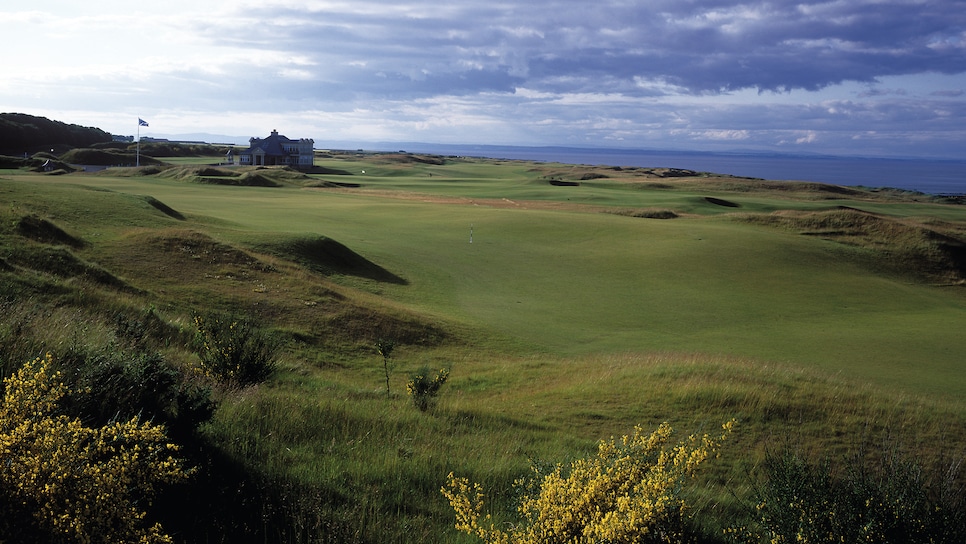 70 (New) Cabo del Sol (Ocean)
Los Cabos, Baja Sur, Mexico / 7,091 yards, Par 72
When Jack Nicklaus first saw this Baja Peninsula site, what can best be described as Scottsdale-meets-the-Sea of Cortez, he told reporters, "This is my chance to design a Pebble Beach." He took full advantage of that chance, routing an exciting 18 that plays from highlands of desert cacti, over dry washes and down to the sea on both nines. When the layout opened in 1994, Nicklaus said it had the three finest finishing holes in golf. That might still be true 22 years later, given that the greens at 16, 17 and 18 are all perched atop rocks above the crashing surf of Whale Bay.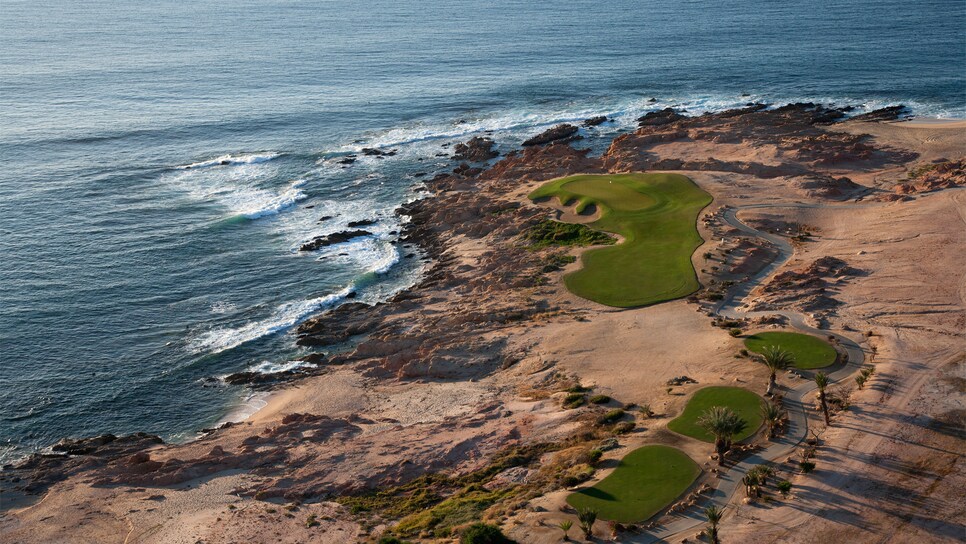 71 (49) Valderrama G.C.
Sotogrande, Cádiz, Spain / 6,990 yards, Par 71
Best known as the site of the 1997 Ryder Cup won by Europe in a squeaker, Valderrama was a favorite design of the late architect Robert Trent Jones. His tight, twisting fairways, pinched at every turn by squat olive trees, led to surprisingly small putting surfaces protected by Trent's trademark splashy bunkers. Valderrama contains one of the more controversial holes in golf: the par-5 17th guarded by water in front, which European captain Seve Ballesteros toughened for that Ryder Cup. Most agree it influenced the outcome.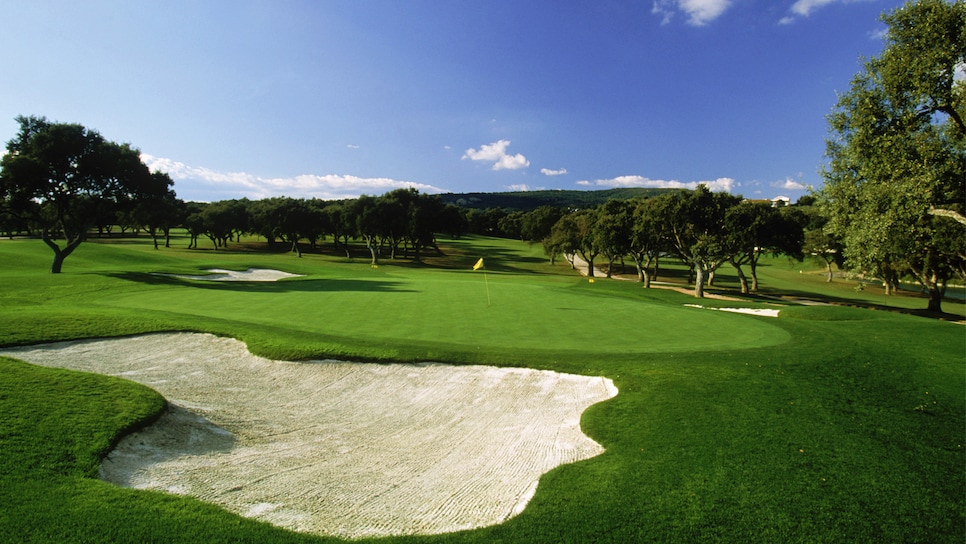 72 (95) The Honors Course
Ooltewah, Tenn., U.S.A. / 7,450 yards, Par 72
Considered radical in the early 1980s for its acres of tall, native-grass rough, unusual Zoysiagrass fairways and terrifying greens perched atop bulkheads of rock, The Honors Course is considered today to be a well-preserved example of Pete Dye's death-or-glory architecture. Other than reducing the contours in a couple of greens (particularly the 18th) in the late 1990s, Dye has left the course untouched. One might suspect he could return someday to update it.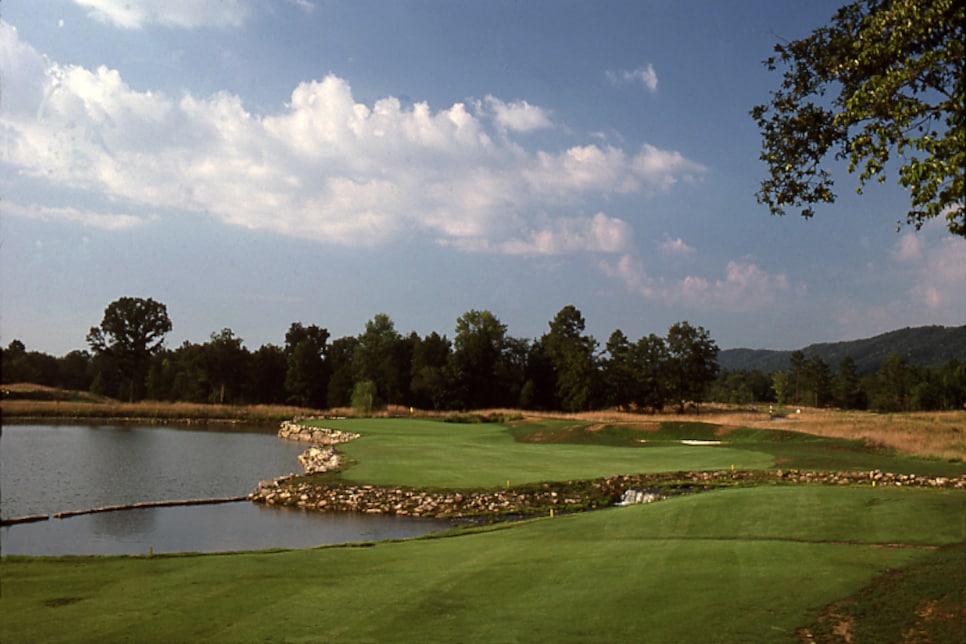 73 (75) Shadow Creek
North Las Vegas, Nev., U.S.A. / 7,560 yards, Par 72
Back in 1990, $47 million to build a golf course was considered outrageous. Tom Fazio said that budget was necessary at Shadow Creek to perform what he now calls "total site manipulation," creating an environment where none existed, by carving rolling hills and canyons from the flat desert floor north of Las Vegas and pumping in plenty of water. Original owner Steve Wynn spent that kind of money because that's what casino hotel owners do: Create fantasies like Vermont in Vegas. Alas, this once-in-a-lifetime dream design has been too successful, triggering many expensive, but inferior, imitations.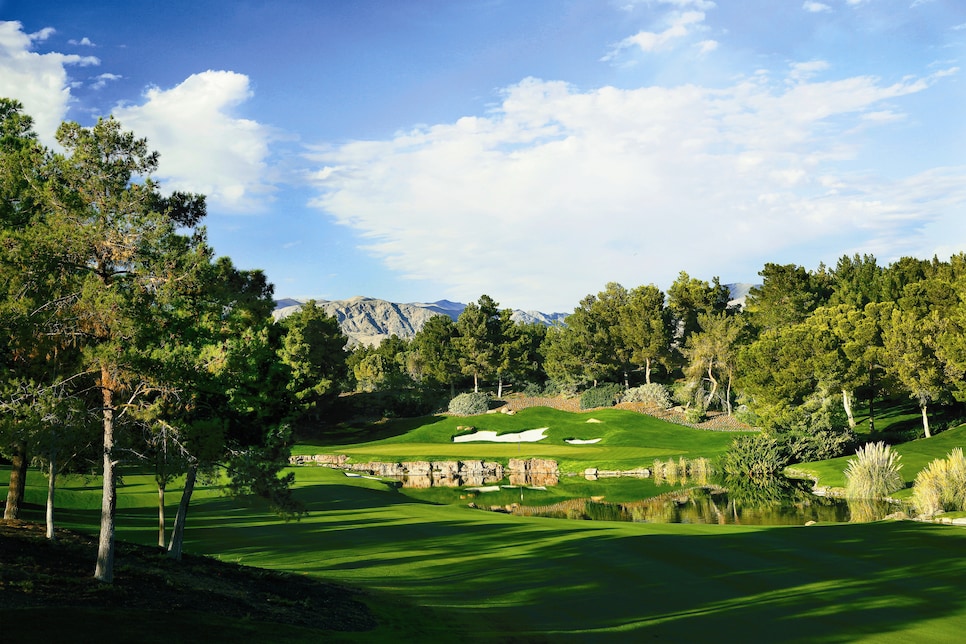 Courtesy of Shadow Creek GC
74 (NEW) The Bluffs Ho Tram Strip
Ba Ria, Vung Tau, Vietnam / 6,855 yards, Par 71
A 2014 design by Greg Norman, an Australian who now lives in Florida, so it's no surprise that Bluffs Ho Tram is very reminiscent of a Florida golf course, Jupiter Hills. Like Jupiter, it's separated from the ocean by a highway but plays through dramatic sand dunes covered in tropical vegetation, has joint fairways and even a pair of par 3s playing from a common dunes-top tee box complex to greens in opposite directions. As the name suggests, the Bluffs has some dramatic elevations, with the long par-3 15th green at the highest point, 165 feet above the South China Sea.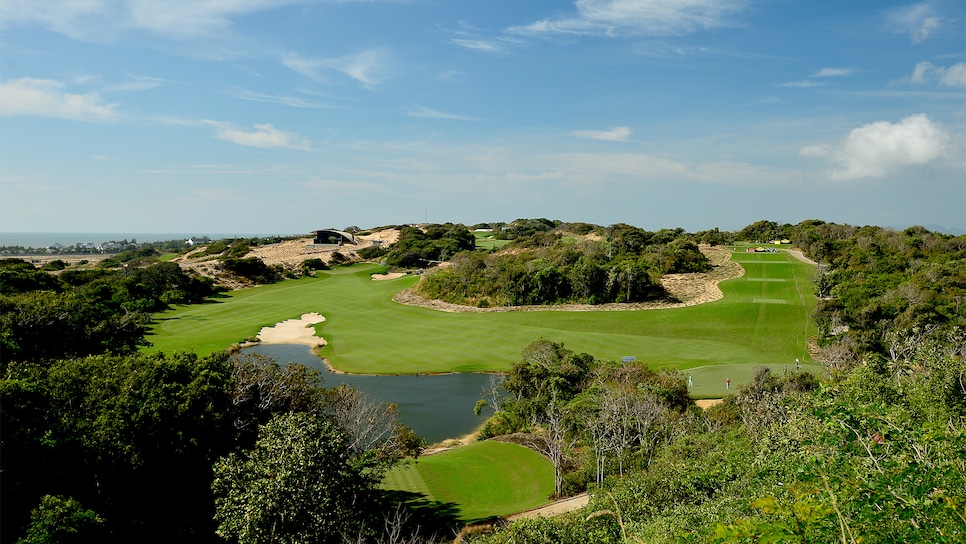 2015 Khalid Redza/Asian Tour/Getty Images
75 (92) Spring City Golf & Lake Resort (Lake)
Kunming, Yunnan Province, China / 7,204 yards, Par 72
This Robert Trent Jones Jr. design on the shoreline of Yang Zong Hai Lake (as gorgeous as Lake Tahoe) opened in 1999. Holes sit along a tumbling slope leading down to the lake, with the opening and closing holes at the highest elevation. A spectacular trio down on the water's edge is most noteworthy: the par-3 eighth, plunging 100 feet down to a peninsula green, the par-5 ninth with the lake hard against the right edge and the par-3 10th, over a lake cove to a clifftop green.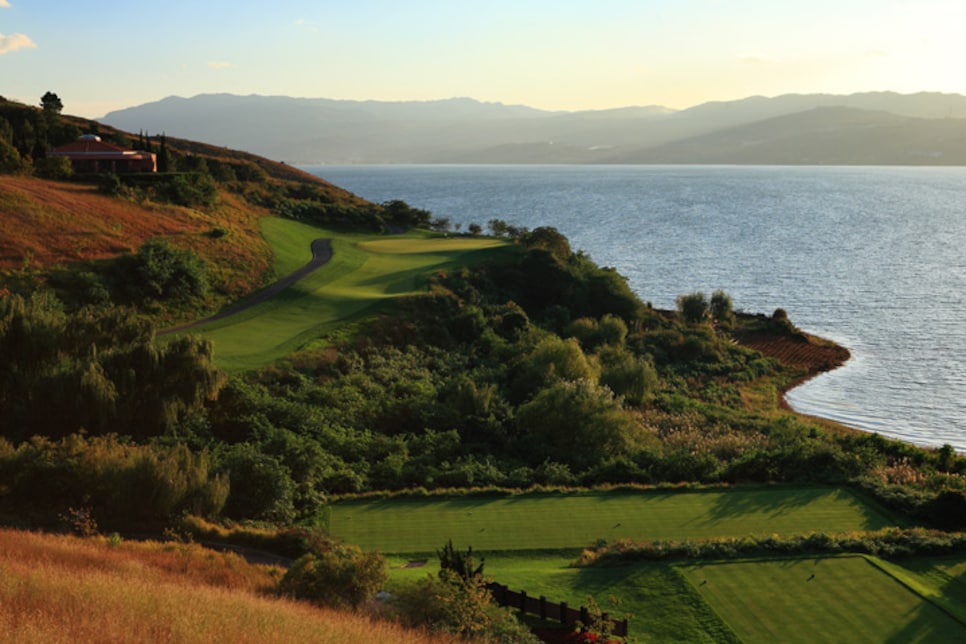 76 (NEW) Punta Espada G. Cse.
Cap Cana, Dominican Republic / 7,396 yards, Par 72
Jack Nicklaus got his start in golf design working with Pete Dye, and his 10-year-old Punta Espada is a lively version of Dye's 40-year-old Teeth of the Dog course (No. 56) farther down the Dominican coast, from the to the broad waste areas of brilliant white sand usually associated with Pete's work, the low-profile greens and the eight green complexes right on the Caribbean shore. Punta Espada starts and finishes on the Caribbean and returns to it early in the back nine, with the awesome 249-yard par-3 13th directly over an ocean cove.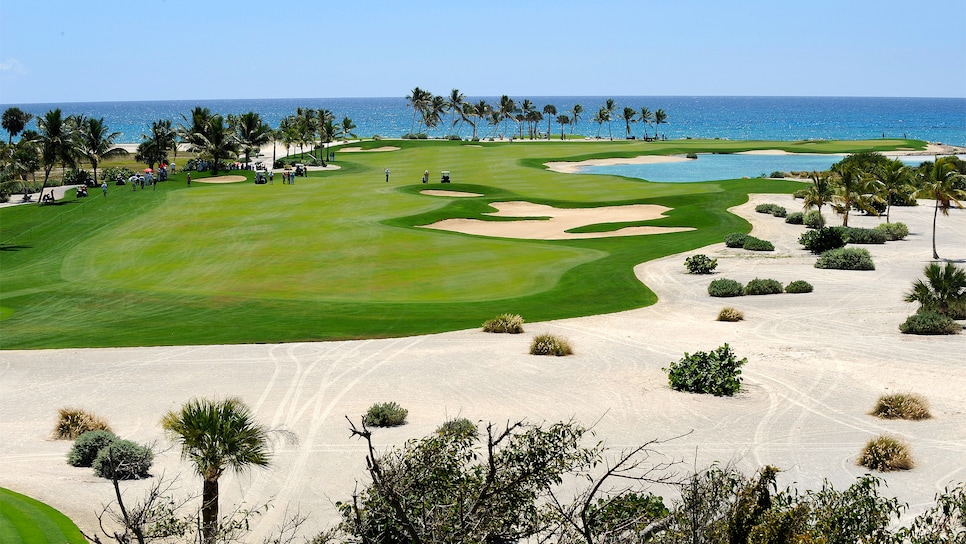 77 (63) Olympic Club (Lake)
San Francisco, Calif., U.S.A. / 7,095 yards, Par 71
It seems fitting that, in a town where every house is a cliffhanger, every U.S. Open played at Olympic has been one too. For decades, the Lake was a severe test of golf. But while it still has canted fairways hampered by just a single fairway bunker, the once-dense forest has been considerably cleared away, leaving only the occasional bowlegged cypress with knobby knees. Still, the 2012 U.S. Open stuck to the script: Ball stuck in tree, slow play warnings, a snap hook by the leader on 16, and a guy name Simpson won.
78 (NEW) Memphrémagog Golf Club
Magog, Quebec, Canada / 7,498 yards, Par 72
Long, slender Lake Memphrémagog stretches from Vermont well into Quebec, and near its northern tip is one of golf's most exclusive golf retreats. The 2008 Tom McBroom design has been likened to the "Augusta National of Canada," and with its rugged tree-lined topography, meandering creeks and complex green structures, it's also been called "Tom McBroom's Monster." Of course, it probably gets those nicknames because few people can easily pronounce Memphrémagog.
79 (59) The Club at Nine Bridges
Andeok-myeon, Namjeju-kun, Jeju-do, Jeju Island, South Korea / 7,863 yards, Par 72
Our Korean affiliates call The Club at Nine Bridges the "Taj Mahal of Golf." After all, architects Ronald Fream and David Dale spent an estimated $40 million in the early 2000s creating it. (The entire project, including land, clubhouse, condos and spa, cost $100 million.) The site was volcanic rock, capped with 150,000 cubic yards of sand as a base for bent-grass fairways and greens. The site had natural streams edged with massive Japanese Maples and 20-foot-tall Korean Azaleas, but they also transplanted 300 mature evergreens like Kryptomeria and cedars for additional color. To control storm water drainage, several lakes were created, some with cascading weirs, and the par-5 18th finishes on an island green.
80 (NEW) Peachtree G.C.
Atlanta, Ga., U.S.A. / 7,414 yards, Par 72
A design collaboration by amateur star Bobby Jones and golf architect Robert Trent Jones (no relation). Trent was a forceful personality, so Peachtree reflects far more of Trent's notions of golf than Bobby's, particularly in designing for future equipment advances. When it opened, Peachtree measured in excess of 7,200 yards, extremely long for that era. It boasted the longest set of tees in America (to provide flexibility on holes) and the country's most enormous greens (to spread out wear and tear). As it turns out, Trent was a visionary, and decades later others subsequently followed his lead.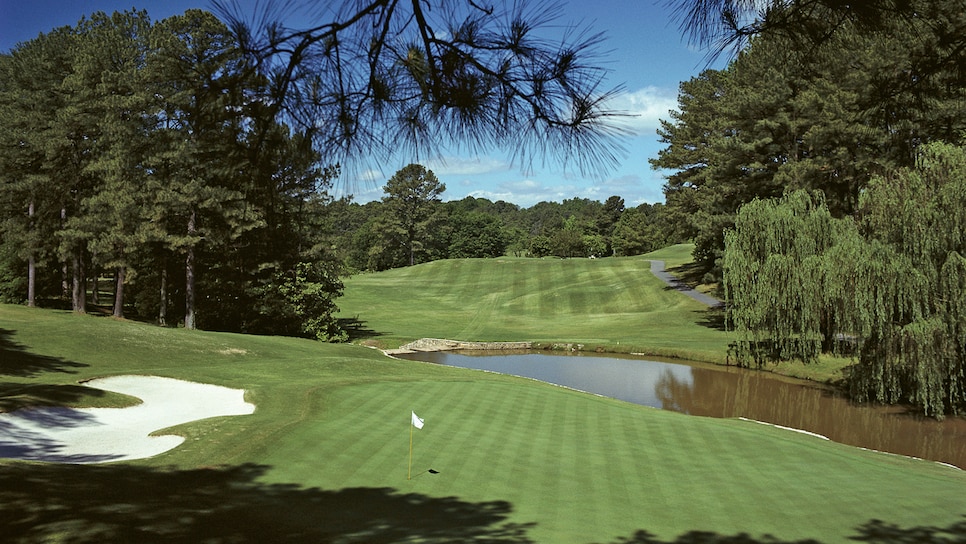 81 (29) San Francisco G.C.
San Francisco, Calif., U.S.A. / 6,830 yards, Par 71
San Francisco Golf Club's clever routing was done mostly by a trio of club members, who first staked out the course in 1916. A.W. Tillinghast remodeled the course in 1923, establishing its signature greens and bunkering. He also added the par-3 seventh, called the "Duel Hole" because its location marks the spot of the last legal duel in America. Three holes were replaced in 1950 in anticipation of a street widening project that never happened. In 2006, those holes were restored by Tom Doak and his then associate, Jim Urbina.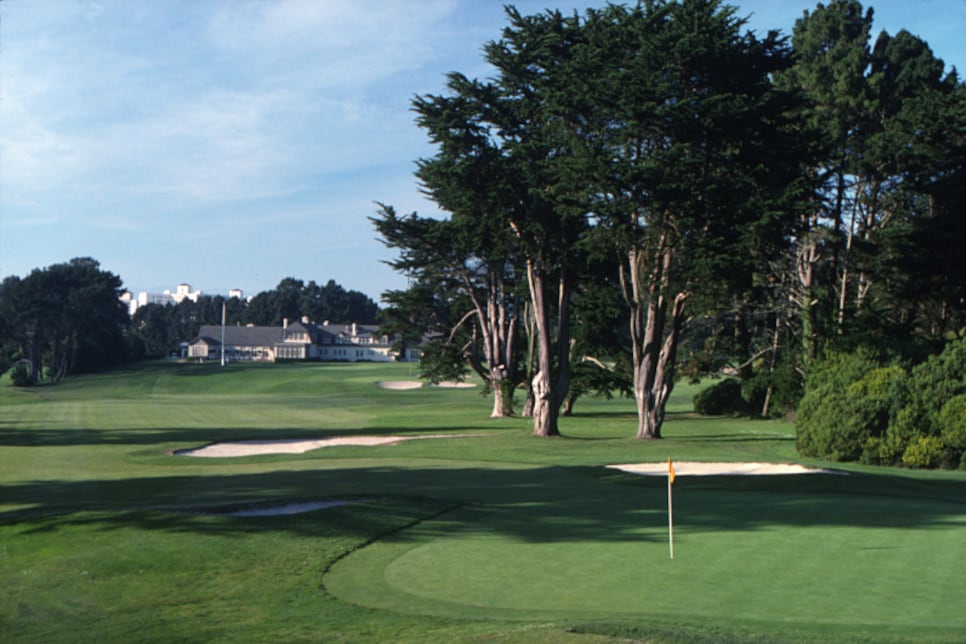 82 (81) Royal Lytham & St. Annes G.C.
Lytham St. Annes, Lancashire, England / 7,118 yards, Par 70
Perhaps the least dramatic-looking links in The Open rota, mainly because it's surrounded by houses and a rail line, with the seacoast being hundreds of yards distant and never in sight. Lytham boasts over 200 bunkers, most built a century ago, when the club was heralded as a pioneer of natural bunkering. Its par-3 first hole is unusual, while its finish, six straight par 4s, is a terrific challenge that was, in 2011, the downfall of Adam Scott and a triumph for Ernie Els.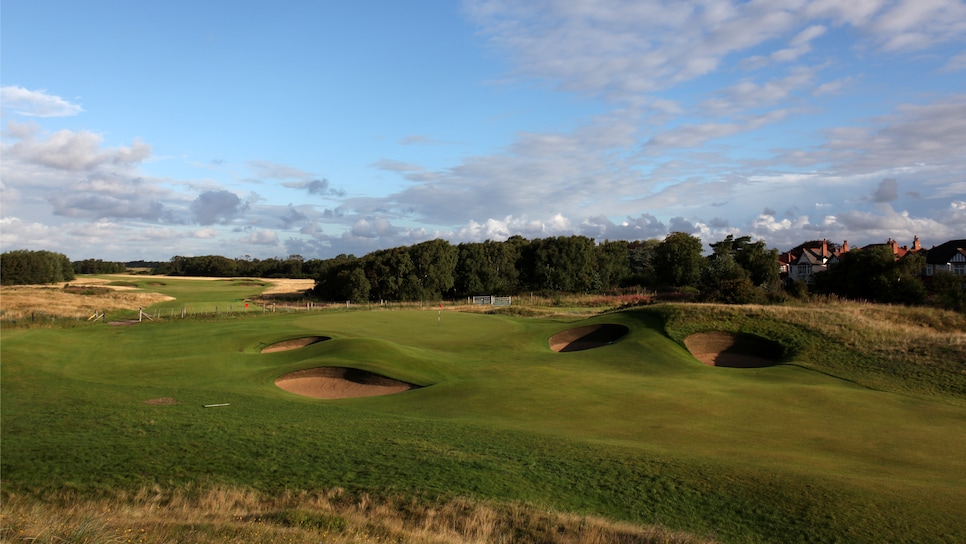 83 (NEW) The Els Club Teluk Datai
Pulau Langkawa, Kedah Darul Aman, Malaysia / 7,284 yards, Par 72
When first opened in 1992, this Langkawa Island design by Australian brothers Geoff and Ted Parslow was called The Golf Club Datai Bay. In 1914, Ernie Els and design partner Greg Letsche performed a major remodeling and it was renamed The Els Club Teluk Datai. Running from the shoreline of the Andaman Sea to the edge of a tropical rain forest beneath the Mat Cincang Mountains, Els Club is the only course on the World Top 100 that has no sand bunkers. Els felt the extreme amount of annual rainfall would make bunkers a maintenance nightmare. Instead, he used trees and a natural meandering stream as his primary hazards.
84 (52) Nirwana Bali G.C.
Tabanan, Bali, Indonesia / 6,805 yards, Par 72
In this paradise east of Java, golf is found beside swaying palms, lily ponds and crashing surf. Designed by Greg Norman and his then-design associate Bob Harrison in 1997, Nirwana Bali winds through homes and rice paddies, both specially built to be incorporated into the layout, and touches the ocean on both nines. Most dramatic is the par-3 seventh, a shot over a ocean cove with Tanah Lot, a famed Balisian temple, to the left, on a rock outcropping just offshore.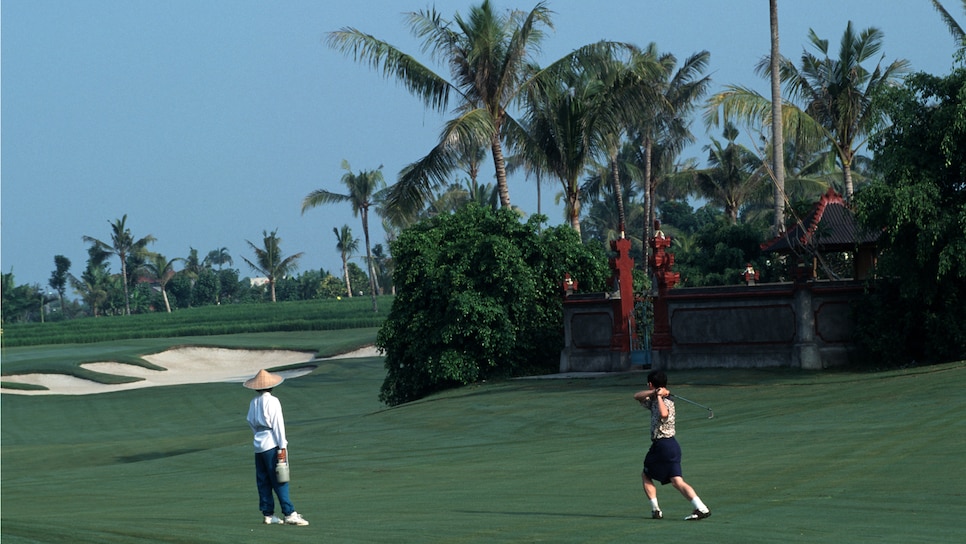 Photo by Peter Charlesworth via Getty Images
85 (NEW) Tokyo G.C.
Sayama City, Saitama Prefecture, Japan / 6,915 yards, Par 72
It is a common misbelief that Toyko G.C. was designed by C.H. Alison design, the talented Englishman who visited Japan in the early 1930s and transformed its golf architecture with such courses as Hirono (No. 21) and Kawana Hotel (No. 64). Alison did design a course for Tokyo in 1932, but its land was requisitioned by the Imperial Army in the lead-up to WWII. The club moved to a new layout designed by Japanese architect Kome Ohtani in 1940, while Alison's course became potato fields. Adding to the misconception is the fact that architect Gil Hanse, in his 2010 remodeling of Tokyo, strove to establish features that reflected Alison's philosophy of design.
86 (82) Sheshan International G.C.
Songjiang, Shanghai, China / 7,199 yards, Par 72
Sheshan International, at the base of Sheshan Mountain, is considered by some to be the "Augusta National of China" because of its opulent conditioning. The stylistic design, by Canadian Neil Haworth and his late partner Robin Nelson, incorporates a small forest, a canal, several man-made ponds and a small, deep stone quarry, over which both the drivable par-4 16th and long par-3 17th play. Sheshan hosted the World Golf Championships-HSBC event six times, most recently in 2013, won by Dustin Johnson.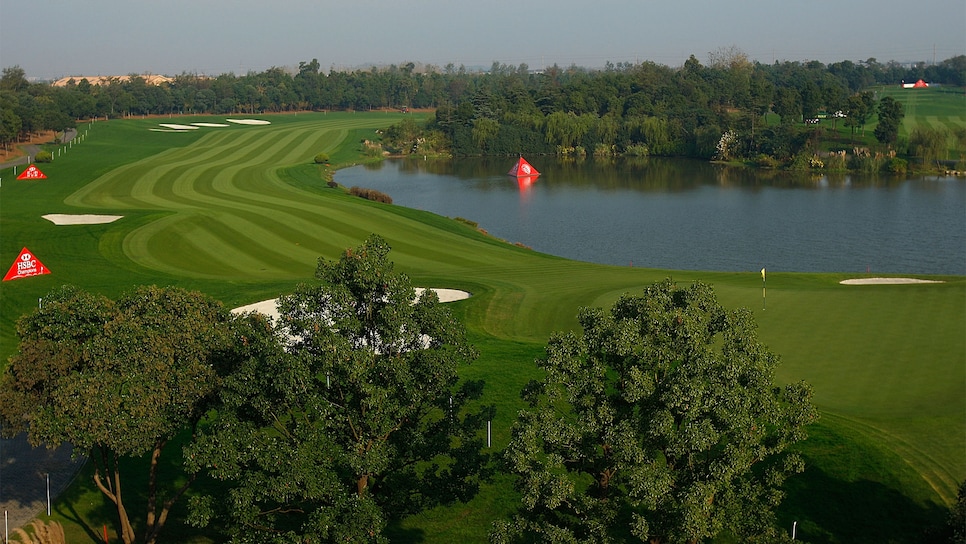 87 (NEW) The National G.C. (Old)
Cape Schanck, Victoria, Australia / 6,904 yards, Par 72
The oldest (1987) of three 18s at The National, all built on a rolling sandbelt peninsula south of Melbourne, this Robert Trent Jones Jr. design features fairways tucked in scrub valleys edged by moonah trees, hilltop greens that offer beautiful panoramas of the Bass Strait and crisp-edged bunkers reminiscent of those at Royal Melbourne. Loveliest hole on The Old Course is probably the par-3 seventh, a pitch-shot par-3 over a deep gully to a green backdropped by the sea.
88 (84) Leopard Creek C.C.
Malelane, Mpumalanga, South Africa / 7,288 yards, Par 72
Intended to merge with its Bushvelt environs, with Kruger National Park and the Crocodile River on the north and west, the Gary Player-designed Leopard Creek is really more akin to a polished, immaculate American layout, with a man-made stream diagonally slashing in front of first and 14th greens, the fifth, 15th 16th and 18th greens guarded by stone-bulkheaded ponds and the par-5 ninth green on an island. But no course in America has views of giraffes, hippos and crocs in the wild.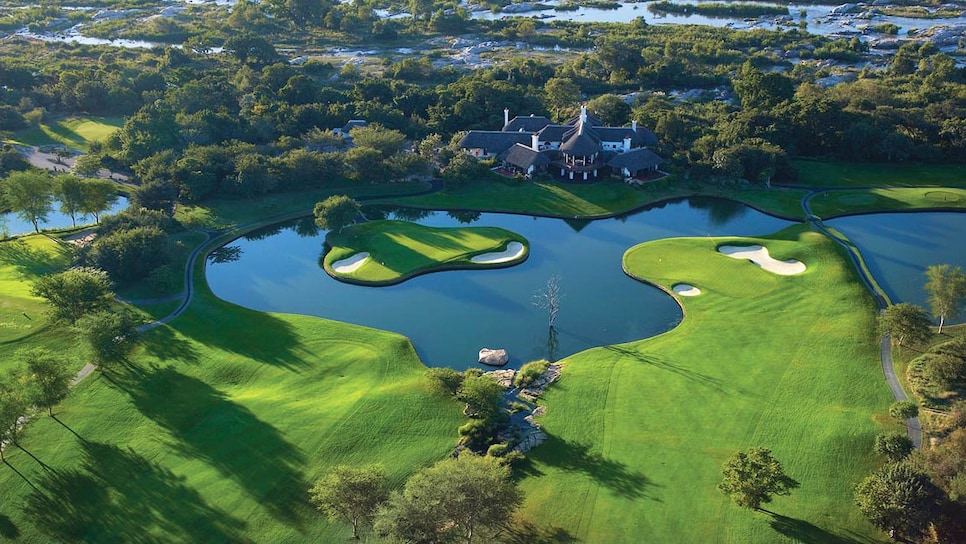 89. (80) The Golf Club
New Albany, Ohio, U.S.A. / 7,439 yards, Par 72
The Golf Club, built in 1966, may be the most authentic of Pete Dye's transition period, when he first chose to buck convention and start building lay-of-the-land layouts like those he'd seen during a 1963 tour of Scotland. In doing so, Dye re-introduced deception and misdirection into American golf architecture. Its construction attracted the attention of local boy Jack Nicklaus, who visited several times and made some astute suggestions. That led to a five-year Dye-Nicklaus design partnership. The Golf Club remained untouched for 45 years, but in 2014 Dye gently retouched most every hole.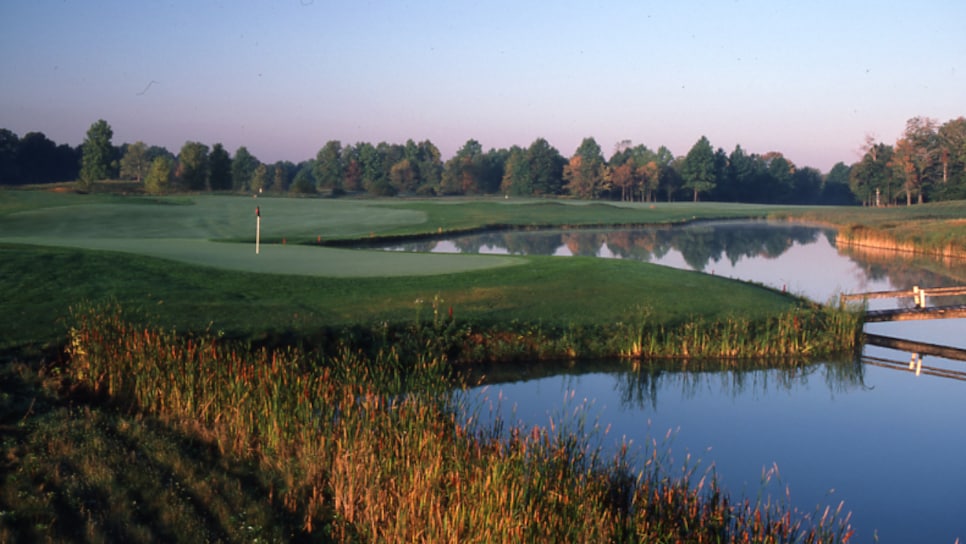 90 (62) Bandon Dunes
Bandon, Ore., U.S.A. / 7,212 yards, Par 72
Chicago recycled products mogul Mike Keiser took a gamble when he chose tenderfoot architect David McLay Kidd to design a destination daily-fee on the remote southwestern coastline of Oregon. But the design Kidd produced, faithful to the links-golf tenets of his native Scotland, proved so popular that today Keiser has a multiple-course resort at Bandon Dunes that rivals Pinehurst and the Monterey Peninsula. Exceeds them, perhaps. None of that would have happened if David Kidd hadn't produced a great first design.
91 (57) Machrihanish G.C.
Campbelltown, Strathclyde, Scotland / 6,462 yards, Par 70
To reach Machrihanish, Old Tom Morris needed a train, a steamboat and a long carriage ride. Visitors today have to resort to much the same mode, so remote is Machrihanish, on the southern end of Scotland's Kintyre Peninsula. It's a journey rewarded, from the opening tee shot, which the bold will carry over a beach and Atlantic tide on the left, to the remainder of the links in some of the most rugged dunes known to golf.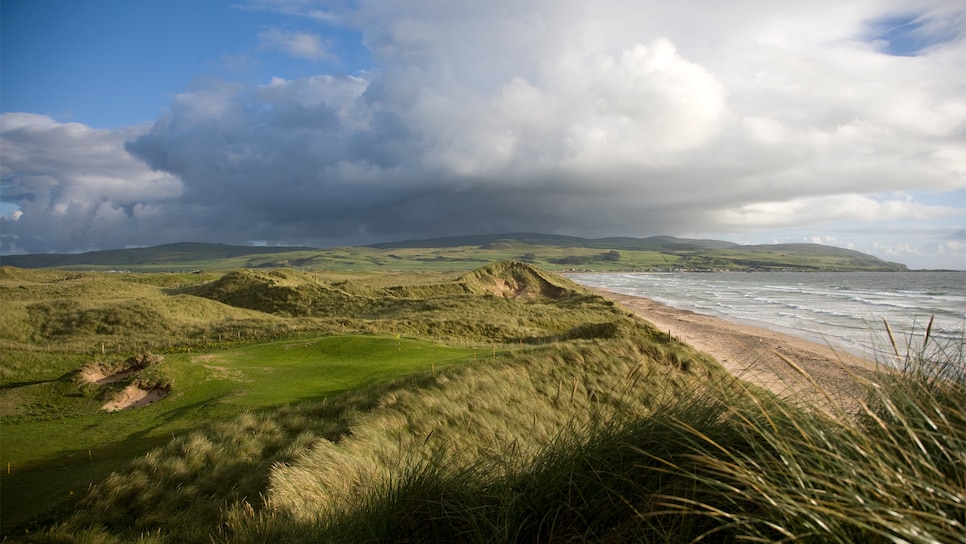 92 (91) Sunningdale G.C. (New)
Sunningdale, Ascot, Berkshire, England / 6,729 yards, Par 70
H.S. Colt, who was the club's secretary from 1901 to 1913, laid out the New Course in 1923, after he'd established his reputation as a grand golf architect. It's considered by most to be tougher than No. 23 Sunningdale Old, mainly because Colt's greens are smaller, with subtle contours that nudge balls toward bunkers hard along the collars. It's a toss-up as to which course is prettier. Both have fields of heather, gorse, Scotch broom and clusters of pine, oak and silver birch.
93 (42) Cabot Links
Inverness, Nova Scotia, Canada / 6,854 yards, Par 70
The older sister to No. 19 Cabot Cliffs is not a natural links, though it looks and plays like it. Cabot Links was man-made by designer-shaper Rod Whitman on a coastal coal mine staging area that serviced mines beneath the sea. Bump-and-run on firm fescue turf is the game on this understated layout, with muted dunes, austere bunkering and gentle, generous greens. Call it Canada's Portmarnock, though Ireland has no match for Cabot's postcard par-4 6th, a dogleg-left around a tidal yacht basin. In early routings, that was going to be the closing hole.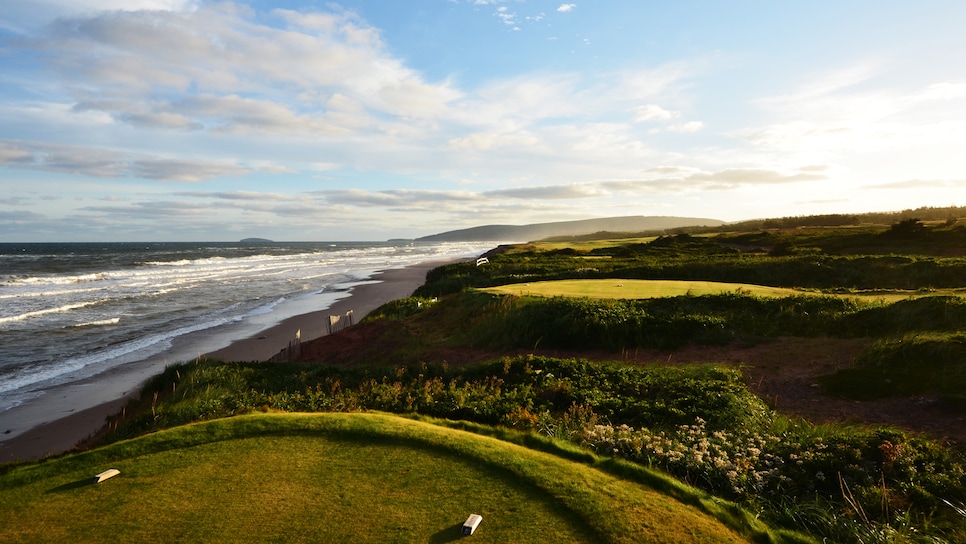 94 (NEW) Sebonack G.C.
Southampton, N.Y. , U.S.A. / 7,534 yards, Par 72
Not since Augusta National had the nation's greatest golfer teamed with one of the most highly-regarded course architects on a design project. But the joint venture by Jack Nicklaus with Tom Doak at Sebonack was complicated by the fact that golfer Nicklaus was also an esteemed course architect in his own right, and the project sat right beside two American icons, Shinnecock Hills and National Golf Links. Some pundits have reduced Sebonack to "Tom's bunkers, Jack's greens," but in truth it's just the opposite. Doak convinced Nicklaus to go with small greens of sweeping contours and little imperfections. Meanwhile, Jack insisted that Tom tone down his usual ragged, jagged bunker faces to make them palatable to high-handicap members.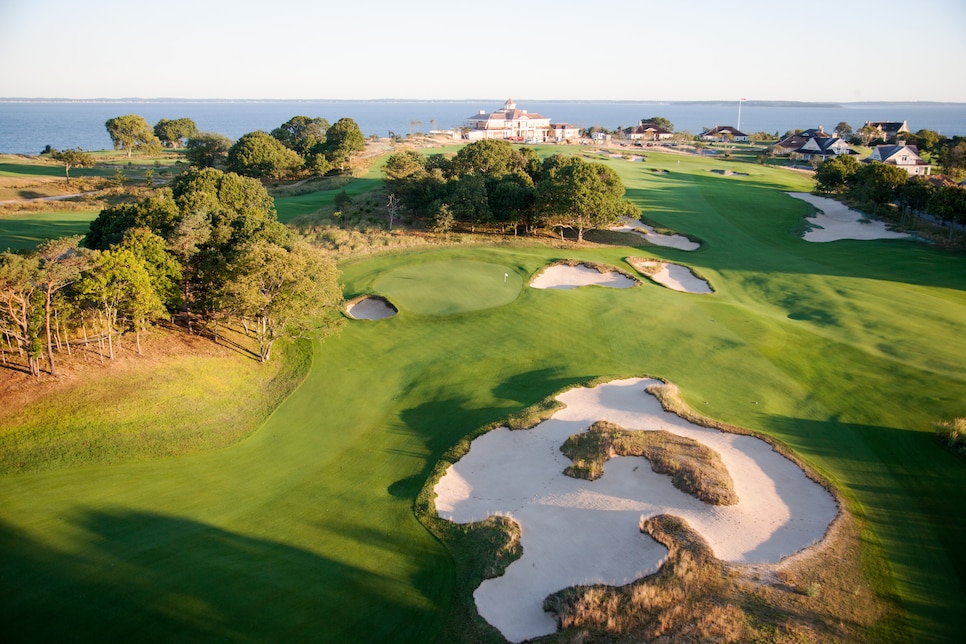 95 (NEW) Emirates G.C. (Majlis)
Dubai, United Arab Emirates / 7,301 yards, Par 72
When Emirates G.C. first opened in 1988, it was a literal oasis in the desert, the first all-grass golf course built in the Middle East. Now it sits in the shadows of more than a hundred high rise buildings and thousands of palms and hardwood trees transplanted on the site. Designed by American Karl Litten, who'd previously specialized in residential development courses in Florida, the Majlis Course looks like a Florida transplant, with five lakes coming in play on eight holes. Where he'd normally plot housing lots, he maintained as desert. Some of those areas have now become homesites.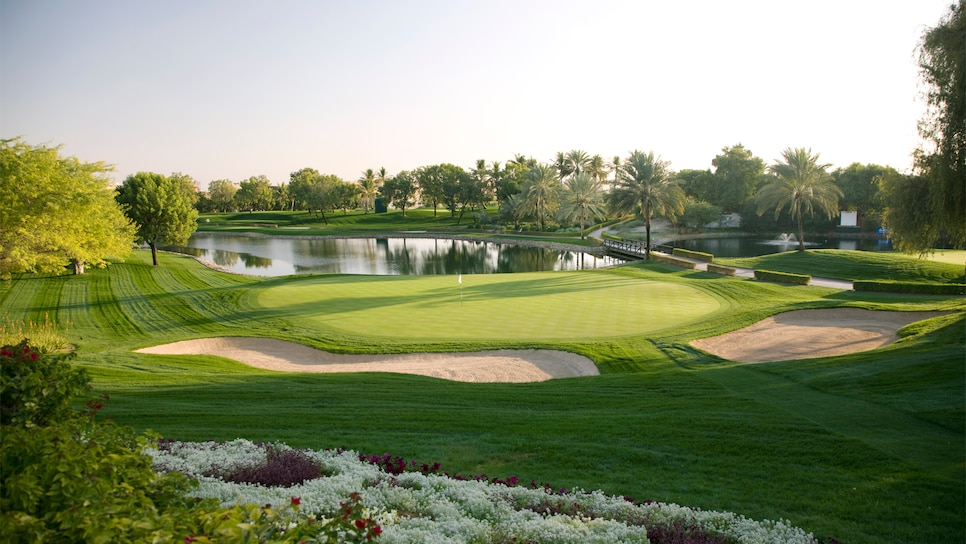 David Cannon/Getty Images
96 (NEW) Naruo G.C.
Inagawa, Hyogo Prefecture, Japan / 6,564 yards, Par 70
The most mountainous of the several Japanese courses ranked on our World 100 Greatest, Naruo reminds many Americans of courses found on the Monterey Peninsula, with hilly fairways slashed by gullies that run to the sea lined by dense Monterey-like pines. Originally designed in 1920 by brothers Rokuro and Shiro Akaboshi, it was rebunkered by C.H. Alison during his 1930s tour of the country. With that dramatic deep bunkering, Naruo looks both lovely and lethal. Only the flattish greens, many on hilltop locations, seem out-of-place.
97 (NEW) Jumeirah G. Estates (Earth)
Dubai, United Arab Emirates / 7,692 yards, Par 72
development course with gorgeous white, graceful-though-deep bunkers that look suspiciously like those at Augusta National. A recirculating creek looks like it was appropriated from Muirfield Village. Plus there's even an island green. Site of a World Tour event since 2010, Earth was the first of what was intended to be four full-blown courses at Jumeirah. Only the Norman-designed Fire Course has been completed. The remaining two, Wind and Water, have been shelved.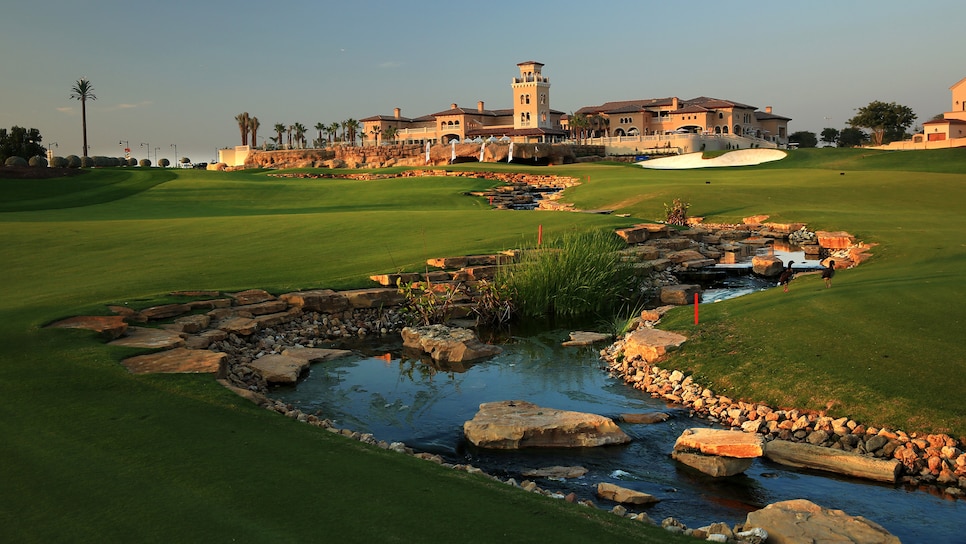 98 (NEW) Querencia C.C.
Los Cabos, Mexico / 7,050 yards, Par 72
Located several miles up the road from No. 70 Cabo del Sol and adjacent to the Jack Nicklaus-designed Palmillo Golf Club, this Tom Fazio design opened in 2000. The routing wanders the rugged high desert plateau on the outward nine, toward the Sea of Cortez, hopscotching a dramatic canyon on the par-3 eighth. After reach the far point on the par-5 ninth, the course turns for home over similar terrain, via two more outstanding par 3s, the 11th and 14th. Other holes have humpbacked fairway and greens tucked beneath huge rock outcroppings. The one discordant note are royal palms planted in many desert spots near greens. They seem too artificial among native desert plants.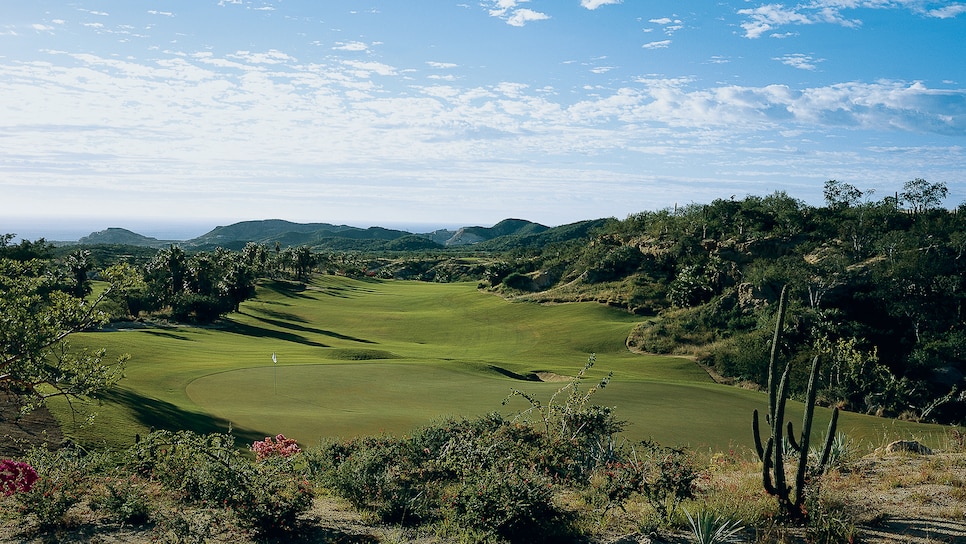 99 (NEW) Gary Player C.C.
Sun City, North West Province, South Africa / 7,747 yards, Par 72
When first laid out in 1979 by American Ron Kirby and his then-design partner Gary Player, the course occupied a mountain valley in the independent state of Bophuthatswana, which has since reunited with South Africa. It's thoroughly American in its design, with huge flowery bunkers and massive greens, even after Player and South African designer Phil Jacobs revised it in 2010 by removing massive sand pits around certain greens and creating an island green on the par-4 ninth.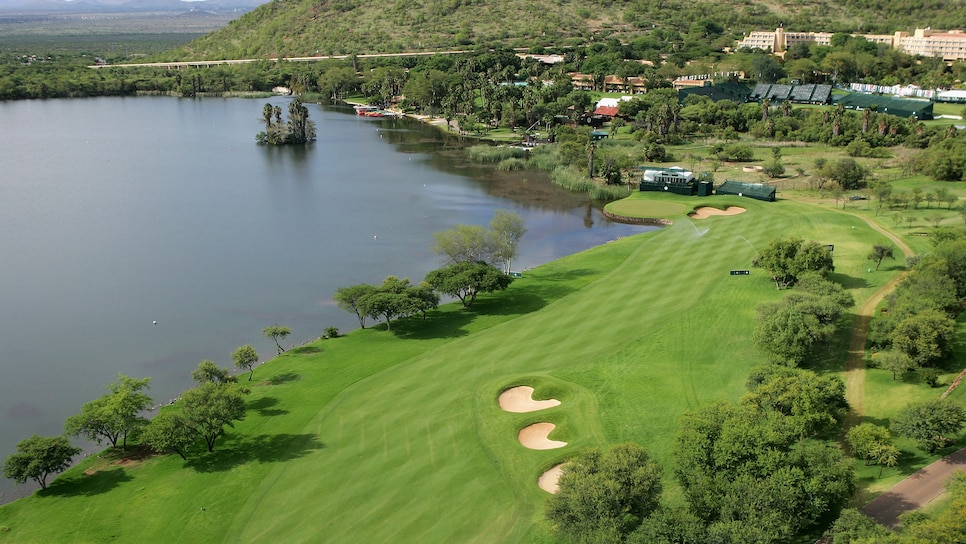 100 (NEW) Olgiata G.C. (West)
Rome, Italy / 7,566 yards, Par 71
The World 100 Greatest concludes with a classic inland layout originally designed in 1962 by Englishman C.K. Cotton. Five years ago, American architect Jim Fazio (brother of Tom Fazio) lengthened the course, completely bunkered and added water hazards at strategic spots on five holes. Given its new chops, it's a bit surprising that the 2022 Ryder Cup, the first to be played in Italy, wasn't awarded to Olgiata.