The Loop
'Woohoo!': The curly one's great year and what it portends
The curly one, as his tennis star girl friend Caroline Wozniacki routinely calls him, punctuated his remarkable year with an exclamation point on Sunday. Or rather she did. Three of them, in fact, none superfluous. "Woohoo! Great year from the curly one! Amazing finish!" she wrote on Twitter.
It was Tiger-like, chillingly efficient, Rory McIlroy closing his round and his season with five straight birdies that gave him a two-stroke victory in the DP World Tour Championship, Dubai.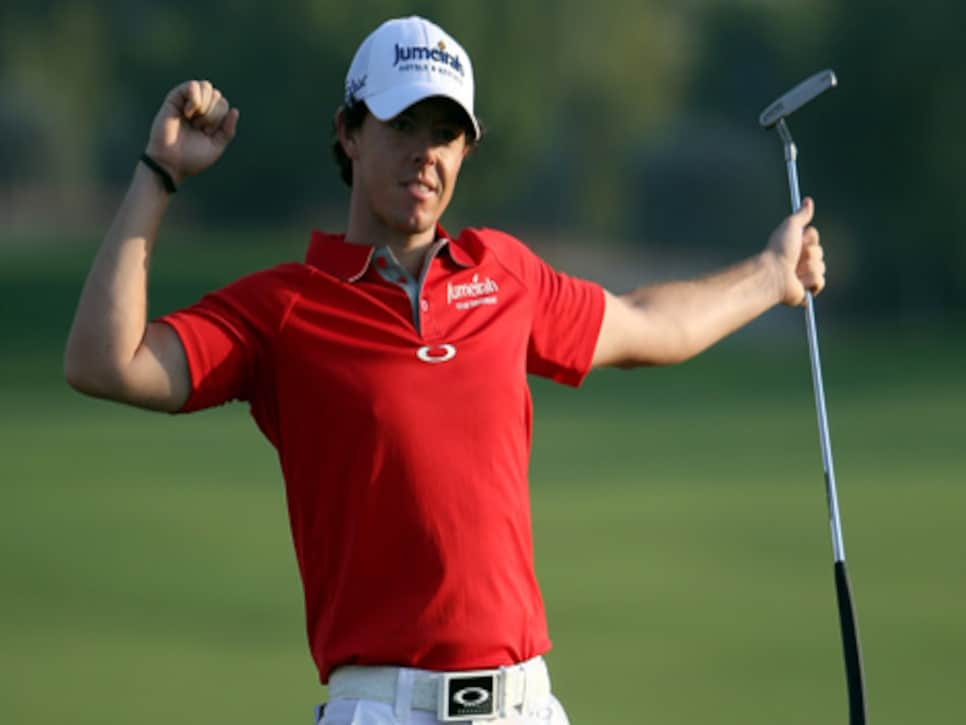 The payoff was Tiger-like, too. He previously had clinched the Race to Dubai, for which he received a $1 million bonus. The tournament victory pushed his Sunday take to $2.4 million, and he earned nearly $12 million for the season.
Comparisons to Woods are unavoidable, given McIlroy's ascent to No. 1 in the World Ranking and the dominance with which he is flirting. Context advises caution, however, notwithstanding the similarities: At 23, each won the PGA Championship, the second major for both, and each was named the PGA Tour player of the year.
McIlroy might be close to matching strides with Woods at a similar age, but Tiger had located a gear that separated him from history. In 1999, at 23, he won eight times. The following year, he won 10, including three major championships. The curve rapidly got steeper.
But context is no fun, unlike McIlroy, who exudes an infectious joy. In this regard, McIlroy has separated himself from Woods. Tiger's unsurpassed talent gave us a multitude of reasons to admire him, but none to embrace him. He steadfastly refused to let the outside world in, even for a glimpse. He named his yacht "Privacy" for a reason.
Early last week, Wozniacki, a welcome interloper in a McIlroy news conference at Dubai, asked, "If you win this week, am I going to get a really nice Christmas present, and what am I going to get?" The banter that followed bespoke a man comfortable in a spotlight that is burner brighter by the week.
McIlroy won three of his last five starts on the PGA Tour and one his last four on the European Tour (finishing second and third in two of the other three). He also defeated Woods in an exhibition match in China.
Tiger's aversion to losing is second only to that of his surrendering preeminence. Keep that in mind moving forward. The next few years promise to be interesting, thanks to the curly one's emergence as a bona fide rival and threat. Woohoo! indeed.