The Loop
*'Play it as it lies' is one of the fundamental dictates of golf. The other is: 'Wear it if it clashes.' *Henry Beard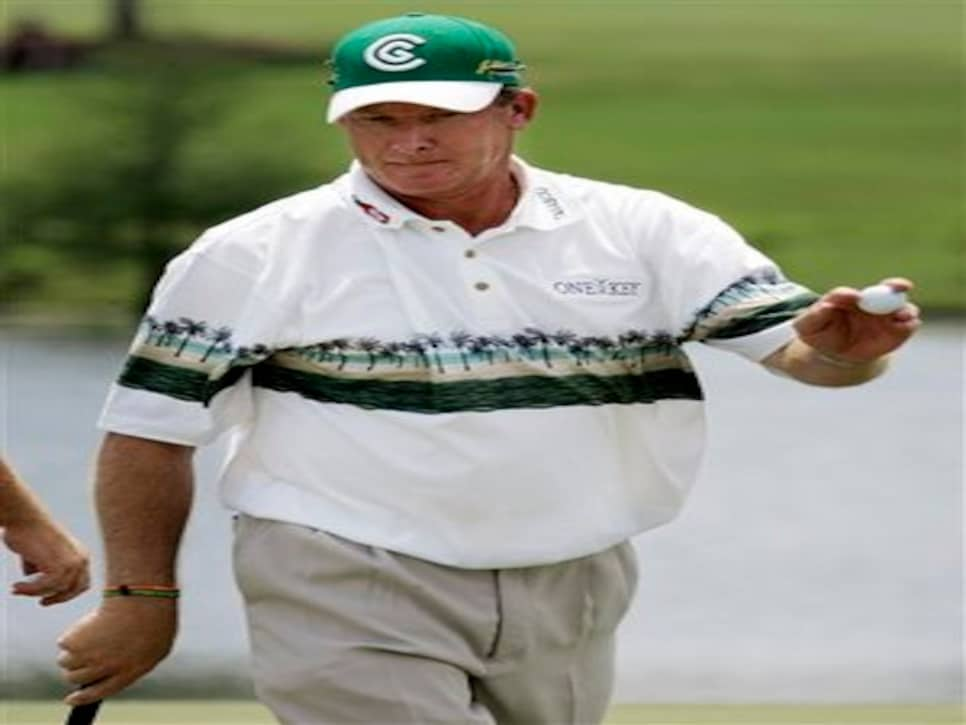 Is it just me or did some of you think you were watching a five-year-old replay when you saw Woody Austin walking up 18 yesterday, about to shoot a 62 in the final round of the Stanford St. Jude Championship ? First, Woody was winning. When has that happened lately? Second, that shirt he was wearing, they don't still make those anymore do they? Half the field was wearing big blousy bowling shirts with the geometric shapes on the back (which I like, by the way), and here comes Woody with a shirt I think my wife suggested I give to Goodwill. But wait. What do I know about fashion? I called Golf Digest's Mr. Style, Marty Hackel, and here's what he said about Woody's wardrobe:
Woody's shirt, which is made by Chiliwear the owners of the Tabasco license, is pretty old. The scenic print shirt was made (un)popular by Ryder Cup Captain Ben Crenshaw who used a similar technique when he had Jeff Rose shirts printed with the images of prior Ryder Cup teams created a huge outcry "bad shirt."
Funny I have seen the original of the Ryder Cup shirt and it looks great, just not great on TV. Chiliwear based in New Orleans is a fun great company run by Sidney "Copy" Pulitzer and they have other scenic shirts at $49.50 SRP in the line just not the one worn by Woody. It's not in the last three catalogs I looked at.
I stand corrected. And congratulations to Woody for an amazing final round. He'll be wearing anything he damn well pleases from now on, I suspect.
(Photo: AP, Mark Humphrey)