The Loop
Woods struggles on Firestone's greens for second day in a row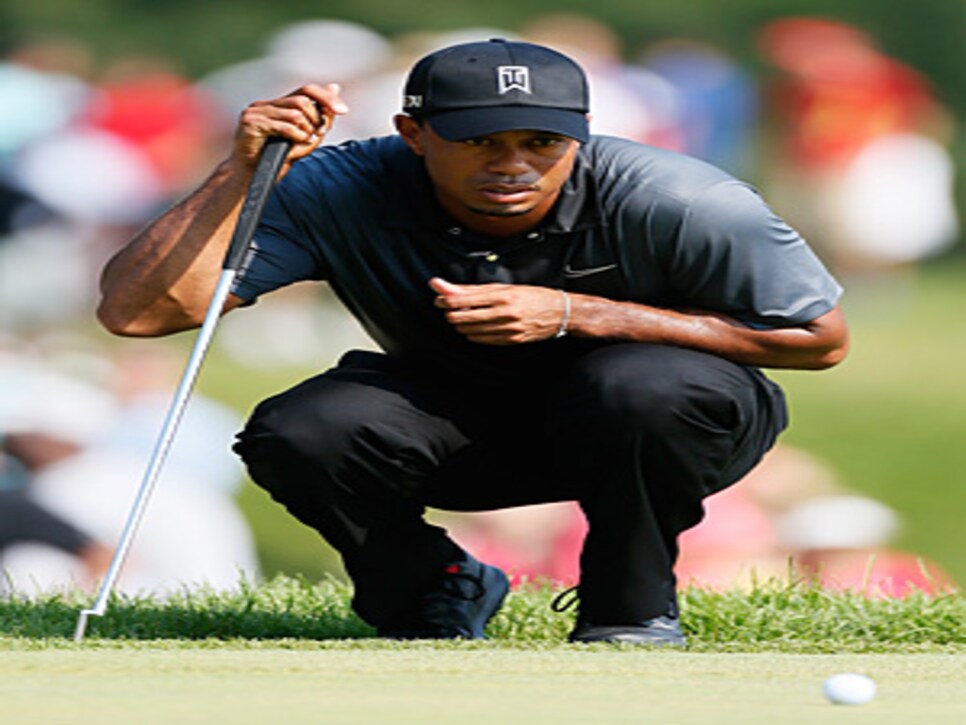 AKRON, Ohio -- A cheeseburger, fries and strawberry shake for lunch. Oh, and perhaps a mystery solved to his desultory putting.
That's what Tiger Woods had to look forward to Friday after submitting a mundane 2-over-par 72 in the second round of the WGC-Bridgestone Invitational on the South Course at Firestone CC. With a 36-hole total of 2-over 142, Woods trails leader Jim Furyk by 13 strokes at the venue on which Tiger has won seven times -- tied for most in his career with the Arnold Palmer Invitational at Bay Hill Club in Orlando.
"I hit it good, made nothing," Woods summed up after his second day of struggles on the greens at Firestone.
The No. 2 player in the world and the PGA Tour's only three-time winner this season, Woods added 29 putts to the 33 he took on Thursday to rank 65th among the 77 players in the field. His frustrations culminated at the par-3 seventh, where he gave himself a birdie putt of 4 feet, 10 inches and needed three to get down.
But on the following hole, his 17th of the day, he sank a 14-footer for birdie and a light bulb went off.
"I figured something out finally on the 17th hole, but too little, too late," he said before self-deprecatingly adding, "I'm sure it helped on that little one-and-a-half foot tapâ¿¿in on the last hole.
"It was more path than anything else," he added. "I had my lines good, but it's just setting my path out. I was trying to marry the two. I was trying to figure it out last night on the putting green and couldn't get comfortable enough on the golf course and finally felt it, and then, boom, made a putt."
After being the game's best putter for a number of years -- coinciding, roughly, with his reign at the top of the world rankings -- Woods admitted that times have changed. "Yeah, I get in these little spells where it's hot or cold. Generally I was a decent putter over the years, but lately it's been very streaky, I'm making everything or I make nothing."
The last three years at this venue have been a struggle for Woods after posting seven of his 74 career wins here. Starting with the 2010 Bridgestone Invitational, Woods is collectively 21-over par. He was 3-under par through 11 holes of his opening round and has been 5-over par since.
If the game isn't clicking, the venue is of little consequence. But Woods insisted that his game is just fine.
"Well, I'm playing well, that's the thing. I'm hitting it well. I'm making nothing," he reiterated. "Certainly I didn't hit it good enough to be 11â¿¿under par, but I certainly hit it good enough to be right there in the top 5 going into the weekend, no problem at all.
"I just need to get more consistent where I just don't hit a bad putt. As soon as I start doing that, everything will be fine."
He was going to get right to work on that, after the strawberry shake, of course.