The Loop
Woods: 'Stevie's certainly not a racist'
SYDNEY, Australia -- They met. They talked. The former employee apologized to the erstwhile employer. They shook hands. Now, can we all just move on?
That was the gist of the message from Tiger Woods after he and his former caddie, Steve Williams, had what was surely a brief chat during the 15 minutes between the arrival of the world number 58 at The Lakes course here -- venue for the upcoming Australian Open -- and the start of his pre-tournament press conference. A media meeting that, incidentally, was held behind locked doors.
In some ways, of course, a moratorium on what has been the biggest story in golf over the last week or so would be welcome. Woods' verdict completes the set; Greg Norman, Fred Couples, Adam Scott, Ernie Els, George O'Grady and Tim Finchem and newspaper columnists from seemingly everywhere having already weighed in to varying degrees on Williams publicly referring to his ex-boss as "that black (expletive)." But to do so would be to ignore the seriousness of Williams' verbal gaffe and the obvious and prolonged fact that, in a universally offensive way, he brought the game into disrepute.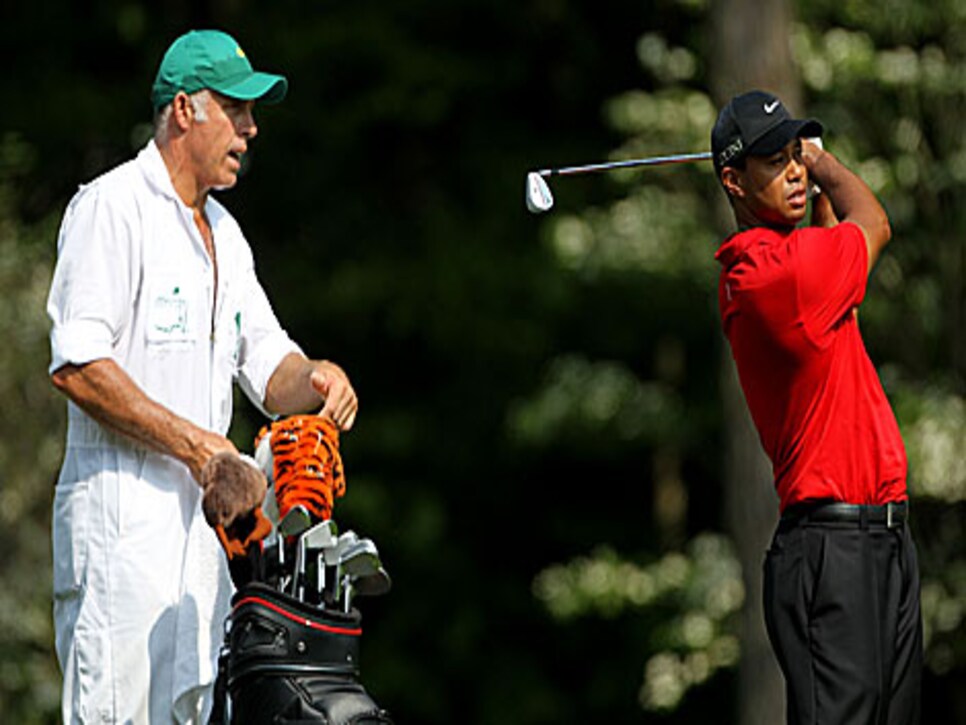 Photo by Jamie Squire/Getty Images
Still, Woods, not known for his ability to forgive and forget -- see Fuzzy Zoeller, Butch Harmon, Fluff Cowan, Hank Haney -- was in unusually conciliatory mood, similar to that of PGA Tour and European Tour bosses Finchem and O'Grady, who earlier combined to deem Williams' words not worthy of punishment. Naughty Stevie. Wash your mouth out. Now run along and play with the other Neanderthals.
"We talked this morning," said Woods of the much-mooted summit meeting with Scott's caddie. "We met face-to-face and talked about it, talked it through. It was hurtful certainly but life goes forward.
"Obviously it was a wrong thing to say, something that we both acknowledge and we're moving forward."
Asked if "Stevie" had apologized, Woods confirmed that he had. At which point another questioner wondered aloud how two people who had been so close could so quickly become so distant.
"That's a great question," replied Woods, using his patented and disingenuous method of indicating he believes the exact opposite. "I don't know that one. For me personally it was a tough decision to make (firing Williams), to go in a different direction in my professional life. But as far as personally, I don't know how this could have happened the way it did, but it did and here we are.
"I don't know if the relationship can ever be rebuilt. It's just one of those things where we'll see what time does. As we all know, time does heal wounds and we'll see how it goes.
'Stevie's certainly not a racist, there's no doubt about that. I think it was a comment that shouldn't have been made and was certainly one that he wished he didn't make."
As to what caused the all-too evident animosity Williams feels towards his erstwhile employer, Woods reverted to type and lapsed into his usual disingenuousness when confronted with a particularly awkward poser.
"I think that would be speculation on my part," he said, as if perplexed, and with barely perceptible credibility. "I know that, as I said this summer, I wanted to go in a different direction. Plus, I was injured and not playing and so missed most of the major championships. He didn't want to miss them, which is understandable."
In other words, in Tiger's world Stevie is history, will remain history and always will be history.
Subsequent questions veered from the banal -- "What do you expect from yourself this week?" to the obsequious -- "Are you still a golf nerd?" to the pointless --"What has the welcome been like in Australia?" and all were handled in that "gee you're so lucky to have me here" way that Tiger has perfected over the years. Inevitably, a few of the old favorite responses were trotted out, although there was no sign of an "it is what it is" on this occasion.
"My concern is winning golf tournaments and being prepared to win," said Woods, reading from a script that could have been written any time between 1996 and the present day.
By the end, all was back to normal. Move along now.