The Loop
Woods' opening eagle highlight of ho-hum round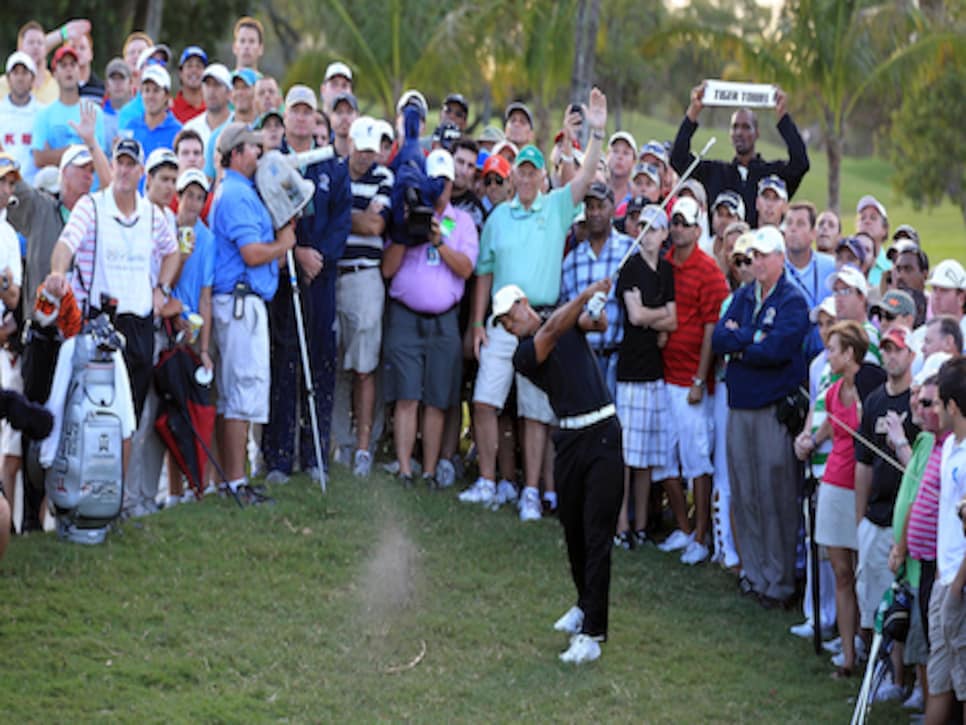 MIAMI - Different day. Different wind. Different golf course.
More fireworks were expected from the former No. 1 player in the world after his electrifying 62 on Sunday at the Honda Classic, and after making eagle at the par-5 opening hole Thursday at Doral Resort's TPC Blue Monster, it looked like Woods was ready to torch another south Florida layout.
Instead, Woods had a few loose strokes, was only average on the greens, and like many in the field was confounded by the swirling, gusting winds. The result was a pedestrian even-par 72 in the first round of the WGC-Cadillac Championship.
"That was the intent," Woods said when asked if the first hole was more of the same from Sunday when he rallied to finish second behind Rory McIlroy in the Honda Classic. "I got off to a nice start, hit a lot of good shots, just made a couple of mistakes with iron shots."
He wasn't alone. New No. 1 McIlroy shot 73 while Phil Mickelson, who like Woods is a former winner at Doral, carded a 72.
Then again, there were scores to be had. Adam Scott, still employing Woods's former caddie Steve Williams, shot 6-under 66 to share the top of the leaderboard with Jason Dufner. Thomas Bjorn and reigning Masters champion Charl Schwartzel were next at 68. Eight players were at 69, including Steve Stricker and Kyle Stanley, PGA Tour winners on the west coast.
McIlroy confessed to being slightly off kilter in his first round as the top-ranked golfer on the planet. "To be honest, I felt a little flat out there," he said. "I don't know, I shouldn't, it's a World Golf Championship, but I just felt a little flat out there."
Woods didn't seem to have much going after the opening eagle - his third in a row on par-5 holes going back to Sunday's round at PGA National - but he struck perhaps the most memorable shot of the day at the par-5 eighth hole. Having pulled his tee shot slightly into the first cut, Woods had one option, chip down the fairway and lay up.
Of course, he decided instead to move the gallery back to his left, grabbed a 3-wood, aimed between two palm trees and the lake beyond, and ride the wind with a rocket banana slice. NBC broadcaster Roger Maltbie stood agog when Woods let it rip. The shot landed in the left bunker and Woods got up and down for a birdie.
"Well, if I try and draw it, I'm going to be fighting against the wind and there's no point," Woods explained. "If I play left and hit it straight, it's in the left bunker; and I can blast it out. And if it turns with the wind, it will end up on the green, so I went with that play and I hit it solid. I hit it more through the wind than I thought I would and ended up in a bunker."
Unfortunately, jaw droppers didn't continue. Woods bogeyed the 18th to post even par. No shame in that. Playing partner Sergio Garcia was 5 under before making five straight bogeys. He ended that streak with a triple-bogey at the last.
The 74-man field played the closing par-4, the Monster, in 55 over par with a stroke average of 4.743. Meanwhile, at the downwind par-5 first hole, they averaged 4.149.
Bet Donald Trump and architect Gil Hanse address that little anomaly when they tear up the Blue Course following next year's Cadillac Championship.
"I enjoy it. I like the routing," Woods said of the layout where he's won three times. "I know we have got, what, probably seven more rounds on it before it's done. So enjoy it before they redo it again."
Words he might want to take to heart.