The Loop
Woods mixes the amazing with the ordinary at Bay Hill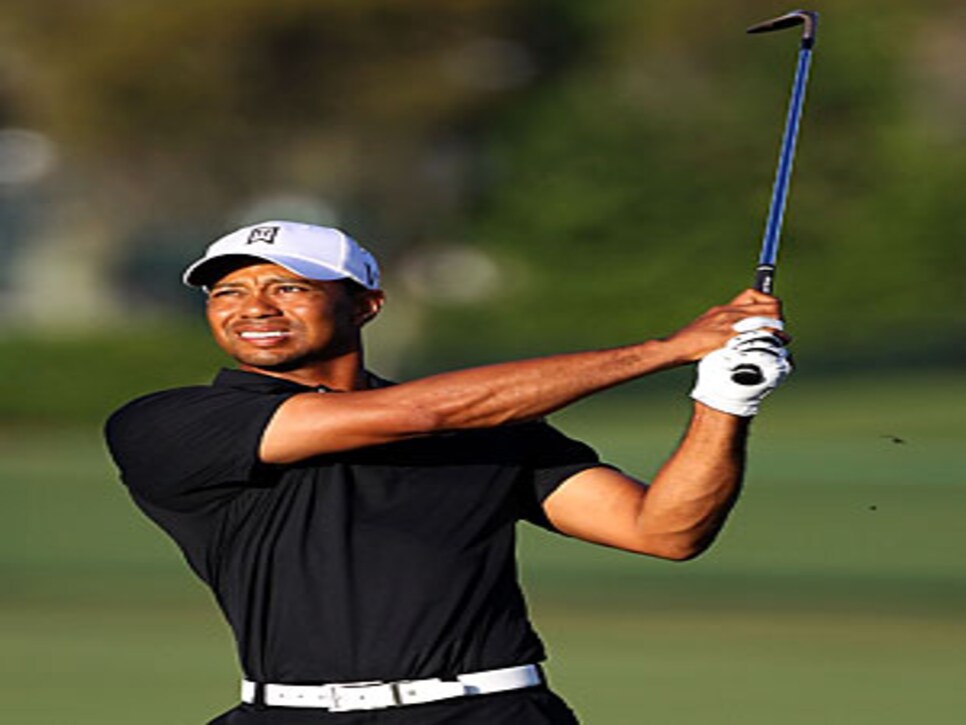 ORLANDO, Fla. -- Call this a good walked soiled. The 69 posted by Tiger Woods in Thursday's first round of the Arnold Palmer Invitational at Bay Hill could have been so much lower, but several times when he was in perfect scoring position he made not so much a mess of the hole, but was certainly not tidy. The man has become an absolute tease, mixing the amazing with the ordinary.
The iron play was ragged and the putting was a tad below average, and still Woods was three-under par and very much in the mix. That can be looked at in two ways: Either it's bad news for the rest of the field that Woods has progressed so far with the Sean Foley swing that he can shoot a 69 when he is sloppy.
Or it can be viewed as bad news for Woods that, < a href="http://www.golfdigest.com/golf-tours-news/blogs/local-knowledge/2012/03/woods-ready-for-final-masters-tuneup.html">in his final Masters tuneup, his efforts at a fine-tuning are still missing on a couple cylinders. But there are three more rounds to play here, three more opportunities to get better, get more under control, before the first major of the year. What he is not capable as of yet is being the full, aggressive Tiger on a consistent basis.
Woods drove the ball well on Thursday -- extremely long at times and relatively straight, hitting nine of 14 fairways with his missed fairways never all that bad. But he was also sloppy with his irons -- although he hit 14 greens, approach shots he would normally hit to 12 feet ended up 25 feet, or more, from the cup, which clearly annoyed him. And he needed 32 putts, with two three-putt greens.
Significantly, given his recent history with injury, Woods at no point on a hot and humid day gave any indication of discomfort with either his left Achilles tendon, which forced him out of the Cadillac Championship two weeks ago, or with his surgically repaired left knee. The pain he felt was not of the physical nature.
On the 390-yard fifth hole -- his 14th of the day -- Woods walked off the green after hitting a poor approach shot to 45 feet looking somewhere between frustrated and furious. He stared at the ground, right hand in a fist resting on his waist with elbow bent, looking like an angry teapot about to boil.
When he drove off No. 6 and the ball leaked right of his target, he issued the stern command "bite, bite," which was not obeyed as the ball scooted into the thick rough. Still, he birdied the par-5 hole with a 20-foot putt after a lay-up back to the fairway.
"It was a day I really didn't do anything great," Woods said quite accurately. "I was just solid all day. I drove the ball well. Hit my irons decent and putted all right. I had two three-putts but also made a couple bombs out there. It was just one of those days without a lot going on."
When Woods, who started on the back nine, got to three-under par after his first seven holes, it looked like he might go really low. Then he had a ragged stretch in which he made a three-putt bogey on No. 17 and then missed three greens in a row -- Nos. 18, 1 and 2 -- but managed to save par all three times.
The three-putt on the par-3 17th hole was from 45 feet after yet another indifferent iron shot, missing a five-footer for par. Tiger had a three-putt par on No. 4, missing a six-footer after running his eagle attempt past the hole. Two of his birdies were of the two-putt variety after hitting the par-5 12th and par-5 16th in two.
The second shot on No. 12 was a remarkable effort as he dug the ball out of the gnarly rough and ran onto the green, a reminder that Woods is capable of shots very few in golf can execute. While the iron play is still a far cry from where it once was, his long game is the best it has been since he started working with Foley.
"I'm in a position where I can hit it again," Woods said about his ball striking off the tee. "That's something that's been missing for awhile." Indeed, there were none of the wild blocks to the right or extreme pull hooks left. "It's all of the work that Sean and I have been putting in together. I've got the club in a position where I can do that. I haven't had that for a very long time."
Woods, who limped off the course at Doral two weeks ago, said his third withdrawal because of injury in less than two years is not a distraction. "Not in my mind at all," he said. "I'm just out there playing. I'm feeling good. I've been getting treatment. Everything's good. No swelling. If I can just keep it that way, everything will be great."
If there is a concern right now -- beyond the health of his legs -- it is with his less-than-precise iron play and suspect putting. Those six-footers that once seemed automatic are now missing a couple times a round.
"Just bad speed on those putts, bad speed," Woods said about the two three-putts in the first round at Bay Hill. While it is certainly true that both times he three-jacked it, he ran the ball by the hole, it is also true that the comebackers were in the very makeable five to six foot range.
This was not one of those days that would make Tiger fans scream, "He's back." And it was not one to give his detractors any ammunition. It was somewhere in between. And the fact that can be the case and Woods is still on the leader board makes you just want to see more.
With all apologies to Tim Tebow and Jeremy Lin, Tiger Woods remains the most compelling story in all of sports. We just don't know what to expect next, and that's part of the fun. So is the anticipation -- bordering on expectation -- among many that a vintage Tiger performance may be lurking not far below the surface. Meanwhile, we watch and wait.
(Photo: Sam Greenwood/Getty Images)