The Loop
Woods claims progress, even if results show otherwise
AUGUSTA, Ga. -- He talked like he'd simply been denied, but it sounded a lot like denial.
Tiger Woods got nothing going in the third round of the Masters Saturday, playing Augusta National GC like it was Olympic Club, that is, making pars like it was a U.S. Open. Except that he needed birdies, to not only erase the numbing frustration of Friday's 75, but also to re-insert himself into contention on a layout he knows perhaps better than anyone in the field.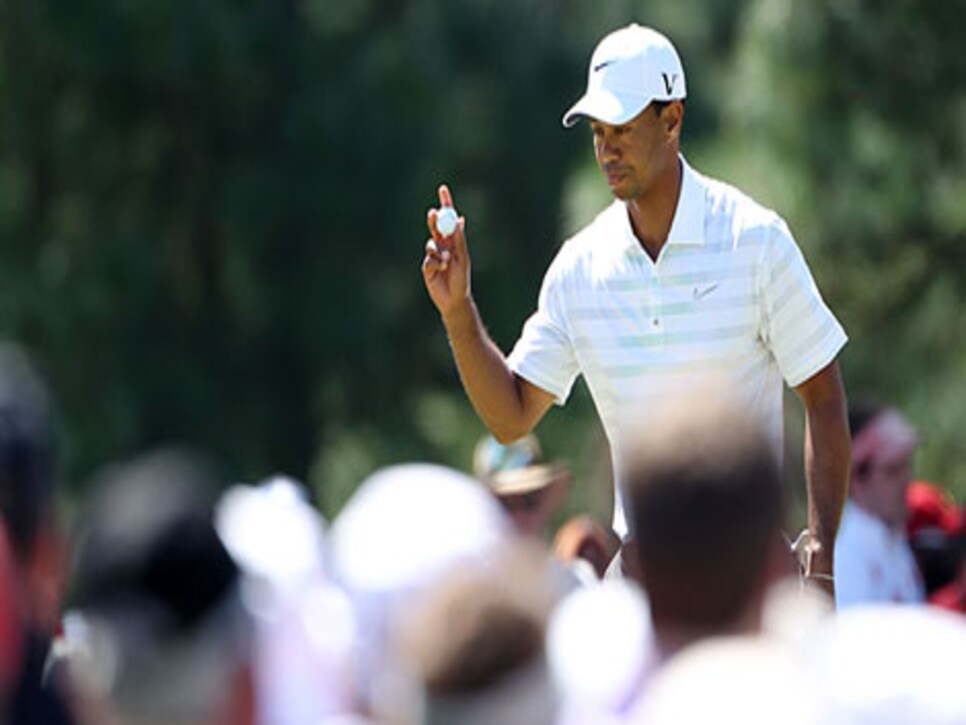 Instead, Woods scraped out a respectable 72, but at three-over 219, he didn't move much on so-called moving day. In fact, when Woods two-putted at 18 for his fourth straight back nine of par or higher at Augusta, he remained exactly where he started the day, eight behind the leaders.
His 219 total ties his highest 54-hole aggregate score from 2004 and '07.
"I was so close to putting it together today," Woods began. "Unfortunately, I didn't play the par-5s very well ... I'm telling you, it was close to being a really good round of golf. I just didn't take care of the opportunities when I had them.
"It was better today. This round was a lot better. I felt a lot more comfortable over the shots, unfortunately was just a fraction off."
True, Woods hit more fairways (11) and greens (13) than in his previous two rounds, but he failed to birdie a par-5 hole for the second straight day and is only one under for the tournament on the par-5s -- after playing them in a combined 133-under in his previous 17 Masters. Coming into the week, Woods had birdied at least one par 5 in 64 of 66 rounds.
It's been a befuddling performance in the wake of Woods' commanding five-stroke victory two weeks ago in the Arnold Palmer Invitational. The No. 6 player in the world looked fully in command of his game. Inexplicably, nary a trace of that precision game has been detectable at Augusta.
"It's so frustrating because I'm so close to doing it," he said. "I'm so close to turning it around. I would just hit a couple of good shots in a row and compound the problem with a bad shot in the wrong spot. I know where I need to miss it, and I don't miss in that spot."
Woods' diagnosis, that he was falling into old swing habits, might have merit, but it's shocking how quickly that reversion has occurred.
"I'm not going to talk about it," caddie Joe LaCava responded, when he was asked if he were surprised by Woods' struggles after his first win with the former No. 1 player at Bay Hill Club in Orlando. "This isn't the last major he's going to play in. It's a work in progress and we're going to get it done."
Undeniably, though, this Masters chance is done as Woods, 36 and without a major since the 2008 U.S. Open, has now gone seven years since he slipped on the last of his four green jackets in 2005.
Woods offered words of contrition when asked about his fits of petulance on the golf course the last two days. "I apologize if I offended anybody for that," he said. "I certainly heard that people didn't like me kicking the club [after his wayward tee shot at the 16th Friday], but I didn't like it either. I hit it right in the bunker and didn't feel good on my toe, either."
Neither is it likely to be doing much for his frame of mind.