The Loop
Woods and McIlroy start season with a thud
ABU DHABI, United Arab Emirates -- On a day when the preponderance of inappropriate long grass and an ever-rising breeze made good scoring the preserve of a fortunate few, the two best golfers on the planet joined the majority of the morning field on Day One of the HSBC Abu Dhabi Championship in performing some way short of their potential.
Tiger Woods described the conditions as "so hard out there," en route to an opening 72 that was three shots better than his playing companion and world No. 1 Rory McIlroy. Amidst a flurry of perplexingly wild shots, the Ulsterman made a brace of double bogeys -- one the result of a drive that found a distant car park -- and only two birdies in a round that was both his first competitive outing in eight weeks and his first ever with a set of gleaming Nike clubs in the bag.
Which is not to say that Woods -- who actually said his short game had been "very sharp" all day -- did not match McIlroy in the duffing department. Most notably, the pop-up tee-shot he hit off the first tee (his tenth) failed to carry the 100-yards necessary to reach the fairway. Estimates varied, but the consensus seemed to be that the 14-time major champion's club contacted the turf somewhere between one and two inches behind the ball. Whatever, it was certainly more "splat" than "swoosh."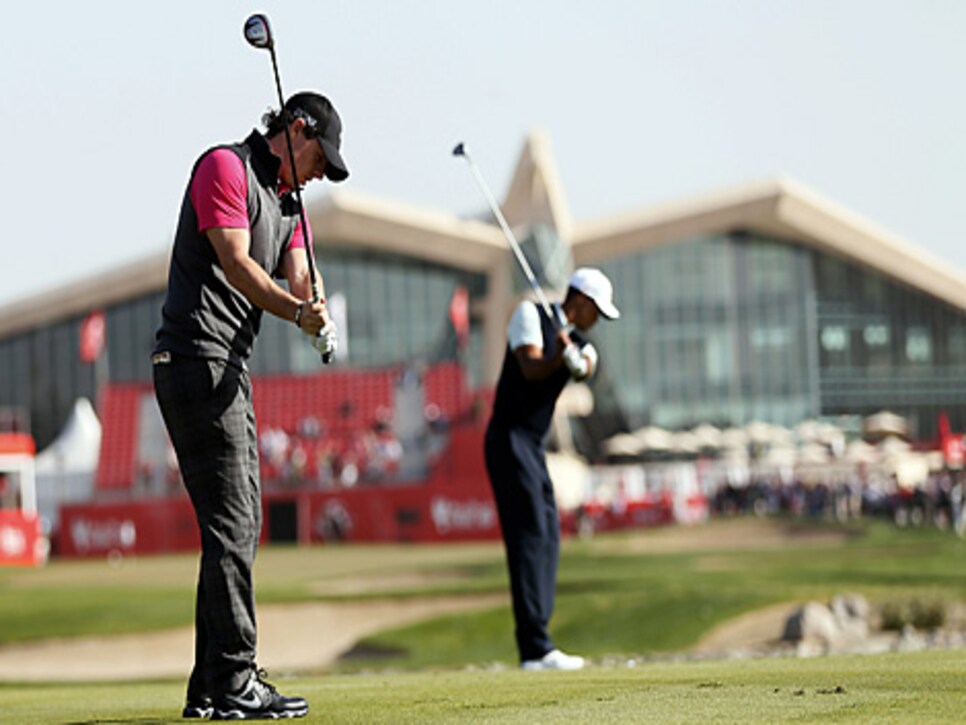 "My plan was to hit a 3-iron or a 5-wood off that tee," he explained. "Especially with this wind. But I changed my mind on the tee and wasn't committed to the shot. I didn't want to hit it. I should have backed off and followed my game plan. But I didn't do that and so paid the price."
"You just have to look at the scoreboard to see how tough it is out there," continued Woods, who three-putted his final hole for a disappointing bogey. "A lot of guys are struggling. This is a very difficult course in this wind. The fairways are narrow and a lot of holes are played in a crosswind. It seemed like we were banking up against the wind pretty much all day. "
All of which is true. But still, it wasn't that hard. By lunchtime as many as eight players had posted scores in the 60s, a fact that only emphasized the relative mediocrity produced by the two highest-profile players in the game.
Typically, however, McIlroy was making no excuses for a decidedly dodgy performance dotted with uncharacteristically-wayward shots. His tee shot at the short, 186-yard 12th hole missed its target by a good 30 yards right and eventually led to the first of those double bogeys. The second came at the 439-yard third hole, where his first drive found the aforementioned car park way to the right -- admittedly after ricocheting off a tree -- and his second the left rough. By most estimates, there was at least 150 yards between the two balls.
Not surprisingly, McIlroy put his struggles down to "rustiness" rather than anything equipment based. But he did acknowledge that adjusting to his new clubs was an ongoing process.
"My problems were more swing-related than club-related," he insisted. "Whenever the wind was right-to-left I was comfortable enough cutting the ball into it. But when it was blowing the other way I had trouble releasing the shot properly.
"When you go out with new stuff you are always going to be a little bit anxious. I was hoping I was going to hit it on the course like I have on the range, but today that wasn't quite the case. Still, I learned a few things. Apart from that one shot on the par 3, my irons were pretty good. Hopefully I can put them into play tomorrow.
"I'll be out on the range this afternoon, working on it. I obviously need to play a bit better if I'm going to make it to the weekend. It wasn't all bad, though. While this obviously wasn't the round I was looking for, there were a few good signs out there."
As for the level of social interaction between the two Nike stars, it was, as Woods pointed out, "difficult to talk too much when we were both trying to grind out a score." Another factor in those lengthy silences, of course, was that only on their final hole did both men find the fairway from the tee. Things, one feels, can only get better. For both.