News
Women's British: Tseng takes four-shot lead
SOUTHPORT, England -- One of the many fascinating things about the way Royal Birkdale, a gem of a links layout, is set up for the Ricoh Women's British Open is that it concludes with three par-5s among the final four holes. That pretty much means someone can step onto the 15th tee Sunday afternoon four strokes behind -- or four strokes ahead - and the tournament is still far from over. Drive the ball in the fairway on any of the four and you have a shot at birdie or better.
The challenge is that all four of the closing holes -- the short, par-4 16th is tucked in among the trio of par-5s -- are temptations fraught with danger, mostly in the form of pot bunkers and gorse. What that means is that someone in the rearview mirror could chase down someone playing conservatively, or that someone getting overly aggressive could make the mistake that seals their fate. It also means the final round will likely be packed with thrills and chills.
Certainly, the four-stroke lead Yani Tseng takes over Katherine Hull into Sunday in her pursuit of a third major championship will be challenged and the mettle of the 21-year-old Taiwanese will be tested. Her third consecutive 68 concluded with an eagle on No. 18 after she had only an 8-iron for her second shot.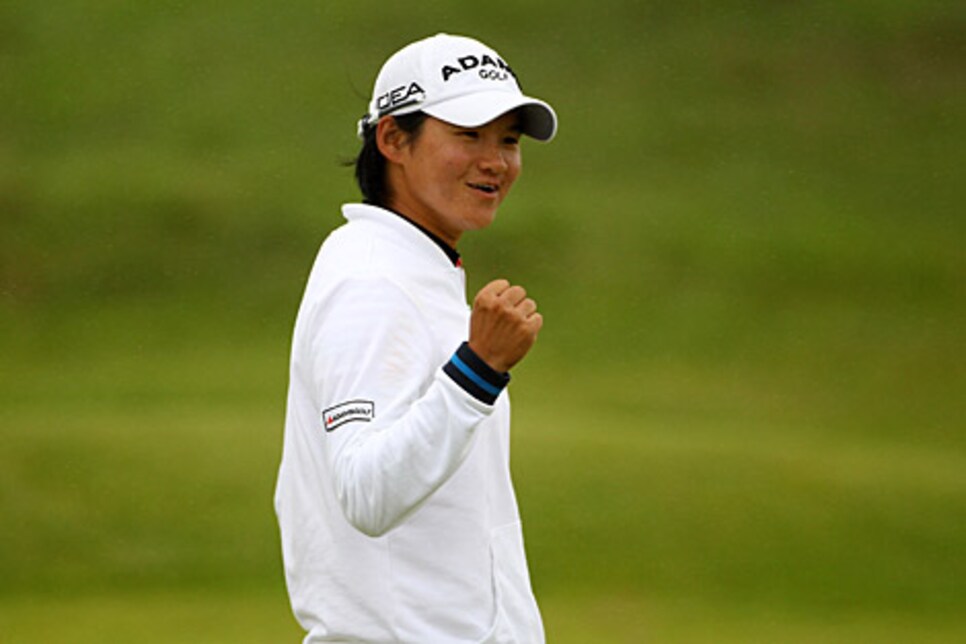 "You just have to stay patient the first 14 holes and wait for those last four," said Tseng, who has made only one bogey in 54 holes. "Everyone can reach the last two holes. It's going to be a lot of fun tomorrow."
Poised most closely is Hull at 208 and I.K. Kim at 210. Of the three, Tseng is the longest hitter but all three -- and perhaps even someone lurking farther back -- could take advantage of the scoring opportunities coming in.
No. 15 is 499 yards and usually plays into the prevailing wind while the 516-yard 17th and the 472-yard 18th  both usually playing downwind. All can be reached in two shots with long hitters like Tseng hitting mid-irons or even short irons into the last two holes. The 16th is only 358 yards and offers up its own birdie opportunities.
"You can reach 17 and 18 [in two shots] when they are downwind and 15 when it is not too blowy," Hull said. "Yeah, if you are not making birdies on the par-5s you feel like you are losing ground out there. You have to take advantage of the par-5s."
In Saturday's third round, Morgan Pressel played the closing quartet four-under par in shooting a 65 that got her to three-under par 213, and she is far from being one of the long hitters in the field. And in 2005, the last time the Women's British was played at Birkdale, all four of those holes averaged under par for the week.
Later on Saturday, when players had the rare luxury of competing under occasional sun and pesky but not ornery breezes, several players took advantage of the friendly homestretch. Hull played the last five holes five under in shooting a 66. I.K. Kim eagled No. 18 for a 68 and Christina Kim finished birdie-eagle to get in at 212. Brittany Lincicome finished birdie-birdie to get in the house at 211.
Tseng waltzed home four-under par over the last six holes after opening with 12 consecutive pars. Tseng, and Hull will be the final twosome and here is some history. When Hull won the 2008 CN Canadian Women's Open, Tseng had four-stroke lead over Se Ri Pak and was six ahead of Hull. But Tseng was 19 then, and that was two major championships ago.
On Saturday, after a chat with VISON54 gurus Lynn Marriott and Pia Nilsson, the architects of the approach to the game that worked so well for Annika Sorenstam, Tseng silenced her doubts by singing songs in Taiwanese to herself anytime negative thoughts crept into her mind.
"I figure, if it works that is good and if it doesn't, so what?" Tseng said. For 54 holes it has worked. On Sunday come the final exam, with the true test likley coming on those last four holes.