News
Women's British: Tseng takes advantage of draw
SOUTHPORT, England - Let's talk about two paths traveled and the destinations they've reached. While Michelle Wie was busy playing against the men and turning pro at the age of 16, Yani Tseng, less than nine months older, was building a successful resume first as an amateur and then on developmental tours before joining the LPGA. Now, Yani swings into the weekend at the Ricoh Women's British Open with a chance to win her third major championship.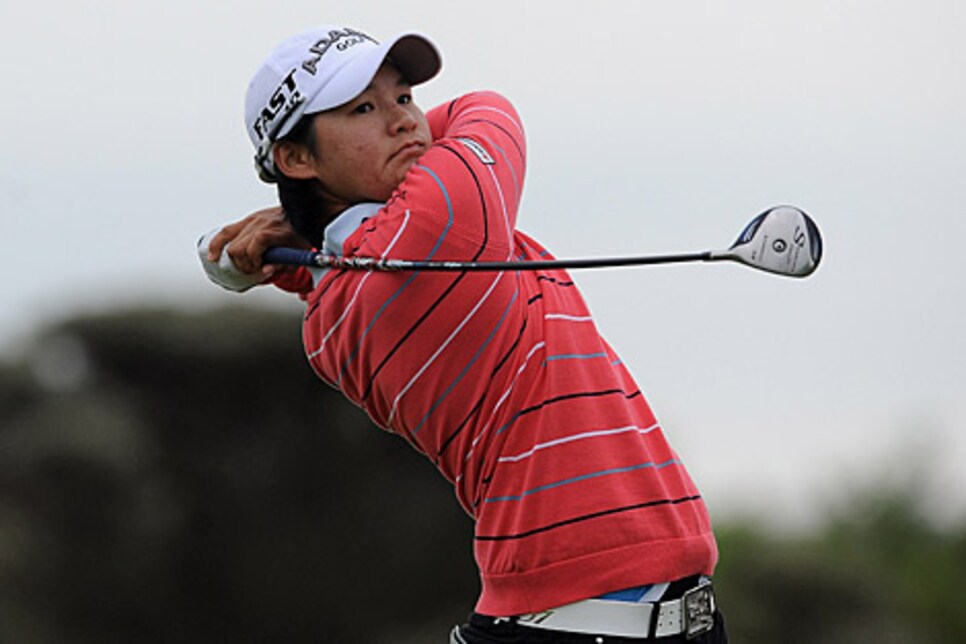 Tseng backed up her opening-round 68 at Royal Birkdale with the same number in Friday's second round and walked off the course with a four-stroke lead right as the weather turned nasty. "I was really lucky," Tseng said about getting the dry end of the draw. "It's raining right now and the morning was great."
Sure, Tseng got a great break, but she also did what great players do: she took advantage of it. For someone so young, she shows all the signs of possessing a mountain of wisdom built from experience.
Tseng, who turned 21 on Jan. 23 -- a milestone Wie will reach on Oct. 11 -- won the 2008 LPGA Championship at 19 and backed it up with this year's Kraft Nabisco Championship. Wie, meanwhile, hasn't finished in the top 10 in a major since the 2006 U.S. Women's Open. Let's look at how they got where they are.
Tseng came to the United States in 2001 from Taiwan with the help of Ernie Huang, a California-based Taiwanese who facilitates the transition to America for Chinese golfers. Check Tseng's path to the LPGA:
-- Won the 2003 Callaway Junior and finished second in the same event the next year.
-- Won the 2004 U.S. Women's Public Links, defeating Wie in the finals, and was a semifinalist the next year.
-- Won the 2005 North and South, beating Morgan Pressel in the final; won the 2005 Arizona Silver Bell and won the Asia Pacific Junior 2003-05.
Perhaps most importantly, when Tseng turned pro in 2007 at the age of 18 she took things slowly, playing the Asian Golf Tour, and winning there, and the Canadian Women's Tour, and winning there, before joining the LPGA in 2008, when she was Rookie of the Year.
Wie, on the other hand, won the 2003 Women's Public Links and did not hoist another trophy until the 2009 Lorena Ochoa Invitational. Since finishing in the top five in the Kraft Nabisco, LPGA Championship and U.S. Women's Open in 2006, Wie's best finish in a major was T-11 last year at Royal Lytham, a string of 11 major that includes three missed cuts, a WD, T-67 and 84th.
When Tseng finished second in the 2008 Women's British at Sunningdale, Annika Sorenstam said Yani would be No. 1 in the world within four years. That's a timetable Tseng just may beat, in part because she has a little Annika mojo working for her.
"She just tells me to be patient and stay focused and that the victories will come," says Tseng, who bought Sorenstam's Lake Nona house last year when Annika upgraded to a bigger place before her daughter, Ava, was born. The house has served as much as an inspiration has have Sorenstam's words.
"That trophy case looks empty to me," Tseng says with a smile about shelves that once held 72 LPGA trophies, including 10 from major championships. She just may pick up another here on Sunday. When it comes to career paths, Tseng chose wisely.