The Loop
With tragedy on his mind, Ishikawa plays on
DORAL, Fla. - The scene was chilling. Shortly before 7 a.m. Friday at the Doral Resort, about a dozen Japanese journalists were sneaking peaks at horrific images on the giant TV screen in the media center at the WGC-Cadillac Champions in between staring at their computer screens for news from their earthquake and tsunami-ravaged homeland. For all, their bodies were in Florida but their hearts were thousands of miles away.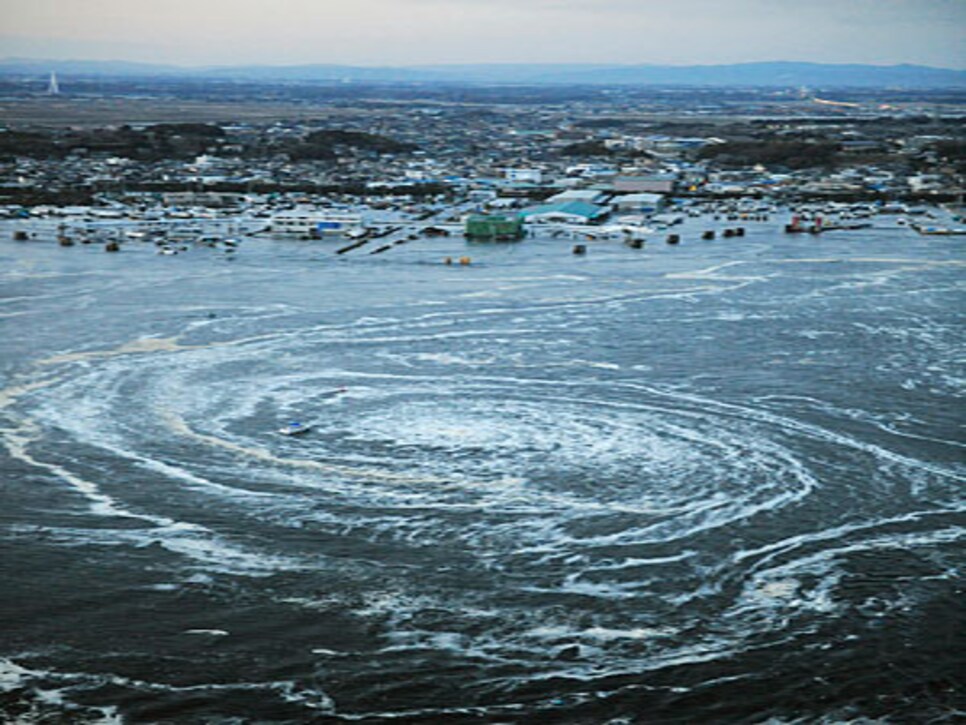 Outside, on a brisk and breezy morning, Ryo Ishikawa, the 19-year-old talent from Japan, was finishing his weather-delayed first round at 7-under-par 65. It was a bittersweet moment for Ishikawa, who is known as "The Bashful Prince." He was just one shot behind leader Hunter Mahan, but he finished his round with a heavy heart knowing of the tragedy at home.
"If you can imagine, it's beyond being a distraction for me," the somber Ishikawa said, his stylishly long black hair pouring out from under his hat. "I'm worried for the whole country of Japan. The fact that I was finally able to communicate with my parents did help me feel so much better. I just tried to focus, but it is a battle out there for me."
Ishikawa found out about the tragedy early Friday morning when he awoke and, as is his custom, went onto the Internet to catch up on the news from his homeland 12 time zones away. The images he saw were horrifying; the words he read were unsettling. News reports from Japan on Friday said at least 200 people were found dead, with the death toll expected to rise.
"Sendai [the worst-hit area in Japan] is quite far way from where my parents live; from the Tokyo area, it's some 250 miles away," Ishikawa explained. "I just hope that the magnitude of 5.0 felt where my family lives is still a very big earthquake. So I just hope that everybody else around will be safe, as well.
On May 20, 2007, Ishikawa became the youngest winner on the Japan PGA Tour by capturing the Munsingwear Open KSB Cup at the age 15 years and 8 months. He turned professional the next year and by the end of 2008 became the youngest player to make it into the top 100 of the World Golf Rankings. In 2009, he became the youngest to make it into the top 50 and now has nine wins on the Japan Tour and is ranked No. 42.
"It is not possible to block something of this magnitude out completely," Ishikawa said. "But I understand that in the position that I am, together with the other star athletes from Japan and other sporting areas, we can provide encouragement and hope for the people of Japan by myself doing the job."
"The Bashful Prince" has suddenly found himself placed in a position of playing for a higher calling. Ishikawa has been transformed from a national hero in a sports-passionate country to a global ambassador trying to bring comfort to his troubled homeland. As with all athletes from Japan, Ishikawa plays for more than himself -- he plays for the honor of his homeland. Right now, that mission seems more important than ever.
Playing under that burden in Friday's second round, Ishikawa faded to a 76 on a cool, windy afternoon and fell six stroke off the lead, but remained still very much in contention. Asked it the distractions of the events in Japan contributed to his 4-over-par round he said: "It wasn't so much that; It was just that the Blue Monster decided to be what it supposed to be today. The conditions were more difficult."
His countryman, Hiroyuki Fujita, fared slightly better, backing up a first-round 71 with a 73, despite teeing off without know how his family had fared in the disaster. "My tee time was 8:30 this morning for the rest of the first round and at that point I didn't know how my family was," said 40-year-old Hiroyuki Fujita, a 10-time winner on the Japan PGA Tour.  "But anyway, I needed to go, so I just did it. And after the 6th hole of the front nine, I was told my family was okay. The third player from Japan in the field, Yuta Ikeda, followed up his opening-round 74 wth a 73.
"I couldn't believe it," said Fujita, whose family is from Fukuoka Prefecture, far from the worst-hit area.  "It is not in this world."