The Loop
With Tiger Woods, criticism comes with territory
One of the burdens of greatness is that it establishes a sometimes-unfair standard of expectation and attention. And those who openly pursue greatness contribute to the combustible nature of the situation. Which brings us to Tiger Woods.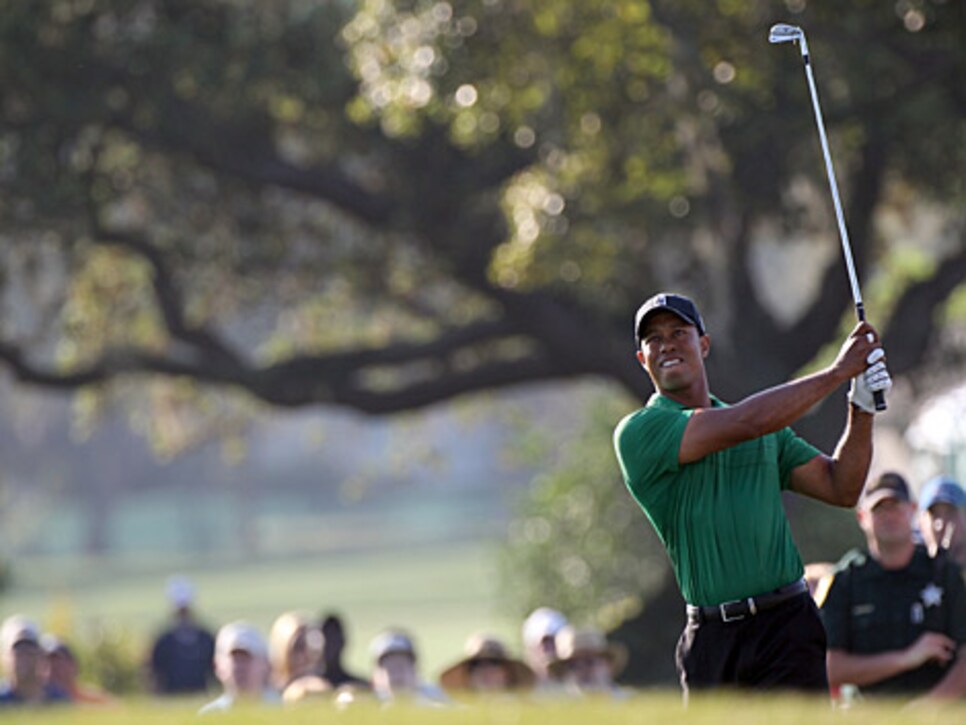 *Photo by Sam Greenwood/Getty Images
That Woods is on the short list of greatest golfers ever, that he aspires so openly toward that goal, and that he has recently created obstacles to his performance (a self-imposed swing change and that other self-imposed distraction) makes him the tallest lightning rod in golf, if not in all of sports. No one creates as much buzz as Tiger.
Here is one measuring stick for his impact: There is no topic or individual I can write about, tweet about or talk about that elicits as much reaction as Woods. And while the reaction is from both sides -- Woods supporters and detractors -- the passion with which his fans react is, well, passionate. Merely reporting on his struggles is interpreted as an unfair attack on him as a person. This is a fascinating phenomenon.
Almost immediately I got this Twitter response:
Woods has shown flashes of his old self -- his 68 in Friday's second round of the Arnold Palmer Invitational at Bay Hill is an example -- but as yet has been unable to sustain that level of play for 72 holes. If there has been a lesson learned during Woods' struggles, it has been not to rush to the conclusion "He's Back!" too easily. And if there has been one lesson learned over his remarkable 15-year pro career, it is not to dismiss his ability to do the seemingly impossible too lightly. With Woods, as with any larger-than-life figure, it is easy to overreact.
Let's deconstruct what's going on here.
What does this all add up to? It means that what Tiger does is news. The story of whether or not Woods is once again the No. 1 player in the world; whether or not he gets the five wins he needs to break Nicklaus' record of 18 professional major championships; or even whether or not he wins again is one of the most compelling stories in sports.
To not be Tiger-centric as he works his way through this period of struggle would be to do a disservice to all who care about golf. And the fact that no one -- absolutely no one, including Woods -- knows how this story will end only enhances its urgency.  This is as if Kobe Bryant all of a sudden couldn't hit a jump shot or Albert Pujols batted .219 with 14 home runs this year. How can you not report that?
Let's not forget that when Woods at the height of the sport, no one sang his praises louder than the golf media, often to the annoyance of other players. And no one turned a blinder eye toward some of Woods' more troubling behavior -- on and off the golf course - than the golf media. In other words, Woods has received the benefit of the doubt more times than not.
Now, we are all just trying to figure out what is going on. When Woods wins again it will be a huge story, and we will write it. Well-deserved praise will be heaped on him for his skills, determination and perseverance. But neither Woods nor his fans can have it both ways. Our job is to report the news.
And the news right now is that the best player on the planet hasn't won a golf tournament in a very long time. When we point out that he is missing fairways or missing putts, it is merely an attempt to explain why he isn't winning. These are not attacks; they are statements of fact. We are merely trying to chronicle his struggles as aggressively and as accurately as we reported his successes. It seems only fair.