The Loop
With Open withdrawal, Woods' comeback looks even more daunting
One of the most bizarre sagas in the history of golf -- and in recent memory in all of sports -- took another twist Tuesday when Tiger Woods said his damaged left leg would make him unable to play next week's U.S. Open at Congressional CC near Washington, D.C. In a posting on his website, Woods said he still hopes to play the AT&T National beginning June 30 at Aroninmink CC outside Philadelphia.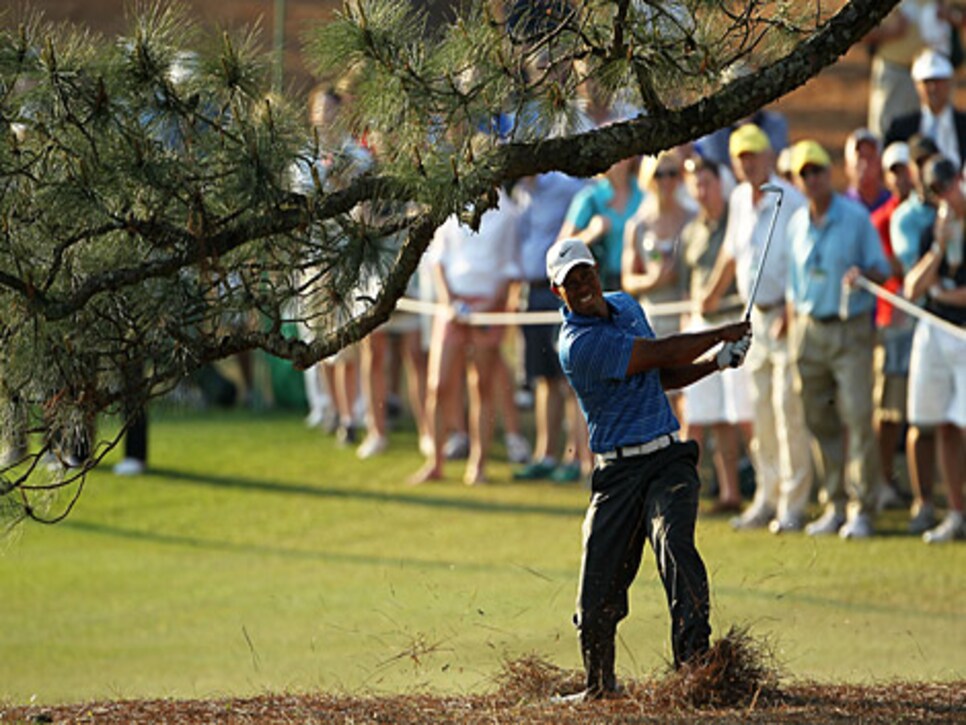 *Woods says he hurt himself on this shot on the 17th hole Saturday at the Masters. Photo by Getty Images
While the announcement was not a complete surprise -- his left knee, which has been operated on four times, acted up after the Masters and he has since said his left Achilles is bothering him as well -- it is another setback in a comeback effort by Woods that remarkably is more in question now than it was a year ago when all he was trying to overcome was negative headlines.
__([Related: Look back at a timeline of the Tiger scandal)
](http://www.golfdigest.com/golf-tours-news/2010-11/photos-tiger-timeline)__
Now there are questions about his leg, as well as there are about his swing, his putting and his focus on the course, which has been erratic since he returned to competition at the 2010 Masters. He is, however, Tiger Woods and the number of times he has made people look silly when they have underestimated him are countless. Still, now No. 15 in the Official World Golf Ranking, the rock Woods has to push to get back to the to of the hill continues to grow.
The last of the 14 major championships won by Woods was the 2008 U.S. Open at Torrey Pines when he winced his way past Rocco Mediate in a playoff while competing with what was later revealed to be a broken leg. Woods has not missed the national championship since he was an amateur in 1994. He has played only 21 full rounds of golf in competition this year, including the Omega Dubai Desert Classic and one match in the Accenture Match Pay.
"I am extremely disappointed that I won't be playing in the U.S. Open, but it's time for me to listen to my doctors and focus on the future," Woods said on his website. "I was hopeful that I could play, but if I did, I risk further damage to my left leg. My knee and Achilles tendon are not fully healed. I hope to be ready for AT&T National, the next two majors and the rest of the year."
__([Related: How Tiger's swing has changed over his career)
](http://www.golfdigest.com/golf-instruction/swing-sequences/2011-04/photos-tiger-woods)__
The latest setback for a player who, just three years ago, was considered a sure thing to break the record of 18 professional majors held by Jack Nicklaus, adds to the turmoil that has swirled around him since that infamous car crash on Thanksgiving night of 2009.  Woods has broken up with his wife, his coach and, most recently, with IMG, his management agency. On Monday, Woods said he would go instead with longtime agent Mark Steinberg, whose contract was not renewed by IMG.
Woods, who has not won a tournament anywhere since before the car crash and subsequent revelations bout his personal life -- the longest winless drought of his career -- has needed to rediscover his domination on the golf course in order to begin the process of reclaiming his reputation, and the tens of millions of dollars in endorsement deals he has lost over the last 18 months.
In April, after a business trip to China and Korea following a T-4 finish at the Masters, Woods was diagnosed with a Grade 1 mild medial collateral ligament sprain to his left knee and a mild strain to his left Achilles tendon, according to his spokespeople. Woods said the injuries were suffered while hitting a second shot from under the Eisenhower tree at hole No. 17 during the third round at the Masters
__[(Related: See a sequence of the shot that hurt Tiger)
](http://www.golfdigest.com/golf-tours-news/blogs/local-knowledge/2011/04/photo-of-the-day-tiger-woods-wild-recovery-frame-by-frame.html)__
Tiger skipped the Wells Fargo Championship and withdrew after nine holes in the first round at the Players after shooting a 42. He said at the time he had reinjured his leg on the opening tee shot.
Woods competed in the 2008 U.S. Open with a ruptured ACL and a double stress fracture of the left tibia, but was told then by doctors that playing in the tournament would not make his leg worse. This time, it seems the doctors are advising Wood not to play.
"It's been a frustrating and difficult year, but I'm committed to my long-term health," Woods said. "I want to thank the fans for their encouragement and support. I am truly grateful and will be back playing when I can."
By skipping Congressional, Woods will stretch his streak of majors without a title to 12, although three of those he has had to skip because of injury. Prior to that Woods had never gone more than 10 majors without a victory, streaks he had in both 1997-99 and 2002-05.
What once seemed like a sure thing not that long ago -- that Tiger would break Jacks record -- is now very much in doubt. And since there are only four majors played each year, the chances of Woods passing Nicklaus diminish with each major that passes with a Tiger win. Congressional will be another.