News
With a big putt on the final hole, Brian Harman wins one for all of golf's little guys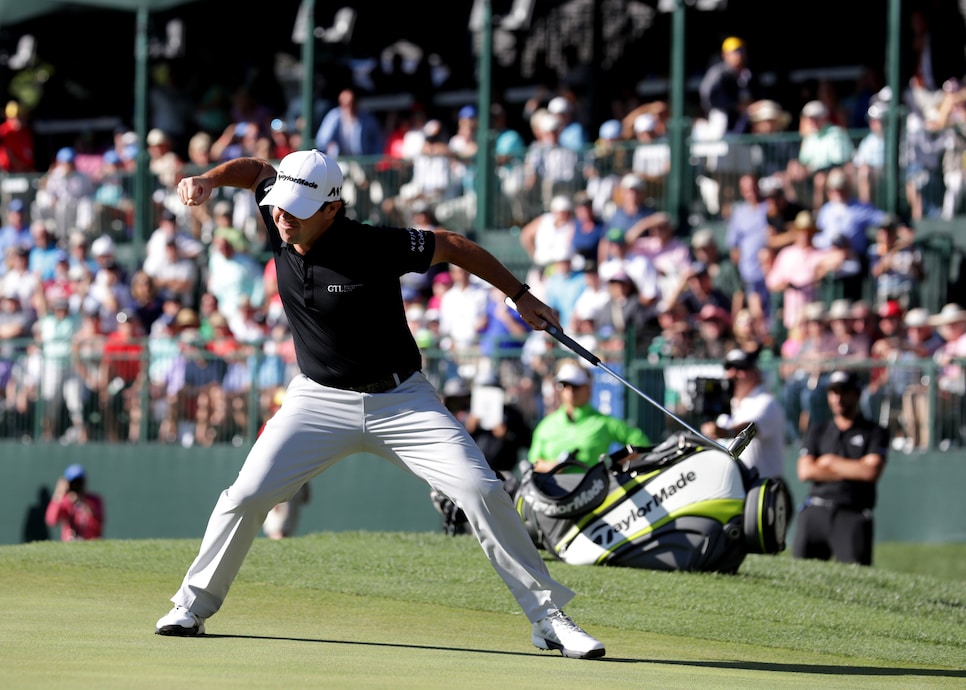 The modern game is one of bombers, and more and more players are built like basketball forwards. Dustin Johnson is a pterodactyllian 6-foot-4 and can dunk flat-footed. Jon Rahm is 6-foot-2 and a stout 220 pounds. Kevin Tway is slender but still stretches to 6-3.
Sunday at the Wells Fargo Championship, however, proved it's still a sport for all sizes and shapes. There's room for the little guy, and big shots.
Go for it, or lay up. That was the decision Brian Harman faced standing 270 yards out on the par-5 18th at Eagle Point Golf Club, water right, and tied for the lead at nine under with Johnson and Pat Perez, both already in the clubhouse.
Harman isn't long. He ranks 113th in driving distance at just 289.1 yards off the tee. At 5-foot-7 and 150 pounds the little lefty is also not tall, nor will he ever be the cover boy for a men's fitness magazine.
None of that mattered. He was never laying up once he saw where his tee shot landed on the final hole. He pulled the headcover off his fairway wood, much to the delight of the fans lining the finish.
"I was like, 'If my ball's on the downhill slope, I'm not going to go for it.' I'm going to lay up, I'm going to give my wedge a chance to win the tournament," Harman said. "But it got down that hill and was on a little bit of an up-slope and I was like, 'Well, there's no decision here.' "
His second shot sailed long and a little left, and he got relief from behind a corporate tent. But with his third shot, he caught his chip heavy, and the ball barely reached the front of the green.
That didn't matter, either.
Harman poured the 28-footer dead into the middle of the cup for a second-straight birdie, pumped his fists wildly and let out a vicious yell before hugging his caddie. He closed with a four-under 68 for a one-stroke victory and his second career PGA Tour title.
"It's surreal," Harman said. "I three-putted that 15th hole, knew it was going to be tough to birdie those last couple. But I stuck to my game plan and just did it."
Coming into the week few might have expected Harman to do it at Eagle Point, something of a longball hitter's park in Wilmington, N.C., with two of its four par 5s measuring 640 and 580 yards.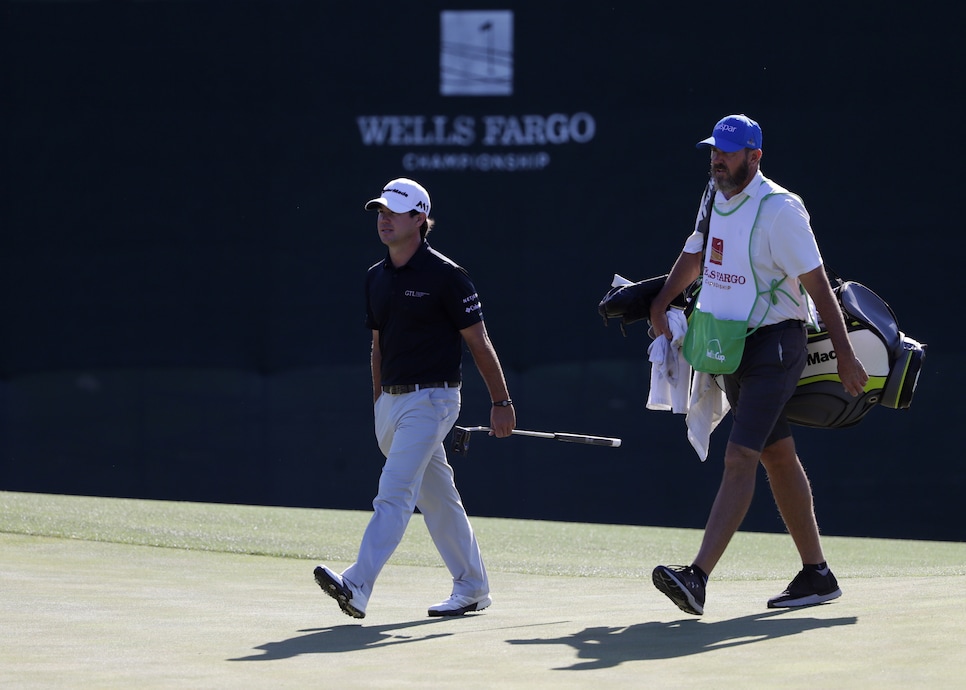 Never mind the traffic jam going into the final round. At the start of the day, there were 28 players within five shots of overnight leader Patrick Reed, including Rahm, Johnson, Phil Mickelson and Graeme McDowell.
Reed, who came into the day having closed out three of four 54-hole leads in his career, crashed and burned with a 75, unable to hit a fairway or green in regulation for much of the day.
Rahm, who was playing behind Harman and needed to eagle the last to force a playoff, managed only a par to go with a costly bogey at 15. He shot 71.
Mickelson and McDowell each shot 72s, the former fading quickly on the front and the latter doing so on the back.
Harman might seem an unlikely name to have emerged from that pack. But not to, well, Harman.
When he won the John Deere Classic in 2014 he did so playing in the final pairing on a Sunday for the first time in his career. After a nervous start he settled down and closed with three straight birdies to hold off Zach Johnson by a stroke.
Then there was the time he made a pair of holes-in-one on the same day two years ago at the Barclays. Afterward he sent over 300 beers and a bottle of Crown Royal to the media.
Sunday, he stopped golf's longest current winning streak.
Johnson, who closed with a 68 of his own also capped by a 15-foot birdie putt on the last, had won his last three starts. Despite making his first start in six weeks after falling down a few stairs and suffering a back injury that caused him to miss the Masters last month, he didn't look that rusty if at all.   "Well, they had the jacket 40 long, so I think they already had it set up for Dustin," Harman joked. "He's a tough cookie, man."
So is Harman. He proved it Sunday.
"Well, I would be lying if I didn't say I had a little bit of a chip on my shoulder," Harman said. "It feels good, for sure."