The Loop
Wisconsin head coach Paul Chryst had an all-time self own when discussing his love for crew neck sweatshirts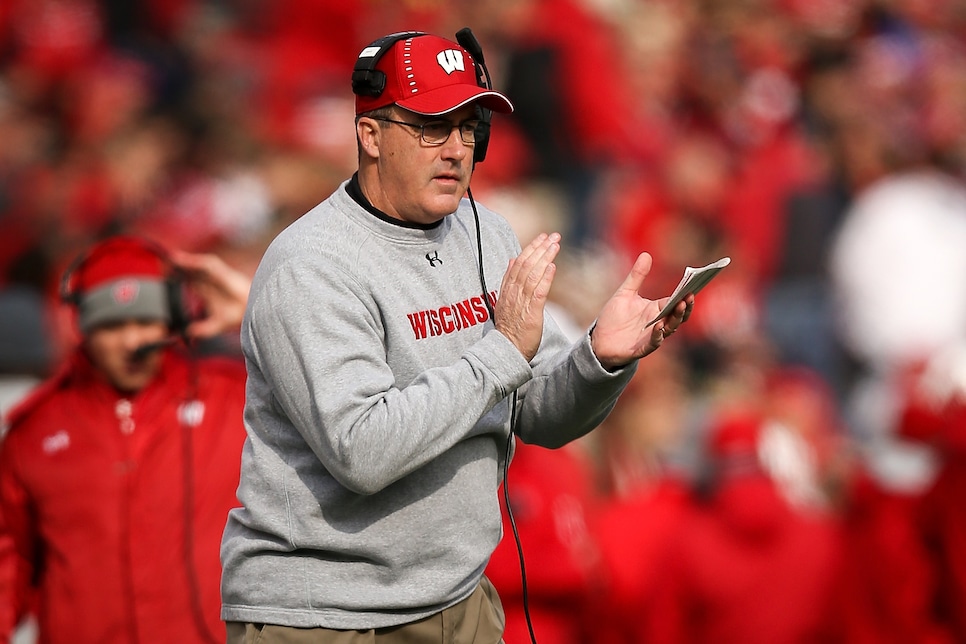 Jim Harbaugh's khakis. Les Miles' hat. Steve Spurrier's visor. All of these are legendary college football fashion statements. Of course, without the success of the head coaches wearing them, they'd just be regular ol' articles of clothing.
After five very strong seasons at Wisconsin for Paul Chryst, four of which have featured 10-plus wins, it may be time to throw his hat in the legendary fashion-statement ring. And by hat we mean crew neck sweatshirt, which Chryst has become famous for in Badger-land.
The thing is, unlike Harbaugh's khakis or Miles' hat or Spurrier's visor, Chryst wears a variety of crew necks, as opposed to just one he sticks with every week. During an appearance on the "Wilde and Tausch" show on ESPN Madison on Thursday, Chryst professed his love for the hood-less sweatshirts, which have become far more popular than the hoodie among the frat and sorority stars of America in recent years.
"A good crew neck is pretty hard to beat," said Chryst.
Damn right. Don't get me wrong, a nice hoodie is still great in the dead of winter, but I've even found myself going to the crew neck more and more when there's a fall chill in the air.
"Wilde and Tausch" wanted Chryst to expand on his crew neck thoughts, asking him if he picks them up right before kickoff (because they always look so fresh) and if there's a key to the perfect crew neck. Chryst proceeded to own the hell out of himself.
"When you've got a hint of being a fat-ass, it's got to be loose-fitting, and you can't have it choking you like a turtleneck. Turtlenecks aren't cool."
If you're selling crew neck sweatshirts, this should be your pitch right here. "They're perfect for the fall and winter, perfect for hiding a few extra pounds, and, perhaps most importantly, they aren't turtle necks." Boom. Sold.
Opening Saturday in the Big Ten, which we can guarantee will be crew neck sweatshirt and Shock Top weather, can't get here soon enough.