The Loop
Wilson's Driver vs. Driver reality show sheds light on the golf club innovation game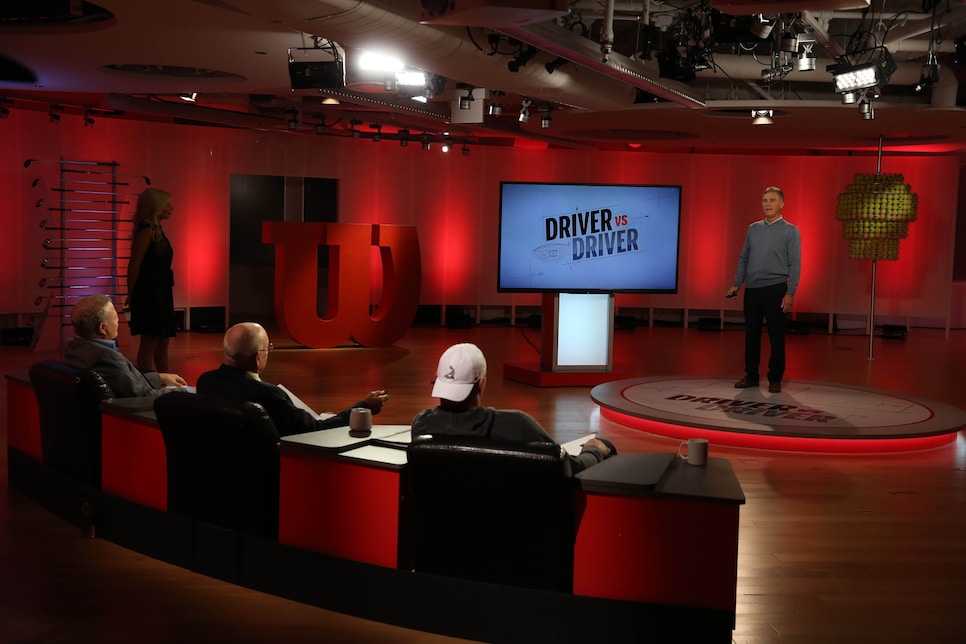 Tasos Katopodis/Golf Channel
When Golf Channel airs the first episode of Driver vs. Driver Tuesday at 10 p.m., it could be the dawn of a new age in golf-equipment marketing, an inside look at the relentless stream of scientific, legal and logistic hurdles thrown in the way of club innovation or even a fresh take on the intense character studies that have made reality television as much the foundation of the American zeitgeist as 24-hour shopping channels and stuffed crust pizza.
After watching the first episode, it seems a safe bet that it will more than adequately cover all three.
The seven-episode series will air on Tuesdays (and repeat at various times over the next two months) and features 11 finalists competing to have their idea for a new driver made into a legitimate Wilson product. The winner, or winning team of inventors, receives $500,000, and the driver will hit golf retail shelves on Black Friday, just three days after the final episode airs on November 22.
The contestants and their ideas are judged by a panel with three areas of responsibility. Wilson president and CEO Tim Clarke heads the group and injects some business sense into the presenters' plans. Typical is his admonishment to those talking about trying to extoll a driver's accuracy: "When people go buy a driver it's all about distance." Frank Thomas, former USGA technical director and one-time putter inventor, has a bit of a soft spot for aspiring garage inventors, but he tempers that with the hard edge of someone who knows how equipment rules will in part or even in full nullify someone's dream. Former Chicago Bears All-Pro linebacker Brian Urlacher plays the role of golf everyman, as often fascinated as he is disbelieving. Wilson Staff tour player Kevin Streelman will join the panel later in the series, adding the perspective of someone who might actually use one of these inventions at golf's highest, and most demanding level of product scrutiny.
The first episode reveals the motley collection of qualifications and quirkiness of the 11 finalists. That includes an idea based on a fly swatter, another based on combining the shapes of a boxfish and manta ray and a third developed by a pair of Ph.D. students in aerospace engineering.
Not everyone makes the cut, of course, least of which the guy wearing a hard hat who attaches a whistle to the hosel of his proposed driver, the Wilson Whistle. Yes, he does blow the whistle to show it works.
What may end up being even more interesting than the ideas is how in later shows Wilson's own design team ends up testing these concepts and shaping them into more realistic golf clubs. Drawing something up on a sketch pad or even designing it on a computer based on industrial design concepts is barely half the battle in golf club innovation today. That's what makes for legitimate innovation and a product that might interest golfers beyond a television show.
It's Clarke's exchange with one contestant and his proposal in Episode 1 that basically stands as the hallmark and the intrigue for the whole "Driver vs. Driver" show: "At the end of the day, I need a product I can sell. I see a concept and I see some theory, but where's the product?"
It looks like viewers of Driver vs. Driver are going to find out in the next six weeks.