The Loop
William Powell and a night to remember
We all attend lots of awards ceremonies. Awards to benefactors, awards for longtime service, awards to retirees, awards for great performances, awards, honestly, to keep an award alive. Most are well earned, occasionally one is not, but who minds.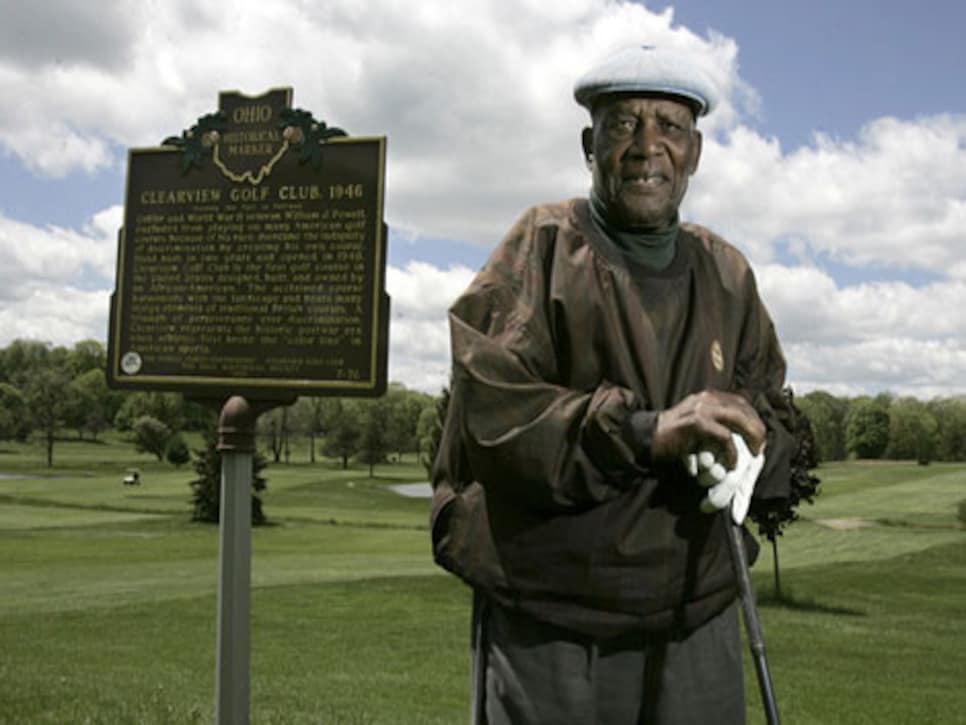 And then there are nights like last night's Distinguished Service Award presentation to William Powell. As long as they give awards, one thinks, none will ever be more deserving, no ceremony more moving or gracious, than when the PGA presented its highest honor to William Powell--the Ohio World War II veteran who, when denied access to American golf courses after the war because of his race, built his own course and in the process changed not only his world but golf's as well.
Powell, frail now at 92, accepted the award sitting in a stuffed leather chair because to stand would have too much. For 30 minutes he read a prepared speech that was, in the end, an extended thank you-- to his family, to his friends, to those who had helped him overcome the meanest kind of discrimination our sport can offer, and to the PGA itself that for decades denied him admittance. We could have listened all night. Golf has not been, Powell said in his understated way, "a minority-oriented sport." But he never gave up on it, he said, "because I loved the game too much."
Powell built Clearview Golf Club in East Canton 63 years ago, "so that others would not suffer the indignities I had". Powell was an accomplished high school and college golfer who played in Great Britain during the service and then was told he was not welcome at American courses when he returned. Powell did not only "build" Clearview in the sense that he raised the money for it--he did that, too--he built it with his bare hands, cleared the land himself, seeded by walking the fairways, one by one, over nine holes at first and then to 18 in 1978. And he long sought to be part of the PGA, it was not until 20 years after that the Northern Ohio section of the PGA surprised him with an honorary membership. With no tinge of bitterness or irony he thanked the section again last night.
Sitting next to him last night was his daughter, Renee, who learned the game from her father, who became the second woman of color to play the LPGA Tour, and who was instrumental in keeping Bill Powell's story alive. She his now the head professional at Clearview, her brother Larry the green superintendent. Larry and Renee helped their now struggling daily fee earn a place on the National Historic Registry. They also established the Clearview Legacy Foundation, which continues to raise support for Clearview.
When he was done thanking us, Bill Powell said, "If I've left anyone out, please forgive me, and remember I'm 92."
And then he recited his mantra: Stand firm. Stand tall. Never give up. Never give in.
"Believe in yourself," Bill Powell said. "Even when others don't." It was a triumphant moment for a man who understands the "others don't" part better than most of us ever will. And a proud moment for the PGA of America.
When the standing ovations were over, Powell left all of us wondering where, exactly, his kind of strength comes from, and wanting to thank him for a night you count yourself lucky to have experienced.