The Loop
William McGirt wins Jack Nicklaus' tournament, admiration, and is still pinching himself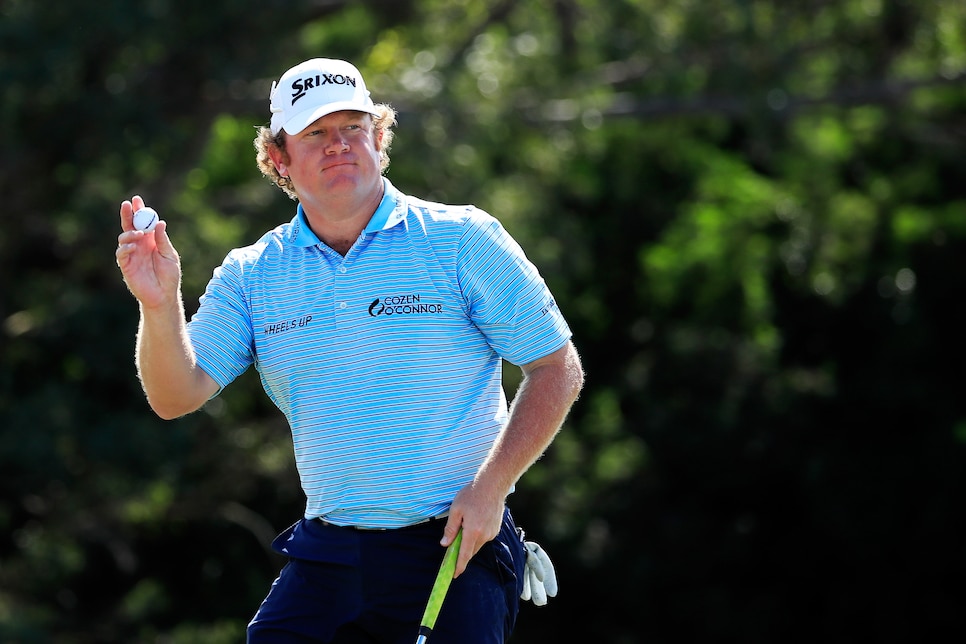 KAPALUA, Hawaii – William McGirt was minding his own business and hitting a few balls on the quiet practice range at Country Club of Detroit last August, preparing to play in a charity event called The Turning Point Invitational, when a commotion rose up behind him and other tour players there to help raise funds for area charter schools.
The event's honoree, Jack Nicklaus, had just exited the clubhouse and was making his way to the range only to be swarmed by several hundred autograph seekers. Nicklaus had taken only a few steps onto the range area when he spotted McGirt. He turned to the crowd and shouted, "Hey everyone, that's the Memorial Tournament winner." Then he walked straight over and shook McGirt's hand.
"It was the coolest thing ever," said McGirt, the surprise winner of Nicklaus' Memorial Tournament presented by Nationwide last June at Muirfield Village Golf Club in Dublin, Ohio. "He comes over and says, 'You've been playing great. Keep it up.' If you're going to win a tournament, that's definitely one you'd want. The times I've been able to talk to him have been a lot of fun. He and Barbara sent me a bunch of pictures that someone had taken at Muirfield Village. Jack had one framed and signed it for me. They sent me a Christmas card.
"It just doesn't get any better than that."
McGirt had his back to the sun as he spoke. Also behind him was the Pailolo Channel, the eight-mile strip of Pacific Ocean separating the islands of Maui and Molokai. Breathtaking scenery. McGirt enjoyed such sights most of the day while competing in the SBS Tournament of Champions, his first visit to the Plantation Course at Kapalua Resort, where there is no cut and 32 players compete for $6.1 million. Later this year he'll play in his first Masters. These are also cool things.
But time with the Golden Bear? Priceless.
"One of my favorite pictures ever is me holding Mac [his son, Miles Cameron] and Mac giving Jack a high-five," McGirt said proudly.
A career grinder whose only other professional win came in a Tar Heel Tour event in 2007, McGirt knows what it's like to "get his nose bloodied" in professional golf. But he executed an up-and-down par on the second hole of a sudden death playoff to defeat Jon Curran and get a sniff at the rarefied air of privilege that goes with winning on the PGA Tour.
It was one of six top-10 finishes in a career year. And he appears poised to take advantage of this week's opportunity. Paired Saturday with reigning PGA Tour Player of the Year Dustin Johnson, McGirt fired a bogey-free 7-under 66 on the still-pliable Plantation Course and jumped to T-3 with PGA champion Jimmy Walker and Ryder Cupper Ryan Moore. At 14-under 205, McGirt, who has suffered just two bogeys this week, trails Justin Thomas by four shots.
"Well, winning would be almost unthinkable, first time here and all," said McGirt, 37, who never gave up thinking about winning through all his years on mini-tours and stops off the beaten path. "Yeah, I've hit it really well this week. Finally made some putts today. I struggled sort of the first couple days with the grain in these greens. I think yesterday I could have putted better blindfolded. All in all, it's been pretty solid, and I've been kind of surprised, because I haven't played much golf since Sea Island. Really, since The Tour Championship."
Equally surprising is that McGirt's preparation for this event was severely curtailed. It takes time to adjust to the grain and slope of the Plantation Course, so McGirt arrived in Maui last Friday. He had left his home in Spartanburg, S.C., the day after Christmas to spend time practicing in Scottsdale, Ariz. It rained his entire stay. Yeah, in the desert. When he arrived in Maui, there was heavier rain that extended through the weekend. He played nine practice holes in seven days.
Apparently, clouds are following him, the perpetually sunny veteran. He twice drove to Augusta National GC in early December for a practice round. "I'm not yet convinced the sun shines there," he said, laughing. But he loved it. On the first trip, Dec. 3, he played with Spartanburg businessman Rob Chapman, his brother Keith and a neighbor. Four days later he visited alone. Each time he turned off Washington Road onto Magnolia Lane his smile could barely be contained inside the car.
Yeah, the coolness factor was pretty high then, too.
McGirt shot 68 the first day with seven birdies on the Masters layout, 71 the second with an eagle at 15. "It was simply incredible. They treat you so well there, like a member," McGirt said. "I just hope I get to see it dry in April. I haven't had better than 247 [yards] into 11. Haven't had better than 210 into seven. Long course. Totally awesome."
These first-time experiences make McGirt a virtual rookie. He remains in pinch-me mode, but not because he begins the year in Hawaii or pencils the Masters into his calendar in April. It's a perpetual state.
"I pinch myself every day, because I get to play the best tour in the world against the best players in the world, every single week," he said. "If you get to the point where you take it for granted, probably time to hang it up. To play in this event, where you have to win your way in, to get to play Augusta … that's just making it more special. But I always appreciated being on the tour."
Yes, well, it's a coolness thing.