Tour Life
Will Zalatoris confirms a lot of people texted him the same thing regarding that crazy playoff hole
Golf fans everywhere gave a collective sigh when Will Zalatoris picked up his golf ball during that third playoff hole last Sunday. The young star had chosen to walk backward towards the drop zone, but it was a heckuva lot better than potentially probably definitely hitting his golf ball backward and into a hazard.
Not surprisingly, those who know Zalatoris felt the same way. And they let him know about the anguish he put them through.
In case you haven't seen it, Zalatoris' tee shot on the third sudden-death playoff hole wound up on a rock wall guarding the green, and buried under the rough. This after his golf ball bounced seven times off that rock wall and stayed dry. Have a look at the impossible lie—like Will did: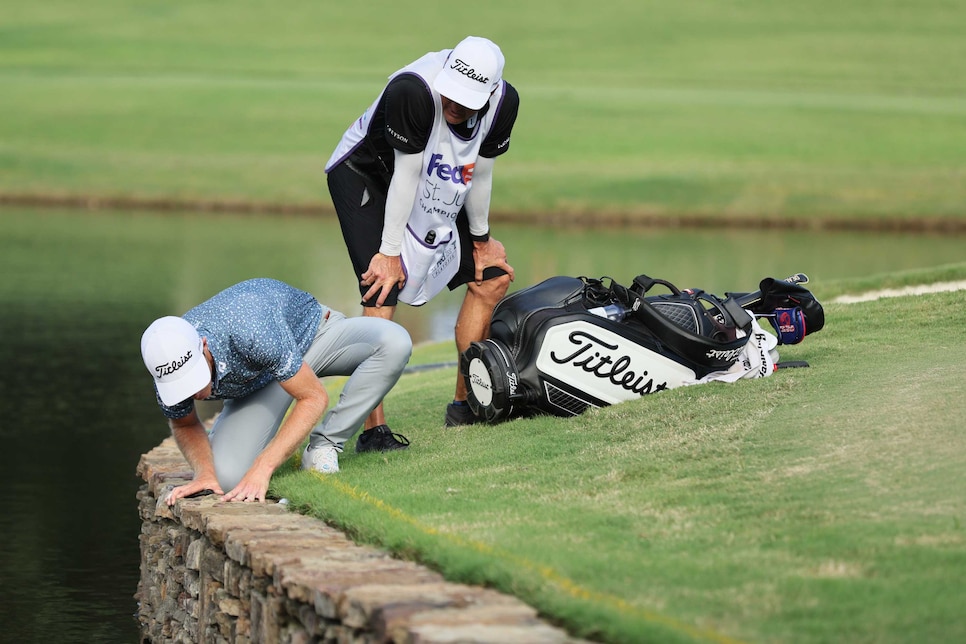 It was a crazy scene that would have only been crazier if Zalatoris had chosen to play his next shot from there. But again, thankfully—especially to those who had bets on him—he took the penalty and got up and down for bogey to beat Sepp Straka and claim his first PGA Tour title.
As you can imagine, Will got a lot of nice, congratulatory notes after. But he also got a ton of texts from people wondering what the heck he was thinking.
"Yeah, everyone's—kind of the resounding texts that I got were basically everyone was screaming at the TV not to hit that shot," Zalatoris said ahead of this week's BMW Championship. "It's tough because you're 20 feet from the hole and all I've got to do is move it a foot forward, and I basically will win the golf tournament unless I do something silly. Josh Gregory had a hilarious line; he said, all you had to do was move the ball a foot, and hopefully it's forward, and if it's backwards you lose the golf tournament."
Well, we can all laugh about it now, Will. Actually, Zalatoris wanted to take a crack at the shot late on Sunday night, but never did because he had a flight to catch. Someone with the tournament did, however, and it went exactly like how everyone thought it would:
"I was very much wanting to go back and hit it after everything was done, but I had to get going," Zalatoris said. "But you can go ahead for certain and assume that if I'm at Memphis next year, I will be 100 percent trying to pull that shot off, but I did see the video of someone trying to pull it off and hit it in the water, which if I was a betting man, I'd put a lot of money that that's probably what would have ended up happening."
Same here, Will. Same here.