renaissance man
Meet the amateur golfer, violinist and future PhD playing in his first pro tournament at the AT&T Byron Nelson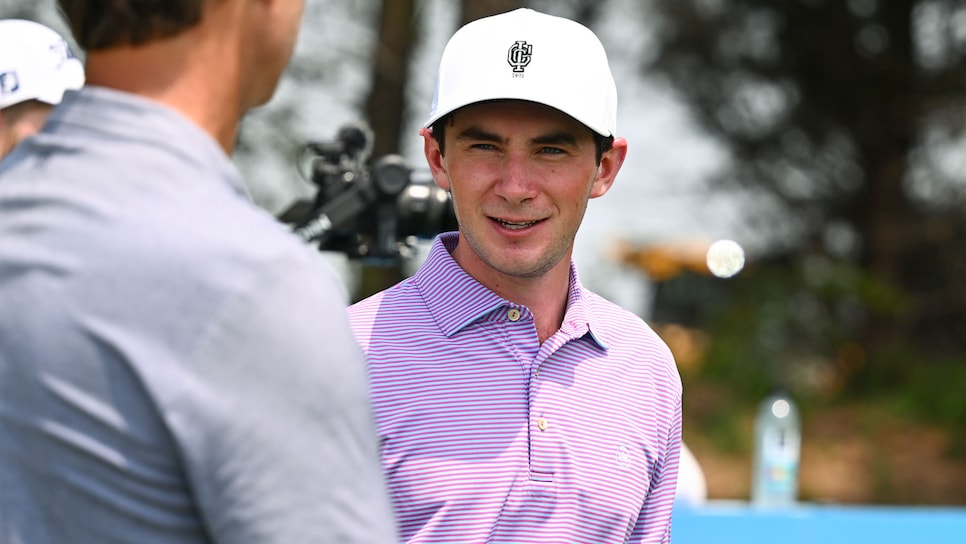 According to Columbia University student Will Knauth, who is on a path to earn his PhD in statistics, a 24-year-old amateur who played Division III golf and is probably more accomplished as a violinist than he is a golfer has a 4-in-1 chance of making the cut in his PGA Tour debut at this week's AT&T Byron Nelson.
The amateur in question happens to be Knauth, who earned an exemption into the 156-man field by virtue of winning the 2022 Byron Nelson Award, given by the Golf Coaches Association of America to a graduating senior for his achievement in the classroom, on the course and in the community. Knauth, an All-American at Carnegie Mellon, beat out the likes of Division I standouts Cole Hammer of Texas and Trent Phillips of Georgia to become the first Division III winner of the award since Nathaniel James of Washington and Lee in 2008.
Knauth isn't just making his PGA Tour debut; he is playing in his first professional tournament. And if that isn't enough of a challenge, he hasn't exactly been preparing for this opportunity as diligently as one might expect—though it isn't for lack of desire. He lives in New York City and academic requirements tend to receive priority.
"My golf practice routine stopped existing around March," Knauth told Golf.com. "That's when school got kinda tough."
That's not to say that he hasn't tried to keep his game in somewhat decent shape, venturing out in temperatures only slightly above freezing to get in a round here and there, primarily at Inwood Country Club, as opposed to devoting time on the practice range. "I've just been playing," said Knauth, who admits he isn't quite the golfer he was a year ago, though he still has his moments. "If nothing else, I know I can get the ball around a golf course and into a hole no matter how the swing feels."
A native of Williamsport, Pa., Knauth is a self-taught golfer who began playing at age 8. He played high school golf and some tournaments in the North Central Pennsylvania Golf Association but wasn't even aware of AJGA events. He went to Carnegie Mellon to pursue his academic goals—Knauth carried a 3.90 GPA while earning dual degrees in physics and mathematical sciences—and only was accepted on the golf team after showing his ability in a few USGA qualifying events.
Knauth was still a raw golfer as a freshman and posted a scoring average of 76.2. As a senior he averaged 71.5 and went on to set two school records while winning twice for the Tartans. He also was a two-time All-America Scholar.
As a youngster, Knauth was so proficient as a violinist that he played in the state orchestra. But it is that experience that has guided his ambitions as a golfer. He loves the game and doesn't want to become so immersed in it that it diminishes his enjoyment. "[Practicing the violin intensely] taught me to understand that you don't have to push yourself in everything," he told PGATour.com.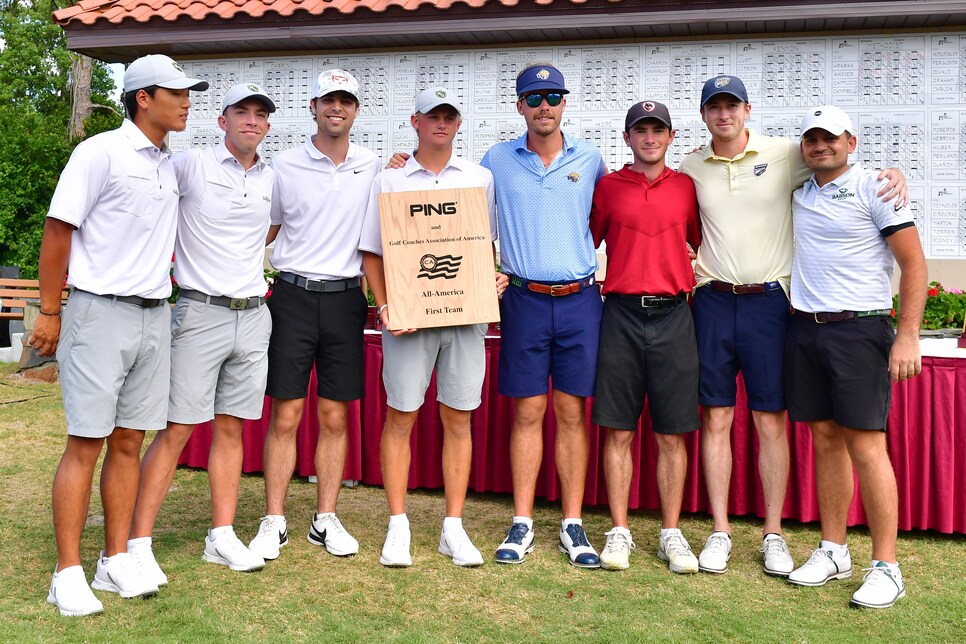 William Knauth (third from right) was a first-team Division III All-American in 2022 as he wrapped up his senior season at Carnegie Mellon.
Julio Aguilar
Given his love of golf, his choice of academic discipline and his preternatural intelligence—he was a fine amateur pilot at one point—Knauth naturally has done some statistical research on golf. He also is fully accepting of the fact that the game isn't where his future lies.
"I have some self-belief, but I know I'm not Scottie Scheffler," he said. "Taking the chance on myself where it could work out with golf, but it probably won't, versus having something which is almost as equally as cool at Columbia, I just made the decision that there's maybe a chance but I'm not sure enough of it to give up the other opportunities."
Nevertheless, he is embracing this week's opportunity. It doesn't come along for everyone.
"My goal this week isn't to prove that I'm any kind of golfer. … No matter how good I get, there's a lot of people better at this game. But there aren't any better me's," Knauth said. "No one else in the field at the AT&T Byron Nelson is currently pursuing a Ph.D. in statistics. That's my thing. Instead of pretending that I can and want to be the best, it's just finding something that puts a little bit of uniqueness to what you're trying to do."