The Loop
Wild ride for Blumenherst ... and dad
EUGENE, Ore.--At the risk of reveling in another person's distress, the most entertaining part of following the__Amanda Blumenherst__/Lizette Salas first-round match Wednesday at the 108th U.S. Women's Amateur wasn't necessarily the play from the two All-Americans. Try watching Dave Blumenherst, father of the country's best female college golfer, ride the emotional roller coaster of seeing his daughter go 3 down after four holes only to comeback and win, 2 and 1.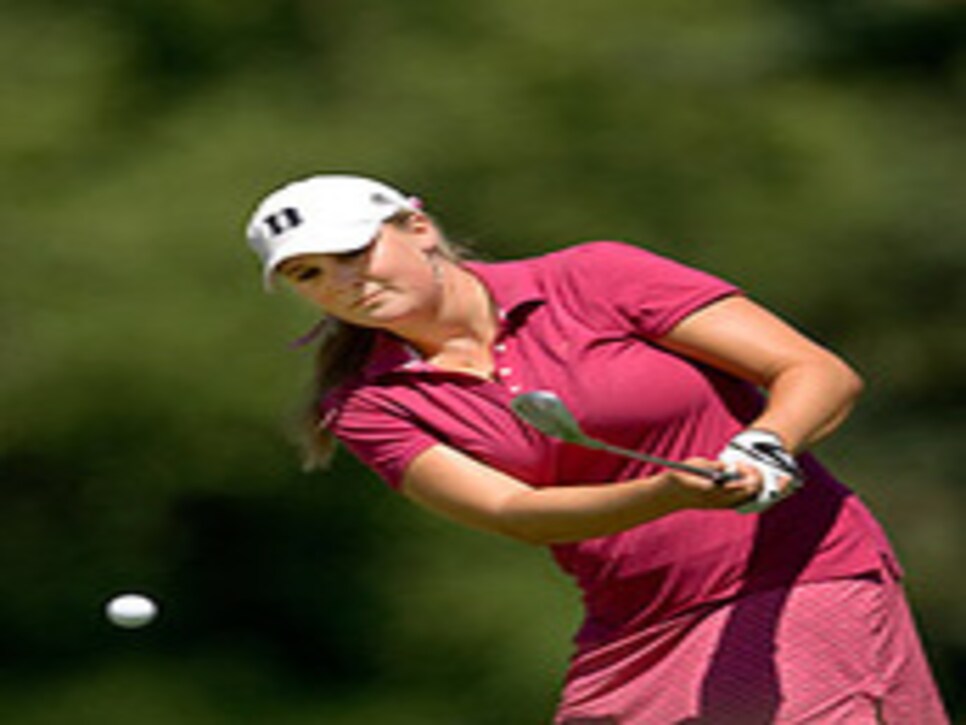 There were moments when Daddy Blumenherst wandered off between the trees at Eugene CC, as if seeing another shot might cause a literally eruption of his upset stomach. Indeed, I'm not sure if there was enough Alka Seltzer in the greater Eugene area to help the man. If you could have harnessed the nervous energy he was letting off, you could have powered a small logging factory along the Oregon coast.
Thankfully for Mr. Blumenherst's physical well being, his daughter did something amazingly she had never accomplished in her impressive amateur career--win a match in which she was 3 down. After bogeys on the first two holes and a double bogey on the fourth, the 21-year-old senior-to-be at Duke made a clutch up and down from the back bunker on the par-3 fifth to halve the hole, calm herself down and begin to figure out how to crawl her way back into the match.
"I looked at my uncle [caddie Bill Blumenherst] and said to him 'What's happening?' " said Amanda after hitting a 7-wood shot over the green on 187-yard No. 5. "He said, 'It's OK. Lots of golf left. I really think that really good up and down turned things on."
(Blumenherst photo above: Steven Gibbons/USGA)
From there on, Blumenherst didn't make another bogey, winning the par-5 eighth with a birdie and the par-4 10th and par-3 12th with pars.
In turn, Salas, a rising sophomore at Southern California, made a clutch 20-foot birdie putt from the fringe at the 13th and a similar length putt for par on the 14th to keep the match all square. A Salas bogey on the 15th after an errant tee shot and a poor second to the green, however, gave Blumenherst her first lead of the day.
Finally on the 17th, Salas' drive rolled behind a tree on the left side of the fairway, forcing her to punch a shot around it to 35 yards short of the green. Blumenherst, in the fairways 66 yards away then stuck her second shot with a sand wedge to one foot for a conceded birdie and the match.
"I was just glad I gave her a little fight at the beginning," Salas said afterward.
A year ago at Crooked Stick GC outside Indianapolis en route to her runner-up finish to Maria Jose Uribe, Blumenherst also had a tight first-round match, beating__Kristin Ingram__ in 19 holes.
"It's exciting," Blumenherst said of grinding out the win. "I'm very proud of myself. To come back and not have given up is great."
Whether we're in for a similar run from Blumenherst to the finals remains to be seem, but at least she knows she can handle to early stumble.
And so can her father. Barely.
Other notables from the first round of match play:
*A quick look at the college standings shows that the golf powerhouses didn't fare all that well. Five current or future UCLA players made it to match play, but only two (Sydnee Michaels and Stephane Kono) won their first-round matches. Four current or future USC players made it to match play, but only one (Mozo) won. Only two of the four current or future Duke players in match play won (Blumenherst and Lindy Duncan). Meanwhile UC Irvine went a perfect 2-0 with Chin winning and recently graduated Selanee Henderson beating Jennifer Song.
(Blumenherst photo: Steven Gibbons/USGA)