News
Tommy Fleetwood can explain the surprising detour he's taking before next week's U.S. Open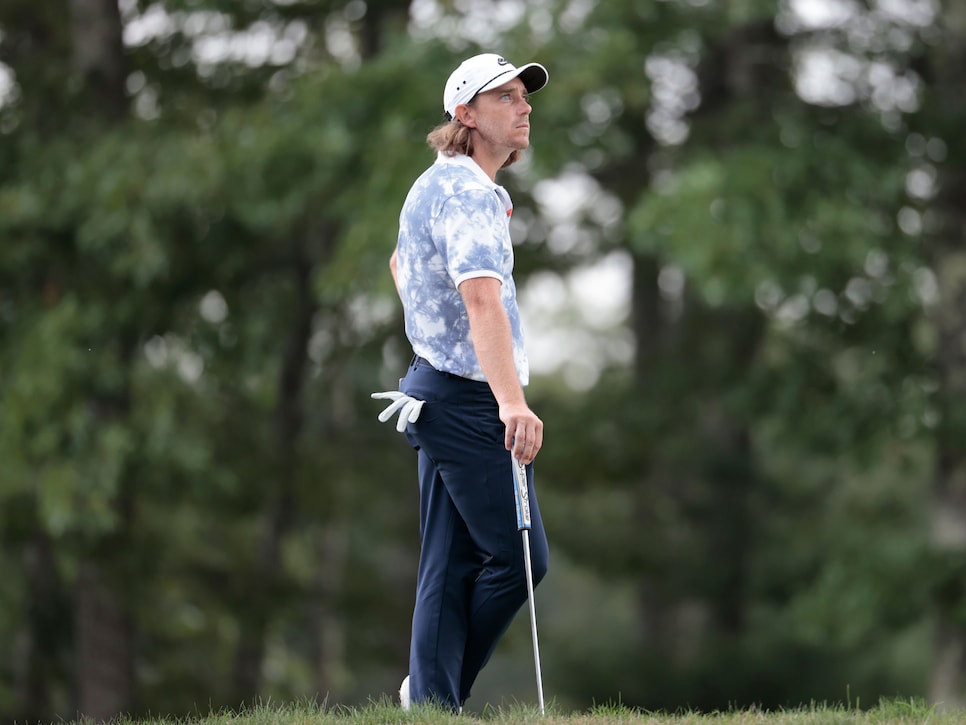 Tommy Fleetwood felt he needed more competition before next week's U.S. Open when his FedEx Cup Playoff run ended after just one event.
Icon Sportswire
So far at least, 2020 hasn't been too exciting for Tommy Fleetwood (of course, has it really been for anyone?). Pre-shutdown, the 29-year-old Englishman played only five times: twice on the European Tour and three times on the PGA Tour. And it wasn't until late July, a gap of four months, that he returned to competitive play. Back in the United States, five tournaments followed, none too exceptional. Perhaps the only high spot was a second-round 64 at TPC Harding Park in the PGA Championship, a heartening but ultimately misleading prelude to an eventually disappointing T-29 finish. The FedEx Cup playoffs didn't go much better. Fleetwood was flying back to England and a fortnight in quarantine after a T-44 finish at The Northern Trust.
All of which goes a long way towards explaining why, one week before competing in the U.S. Open outside of New York—a major championship in which he has already had two top-four finishes—the world No. 16 is competing in this week's Portugal Masters. Basically, Fleetwood needs a game; a competitive game. Even if that means teeing-up in an event offering a purse of only €1 million, against a field that contains only one other player ranked inside the world's top 100 (compatriot Paul Waring) and on a course that is traditionally one of the easiest on the European Tour. It is no coincidence that the only 59 in the history of the Old World circuit was shot by Ollie Fisher over the 7,191-yard Dom Pedro Victoria course back in 2018.
"This week was something that popped up on my schedule," says Fleetwood. "I haven't played as I would want recently. So I wanted some 'real' golf before Winged Foot. Last year, I arrived at Pebble Beach for the U.S. Open not having played for three weeks, which was a mistake. I came off saying I won't do that again. I wasn't as sharp as I would like to be. So the Portugal Masters is an ideal opportunity for me to play competitively. Plus, the course is different this year. There is a bit of rough up. So it's a tougher test. It will be good preparation."
Unusually for one so ordinarily proficient from tee-to-green, Fleetwood has struggled more than normal this season. The numbers, as ever, do not lie. Only in driving distance ( with a 309.6-yard average) did Fleetwood rank inside the PGA Tour's top 30. Elsewhere, he has been unusually mediocre—82nd in driving accuracy, 89th in GIR—although he has broken par in 23 of the 40 rounds he played in the season just completed.
"My swing has never quite been there," Fleetwood said. "I was 'over-drawing' my shots at the PGA. So I struggled in a right-to-left wind. Until the back nine on Sunday, that was the only wind in which I had dropped shots. I couldn't hold the ball up. And I struggled in the next two events. I was really loose on the course both times. I had a miss both ways and couldn't quite pinpoint what I was doing. It just wasn't easy to play."
Indeed, like every other golfer on the planet, Fleetwood has tendencies and faults he constantly fights.
"I struggle with getting the club face too strong at the top of the backswing," he explains. "So the face gets a bit shut and the ball goes to the left. And if I counteract that in a bad way, the club goes inside on the way down and I hit a block or a big hook. I'm scared of the one that goes left. That has been the case for much of my life."
Still, Fleetwood is nothing if not optimistic. A few sessions with long-time coach Alan Thompson has him looking forward rather than back at a year that has so far seen him drop six places in the world rankings.
"I've been working on a few things," Fleetwoods said. "So I will learn from the shots and putts I'll hit this week. And you only figure those things out by playing in a tournament. What I will lose by getting to the U.S. Open a day later, I will gain by playing and adding up my score. While the course will provide a different test to next week, a golf shot is a golf shot in a way. Although I've always preferred getting to majors early, this year things are different. It's all well and good playing and practicing at home, but picking a spot, hitting it and seeing shots in a tournament environment is what I need right now."
As for Winged Foot, Fleetwood's next game there will be his first. But he was watching on television the last time the U.S. Open was held there in 2006. And he's listened to a few horror stories since.
"I've not seen Winged Foot, although I've obviously heard how tough it is," he said with a smile. "But that's what you expect at the U.S. Open. My coach tells me that good shots normally do the trick wherever you are, so that's my plan going in. Par is always your friend in the U.S. Open. And I'll have to hole a lot of tricky putts. So I know that is coming. I won't be going there wondering what I'm going to need or what is going to happen. That's a good thing. Besides, it's nice now and then to have an absolute grind out there."
Which, come to think of it, sounds a bit like Tommy Fleetwood's 2020.