The Loop
Why the USGA thinks the timing is right for a Senior Women's Open
NEW YORK — It seems too much of a coincidence that the USGA, in the first year of its 12-year, $1.1 billion TV deal with FOX Sports, would announce the debut of the U.S. Senior Women's Open, a championship whose financial viability had previously been considered a stumbling block in its creation. Yet as the economics of introducing the new championship, which will be held for the first time in 2018, are certainly more favorable, USGA executive director Mike Davis maintained the decision to add a 14th national championship to the USGA calendar was predicated on more than dollars and cents.
"We looked at it many times [over the years] and it always got back to making sure that if we were going to start it we knew it was going to be successful long term. Not just one year, but long term," Davis told GolfDigest.com prior to the start of the USGA Annual Meeting in Manhattan. "And what's changed now is we have just seen this continued consistent growth in women's golf."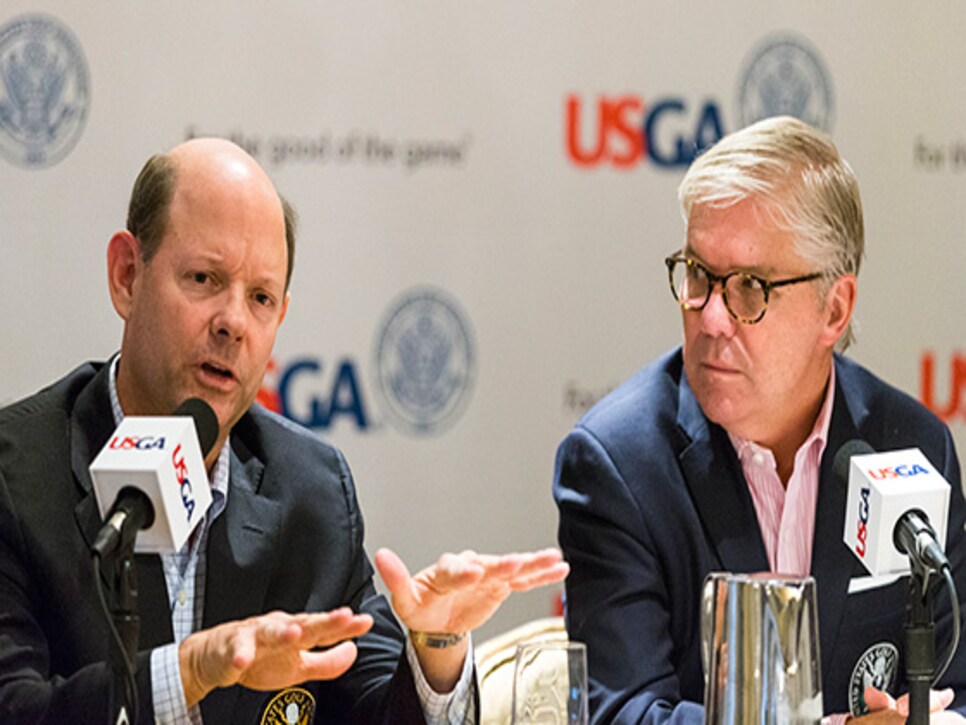 "So it really got down to saying we now have great confidence when we start this in 2018 that this will not only be successful championship but successful in perpetuity," Davis said. "That's the difference."
The championship will be a 72-hole stroke-play event that will have a 36-hole cut. Minimum age to play will be 50. Still to be determined is the host venue for the inaugural event, along with what time of year the championship will be played, field size and purse, along with qualifying procedures.
USGA president Tom O'Toole (above right) said that discussions about launching the championship got serious last June at the U.S. Women's Open at Pinehurst, with the Executive Committee formally approving it last November.
"Simply, the time is right," O'Toole said. "It serves a population of our golf community that is hungry to compete for a national title."