News
Why so many regular golfers loved Phil Mickelson's U.S. Open 'rake-gate'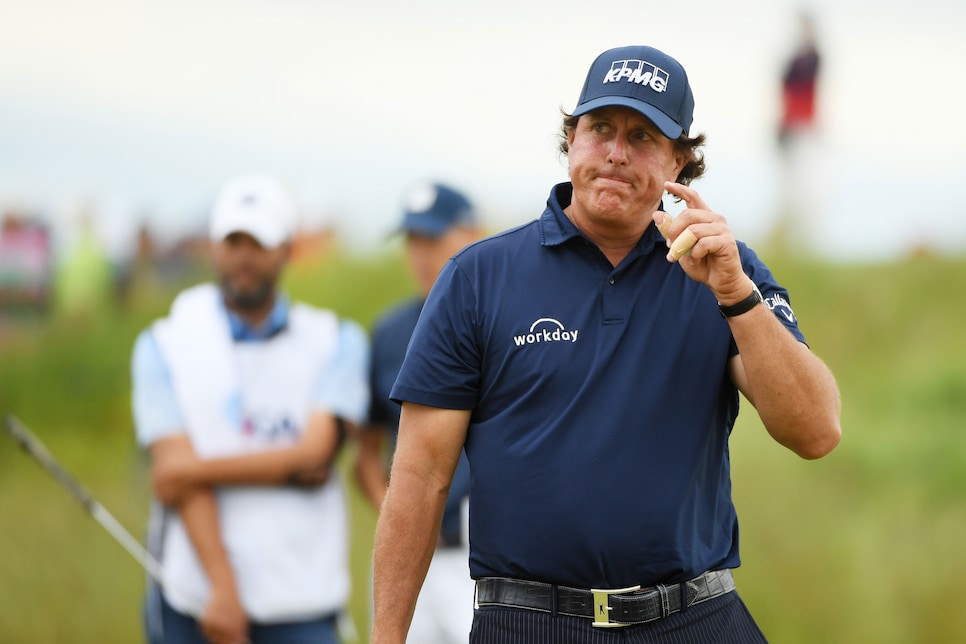 Ross Kinnaird/Getty Images
The saga surrounding Phil Mickelson's U.S. Open antics at Shinnecock Hills have stretched well beyond last Saturday afternoon. Five days later, there's still fascination with what the heck Mickelson was thinking when he ran after his moving ball and hit it back towards the hole before it rolled off the 13th green. The latest development comes by way of Mickelson sending out an apology through a select group of reporters, including Golf Digest's Dave Shedloski.
"My anger and frustration got the best of me last weekend," he said. "I'm embarrassed and disappointed by my actions … and I'm sorry."
The apology, no doubt, was aimed to quiet some of the grumbling over Mickelson's misdeeds and the stain they might left on him, the USGA and the game. At the same time, it might have perpetuated the divide between traditionalists who took offense at Mickelson's actions and others who related to Lefty temporarily losing his mind on the course.
The former group has been given the majority of the airtime throughout the week, but I think the golf world has collectively slept on the presence of the latter. Scan social media and you'll see plenty of casual golf fans who couldn't be less offended by what Lefty did. On the contrary: If anything, this entire thing has only endeared him more to so many fans.
Why? Over the years, Mickelson has managed to develop an image in the minds of many as an everyman-made-good. Not unlike the rest of us hacks, he misses fairways and greens, and his decision-making ranges from questionable to bizarre. It's been defined, in part, when compared to the man he has stood opposite throughout his career. Tiger Woods wasn't a golfer as much as he was a superhero. A generational talent with an aura of invincibility (which made his fall from grace all the more startling).
In contrast, even at his best Mickelson looked nervy under pressure, and the primary job of his sheer creative brilliance was to cover for other flaws in his game. "Phil Mickelson hits the shot of his life from behind a tree in pine straw while going for a par 5 in two during the final round of the Masters."
I mean seriously, what was he thinking?
Where Tiger's public persona tends to be disciplined and polished, Phil's is raw and honest. "I can't believe I just did that," Mickelson said famously after a series of unforced errors on the final hole of the 2006 U.S. Open ended his best chance of winning the only major that eludes him. "I'm such an idiot."
After his third round, Mickelson said he had always thought of using the Rule 14-5 like he did that day, but only now decided to actually do it. Suspend for a moment any desire to see this as an excuse to cover up a fit of anger, and take it on face value. Don't many of us think about doing things along similar lines? Marching into your boss' office and telling them off, or firing off that angry email? It's only when your emotion gets the better of you that people plunge into the irrational.
Now, consider it not as a calculated attempt at using the rules to distort the competition, but rather a momentary loss of composure from a man who was tired, annoyed and sick of making bogeys. Well, isn't that just a variation of something stupid we've all done. Snapped a club or thrown a club or taken your ball and marched home. As much as we love this silly game and all the beautiful moments within, it's at times completely and utterly infuriating. Often you can laugh it off. Sometimes it drives you a bit mad.
In light of Mickelson's apology, it seems more and more like he simply momentarily snapped. In that, it was an act so many people can relate to on a human level. It's why, when most fans look back on this in the future, it won't be with disdain. It'll be with a grin and a shake of the head. We've all been there, and we know how it feels. And so does Phil.