The Loop
Why Jordan Spieth's mind was on Michael Jordan, Michael Phelps, and. . . Cabo?
SOUTHPORT, England -- Earlier this week, Rory McIlroy credited his caddie for turning his British Open around. "You're Rory McIlroy," J.P. Fitzgerald told the four-time major champ. "What the f--- are you doing?!" But on Sunday, Jordan Spieth's caddie used a different four-letter word to jumpstart his player: Cabo.
That's right, Cabo. As in Cabo San Lucas, the popular travel destination in Mexico. Why was Michael Greller mentioning this tropical paradise during the final round of a major championship? Was Greller inquiring about #SB2K18? Was he giving Spieth warm thoughts on a chilly afternoon in England? Nope. He was referring to a trip Spieth made there earlier this month.
While on vacation, Spieth hung with a legendary crew that included Michael Jordan, Michael Phelps, Russell Wilson, and Dwight Freeney. And Greller wanted to make sure Spieth understood he's not just some fan who got his photo taken with some star athletes.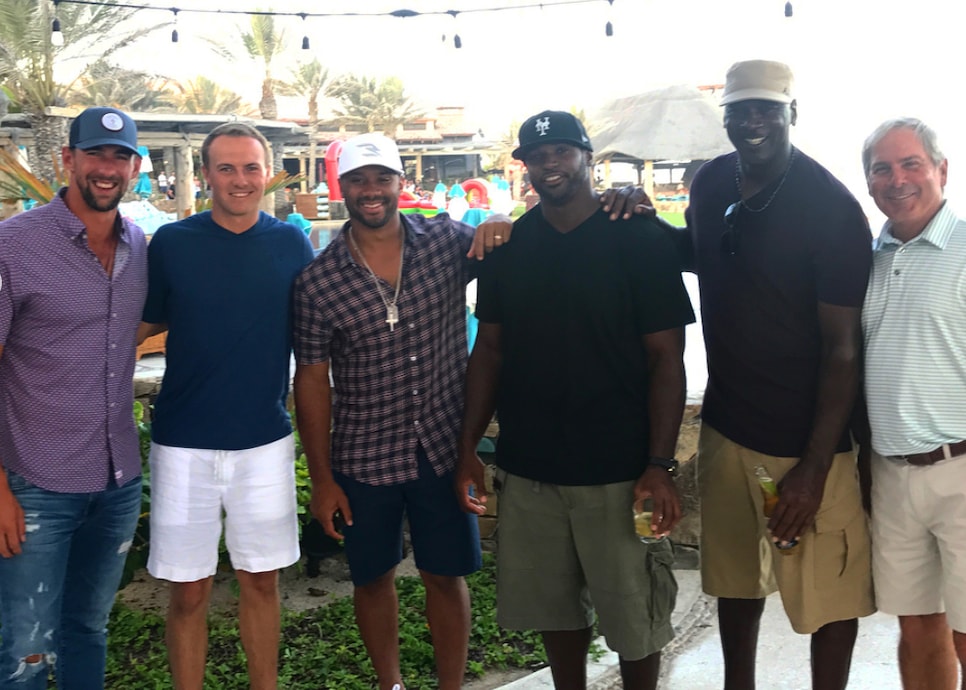 "Michael did a great thing today," Spieth said after winning the 146th British Open for his third career major championship. "He said, 'Do you remember that group you were with in Cabo last week?' He goes, "You belong in that group."
Spieth explained Greller gave him the pep talk on the seventh hole of an up-and-down final round that ultimately ended with him holding the same three-shot lead he had entering the day.
"He said 'do you remember that group you were with? You're that caliber of an athlete. But I need you to believe that right now because you're in a great position in this tournament," Spieth said. "This is a new tournament. We're starting over here.
"I think just a little bit of belief that you are, you know. Michael Jordan and Michael Phelps are the greatest to ever do what they did, and I'm not. But if you believe that you are, then you're almost as good as being that. And it's so hard in that situation to believe that, but just having just the slightest bit of belief in it makes you so confident. And I thought that that was so well said. It was just such the right time."
And now, the next time Spieth visits Cabo, he can bring along the claret jug. We're pretty sure his famous friends will want to take another photo.