The Loop
Why Els and others have turned their backs on the drinking life
KIAWAH ISLAND, S.C. -- The subject is drinking in golf. Yes, we'll get to John Daly. But let's start with Ernie Els.
Els has said he stopped with the wine and beer a month before the British Open. He has offered no explanation beyond he just felt like it. As for any cause-and-effect relationship between the abstinence and his first major championship in a decade, he has shrugged. Maybe. Maybe not. Who's to know?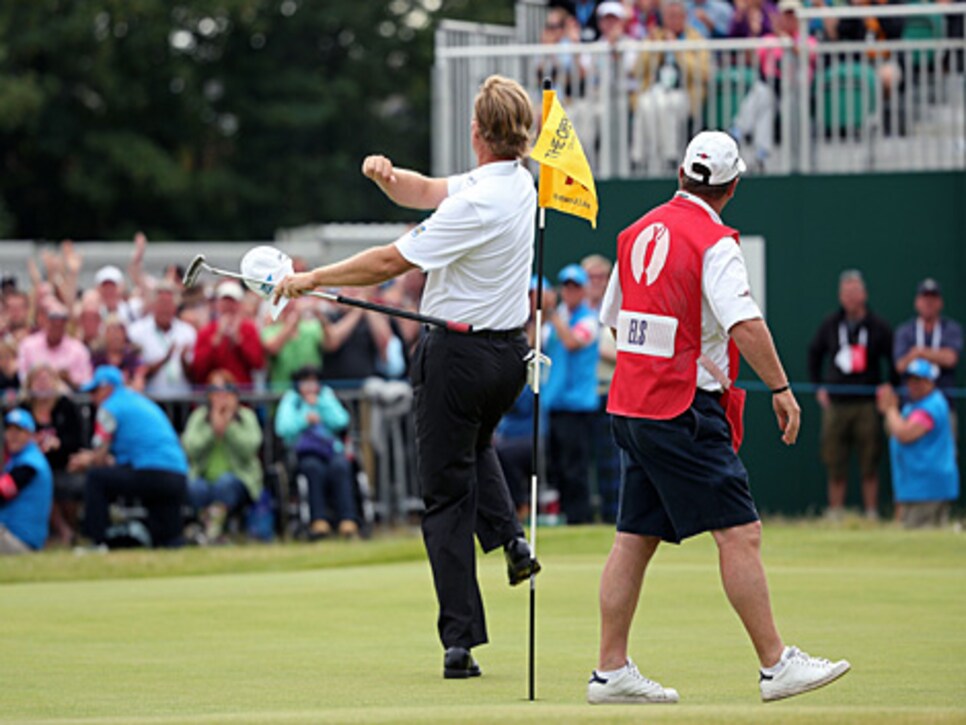 It's not as if the dry spell cured the putting yips that have long bedeviled him; even with the belly-putter crutch, he ranked 71st in the putting statistics at Royal Lytham. Nor has Els ever been a public nuisance and menace to himself. Still, if a man changes his ways and near immediately becomes the player he used to be, witnesses can believe what Mike Hulbert believes.
Hulbert is a veteran pro, 54, three times a winner on the PGA Tour, an assistant to captain Davis Love III on this year's U.S. Ryder Cup team. "It's like my Balance Bracelet here," Hulbert said, touching the hunk of rubber that may or may not bestow magical athletic qualities on its wearer. "If Ernie thinks stopping drinking helped" -- and why would he bring it up otherwise? -- "then it helps."
Other than rugby, which exists solely as an excuse for emptying kegs of beer into men shaped like kegs, golf is the only . . .
Wait. Other than baseball, where major league clubhouses are saloons decorated by nasty jock straps, golf is . . .
Well, other than football, where whirlpools become ice pools stocked with Budweiser . . .
OK, I give up. I was about to say golf is the only sport where drinking is institutionalized; at every country club, doesn't everyone birdie the 19th hole? That would allow me to suggest that pro golfers work in a liquid environment where the temptations of drink are ever-present. But two truths get in the way of that blather. They are: 1) all of SportsWorld is awash in adult beverages, and 2) if golfers ever made the tour a traveling cabaret -- Jimmy Demaret singing! -- it's no longer 1950 money at stake, it's this week's $8 million PGA purse with the winner staggering away under the load of $1,445,000. The cabaret has become a fitness trailer.
Dave Stockton has seen beer guts become six-pack abs. The 1970 and '76 PGA champion said, "There's not a caddie out here today who isn't in better shape than players were in my time."
"Even in my time," said Stewart Cink, a pro 16 years, the 2009 British Open winner, "I've seen the changes. There's waaaay more money, and players are bigger, stronger, healthier." Here he smiled. "We all know the bad things alcohol does. Nobody's figured out yet what good alcohol does for you."
"Among the elite players out here," said Jim Furyk, one of the elite, "it's difficult to believe there's anyone with a drinking problem. We're human beings, no different from anyone else, so there's probably a certain percentage of people who may drink more than others. But anyone who has a real problem is going to fall by the wayside out here."
Hulbert has been out here forever, seen everything. "It's definitely changed, even if we're only talking fitness," he said. "Out in Hawaii once, Stevie (Williams, then Tiger Woods's caddie) ran that golf course, like up a mountain, like it was the Olympics, and maybe Tiger ran it, too." (A pause to imagine, say, Roger Maltbie, even young, ker-lumphing up a small rise. I once asked Maltbie if we might talk about drinking in golf. He said, "Sure, let's go to the bar and do it.")
There's too much at stake now, Hulbert said, to put it at risk. "You don't go out to dinner on Wednesday nights anymore and have six beers," he said. "The next morning, you don't feel too good on the first tee." Hulbert cited Darren Clarke and Lee Westwood as pros who enjoyed beer by the barrel before deciding to mind their waistlines. "They'll still have a beer," he said, "but no one's getting sloshed now."
In that not-sloshed category, Hulbert even includes John Daly. "Did drinking stop him from elevating his game? Yeah. We saw him visibly shaking on the golf course. Did it keep him from making Ryder Cup teams and Presidents Cup teams? Yeah. But he's playing good now. Has he cleaned up his act? I don't know, but he's playing well now. It looks like he might have."
Ah, John Daly. The trainwreck of his own whiskey dreams. The 1991 PGA Champion, 1995 British Open winner, five times a winner on Tour, now 46 years old, eight years removed from his last victory. Here, a drinking story: This was at Dardanelle, deep in the outback of Arkansas, a day or two after the unknown Cinderella boy, the ninth alternate, had won the '91 PGA. Way he told it later, he'd arrived at Crooked Stick sleeping in the backseat of a car. Hung over most likely, because he was then, and forever after, as we would learn, a ferocious drinker.
I'd gone to Dardanelle to write up the wonder in his native surroundings. There he was at a card table outside a ramshackle clubhouse, signing autographs between chuggings of Miller Lite. I asked the drinking questions, about the backseat, the hangover, all that country-boy folklore already grown up around him.
Here's what he said, "Nope."
Then he lifted for my inspection a can of Miller Lite.
John Daly is here. It's his 21st PGA Championship appearance. Since that '91 victory, his highest finish has been T-29. The last four years, he missed the cut twice and twice withdrawn after the first round. His first-round tee time is 8:20 a.m. Stay tuned.