The Loop
Why Danny Willett went to the bathroom as soon as he found out he was leading the Masters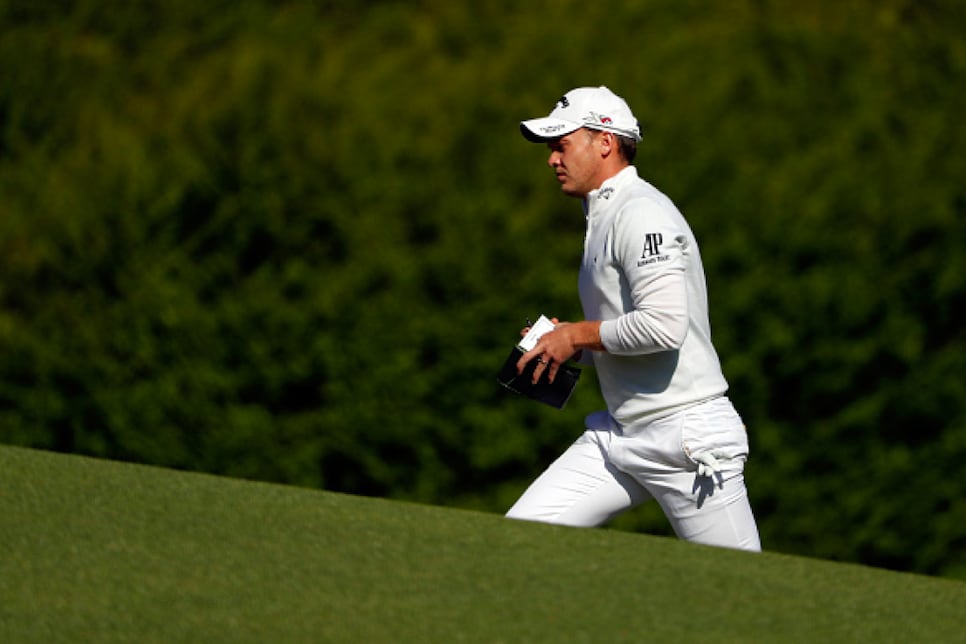 No, it's not what you think. Finding out that he was in the lead at the Masters late on Sunday wasn't too much for Danny Willett's stomach to handle. He was simply waiting for a restroom.
"I'd needed it for two or three holes but obviously at Augusta you can't just go against a tree like you would on your course back home. So I had to wait," Willett told The Telegraph. "I stood in the toilet and it was a good couple of minutes on my own and that was good in the grand scheme of things. It was time to think. I giggled. I thought this is what I practice for. I thought I just have to make five good swings and tried to break it down to be very simple. But first I just needed to hit good shot at 16 and make it happen."
Willett's port-a-potty pep talk worked. He hit it stiff on 16 to increase his lead and then made pars on 17 and 18 to finish off his bogey-free 67 and claim the green jacket. In the wake of this career-changing victory and a newborn son, Willett hasn't played competitively since, but he recently sat down with The Telegraph's Michael Vaughn for an entertaining interview.
Speaking of his new prized piece of clothing, Willett says it proudly hangs covered on the coat stand by the entrance to his house in England, but that he doesn't wear it as much as you would think. In part, because of all the attention it attracts.
"It's funny, when you win a trophy people come round and go: 'Ooh that's nice, can I touch it?' You have no problem with that, but I don't want people trying on my jacket," he said.
We don't blame you, Danny. No matter how many Masters you win, Augusta National only gives you one green jacket -- and it needs to be kept in good shape for when you have to return it to the club the following year.
Willett also said he's enjoyed the time at home with his family and he appreciates all the support, which includes letters from the Prime Minister, Jack Nicklaus and Arnold Palmer. Of course, earning a new set of fans also comes with new duties.
Willett is expected to make his return to tournament golf at next week's Players, an event he played for the first time in 2015. Better keep that hand loose, Danny. Something tells us you're going to be signing a lot more autographs on this trip.