The Loop
Who let the 'Dawgs out at the U.S. Amateur?
PINEHURST, N.C.--Will a University of Georgia golfer be holding the Havemayer Trophy come Sunday at Pinehurst No. 2? With two of the four semifinalists at the 108th U.S. Amateur Championship being Bulldogs, the chances aren't bad as fans of the Athens, Ga., school have more than just football to be cheering about of late.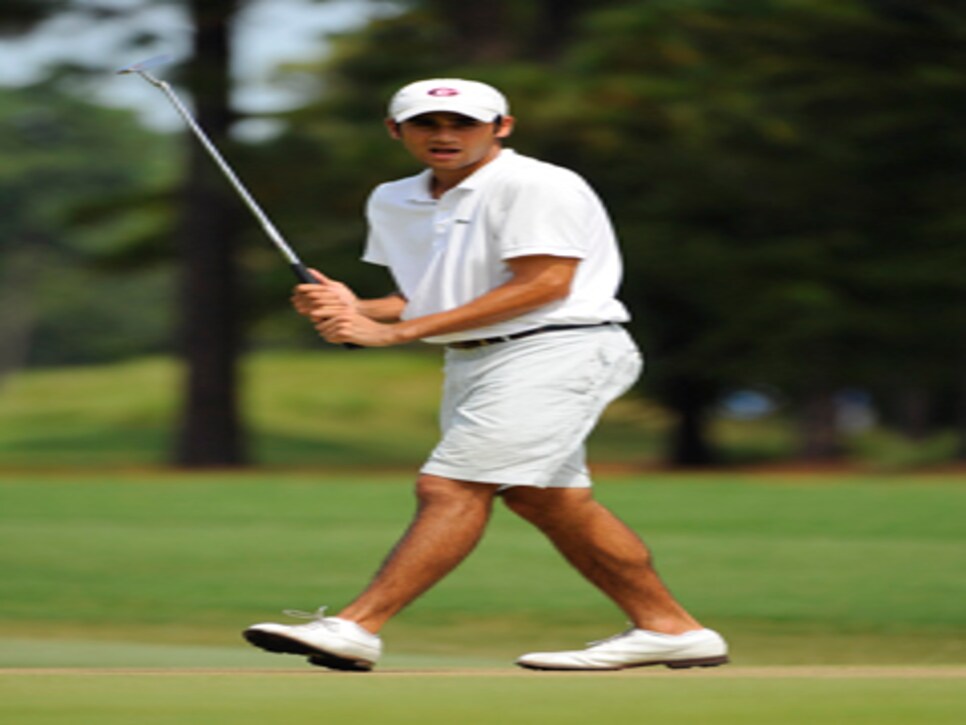 Both Mitchell (right) and Reed are dyed in the wool Bulldogs; Mitchell's dad, Jim, who is also caddieing for him this week, played baseball at the school. Asked if a Georgia player could win the Amateur or the top-ranked football team could win the national title, which would they prefer, Mitchell actually paused for a moment.
"Ouch," Mitchell said. "That is about the hardest question you could ask me right now. I would have to go with the U.S. Amateur. I mean it's fun to have your football team win, but I guess it would be really cool to have a Georgia Bulldog win the U.S. Amateur. That would be something special."
What was also special was the way Mitchell changed the momentum of his match with Holland. Two down playing the seventh hole after failing to get up and down for par on the sixth hole, Mitchell hit a bad drive into the right trees. Punching back to the out to the fairway, 40 yards short of the green, he proceeded to chip his ball in for a birdie while Holland made a par.
"I told my dad I was going to land it just short and I was going to take one hope and roll right to it," Mitchell said. "And I did it just like I planned. I went from [possibly going] 3 down to 1 down, really in one instant."
A birdie on the par-4 eighth squared the match, and Mitchell took the lead for good when Holland three-putted the par-3 ninth for a bogey. His good fortune continued on the 11th hole when he holed a shot from 152 yards for an eagle to go 2 up.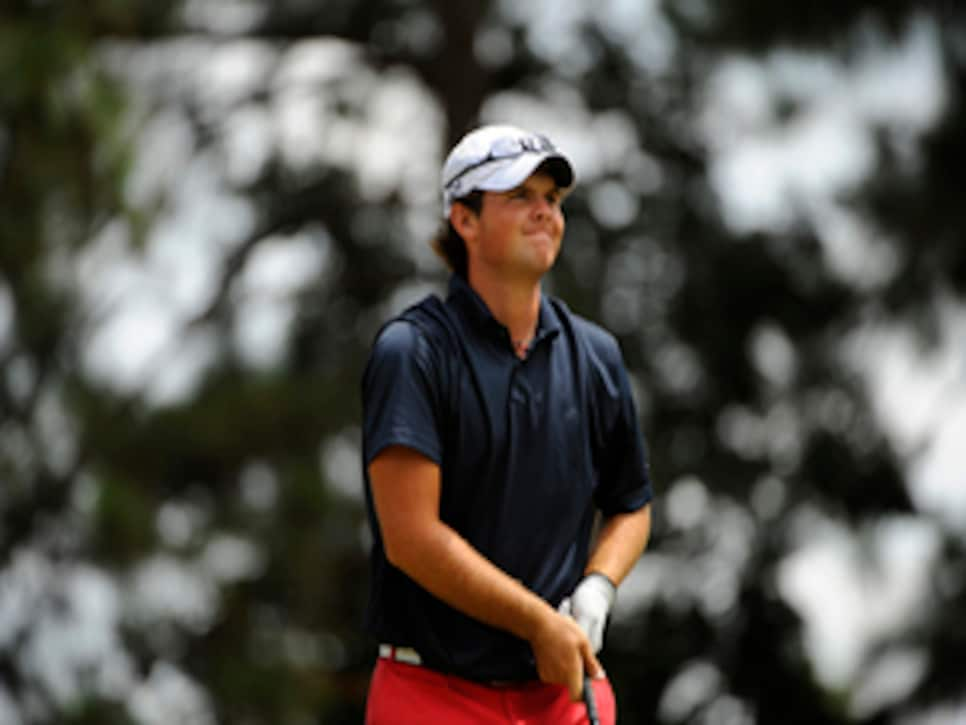 Reed, an 18-year-old from Augusta, Ga., felt some nerves at the start of his match with Hill, bogeying two of the first three holes yet remaining all square. A wedge shot from 115 yards to seven feet on the par-5 fourth set up a birdie that gave him a lead he would maintain for the rest of the match. Said Reed (left): "From that point, I basically just hit the ball a lot better and started making some putts and put the pressure on him rather than having all the pressure on myself."
Indeed, the pressure did seem to get to Hill, who lost the ninth, 10th and 11th holes with a double-bogey 5, triple-bogey 8 and quadruple-bogey 8.
"I hope it's two Bulldogs fighting it out at the end," Reed said.
In order for him to get there, Reed must beat New Zealand's Danny Lee in one of two Saturday semifinal matches. The recent Western Amateur champion's game wasn't as solid as it was on Thursday--he actually made three bogeys--but his five birdies were good enough to give him a 4-and-3 victory over Morgan Hoffmann.
Lee's day got off to a rough start when during his warm-up on the driving range he felt a click in his left shoulder. "I've never had anything like that before and I wasn't sure what to think," Lee said.
Medics gave Lee some massage treatments, put on some ice packs and gave him some Advil. Lee said at one point the family friend that has chaperoned him during the summer wondered if he might not be able to play the match, but that Lee never seriously thought about pull it. "I was going to play," he said.
Mitchell's Saturday opponent is Florida State sophomore Drew Kittleson, a 19-year-old from Scottsdale, Ariz., who knocked off two-time quarterfinalist Derek Fathauer, 3 and 2. Mitchell and Kittleson were in the same threesome during the first round of last month's Porter Cup, where MItchell shot a 62 en route to the tournament title. "I know him really well so nothing will surprise me," Kittleson said.
So how do you prepare for course as treacherous as Pinehurst No. 2 and its saucer greens? A few weeks in Scotland doesn't hurt, contends to Drew Kittleson. The collegian went on a trip with his Florida State teammates overseas earlier this month, playing several links courses, including Turnberry, Muirfield, Royal Troon, Prestwick, North Berwick, Kingsbarns and the Old Course at St. Andrews, where he shot a 64.
"We had a pretty unbelievable schedule," said Kittleson, who got back to the U.S. only three days before coming to Pinehurst. "I played really well out there and for about two weeks before then I was playing well, so I'm peaking at the right time."
*Photos: J.D. Cuban/Golf World