The Loop
Who is Bernd Wiesberger and why are we picking him to win the Open? An explainer
Jordan Spieth has no chance to win the Open Championship. There, I said it. Now, let's move on.
Fact is, I've developed a pattern, a program, a methodology, if you will, for choosing the winners of majors over the last few years. Spieth, as a matter of fact, was one of my picks. (It is immaterial to this discussion that while I have developed a system for choosing the winners of majors over the last few years, the winners I've chosen haven't actually won the majors I've chosen them to win.)
My method sometimes involves statistics, sometimes involves math and sometimes involves history. Sometimes they even involve logic. In the case of the Open Championship this year, I believe I've neatly involved all of those criteria. That is not to say what I've done here is valid or even predictive in any reasonable way. But it is, as I've said, neat.
Here's my thinking: Winning at the Old Course, at least over the last 20 years, heavily involves driving prowess and putting expertise. The "Champion Golfers of the Year" at St. Andrews since 1995 have all had the ability to hammer the driver. John Daly (1995), Tiger Woods (2000, 2005) and Louis Oosthuizen (2010) could when needed bomb it, reaching several par fours or downshifting to an iron or fairway wood off the tee without sacrificing too many yards. Even the relatively pedestrian Oosthuizen averaged 319.4 yards off the tee when he won the Open the last time it was played at St. Andrews.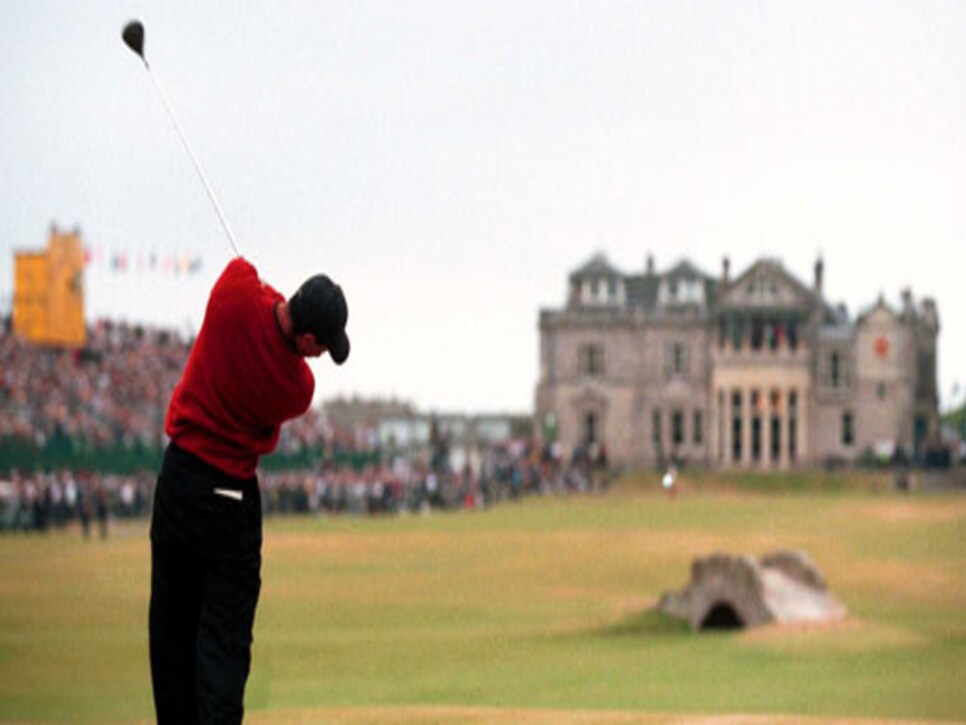 As for putting, Woods was one of the premier putters for nearly a decade, including his remarkable 2000 season, as well as in 2005 when he led the field at St. Andrews in birdie conversions on greens in regulation at a darn-near unconscious 39 percent (the field average was barely 25 percent). Daly ranked in the top 50 in putting on the PGA Tour (while outdriving the second-ranked player in distance by five yards), and while Oosthuizen was only a marginal putter statistically in 2010, the week of the Open Championship, he was the best putter in the field. The. Best.
(If you understand what I'm getting at here, then, well, you're either certifiable or, well, humoring me.)
Moving on, I then looked at the combined averages for these last four winners of the Open Championship at St. Andrews. (Naturally.) As usual, I came up with an average (turns out it is 24), and then I began the painstaking task of sifting through the current data to find the player that seems to match my own special mixture of numerology. (As we've seen before, my own special mixtures often lead to a kind of mental botulism.)
But then, as I usually do, I added a clinching bit of bias to the statistics. Much has been made historically of the unique challenge of the Old Course, how its relatively plain design can be deceiving in its difficulty. Just five years ago, you'll remember how Rory McIlroy zipped around the layout in 63 during a benign first round only to shoot 80 in his second round when the winds got nasty.
It's been one of the debates leading into this year's Open that Spieth has compromised his chances by not getting to St. Andrews to better acquaint himself with its nuances. I'm here to tell you, however, that in Spieth's case it wouldn't have mattered. Why? Because for the last 50 years, the winner of a St. Andrews Open Championship has been someone who's played tournament golf on the Old Course before. Spieth may have read books and studied yardage books, he may have a steady caddie and an astute instructor, and he even may have played the Old Course on his in-home golf simulator dozens of times, but the winners here have played the Old Course for real.
Even John Daly had relatively loads of experience on the Old Course prior to his victory in 1995. You'll remember that Daly was part of the victorious U.S. team in the Dunhill Cup matches in 1993, where he played five rounds on the Old Course in four days. Hanging with Payne Stewart and Fred Couples, Daly wowed the crowds in St. Andrews with his booming drives, his love of McDonald's hamburgers (there's an infamous image of Daly on the steps of the R&A clubhouse, face buried in a cheeseburger wrapper) and the fact that he wore jeans underneath his rain pants that week.
In fact, not since Tony Lema in 1964 has an Open Champion been an Old Course virgin.
And it's not going to happen this year, either. Like Spieth, my pick is playing in his third Open Championship. Like Spieth, my pick is coming off a recent victory. And like Spieth, my pick has won his home country's national open championship. Let's also add that he plays Titleist clubs like Spieth and wears Under Armour clothes like Spieth. All of which means either my math is right or I've got my signals crossed. Of course, it could be both.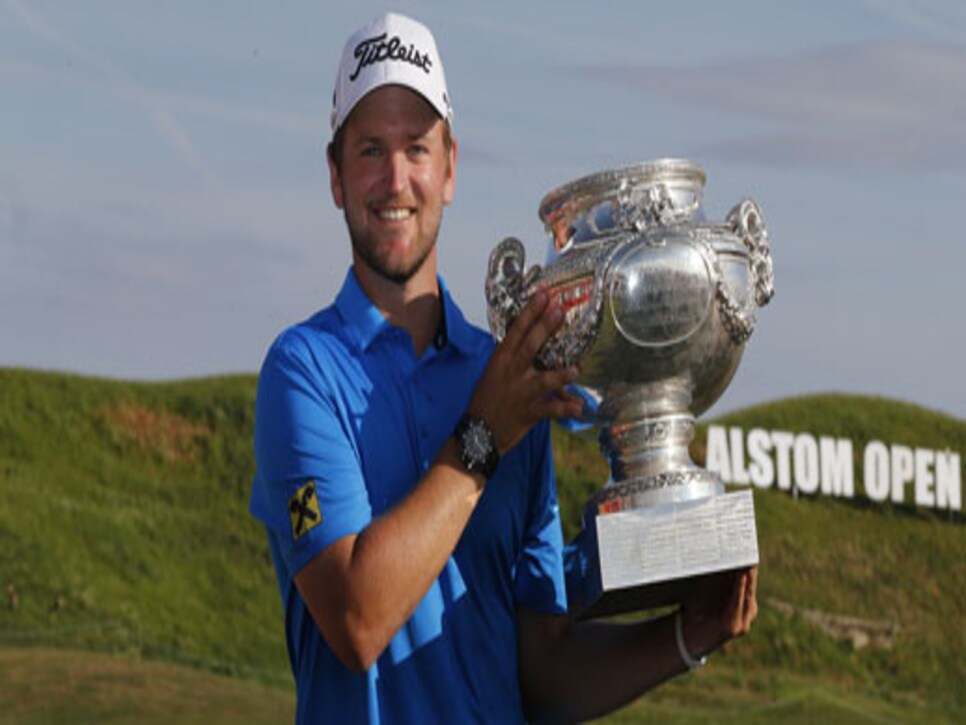 But my pick is unlike Spieth and every other major champion before him. Because my pick would be the first Austrian to win a major. Bernd Wiesberger, who some might remember was part of the fireworks that Sunday evening in August last year when Rory McIlroy won the PGA Championship, will win the Open Championship. His average ranking on the European Tour in driving and putting average is 24. Voila. (OK, full disclosure, Byeong-Hun "Ben" An also totaled 24, but his only previous appearance on the Old Course was as an amateur in 2010 when he missed the cut by shooting 72-79. Not good enough compared to Wiesberger's record there.) By comparison, Phil Mickelson (26), Justin Rose (21.5) and Branden Grace (17.5) were close. Spieth would have been in the discussion (38), but the zero competitive rounds at the Old Course means I think he has zero chance.
Wiesberger is coming off an impressive victory at the Alstom Open de France just a few weeks ago. More importantly, he has the skills you need at the Old Course. His driving distance average is just shy of 300 yards (ranking 36th), and he currently ranks 12th in putting average on the European Tour.
But most telling, Wiesberger has played the Old Course in the Alfred Dunhill Links Championship the last four years with two top-15 finishes the last two years. That's a better record than Louis Oosthuizen had at this event prior to his Open Championship win. And one more thing, Wiesberger has the same number of letters in his last name as Oosthuizen and the same number of letters in his first name as Tiger Woods.
And given that Terminator Genisys just opened to abysmal reviews, Austria and Austrians are in need of some kind of a comeback to save us all from Arnold Schwarzenegger. I nominate Bernd. He's my favorite Austrian since Wittgenstein (upon whose infamous "Private Language Argument" I based my senior thesis in philosophy back in 1986 at Washington and Lee University, but I digress).
Just recently Wiesberger told Kleine Zeitung, the largest regional newspaper in his home country, "I am cautious about my goals, but one thing is clear: There are goals that we have. They are ambitious, but possible."
Ambitious but possible. That's my process in a nutshell.