The Loop
Who are these guys? They might not remain anonymous long
JOHNS CREEK, Ga. --  The way it works at Mystery Guest Central is that reporters gather with their notebooks, pens, and teevee cameras in a patio area outside the scoring trailer. When the unknown golfer has signed his scorecard -- in this case after the third round of the PGA Championship -- he is asked to do interviews with those of us gathered for the purpose of committing literature.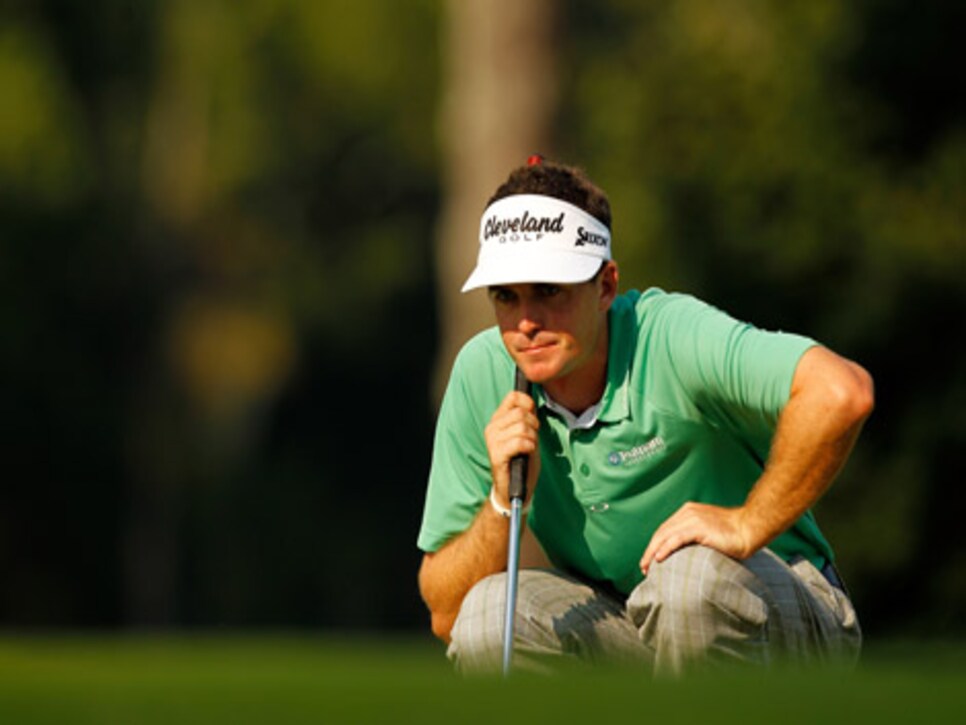 *"It's going to be really fun," Bradley said of Sunday's final round. Photo by Getty Images
One player who was steamed by his poor finish Saturday -- not naming names here, but his initials are Phil Mickelson -- strode past us stone-faced without so much as a word rather than explain how a man of his immense skill could so butcher important holes.
Without Mickelson's familiar smile and sunny optimism, we were left, in three or four cases, to guess exactly who we were talking to and why precisely we were talking to those people. It was important, after all, to report which players held the lead going into Sunday's final round of the year's last major championship. The names on scoreboards around Atlanta Athletic Club were names seldom printed in the major publications of America, one Brendan Steele and one Jason Dufner. The boards told us those worthies shared the lead at 203, seven under par, with 17 players within six shots on a course where anything can happen and in a hurry. Sunday's coming down wild.
Anyway, there was the CBS announcer, Peter Kostis. He was interviewing someone in a white shirt with "Epicor" on the front. The young man was tall and lean with the jangling skeleton look of a kid who first whipped a drive 300 yards when he was 13 years old. Maybe, if we listen in to Kostis, we can catch a clue to the mystery guest's identity.
"Brendan," Kostis began . . .
Great. Brendan Steele. Factoids: shot a 66 Saturday, 6-foot-2, 175 pounds, 28 years old, a rookie on the PGA Tour, already a winner (at the Valero Texas Open), playing in his first major. So-so season otherwise, missed the cut in 10 of 21 events. Most of his education, the word on tour is, has come in early-week money games with the aforementioned Mickelson. As for leading a major on a Sunday, with Mickelson seven shots behind, Steele said, "This is something else . . ."
He moved to a Sirius radio reporter, there saying, "This is out of my wildest dreams," and, "Phil taking me under his wing has been invaluable, I can't thank him enough." Then, quickly ushered to a podium set up for the dinosaurs who insist on keeping print alive, Steele told the ink-stained wretches that he imagined the wait to Sunday's late tee time will be "an anxious time," but he's ready because, "All I can do is do the best that I can do," which all mystery guests have said before every Sunday round in every major, leaving for us to imagine what that best will be under unprecedented pressures.
Oops, two guys in green shirts came out of the trailer. And Kostis has gone.
Worse, they were being interviewed simultaneously. The chunky one in the dark green shirt stopped to kiss a pretty woman and moved on to the Sirius microphone where he said, "I was confident in my ball-striking." Turned out to be Jason Dufner. Factoids: 34 years old, 5-foot-10, 180 pounds, never a Tour winner, in here on a streak of four weeks missing the cut.  But his ball-striking produced a 68 Saturday and he told a SkySports teevee reporter he's eager to "see how I stack up against this field and this golf course," which all the mystery guests say.
The tall, lean one in the paler green shirt was Keegan Bradley. Factoids: 25 years old, 6-foot-3, 190 pounds, a rookie on Tour, already a winner (HP Byron Nelson). After shooting 69, Bradley was telling Sirius, "I feel great, especially after starting with a double bogey, and I have to say I was inspired seeing my buddy, Steelie, doing his thing." Later, in a full-fledged press conference with the assembled literati in the media center, he said, "It was cool looking up at the leaderboard today and seeing Steele make birdie after birdie. It was calming to me, actually. . . . If we would have said we'd be in a couple of the final groups on Sunday at the PGA, I think we both would have kind of laughed at each other."
And then he said, "It's going to be really fun."
Which made him my favorite mystery guest ever, because what can be better than being a rookie playing for a million dollars and the chance to become less of a mystery and knowing it'll be a blast?