News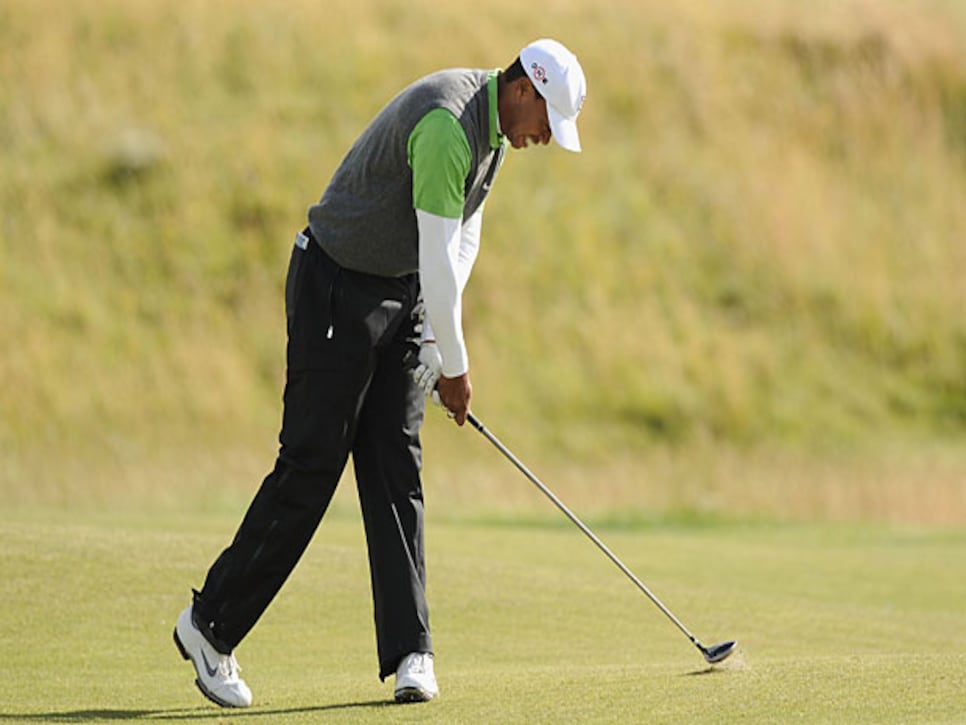 Tiger Woods' struggles in 2010 have opened the door for others at major championships.
Sam Weinman, Senior Editor, GolfDigest.com Welcome everybody and thanks for joining us for our PGA Championship roundtable. Before we look ahead to Whistling Straits, let's first look back at what we saw at St. Andrews, where the runaway winner was a player most casual golf fans would have a hard time identifying. The U.S. Open winner, Graeme McDowell, may have been a bit more of a known entity, but I doubt he was on many of our picks list that week. Gentlemen, what's going on out there?
Jaime Diaz, Senior Writer, Golf Digest and Golf World: It certainly speaks to the depth in today's game. I think the uniformity in swing technique, the dedication to fitness that almost all the players have, the increased understanding of the mental side, and players maximizing their particular idiosyncrasies with super-customized equipment makes the difference between the very best and the rest smaller than ever. In a way, it's turned the top of the game into more of a putting contest than ever.
Ron Sirak, Executive Editor, Golf World: It probably also speaks to the fact that we in America are too quick to overlook the golf being played in the rest of the world, because both McDowell and Louis Oosthuizen weren't necessarily surprises to fans overseas.
E. Michael Johnson, Senior Editor, Golf World: Ron's right. Just because they weren't on our picks list doesn't mean they're not great players. The men's game is deep in talent.
Craig Bestrom, Senior Editor, Golf Digest: This isn't a recent trend. It's professional golf as we've known it most of our lives. Oosthuizen and McDowell are no different than Cink and Yang. Cabrera and Immelman. Weir and Zach Johnson. Charles Coody and Lou Graham. Hopefully the newest major champions last a little longer than Todd Hamilton and Michael Campbell, but if Tiger isn't dominating, there are 100 guys who can win at every major.
Tim Rosaforte, Senior Writer, Golf Digest and Golf World: We're going to see more of the Oosthuizens and McDowells as long as Tiger is in this holding pattern. If you know enough about global golf, these victories shouldn't be surprising. If you're a general sports fan, you rightfully say, "Who are these guys?" My wife couldn't watch the British Open and she loves watching majors on TV. She's a tennis fan and I said, "It's kind of like one of the grand slam events without Federer and Nadal. She came back saying she'd take the golf equivalent of a Djokovic.
Diaz: I think the big X factor these days is desire. Because so many players make such a comfortable living in today's game, it takes a special person to keep pushing like the old guys -- who weren't getting rich unless they were winning -- did.
Bestrom: There's the best point so far. Too many also-rans are making millions. During a Golf Digest meeting yesterday, I heard that Matt Kuchar and Jeff Overton are having GREAT years. Great? Since when is ZERO wins and a few top-10 finishes great?
Johnson: Kuchar isn't an also-ran. He might not have any wins this year, but since the end of last year he has the most top 10s of anyone on tour (10 in his last 21 events). Anytime you're top 10 nearly half the time, you're not an also-ran.
Rosaforte: Kuchar's an overachiever, not an also-ran.
Weinman: Granted, a lot of the parity on tour this season is a reflection of one guy in particular not being close to where he's been in the past. Tiger's ball-striking may have indeed been better at St. Andrews, but on the greens he appears lost. Where do we all see him by season's end?
Sirak: I've walked the majority of holes Tiger has played this year and while he is hitting it better, I don't think he is hitting it as well as he says he is. At least that's not what I am seeing. Combine that with all those the putts that aren't falling, and I think this is a long-term repair project. I say he doesn't win this year.
Johnson: Don't you guys think this week at Bridgestone might speak volumes? The man has won an awful lot there in the past (seven times). A lackluster finish there could indicate a lost season.
Bestrom: If he qualifies for the Tour Championship, Tiger probably only plays six more PGA Tour events this year. It's not at all far-fetched to say he won't win in 2010.
Rosaforte: I disagree. Bridgestone, TPC-Boston, Cog Hill, East Lake. He's a long way from the missed cut at Quail Hollow and the subsequent WD from the Players. He's trending toward a W.
Johnson: Ten bucks says he gets one.
Rosaforte: I should add that I don't see it happening at Whistling Straits. I played there on the Friday before St. Andrews and anything off the fairway is almost unplayable. Maybe he's not far off, but on a course as penal as this one, he'll be lucky to play on the weekend. Besides, I still think Tiger's knee is hurting almost as much as his head.
Sirak: I'm not sure I believe Tiger when he says he is 100 percent physically.
Diaz: I don't see Tiger limping in any way, or any hold back in his swing. I think he's fine physically. What I see hurting him more than anything are the momentum-killing mistakes -- putting and otherwise -- that he used to be the very best at avoiding. That all speaks to a lack of competitive toughness. I think that will come again, but it's going to take time. Probably beyond this year.
Bestrom: Whatever the problem, Tiger struggling isn't good for golf. Which brings up the question: How can golf get back into the first five minutes of SportsCenter?
Diaz: Except for majors, it shouldn't be on the first five minutes. It takes a genius doing genius stuff. Tiger is the only guy like that, and they only come around five times or so a century. Sorry, Phil isn't one of them.
Weinman: You need sustainable storylines. You can't have a guy win a major and then disappear for months. Whether it's Louis Oosthuizen or Tiger, people need context when they see golf. They need to know the guy in contention now is the same guy who tore apart St. Andrews last month. Otherwise it's just a bunch of names and good-looking swings.
Diaz: The problem is, golf is the hardest sport in which to sustain. Everyone except the really special ones are in-and-outers. Nature of the game.
Sirak: ESPN is all about names, and Tiger is the only name in golf. Perhaps if Lefty changed his name to Lebron Mickelson.
Weinman: Moving on ... The PGA is back to Whistling Straits for the second time in six years. In fact, outside of the Ocean Course at Kiawah in 2012, the PGA will be played at a lot of courses where it's been fairly recently. The U.S. Open, with Merion (2013), Chambers Bay (2015) and Erin Hills (2017), is a tad more adventurous. Where else should the USGA play a U.S. Open?
Sirak: Are we talking pure golf or do we have to take into consideration room for a zillion corporate tents?
Weinman: Wish list means you decide, within reason. It has to have at least some room, but it could be a "boutique" major like the USGA is shooting for with Merion.
Johnson: I've played Chambers Bay and Erin Hills. Neither deserves an Open. I'd love to see Los Angeles CC's North Course hold an Open. But it will never happen.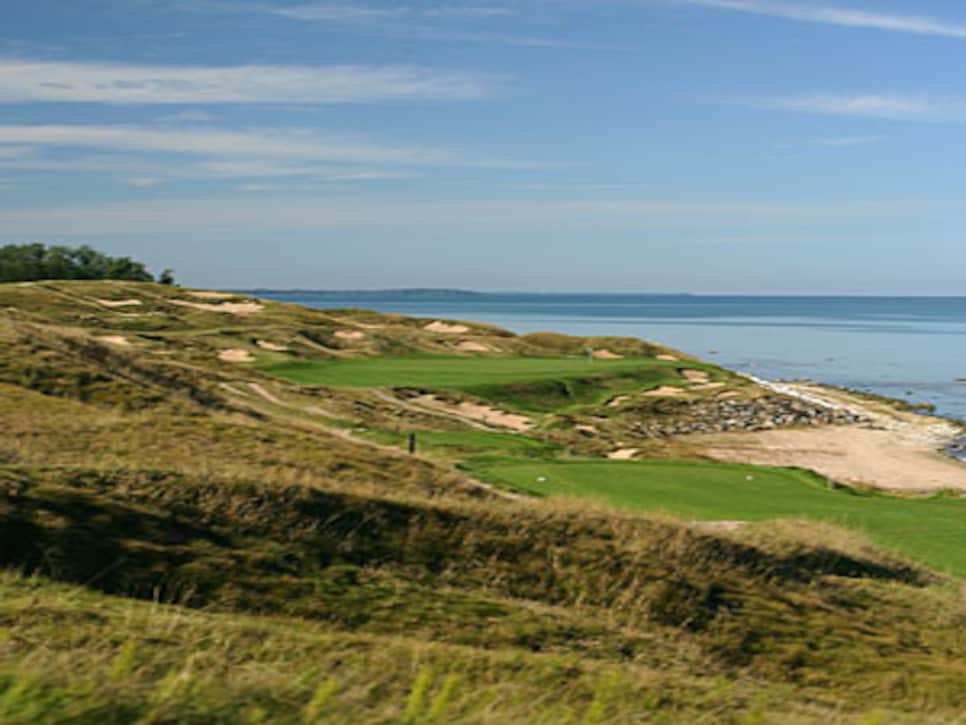 Bestrom: How about an 18-hole composite of the 72 holes in Bandon, Oregon?
Diaz: I love Bandon, but how can you hold a tournament there?
Sirak: Bandon is what I was thinking of when I asked about corporate tents. Not to mention roads in and out and hotels and restaurants.
Johnson: If you can hold one at Erin Hills, you can hold one at Bandon
Diaz: Man, it takes six hours to fly there from SAN FRANCISCO.
Bestrom: How about Pine Valley? Isn't it a perennial No. 1 or No. 2 course in the country? Enough with the mystery. Let's put it on television.
Diaz: So many of the great courses are either too short or don't have the infrastructure. There's a solution to this, but it remains the elephant in the room.
Johnson: Oh, let me guess. The ball? Are you getting hot and bothered by the fact the USGA is going to conduct a test with Canadian Tour players using a short ball in the next couple of months? A short ball could be on the docket.
Sirak: I surrendered on the ball discussion 10 years ago.
Diaz: I'm past hot and bothered. All I can say is that when Shinnecock, Pebble and St. Andrews start to play rinky-dink, something is wrong.
Johnson: Not me. I'm all for letting them blast away. It's a sport -- where physical prowess should count. I don't care if they shoot 20 under at Augusta or Pebble or St. Andrews. I know some people are in love with par. As mortals we struggle with achieving it. But the best in the world can beat it up all they want as far as I'm concerned. Pebble is still beautiful. St. Andrews is still historic regardless of the winning score.
Diaz: It's not about par, it's about producing the golf that tests the best in the game in the most interesting way. If it's wedge or short iron to everything, that diminishes the interest of the play for me.
Johnson: Was Tiger's win at the Masters in 1997 not interesting? Were his wins at St. Andrews not interesting? Lots of wedges and short irons in those wins.
Weinman: Sounds like a good time to mention the 59s by Paul Goydos and Stuart Appleby, and the 60s by Steve Stricker and J.B. Holmes. And the 17-year-old who shot 57 in the Alabama boys junior. Is this good for golf, bad for golf, or does it fall somewhere in between?
Johnson: I'm not sure how you can have a problem with a player making a nondescript PGA Tour event exciting, which is exactly what Stuart Appleby did with his closing 59 at The Greenbrier. As long as it only happens a few times a year it's good for the game. Heck, it's great for the game.
Rosaforte: Agreed. Let's put it this way: Yani Tseng and Bernhard Langer didn't make SportsCenter or the front page of USA Today for winning majors on their tours, and there's no way the Greenbrier Classic would have received the attention it got if Appleby had shot 69 on Sunday to win a B-List tour event. Shoot me an e-mail when they're shooting these numbers in majors, and then we can all lament how equipment is ruining the game.
Sirak: The other side to consider is this might be more than just technology related, and maybe a Roger Bannister-type thing. Once he broke the four-minute-mile barrier, everyone did it. Do players have a new belief system about what's possible?
Diaz: They probably do. If you're looking for another sports analogy, it's also like a decade or so ago in baseball when a bunch of second basemen were hitting 40-plus home runs a year. Sure, people loved home runs, but so many balls going out of the park devalued the accomplishment of what Ted Williams always called the most difficult act in sport. The reason 59 is such a magic number is that near-perfect golf is required. These days, a top tour player who is really on is longer and straighter than ever, which on a course that isn't an absolute brute leaves him a ton of wedge approaches. If he's on with those, he has a bunch of eight-footers for birdies. That will add up to more scores in the low 60s and the not-infrequent 59. If that's what you want modern golf to be, fine. Personally, I prefer a 59 that requires more than just a good day with a handful of clubs.
Weinman: What's interesting is we're seeing these scores in a year when some predicted players would be hampered by a new groove rule. Was talk of the rule overblown? Other than confusion, has there been any real impact?
Bestrom: What changed? And how did it affect anything? Is that why Tiger hasn't won anything this year?
Diaz: The groove rule is proving to be one of the least relevant -- especially for the trouble it caused -- rules ever enacted by a sports body.
Johnson: Bingo. You may have noticed Jaime and I tend to differ on equipment discussions, but we're in lockstep on this one. It's been a futile exercise.
Sirak: I think it was a smokescreen to create the illusion of doing something while not addressing the real issue, sort of like airport security lines.
Johnson: You know how it makes no difference? The only references to grooves at the British Open were by Tiger Woods -- about his putter.
Weinman: Let's get back to players. Of the promising young players -- Rickie Fowler, Rory McIlroy, Ryo Ishikawa, Dustin Johnson, even Anthony Kim -- who do you see edging out in front of everyone else.
Sirak: Ishikawa. Everything about his game is solid and he is on a mission to be the first Japanese man to win a major championship. He seems to be grounded enough to use national pride as a positive and not a negative.
Rosaforte: He'll burn out before he hits 20.
Johnson: If he stays healthy, I like McIlroy. He plays golf. He hits shots. Having an injury earlier this year causes pause with someone so young, but I like him a touch over Fowler and AK. And while we're at it, how about a PGA prediction? I'll take Kuchar.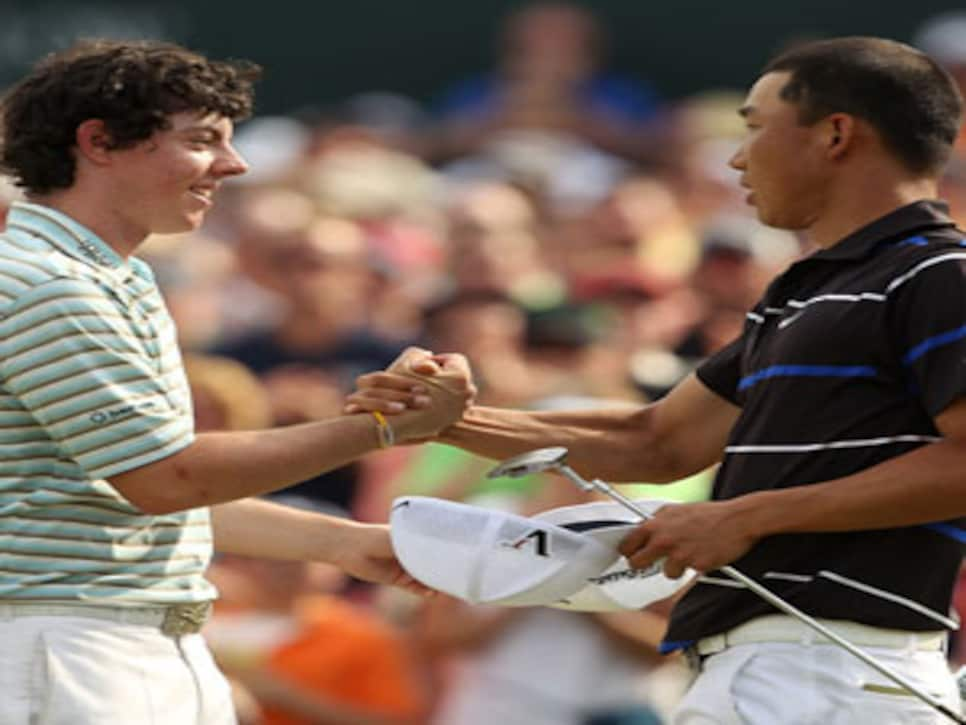 Diaz: To me, for all their pluses, each has at least one significant minus that keeps me out of the cheering section. McIlroy has the most weapons. In full flight he's young-Tiger-like. The trouble is he seems kind of loosey goosey -- in his focus, in his body language, and especially on the greens. He needs at least a dollop of that Nicklaus/Woods type competitive seriousness that is necessary to hold up under the big pressure. Johnson is intriguing. If he can pull a Watson and build positively on what happened at Pebble, you might have a world-beater.
Rosaforte: Love reading Diaz, because you never know when he's going to throw in a dollop reference. I'm going with Jin Jeong, winner of the British Amateur, the silver medal at the British Open, and one of the South Koreans presently holding the world's three major amateur titles. That's why we brought back Sirak to the PGA Tour from the LPGA. Because he has so much experience interviewing Korean players.
Bestrom: Anthony Kim can -- and will -- win. If he can stay healthy, a big IF, he's the next great player.
Sirak: You don't have any work-ethic concerns about AK, Beastie?
Bestrom: I'll take talent over work ethic every time in golf. I think we'll all agree that Phil Mickelson's 38 wins, four majors and No. 2 world ranking are from talent, not work ethic.
Rosaforte: I don't think Kim's issue is staying healthy. It's staying focused. On golf.
Diaz: If AK decides he want to be great more than cool, he's got a shot.
Weinman: Kim coming back from his thumb injury this week is something worth watching, especially if you're in charge of the U.S. Ryder Cup team. Not to get too far ahead of the hype, but how's Corey Pavin feeling right about now?
Sirak: Pavin should just remember the U.S. side playing really well without Tiger in 2008. His absence might just free the young guys to let their real personalities come out.
Diaz: This is a big generalization, but seems to me that the young international guys tend to their knitting better than the young American guys, who seem more susceptible to the star label. Might be unfair to say, but I haven't seen as much focus, and certainly not results, from the young American guys as far as filling the holes in their games.
Rosaforte: I agree the concern is young American players in position to make the team have not shown an ability to close the door. I'm talking Jeff Overton, Bo Van Pelt, Ricky Barnes, Nick Watney, Rickie Fowler, even everybody's favorite son, Matt Kuchar. Then you look at how stacked the Euros are, and the cold, wet weather in Wales. As much as Corey is the ultimate bulldog, it'll be hard to avoid a beat-down.
Diaz: Actually, I think Pavin should feel fine. Even considering the latest results, there is next to no difference in the talent levels of two teams. It's going to come down to who is on that week, and the home crowd makes the biggest difference in bringing that out. That part is out of the captain's hands.