News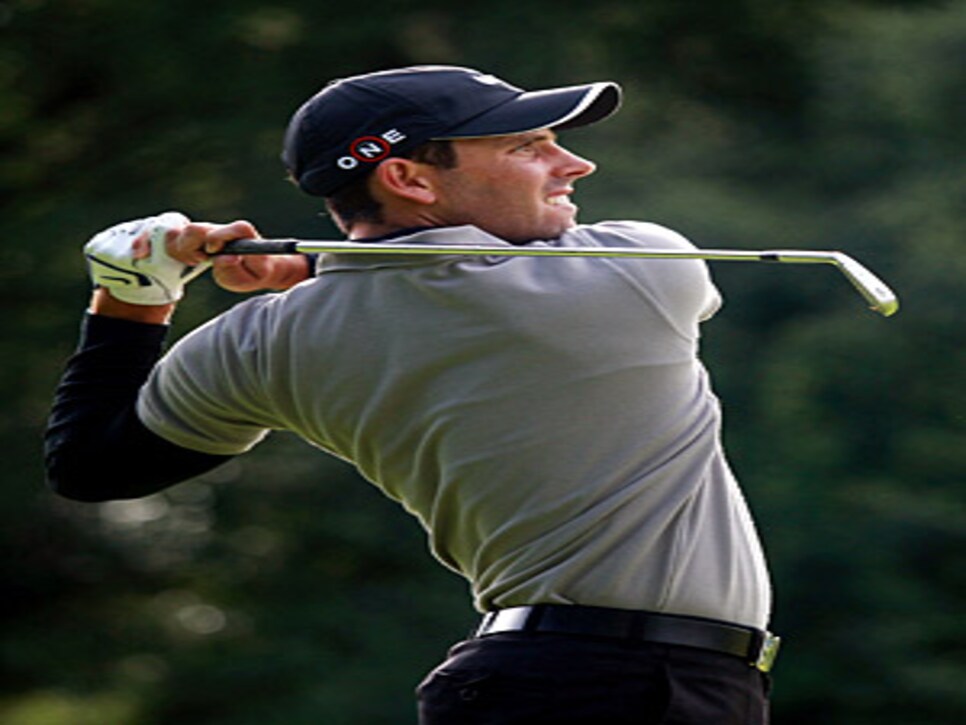 Could Charl Schwartzel follow in the footsteps of his friend and countryman Louis Oosthuizen as a major winner?
Louis Oosthuizen might have the makings of a one-hit wonder, but the South African at St. Andrews also exhibited the type of detached calm that was a trademark of countryman Retief Goosen -- who went on to win another U.S. Open.
And when Graeme McDowell won at Pebble Beach at 30, he was actually a more accomplished player at that age than Padraig Harrington was at the same point.
If there is not perspective in that going into the 92nd PGA Championship at Whistling Straits, then listen to the words of swing coach Pete Cowen, who works with each of the last two major winners. "Come back to me in 10 years time and see if they're one-hit wonders," Cowen said from his base in England. "If they were, the general public was right, but you can't say that until you've given the guys a chance to perform at the highest level again. I'd like to see them in the mix again, and I'm sure we will see them very, very shortly. We'll see what happens, see where that takes them to."
Oosthuizen, 57th in the world at the time of his victory, and McDowell, ranked 39th, both channeled their experiences from the courses they grew up on at home. For Oosthuizen, the heavy winds and linksy bounces at St. Andrews were not far removed from his native Mossel Bay. For McDowell, the coastline and climate of Pebble Beach was reminiscent of Portrush.
But while Oosthuizen missed two straight cuts coming into the British Open, McDowell was coming off a win. with weekend rounds of 64-63 in the Celtic Manor Wales Open. Both players will be tuning up in Akron, Ohio, this week for the WGC-Bridgestone Invitational at Firestone.
"If there is such a thing as natural talent, or nurtured talent, Louis Oosthuizen has it in abundance," Cowen said. "The only thing missing before the British Open was a sense of laid-backness. I almost saw that when he did get going it would be an asset; he proved that in the amount of times he won that going away in South Africa. Like Goosen, the assassin in him doesn't allow anybody in. Louis would never push his faith down everybody's nose, never mentions it to be fair, but that also helps. He feels if it happens, it will be him that wins. If it doesn't so be it."
Both players have backed it up. Oosthuizen played well through 54 holes in the Scandanavian Open, finishing T-4 with a final-round 73. After two weeks of celebration, McDowell made the cut at the Barclays Scottish Open then followed up with a solid performance at St. Andrews, finishing T-23 despite a third-round 76.
"McDowell is a different kettle of fish," Cowen said. "He's brimming with a confidence and a calm people don't see. He's always been a real gritty competitor and had an inner desire to be the best he possibly can be, whatever it takes, and work at it to do it. Also he enjoys it along the way."
There hasn't been much enjoyment in the careers of Lucas Glover, Stewart Cink and Y.E. Yang since their major victories in 2009. Glover's best finishes since the U.S. Open at Bethpage have been in two of his biggest events, a T-5 in the PGA at Hazeltine and a third at this year's Players. At No. 33 in the world, Cink was the highest ranked of the first time major winners, but there hasn't been much positive golf news to post on his Twitter page. He has five top-10 finishes since his playoff win over Tom Watson in the British Open at Turnberry, but has been a non-factor in the four follow-up majors. At No. 110 in the world, Yang was the highest ranked before his major win and has been the only first-time winner to back up his victory. The South Korean ranks 29th after a win in the Volvo China Open, a third at the Waste Management Phoenix Open and a T-8 at The Masters.
So how does this translate Whistling Straits? The best player in the world at the time won the 2004 PGA at Whistling Straits, with Vijay Singh shooting 76 on Sunday but defeating Justin Leonard and Chris DiMarco in a playoff. Ernie Els was one stroke back from going extra holes, but bogeyed 18 for a closing 73. Phil Mickelson was also in the mix but shot 74 on Sunday to finish two strokes back.
A big-name shootout like that is what course owner Herb Kohler and the PGA would embrace, but if the trend continues, they should be preparing themselves for the next Oosthuizen.
One of the leading candidates would be one of Oosthuizen's South African mates, Charl Schwartzel. While it looks like there might be a few letters missing from his name, there's not much his game lacks. Remember how he threw a real scare into Els at Doral during this year's CA Championship -- even while staying at Els' house in Jupiter? Like Oosthuizen, his father is also a farmer (chickens vs. dairy cows). And like McDowell, he has the blessing of Cowen, who also coaches Lee Westwood and Henrik Stenson.
"Schwartzel is a massive talent," the swing coach said. "When he and Oosthuizen and Richard Sterne came to see me in the early 2000s, I said, 'You three, if you have the desire, could rule golf for a long time.' They were that good."