News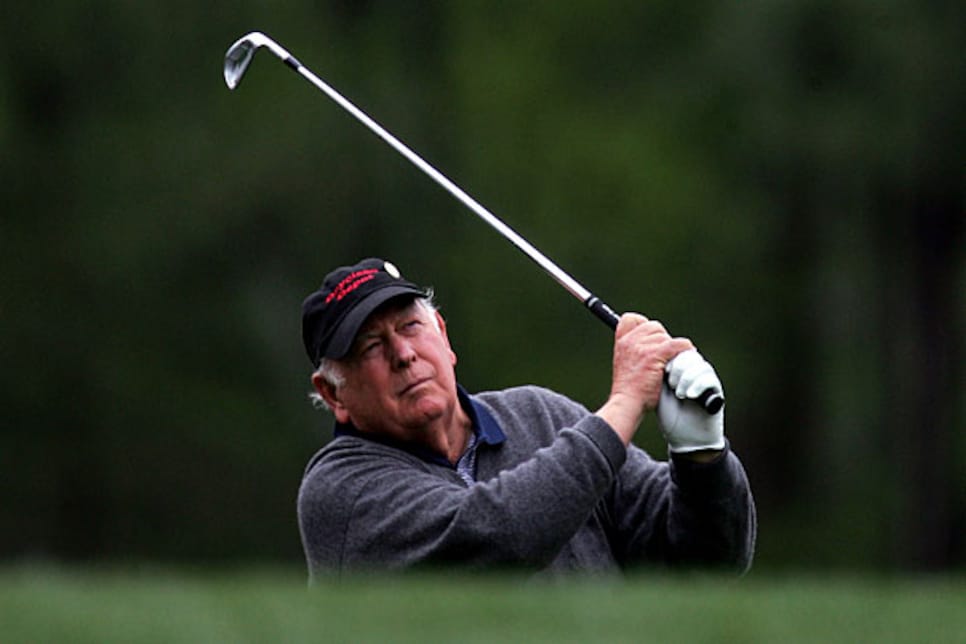 Casper, seen here at the 2005 Masters, had three career runners-up at the PGA Championship.
HAVEN, Wis. -- Billy Casper sat in the wings, in the shadows of a media interview room at Whistling Straits where the light falls off at the edges. He always did blend in, even when few in golf were better.
"I just went about my business," said Casper, father of 11 and a devout Mormon.
Most of the time, anyway.
There was the 1973 Western Open at Midlothian (Ill.) CC., when he made a tricky putt on the last hole to win and also make the U.S. Ryder Cup team. "I jumped up and down and everything," Casper remembered. "I got a letter from one of the church officials in Salt Lake City. He said I know the Lord probably needs that tithing, but I don't know about that dancing on Sunday."
Casper looks like a great-grandfather now, because he is. He looks 79, because he is. The old days can recede like a hairline, but not really. Not if you were there, not if you have the memories Casper has.
PGA of America president Jim Remy said something any golfer of a certain age could say. "You know, growing up, I always remember seeing Billy Casper on TV on Saturdays and Sundays," Remy said.
There didn't used to be many hours of golf on TV. Maybe the last five holes, for two hours. A player had to be winning or in the hunt -- there or thereabouts, as the Brits like to say -- to get any air time.
He won 51 PGA Tour events, including the U.S. Open in 1959 and 1966 and the Masters in 1970. His victory total is seventh on the all-time list; the only active player who has a realistic chance of surpassing him is Phil Mickelson, who has 38 titles. If Casper wasn't winning, he was contending -- 236 top-10 finishes in 556 PGA Tour events, a 42 percent clip, in the Jack Nicklaus (48 percent) neighborhood.
Casper was at the 92nd PGA Championship to receive the PGA of America's 2010 Distinguished Service Award on Wednesday night, an honor given not so much for how he played but for who he is -- an outstanding individual who displays leadership and humanitarian qualities.
Recognized earlier in the day, Casper pointed out that although he had never won the PGA Championship, he had come close several times. In fact, he was second to Dow Finsterwald in 1958, T-2 in 1965 to Dave Marr, T-3 in 1966 to Al Geiberger, second to Nicklaus in 1971 -- in all, eight top-10s. "So I should maybe have a handle on that [Wanamaker] Trophy," Casper joked.
His style was workmanlike, but his craftsmanship superb. From 1958 through 1968, Casper pointed out proudly Wednesday, he finished in the top four on the money list 10 out of 11 years. The season that he didn't, he was 11th after missing three months because of a hand injury. The Big Three (Nicklaus, Arnold Palmer and Gary Player) got most of that era's publicity, but Casper wasn't far behind.
"I was right with those guys, right in the middle of it," Casper said. "But I was worried about the family. But one of the things I regret now is that I never went and played in the British Open when I was younger. I had the [perfect] type of game -- I loved the ground and the wind, and that's the way you have to play over there. I juar wouldn't give up two weeks here, where I could make several thousand dollars in two weeks. My mission was my kids."
When Casper finally ventured to the British Open, in 1968, it wasn't much of a surprise when he finished fourth. That Open was won by Gary Player, a man to whom the slightly portly Casper ceded the fitness mantle. "Gary was the only one working out," Casper said. "We stayed together in 1959 at Miami Beach, playing in a tournament there. We had been out for dinner and we came back to the room. I had the TV on. He's down on the floor doing pushups and things, he looks up at me and says, 'Billy, do you do any exercise?' I beat my stomach about six times and said, 'Yeah, let's go to sleep. Every time I see him I beat my stomach and he starts laughing."
Casper relished match play, and thrived in the Ryder Cup. He played on eight consecutive U.S. squads (1961 through 1975 in the biennial matches), and amassed 23 ½ points, still the most by an American, with a career record of 20-10-7.
Compared to today's multi-million dollar purses, those of Casper's early years on tour are paltry, but not compared to the $54.50 he was getting every two weeks in the Navy before joining the tour full time in 1956. "Let me tell you, we had it great," Casper said of a tour life rich in other ways. "We had such great camaraderie. One year we played in Mobile, Ala., at Thanksgiving. [My wife] and four other wives cooked Thanksgiving dinner for all the staff and all the players. Can you imagine that happening today. We celebrated birthdays and anniversaries all the time. That's the way we were. We were very close."
Casper's award not only is an appropriate acknowledgement of a man often overlooked and underrated, but a fitting nod to an era that sometimes receives the same fate.