News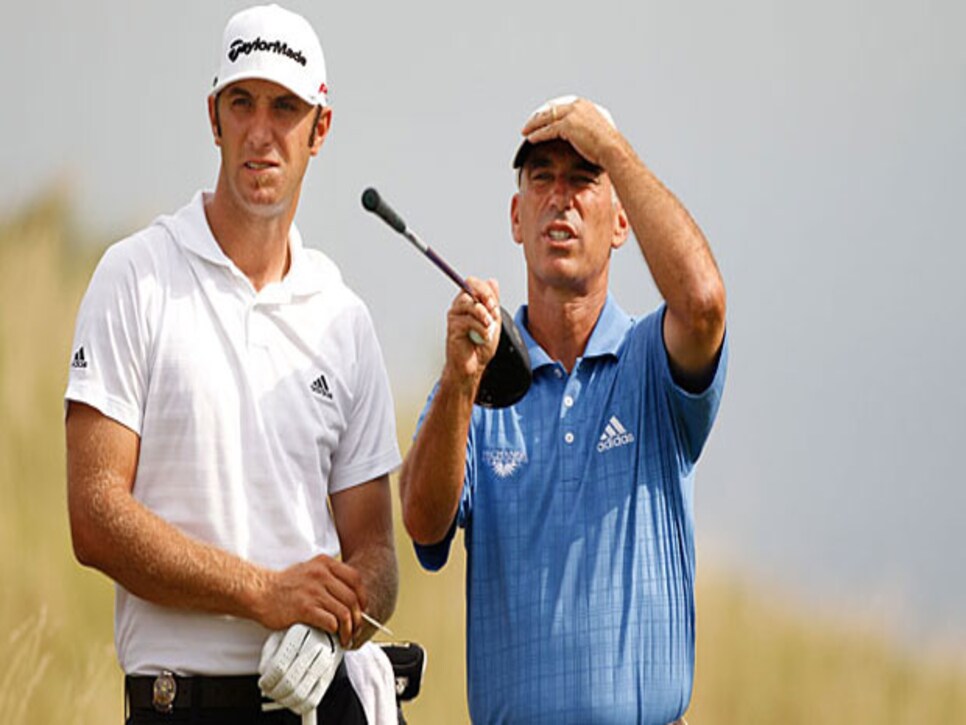 Ryder Cup captain Corey Pavin talks with potential team member Dustin Johnson during a practice round.
HAVEN, Wis. -- Passions run high in the Ryder Cup, but on Wednesday at the PGA Championship, more than a month before the 38th matches in Wales, emotions spilled over into a verbal confrontation.
Between two Americans, no less.
And wouldn't you know it, Tiger Woods figured into the controversy, too.
Golf Channel reporter Jim Gray confronted U.S. Ryder Cup captain Corey Pavin in the media center at Whistling Straits Wednesday afternoon and accused him of lying. He then pointed a finger in the former U.S. Open champion's face and said, "You're going down."
At issue was a story on GolfChannel.com published Tuesday night in which Gray reported that Pavin was going to pick Woods for the Ryder Cup should the No. 1 player in the world fail to qualify for the U.S. team via points. The top eight in the U.S. team standings after this week's PGA Championship automatically qualify. Pavin then has four wild card picks at his disposal, which he will announce Sept. 7 in New York.
Gray's conversation with Pavin occurred Tuesday afternoon in the player registration area outside the gray stone clubhouse at Whistling Straits. It was a casual conversation that was not recorded or videotaped, but Gray later reported that when he asked Pavin if he would expend one of his captain's picks on Woods, Pavin, according to the story written by Golf Channel contributor John Hawkins, replied, "of course I'm going to."
Woods, who didn't start his season until April, is winless this year and sits 10th on the U.S. Ryder Cup points list entering the season's final major. He is coming off his worst 72-hole finish as a professional, a T-78 at the WGC-Bridgestone Invitational at Firestone CC, where he'd won seven of his previous 11 starts.
Pavin learned of the report Wednesday morning while in the midst of his final practice round, and issued a comment via Twitter that read: "For the record, Golf Channel and Jim Gray has misquoted me re: picking Tiger. I never said such a thing and will not say a thing until 09/07."
At noon, during a quantifiably odd press conference with his European counterpart Colin Montgomerie, which included inquiries into lawsuits and injunctions related to the potentially embarrassing photos of Monty (which on a normal day would be receiving far more scrutiny) Pavin seemed to put the question to rest.
"Let's straighten this out right now," Pavin began when asked about the Golf Channel report. "I had a conversation with Jim Gray yesterday just outside the locker room near where we registered and he asked me a few questions and his interpretation of what I said is incorrect. There's nobody that's promised any picks right now. It would be disrespectful to everybody that's trying to make the team. I've got quite a few people I'm looking at. I would not disrespect any of the players that are potential players on the team, and obviously there was a misinterpretation of what I said, and that is an incorrect quote."
Gray confronted Pavin immediately following the press conference and not only angrily wagged a finger in the captain's face, but also put his hand in the face of Pavin's wife, Lisa. Pavin grabbed Gray's wrist and moved it away. Said Pavin: "He got upset, and his eyes were a little odd, and he put his hand in front of my wife, Lisa, and I just took his hand and moved it away and said, 'That's my wife. You keep your hand away from her.' He got a little crazy."
Pavin stood his ground mostly with his arms crossed as the two men stood nose to nose for nearly five minutes before Gray left the media center. Pavin met with about a dozen reporters after a cooling off period in the PGA of America reception area, and he tried to further clarify his exchange with Gray and how his words might have been misconstrued.
"That was the nice way of saying that he made it up, because I did not say that," said Pavin, who caused a stir earlier this year when he told the media that the struggling Woods would not necessarily be an automatic pick for his U.S. team against Europe Oct. 1-3 at the Twenty Ten Course at Celtic Manor Resort. "I was trying to take the high road on the whole deal. I've known him (Gray) a long time, and nothing unpleasant. It's a question for him how he got that. It was false reporting. He made it up."
"I don't make stuff up," Gray responded firmly when told of Pavin's accusation. He did not want to comment further except to refer a brief on-air statement he made on Golf Channel after the confrontation. "It's disingenuous. He's not telling the truth. And it has zero credibility," Gray said on camera.
"The Golf Channel stands by the reporting of Jim Gray," Golf Channel spokesman Dan Higgins added.
Lisa Pavin said she recorded the entire confrontation on her phone. She appeared much more agitated than her husband, and she backed him unequivocally, saying, "He's not stupid. He's had media training." She added that, "Jim Gray would be the last person he would tell that to."
When it was pointed out that Woods said Sunday in Akron, Ohio, that he wasn't sure how much he could help the team given how poorly he had just played at Firestone's South Course, Pavin said that makes his alleged statement to Gray even more curious. "It would seem counterintuitive, wouldn't it?" Pavin noted.
"What made me mad is that he used a quote that misrepresented what I said," Pavin added. "It shows disrespect to other guys who are trying to qualify for this team, and I would never do that. I'm leading this team, and I would never put any player out in front of any other players. Not one of them is greater or lesser than any other player, and to be represented the way he represented me is flat wrong. If I'm going to be misquoted, I'm going to let people know about it. He can argue until he's blue in the face, but I did not say that."