Course Rankings
Whisper Rock Golf Club (Lower)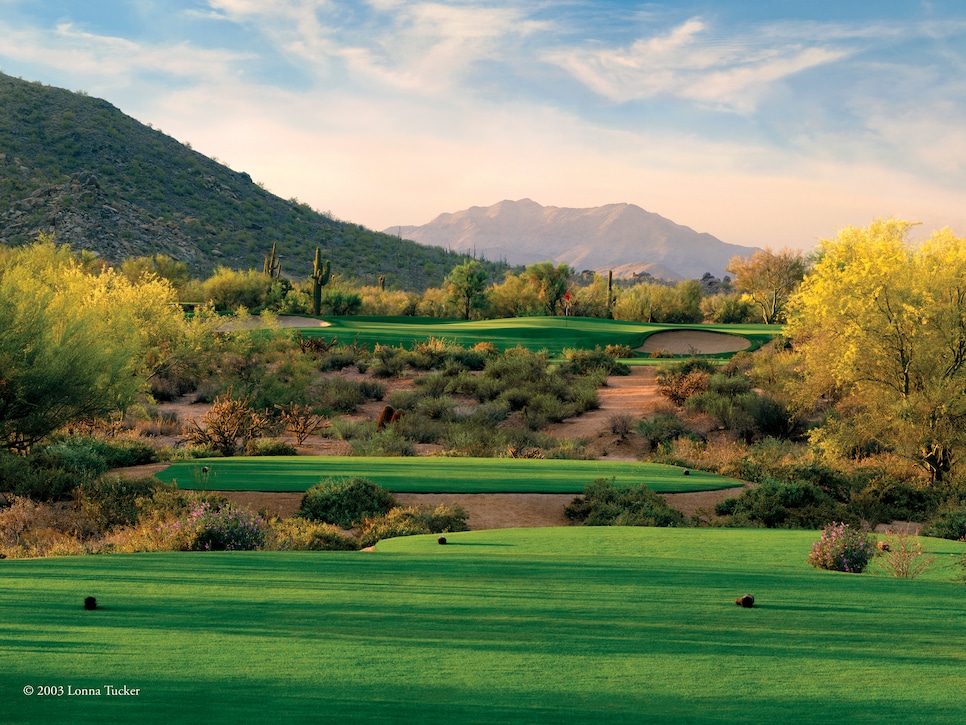 188. Whisper Rock Golf Club (Lower)
Phil Mickelson & Gary Stephenson (2001)
Phil Mickelson wanted his course design debut to be something different than the typical Scottsdale desert layout, so he had some fairways recessed into the landscape to create elevation change, kept tee boxes flush with the ground and built mostly long, narrow greens edged by chipping hollows. Mickelson calls them "Pinehurst greens." Bunkers are surprisingly shallow and fairways are uniformly wide, because he dislikes holes that bottleneck down for big hitters. There's plenty of grass in which to play, and a surprising number of trees on the layout, including palo verde, juniper and mesquite. Phil considers his design to be a second-shot course, "and we don't have the same second shot two times in a row," he says. One second shot, on the par-5 third, must contend with a "ha ha wall," a three-foot-high ledge of stacked rock that edges the putting surface. That's definitely different than anything in Scottsdale.
Second 100 Greatest History: Ranked on each Second 100 Greatest we've done: 2013 through current. Highest ranking: No. 167, 2013-2014. Previous ranking: No. 200.
Watch Golf Digest's latest "Every Hole At" course videos below:
Panelist comments, Whisper Rock Golf Club (Lower):
"If Nicklaus builds courses designed for his game, then Phil might do that, too. By the end of my round, I was calling this a third-shot course. Your first two shots really determine if you even have a chance on your third—and sometimes that included the par 3s."
"The greens are spectacular at the Lower, just like the Upper. Impressive that Phil helped designed putting surfaces, in his first attempt, that rival those of Tom Fazio, who is one of the best in that category."
"The beauty of Whisper Rock is that it is just you and the course. You rarely see other holes and you most surely do not see houses lining the fairways. It has a great walk in the park feel (we walked with caddies)."
"An excellent Gary Stephenson effort that plays through the low ground near the clubhouse. The detail work around the greens is superb, and it's easy to see Phil Mickelson's influence. For a course that lacks an excitement in the terrain, each hole presents its own unique challenges, and no two holes are remotely similar. It's easy to see why the members, especially the litany of tour pros who are members here, prefer the Lower to the Upper—it's more fun, more interesting, and more varied."
"Michelson and Stephenson were obviously trying to give players a "Pinehurst" feel on the greens and the surrounds. However the surrounds grass length is kept too long which prevents putting the ball as you could at Pinehurst #2."